Inglewood: Mystery Surrounds Two Black Lives Lost in Police Shooting
Eight months after Kisha Michael, 31, and Marquintan Sandlin, 32, were shot to death in their car, there are still no answers to why Inglewood police killed them outside a Manchester Boulevard 7-11 store sometime before 4 a.m., February 21.

Silent Treatment: Inglewood City Hall (Photo: fauxtos/Flickr)
Police shootings of black people in Pasadena, South L.A. and El Cajon have recently provoked public demonstrations crying out that, indeed, black lives matter.
But eight months after Kisha Michael, 31, and Marquintan Sandlin, 32, were shot to death in their car, there are still no answers to why Inglewood police killed them outside a Manchester Boulevard 7-11 store sometime before 4 a.m., February 21.
A five-minute Internet video allegedly taken after the shooting shows massive police action blocking the boulevard, with officers carrying M-16-style assault rifles prowling the area. The dead couple's Chevrolet sits with a door open, its headlights dimming. There seems to be an armored truck in the background. For a moment or two, a balding man in a zippered black jacket speaks to the camera, but there is no sound. Then blackout.
After the shooting, Inglewood Mayor James Butts held a press conference where he told a very basic story. The couple seemed to be asleep in a parked car when police arrived on the scene. Then, in the words of Butts, a former police chief, "The officers retreated, isolated the vehicle and spent about 45 minutes attempting to rouse the occupants and to de-escalate the situation."
Butts added: "Obviously, at some point [the couple] were conscious because someone felt threatened."
Who felt threatened? Butts didn't say. According to the coroner's reports, the most complete public narrative so far, a 9mm pistol lay on the dead Ms. Michael's lap. There has been no contention that she pointed it, let alone fired it. But according to a subsequent IPD press release, "an officer-involved shooting then occurred."
This was a vast understatement. There was no counting how often the police fired in this neighborhood that is lined with motels and apartments. But the coroner found that Ms. Michael had 13 wounds and Sandlin was hit two times, and that the weapons used included an assault rifle and shotguns. Ms. Michael, her clothing shredded by gunshots, lay dead on the pavement. Sandlin was eventually taken to UCLA Medical Center where he died. A toxicology report showed low traces of marijuana and amphetamine in Michael's blood, and a small amount of alcohol in Michael and Sandlin's.
Sandlin was unarmed, according to the report. No reason was given for the police firing shotgun blasts into his face. No reason was given for anything. The mayor and the IPD said no more information would be available until "an investigation" was completed. No word has emerged on the alleged investigation since the shooting. The IPD did not respond to Capital & Main's questions. KNBC TV reported that the investigation would be done by the L.A. County District Attorney's Office, which is the agency usually charged with investigating police-related killings. (A D.A.'s team rolled to the shooting scene on Feb. 21, but did not file a report, according to a D.A. spokeswoman.) A more serious probe might have been offered by the county sheriff.
But neither of these agencies has been asked to investigate. (FBI officials did not return calls asking if that agency was called in). So the investigation –if there really is one — likely is in the hands of the police department that killed Sandlin and Michael. It's a department with a reputation for dubious use of force dating back decades and has been admonished by the U.S. Department of Justice for bad training and practices. It is a department that just this summer cost Inglewood, a hardscrabble city that's said to be carrying a $9 million budget deficit this year, a $4.6 million out-of-court settlement in another police shooting whose victim, Juan Palma, was left disabled after being shot in the head.
Survivors of Sandlin and Michael, who left behind seven children between them, have filed separate suits against the city in federal court for unlawful death and assorted civil rights violations. Neither suit names a damages figure. Out-of-court settlements could cost the city more than twice the Palma settlement. If the actions were fought out in court, they would probably cost the city a lot more in legal costs alone.
Neither of the plaintiffs' attorneys—Andrew Ellis of El Segundo and the Johnnie Cochran law firm of L.A.—would discuss their cases. The complaint of Ellis, who represents Sandlin's 7-year-old daughter, speaks of Sandlin as having "posed no reasonable or credible threat of violence to the police." It further accuses the police of delaying medical response that might have saved Sandlin's life. Both suits describe the lifetime of bad effects that the children's sudden loss of their parents might cause.
In March, Kisha Michael's twin sister Trisha helped organized local protests at the Inglewood Civic Center demanding an official accounting for Kisha's violent demise. She never got one, and adds that she has no idea if rumors of a possible pending settlement of the Michael-Sandlin actions have substance.
Several local organizations, including Black Lives Matter and Holy Faith Episcopal Church, have been protesting the city's apparent indifference. (Disclosure: The writer is a member of the church's choir.) City council meetings where the members of the latter sought to speak were canceled with little notice. Inglewood has its own police commission, but it doesn't seem to have met regarding the shooting. Some members have left the commission, calling it toothless. Black Lives Matter did not return calls requesting comment.
Trisha Michael says she lives day by day in hope of justice.
"It is still hard to have to believe every day I won't ever see her again," she says of her sister. "She was happy, so dependable, so reliable. So loving. So peaceful. So beautiful. She would never have had a gun."
Meanwhile, Mayor Butts remains silent about the deaths of Michael and Sandlin. Calls to Butts and emailed queries to his spokesperson for this article were not returned. His recent news appearances are generally connected to his obsession with the new 80,000-seat, $3 billion City of Champions NFL stadium that is replacing Hollywood Park racetrack on Century Boulevard.
Reverend Francisco Garcia, of Holy Faith Church, whose members have been active in trying to get information out of their local city hall, called the lack of official response "appalling." He added: "These deaths impact the entire community. The unresponsive Inglewood police and government remain accountable for them."

No Walk in the Garden for the Urban Homeless
Throughout Los Angeles, landscaping is put to aggressive use, functioning as a weapon of anti-homelessness under the guise of beautification.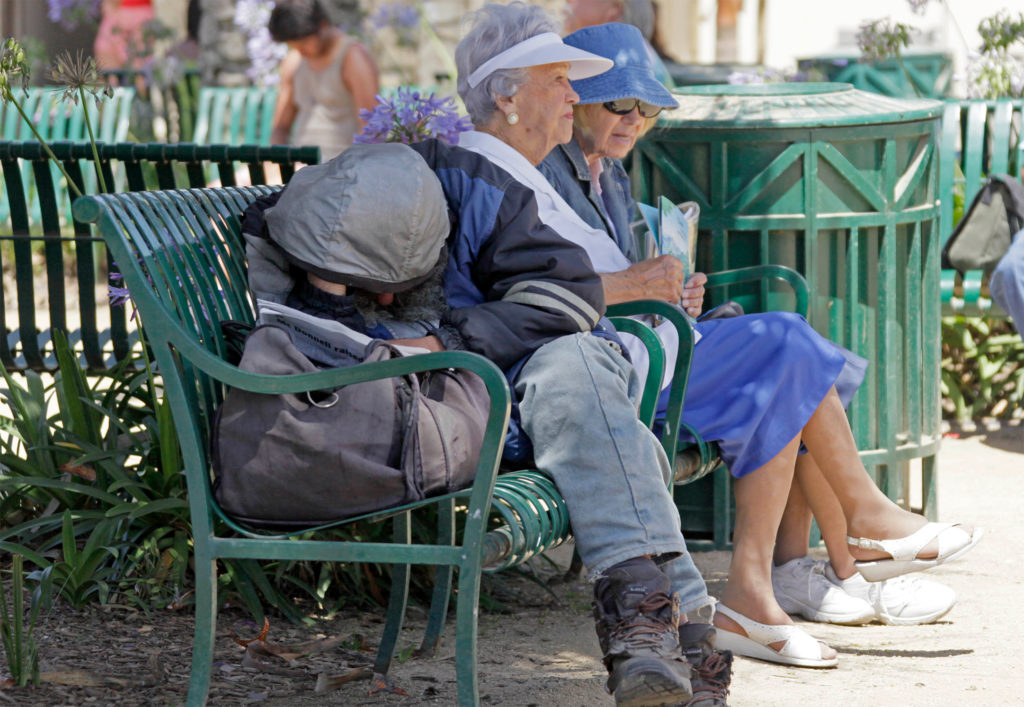 ---
The phenomenon of hostile landscaping in Los Angeles has further marginalized a swelling unhoused population.
---
Last May, in Los Angeles' coastal Venice neighborhood, Adam Smith noticed a series of planter boxes in the middle of a familiar sidewalk. Affixed near the intersection of Third and Sunset avenues, mere blocks from a Google campus and a suite of oceanside cafes, the standalone planters ran roughly the length of a wall delineating a parking lot behind a luxury condo complex.
Previously, Smith told Capital & Main, a group of six to 10 homeless people had regularly slept in tents on that block, favoring it for its relatively plentiful street light. A volunteer for the Culver-Palms Burrito Project, which prepares and serves the titular food to the unhoused of West Los Angeles, he'd become acquainted with individuals living there over the course of several years.
Once the planters were installed, however, the sidewalk was clear. "That next day, after I saw [the planter boxes] for the first time, I went there to look around because I figured they were sleeping somewhere else," Smith said. "I found people up around the corner, just, like, a block away."
---
Companies are privatizing public space to create more "landscape" for their businesses.
---
Throughout Los Angeles, landscaping is put to aggressive use, functioning as a weapon of anti-homelessness under the guise of beautification. Just as both public and private architectural design throttle space available to the unhoused internationally — via, among other examples, spikes on ledges and bars on benches to discourage sitting and lying down — and cities such as San Francisco arrange boulders to deter homeless encampments, the phenomenon of hostile landscaping in Los Angeles has further marginalized a swelling unhoused population.
Nearly 20 miles from Venice, a Los Feliz traffic median at the intersection of Vermont and Prospect avenues, and Hollywood Blvd., has regularly seen encampments arranged on its concrete ground, abutting a raised patch of desert landscaping and sycamore trees.
Christened "Vermont Triangle," the median's first redesign occurred in 2008, when the now-defunct Community Redevelopment Agency spearheaded a project to "improv[e] the pedestrian amenities" and "enhanc[e] the physical appearance of the existing median park." According to the Los Angeles Times, this yielded seating areas, lampposts to echo those at nearby Barnsdall Art Park, and the sycamores. Eventually, unhoused people began to pitch tents, availing themselves of the median's modest stretches of open public space.
Now, due to pressure from local business owners, Vermont Triangle is in flux. City Councilmember David Ryu's office, the Times noted, plans to invest $18,000 in another redesign, following a 2013 re-landscape. The 2013 update was financed in part by the Hollywood Hotel and Kaiser Permanente, according to Jeff Zarrinnam, who serves on the board of governors of the East Hollywood Business Improvement District. (Ryu's office couldn't be reached for comment.) Current proposals range from adding art installations and neighborhood signs, which Zarrinnam said the Los Feliz Neighborhood Council and East Hollywood Neighborhood Council have floated, to putting in planters.
Zarrinnam said he supports "bridge housing," a term the municipal government, neighborhood councils and local businesses use to favorably denote temporary homeless shelters and transitional housing. Yet reports indicate that the current state of temporary housing for many homeless people in Los Angeles County — who, as of May, numbered approximately 53,000 — is nothing short of abysmal. A recent investigation by radio station KPCC found infestations, harassment and medical negligence, among other scourges at various facilities throughout Los Angeles County, including those funded by the Los Angeles Homeless Services Authority (LAHSA), which conducts the county's annual homeless census.
Steve Diaz, an organizer for Los Angeles Community Action Network (LA CAN) who works with unhoused populations in downtown and South L.A., calls hostile landscaping of public space "the next level of criminalization" of homelessness. He alluded to an industrial neighborhood overlapping Skid Row, whose business owners call "The North Sea": a cluster of converted seafood warehouses and factories painted the same hues of oceanic blue — complete with landscaped sidewalks.
"They started breaking the concrete and taking away from the sidewalk to place different types of flowers, whatever garden they were putting in," Diaz said. "You have a major street [on] Skid Row that, at one point, was home to a lot of homeless folks now being gated off, and then the concrete being broken to start using these gardening pockets within the space to eliminate sidewalk access." (Miguel Nelson, a North Sea business owner involved in the area's marketing efforts, declined to respond publicly.)
As private property owners adopt guerrilla tactics to thwart homeless encampments, legal issues arise. Skid Row activist General Jeff Page has observed that, while property owners are permitted to control up to three feet of sidewalk extending from their buildings, "The North Sea is taking upwards of five to 10 feet of sidewalk, allowing only for ADA (Americans with Disabilities Act) compliance and zero space for homeless tents and/or encampments." (The Los Angeles Department of Public Works stated that the North Sea sidewalk landscaping is currently under investigation and thus couldn't comment further on the matter.)
What's more, business owners in South L.A. have illegally installed fences around their property, which, according to Diaz, will eventually give way to sidewalk landscaping. Relatedly, Adam Smith has been corresponding with city officials to ascertain the permit status of the Venice planters. The West L.A. office of the Bureau of Engineering, which issues revocable permits, told Capital & Main that it did not have a permit on file for the planters. Without one, according to the bureau, "no portion of the public right-of-way, including sidewalk, is allowed for private use."
Nevertheless, the planters remain and, according to Smith, have multiplied. Additional boxes, he said, are now ensconced in the sidewalk around the corner, to where the previously ousted people had first moved.
"For some people, [landscaping] sounds like a great idea," Diaz said. "But you're literally privatizing public space to create more 'landscape' for your business."
---
Copyright Capital & Main