Immigrant Detainees Accuse Guards of Chemical Attacks
Are peaceful protesters at Adelanto Detention Center being tear-gassed and pepper-sprayed?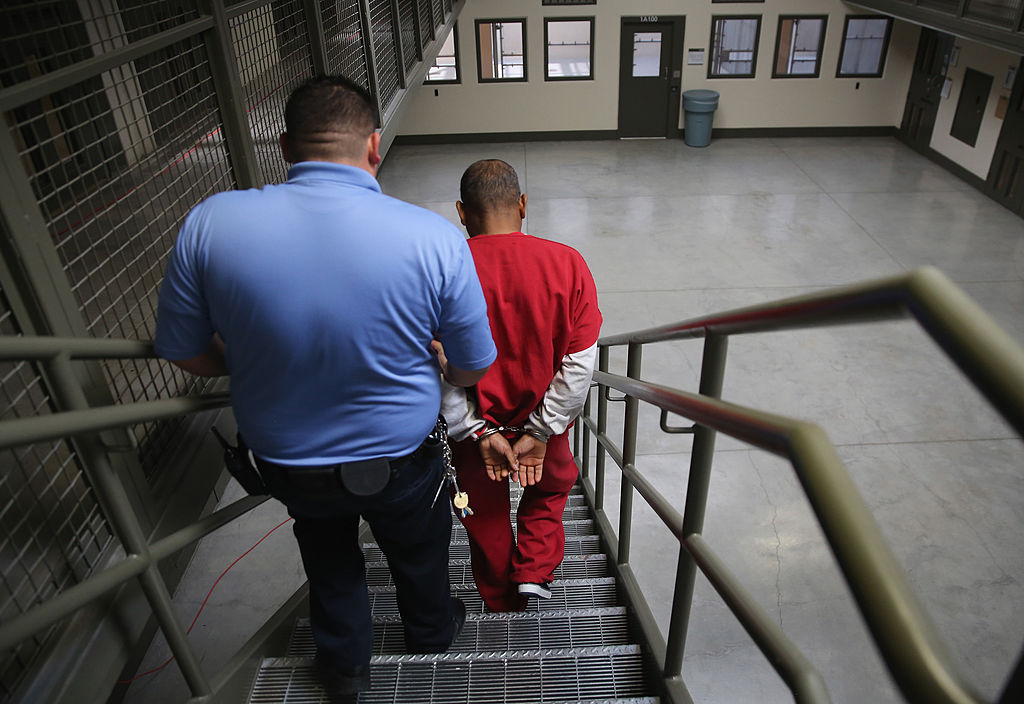 On the evening of Friday, June 12, immigrants at the Adelanto Detention Center, located in the high desert of California's San Bernardino County, refused to go into their cells. Anger, frustration and fear had been building among detainees for weeks as they watched the coronavirus spread across the country and worried about an outbreak in a facility where social distancing was virtually impossible. Then came the wave of protests in the wake of the killing of George Floyd, which also brought activists to the entrance of Adelanto. On one occasion, protesters broke windows of the facility, damaged numerous vehicles and injured an employee with a rock.
In response to the protests, according to multiple detainees, their few privileges were curtailed. Access to phones were limited. Tablets were taken away, which had allowed them to listen to music and make video calls. Routine attendance counts by guards from the GEO Group, the for-profit company that runs Adelanto, turned into "emergency counts" that forced detainees to be locked in their cells for days at a time, with only a 30-minute opportunity to take a shower or make a quick call.
 
---
Mohammed Alsayed Ali Abdelsalam, a 32-year-old from Egypt, was hit in the head with a projectile and lost consciousness.
---
 
"We slowly caught on to it," said Davit Ghahramanyan, a 25-year-old from Armenia who has been at Adelanto since September. "Every time they say 'emergency count,' they just lock us down like animals. They told us that once the protest is over, once the last person leaves, 'We'll give you guys your day room, your phones, your showers.' So we decided the next time they try to lock it up, we're staying out."
On Friday evening GEO officials announced another emergency count and ordered detainees inside their cells. Roughly 150 stayed outside, standing or sitting in front of their cells. "We're not interfering, we're not going to fight with them," Ghahramanyan said, describing their plan. "We were going to let them do their count."
After the final warning, according to interviews with five current detainees, dozens of guards dressed in black and armed with pepper-ball rifles, tear gas canisters and shields stormed three units of the west wing—Bravo, Charlie and Delta—and began firing rounds and spraying tear gas. In the Bravo unit, Mohammed Alsayed Ali Abdelsalam, a 32-year-old from Egypt who suffers from asthma, said that as he struggled to breathe, he was hit in the head with a projectile and lost consciousness. Nearby, Miguel Contreras, a 43-year-old diabetic, watched Ali Abdelsalam go down and crawled to his cell as pepper balls flew over his head.
 
---
"They were yelling for us to go into our cells,
but when someone tried to stand up,
they would hit them with more [pepper-ball] rounds."
---
 
"They were yelling for us to go into our cells, but when someone tried to stand up, they would hit them with more rounds," said Contreras. He finally made it inside and wet a washcloth to cover his face. His cellmate, Benito Bustos, also inside, desperately pounded on the window, wheezing and coughing while he waved his inhaler to show the guards he was asthmatic.
In the Delta unit, Ghahramanyan lay face down in front of his cell, his face and back burning as the pepper-ball rounds exploded against bodies and walls. He was handcuffed along with another detainee and taken to solitary confinement; along the way, he said, he saw an unconscious man carried away on a gurney who was hooked up to oxygen, and an Asian man bleeding from a head wound.
Reached for comment, a GEO Group spokesperson referred the matter to Immigration and Customs Enforcement. In an emailed statement, ICE spokesperson Alexx Pons wrote that "in response to a planned protest at the facility" Adelanto had gone into lockdown on June 12. "During this time, an internal disturbance, which included more than 150 detainees who became disruptive and refused multiple directives from GEO Group detention officers, necessitated the use of non-lethal force to preserve order and ensure the safety of everyone within the facility after multiple attempts to deescalate the situation were unsuccessful and as disruptions continued."
In regard to the reported injuries, Pons wrote that "four detainees were transferred to a nearby medical facility and were evaluated, treated, and returned to Adelanto without requiring admission."
 
---
Detainee advocates allege that GEO Group staff sprayed a disinfectant called HDQ Neutral every 15 to 30 minutes inside Adelanto, resulting in rashes and nosebleeds.
---
 
There had, in fact, been a protest outside Adelanto that day. A spokesperson for the San Bernardino Sheriff's Department told a reporter from LAist that 50 people had gathered peacefully without incident. On June 12, the violence had occurred inside.
*   *   *
Adelanto is one of the largest detention centers in the country and has faced numerous allegations of inadequate medical care and excessive use of force. In 2017, an internal government investigation found that faulty medical care at the facility "more likely than  not" contributed to detainee deaths, and recommended that all "at-risk" individuals—which included anyone over 55 years of age—be immediately transferred. Last year, various organizations filed a class action lawsuit against the government, alleging that detainees at Adelanto and other detention centers were not provided adequate medical and mental health care and were subjected to unconstitutional solitary isolation.
Last month, Freedom for Immigrants and the Inland Coalition for Immigrant Justice filed a complaint with ICE alleging that GEO Group staff was spraying a disinfectant called HDQ Neutral every 15 to 30 minutes inside Adelanto. According to Spartan Chemical, the manufacturer of HDQ Neutral, the product should only be used "outdoors or in a well-ventilated area."
The complaint reported that detainees who had come in contact with the chemical had developed rashes and nosebleeds and had difficulty breathing, with at least nine people falling ill. (ICE, in response, said that it was "committed to maintaining the highest facility standards of cleanliness and sanitation" and that any cleaners are "used according to manufacture instruction for routine cleaning and maintenance of the facility.")
 
---
Ali Abdelsalam said he woke up in a hospital and was returned to solitary confinement at Adelanto, where he was being provided oxygen daily by a nurse.
---
 
Earlier this year, GEO settled a lawsuit for an undisclosed amount that had been brought by eight Central Americans who were pepper-sprayed in 2017 while on a hunger strike. The individuals had refused to go to their bunks for the morning count and, according to GEO staff, were attempting to incite a "rebellion" and were "assaulting our guards." However, a video of the incident, unearthed during the court case, showed that the eight men had linked their arms while seated at a table and were pepper-sprayed and dragged away.
"The gross past documented abuses by GEO at Adelanto and these new allegations of horrific human rights violations should be a wake-up call to federal government officials to immediately take action," said Guillermo Torres of Clergy & Laity United for Economic Justice (CLUE), which has been assembling complaints from detainees. CLUE and the Inland Coalition for Immigrant Justice have also partnered with attorneys who recently settled the hunger strike case. On June 21, the attorneys, Rachel Steinback and Catherine Sweetser, notified ICE and GEO that they anticipate filing a lawsuit and demanded that they preserve all records related to the use of force at Adelanto since May.
Contreras and Bustos, the two men who fled to their cell, said that their unit has remained on lockdown since June 12, with only 30 minutes allowed outside the cell each day. (ICE spokesperson Pons wrote that Adelanto resumed normal operation on June 15, and over the phone said that he "couldn't see that claim being valid" because "all staff strictly adhere to national detention standards for the care, safety and well-being of detainees.")
Ali Abdelsalam, who lost consciousness during the incident, said that he woke up in a hospital and was returned to solitary confinement at Adelanto, where he was being provided oxygen daily by the nurse. Ghahramanyan was also being held in segregation, where he is serving a 30-day sentence for "interfering with a staff member in the performance of duties."
"At the end of the day, even if we keep doing this, we know who's going to win the fight," Ghahramanyan said. "They're the ones with the weapons. This is their facility.
"But if people are doing peaceful protests, there is no need for them to take away our program. Whatever rights we have left, we want to stand for them," he said. "If I have to do this again, honestly, I'll do it again. I'll keep doing it until they get the message: You guys are locking us up for no reason."
---
Copyright 2020 Capital & Main