Vulnerable Home Care Recipients Fear Losing Services—Again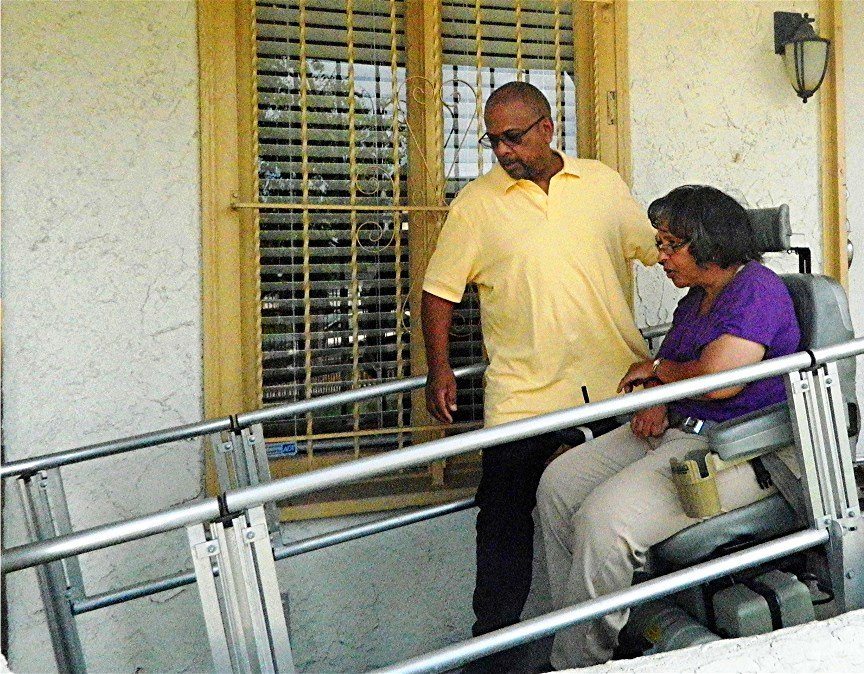 Tina and Louis James at home. (Photo: Debra A. Varnado)
Disabled and elderly Californians have cause to worry as time marches forward to June 30, 2016. That's the deadline for Governor Jerry Brown and state legislators to find a permanent solution to keep whole one of California's largest assistance programs for the state's most vulnerable populations.
For this fiscal year, a seven percent cut– $226 million–was restored to the In-Home Supportive Services (IHSS) program in June. But without solid funding for the future, nearly a million adults, children and their caregivers face losing hours of service and wages again.
The restoration of the cuts was a huge victory for consumers of IHSS's services, according to Brandi Wolf, California policy director for the United Long Term Care Workers (ULTCW), "but living from year to year [involves] a tremendous amount of uncertainty. We can't ask consumers to live in this uncertain world." ULTCW, an affiliate of the Service Employees International Union, represents many IHSS workers.
Teetering on the edge is not new for IHSS clients and their caregivers, especially at budget preparation time, when the program is often placed on the chopping block in efforts to plug holes elsewhere in the state budget.  IHSS programs, which provide assistance in cooking, housekeeping and personal care to IHSS consumers–in their homes and at less expense than if they lived in nursing homes or board-and-care facilities–have survived, but in reduced form.
During the Schwarzenegger administration, the state proposed to slice 20 percent of IHSS funding, but successful federal consumer lawsuits whittled this down to an eight percent cut in 2013, and to a seven percent cut in 2014.
Under the IHSS program, Louis James takes care of Tina, his wife of 30 years. He told Capital & Main the restored hours have helped  relieve the stress of paying bills. "But," he said, "we still live from hand-to-mouth and [must] choose which bills to pay. The restoration means about $140 more per month, but at $9.65 an hour in wages, paying bills is very difficult. We're robbing Peter to pay Paul."
Louis and Tina live in a neighborhood of modest homes in South Los Angeles, beneath LAX's flight path. Tina is totally disabled and confined to a wheelchair due to multiple sclerosis and spinal stenosis. She is surrounded by family photos, musical instruments, African carvings and the equipment needed to sustain her life.
"She needs round-the-clock care," Louis said. "We can leave the house through the front door only, but not through the back door — there's no ramp.  We want to redo the bathroom so I can take her there in her wheelchair. Now I have to take the door off."
Chantal Villalobos of Placerville, a town located about 130 miles northeast of San Francisco, said the restoration has improved her overall quality of life.
"After the cut," she said, "I ended up in the hospital a couple of times. I couldn't afford medication or to drive to doctor appointments in San Francisco." The recipient of a liver transplant, Chantal said she "was pretty much in bed all the time and my caregiver had to take a second job."
Governor Brown and the legislators' use of General Fund revenue in the current budget continues to strain that source. And it does not  guarantee future funding or eliminate the possibility of more cuts in IHSS programs. After the state's budget was approved, lawmakers went into extraordinary sessions, where the new Assembly and Senate Public Health and Development Services committees' focus is on financing the state's health care programs. Their work includes examining California's tax on managed care organizations (MCOs) and other alternatives to permanently fund the restoration. New hearings have not been set.
The existing MCO tax is limited to taxing Medi-Cal management plans only; restructuring to meet federal requirements would make the tax applicable to most health care management organizations regulated by the state Department of Managed Health Care—and thus raise more money.  The existing tax will expire on June 30, 2016.
But creating new taxes is contentious, even after old ones expire, as is the case with the MCO tax. In order to bring the MCO tax and the health-related bills to conclusion, all the players — Republicans and Democrats — will have to come to agreement and have the support of the managed health care industry for the restructured tax. Such bipartisanship is extremely difficult to find in today's Sacramento. If and when agreement is reached, the bills will be able to move to the hearing stage and to an eventual floor vote. Two-thirds of the legislature will need to approve the new tax.
"The politics behind [the tax] and the likelihood that it will pass depend on who you ask," Brandi Wolf said.
If approved, the new tax will generate $1.1 billion to stabilize the General Fund costs for Medi-Cal, and permanently fund the services restored to more than half a million IHSS consumers. Four hundred thousand caregivers, 70 percent of whom are family members caring for relatives, would receive a permanent boost in earnings.
Without the tax, California will face $1 billion in funding cuts next year.
"Unions are really pushing for a permanent seven percent restoration to consumer hours no matter what the funding source." Wolf said. "For many people, that's the difference between being bathed daily or every three days."
Allison Padgett, a spokesperson for the United Domestic Workers of America, which also represents IHSS caregivers, rejected the prospect of a temporary fix.
"A solution to permanently restore hours needs to be found– by the end of the special session," Padgett said. (The United Domestic Workers of America is part of the American Federation of State, County and Municipal Employees, and is a financial supporter of Capital & Main.)
Meanwhile, the current restoration represents about 14 hours a month for Louis and Tina James. "Spread out over 30 days that's insufficient to allow me to get a full night's rest," Louis said. Chantal Villalobos' caregiver is her fiancé, who is now paid for 15 additional hours of work. "It's so important,"  Villalobos said, "that caregivers get a fair, livable wage."
---
Debra A. Varnado is the founder, editor and publisher of The Fifth Avenue Times Online Journal and Newsletter. Her work has been published by Oxford University Press, Tsehai Publishers and Distributors, StorySouth.com, Howard University, George Mason University and the
Wave Community Newspaper
.