Iceberg Ahead: America's Racial Conflicts
Racial incidents have exploded recently because white and mainstream prejudice has been contained under the line of vision for several decades, and now the lid's off.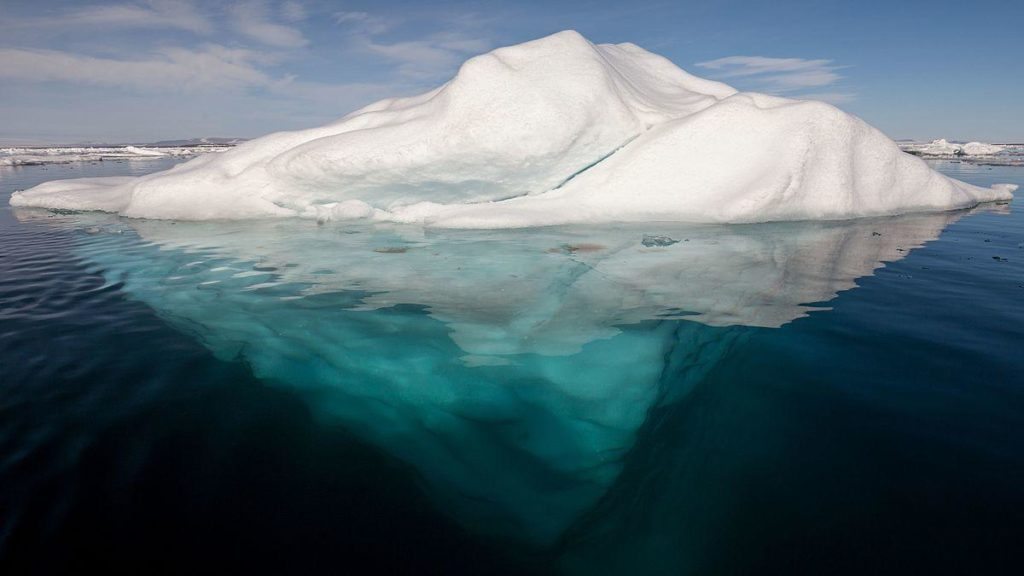 Eric Law teaches diversity. An Episcopal priest, he founded a consulting firm called the Kaleidoscope Institute to help other congregations move beyond the monochromatic culture of white Protestantism. He uses the image of an iceberg to help people understand that individual prejudices mostly live below the surface and out of sight. Like a chunk of ice floating in the sea, most of our biases reside in the unconscious, outside of our awareness. Until they don't.
The blast of racial incidents that have hit the headlines recently didn't come out of nowhere. As a Capital & Main series documented, they came from hate groups and blog sites located across the country. Not just in distant places like Philadelphia, where vandals damaged a Jewish cemetery, or Florida, where arsonists torched a mosque, or Indianapolis, where a group of Latino and black fourth graders who won a science competition were "showered with racial slurs by rivals and parents." No, these things happen right here in California.
Attacks happen at Jewish synagogues and Islamic mosques, to Sikhs and Latino/as and African-Americans, as well as gay and lesbians and transgender people – anyone visible enough to be a target for someone's unconsciousness.
These incidents have exploded because white and mainstream prejudice has been contained under the line of vision for several decades, and now the lid's off. When I was a child an uncle often told funny stories in a "Mexican" accent. Everyone in the family laughed. Then he stopped. I remember my father asking him why. "Can't do it," he said. "Company said no." Simple as that. Whatever he thought, the corporation he worked for as a salesman decided it was no longer in its interest for representatives to display overt acts of racial prejudice.
Sadly, President Trump himself uses racial dog whistles, and did so throughout his campaign. These phrases work because a huge, latent, unconscious racism lurks just under the surface of our social behavior, and a public figure – the president, no less – has encouraged us by example to set the demons loose.
He has had help along the way. The act of treating one another with respect and using appropriate language became denigrated as "politically correct" speech. So people began saying whatever they felt like without regard for the feelings of, or the impact on others. Some public intellectuals told us we live in a post-racial, diverse society – we didn't need to pay attention anymore to what we said or how we characterized people not like us. Lawsuits claimed that it was white people who have been discriminated against, not the historically segregated or silenced.
During the last few decades, America's demographics have changed as well. Those of us in California are aware of the ethnic turn because we know we no longer live in a state with a racial majority. Whites are not even a plurality. But that shift is happening across the country and will continue as the population ages. Among my cohort of 55 and older, 75 per cent are white, but among 35-to-54-year-olds, whites drop to 61.5 per cent. Among 18-to-34 year olds, the percentage of white people drops to 55.8 percent, and under-18-year-olds, to 51.5 per cent. Those numbers came from 2015.
In a seminary class on racism held half a century ago, I learned that members belonging to a majority race begin to feel discomfort when their turf – whether a neighborhood, city, state or nation — becomes 17 percent ethnic minority. Around that threshold the invisible becomes visible, and the fear of being supplanted rises. The newly perceived threat to majority-group expectations begins a cycle of pushback and digging in.
In polite company, among political power brokers, that means changing the laws to make it more difficult for some people to vote. It means gerrymandering electoral districts to consolidate majority power. In raw terms, it draws people to the racist underground that attracts people who feel alienated, disenfranchised, powerless. Keep this going for a while, and the basic mores of the society shift. A Pew study found that a wide majority think that people are just too easily offended by language. Only among African-Americans does a supermajority feel that people in general need to be more careful about what they say.
Rebecca Todd Peters writes about ethics from a religious and feminist perspective. Recently she wrote, "Most white Christians are good people who do not understand themselves to be prejudice[d]. That's one of the insidious things about prejudice – it is invisible to those who hold it."
I know that as a white man, raised in the thick of prejudice, I have spent half a century consciously overcoming the lines of discrimination buried in my psyche from childhood. It requires a daily awareness – a conscious, spiritual discipline, if you will – and I will carry the bitterness of this struggle to my grave. Too many of us keep our racism beneath the surface, internalized. We let it loose at our peril, but to pretend it doesn't exist is far worse.

No Walk in the Garden for the Urban Homeless
Throughout Los Angeles, landscaping is put to aggressive use, functioning as a weapon of anti-homelessness under the guise of beautification.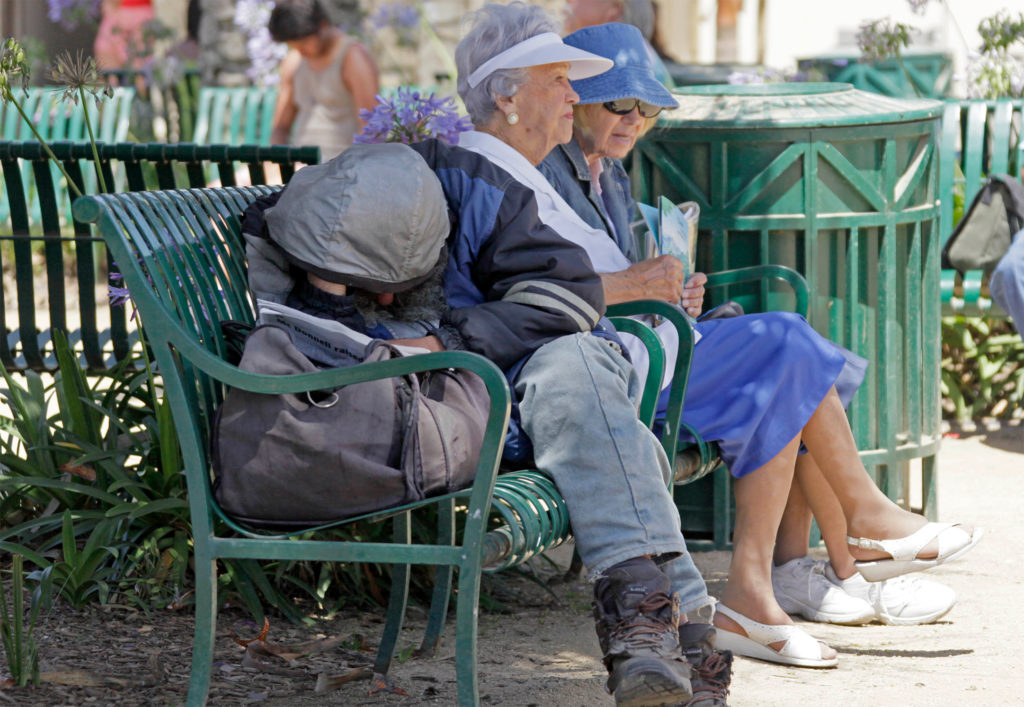 ---
The phenomenon of hostile landscaping in Los Angeles has further marginalized a swelling unhoused population.
---
Last May, in Los Angeles' coastal Venice neighborhood, Adam Smith noticed a series of planter boxes in the middle of a familiar sidewalk. Affixed near the intersection of Third and Sunset avenues, mere blocks from a Google campus and a suite of oceanside cafes, the standalone planters ran roughly the length of a wall delineating a parking lot behind a luxury condo complex.
Previously, Smith told Capital & Main, a group of six to 10 homeless people had regularly slept in tents on that block, favoring it for its relatively plentiful street light. A volunteer for the Culver-Palms Burrito Project, which prepares and serves the titular food to the unhoused of West Los Angeles, he'd become acquainted with individuals living there over the course of several years.
Once the planters were installed, however, the sidewalk was clear. "That next day, after I saw [the planter boxes] for the first time, I went there to look around because I figured they were sleeping somewhere else," Smith said. "I found people up around the corner, just, like, a block away."
---
Companies are privatizing public space to create more "landscape" for their businesses.
---
Throughout Los Angeles, landscaping is put to aggressive use, functioning as a weapon of anti-homelessness under the guise of beautification. Just as both public and private architectural design throttle space available to the unhoused internationally — via, among other examples, spikes on ledges and bars on benches to discourage sitting and lying down — and cities such as San Francisco arrange boulders to deter homeless encampments, the phenomenon of hostile landscaping in Los Angeles has further marginalized a swelling unhoused population.
Nearly 20 miles from Venice, a Los Feliz traffic median at the intersection of Vermont and Prospect avenues, and Hollywood Blvd., has regularly seen encampments arranged on its concrete ground, abutting a raised patch of desert landscaping and sycamore trees.
Christened "Vermont Triangle," the median's first redesign occurred in 2008, when the now-defunct Community Redevelopment Agency spearheaded a project to "improv[e] the pedestrian amenities" and "enhanc[e] the physical appearance of the existing median park." According to the Los Angeles Times, this yielded seating areas, lampposts to echo those at nearby Barnsdall Art Park, and the sycamores. Eventually, unhoused people began to pitch tents, availing themselves of the median's modest stretches of open public space.
Now, due to pressure from local business owners, Vermont Triangle is in flux. City Councilmember David Ryu's office, the Times noted, plans to invest $18,000 in another redesign, following a 2013 re-landscape. The 2013 update was financed in part by the Hollywood Hotel and Kaiser Permanente, according to Jeff Zarrinnam, who serves on the board of governors of the East Hollywood Business Improvement District. (Ryu's office couldn't be reached for comment.) Current proposals range from adding art installations and neighborhood signs, which Zarrinnam said the Los Feliz Neighborhood Council and East Hollywood Neighborhood Council have floated, to putting in planters.
Zarrinnam said he supports "bridge housing," a term the municipal government, neighborhood councils and local businesses use to favorably denote temporary homeless shelters and transitional housing. Yet reports indicate that the current state of temporary housing for many homeless people in Los Angeles County — who, as of May, numbered approximately 53,000 — is nothing short of abysmal. A recent investigation by radio station KPCC found infestations, harassment and medical negligence, among other scourges at various facilities throughout Los Angeles County, including those funded by the Los Angeles Homeless Services Authority (LAHSA), which conducts the county's annual homeless census.
Steve Diaz, an organizer for Los Angeles Community Action Network (LA CAN) who works with unhoused populations in downtown and South L.A., calls hostile landscaping of public space "the next level of criminalization" of homelessness. He alluded to an industrial neighborhood overlapping Skid Row, whose business owners call "The North Sea": a cluster of converted seafood warehouses and factories painted the same hues of oceanic blue — complete with landscaped sidewalks.
"They started breaking the concrete and taking away from the sidewalk to place different types of flowers, whatever garden they were putting in," Diaz said. "You have a major street [on] Skid Row that, at one point, was home to a lot of homeless folks now being gated off, and then the concrete being broken to start using these gardening pockets within the space to eliminate sidewalk access." (Miguel Nelson, a North Sea business owner involved in the area's marketing efforts, declined to respond publicly.)
As private property owners adopt guerrilla tactics to thwart homeless encampments, legal issues arise. Skid Row activist General Jeff Page has observed that, while property owners are permitted to control up to three feet of sidewalk extending from their buildings, "The North Sea is taking upwards of five to 10 feet of sidewalk, allowing only for ADA (Americans with Disabilities Act) compliance and zero space for homeless tents and/or encampments." (The Los Angeles Department of Public Works stated that the North Sea sidewalk landscaping is currently under investigation and thus couldn't comment further on the matter.)
What's more, business owners in South L.A. have illegally installed fences around their property, which, according to Diaz, will eventually give way to sidewalk landscaping. Relatedly, Adam Smith has been corresponding with city officials to ascertain the permit status of the Venice planters. The West L.A. office of the Bureau of Engineering, which issues revocable permits, told Capital & Main that it did not have a permit on file for the planters. Without one, according to the bureau, "no portion of the public right-of-way, including sidewalk, is allowed for private use."
Nevertheless, the planters remain and, according to Smith, have multiplied. Additional boxes, he said, are now ensconced in the sidewalk around the corner, to where the previously ousted people had first moved.
"For some people, [landscaping] sounds like a great idea," Diaz said. "But you're literally privatizing public space to create more 'landscape' for your business."
---
Copyright Capital & Main