How to Fund Advocacy in Polarized Political Times
(Note: This post first appeared on Philanthropy New York's Smart Assets blog.)
By Beth Herz
Leading the charge on an issue can bring an organization's work into the spotlight—and sometimes also under a microscope. Madeline Janis, Executive Director of the Los Angeles Alliance for a New Economy (LAANE), learned this when her own organization's work came under scrutiny for less-than-benevolent reasons. While under her leadership, LAANE learned that an unnamed political ops firm was conducting a careful investigation of all of its records, apparently intending to find fodder for a smear campaign.
On November 29th, Philanthropy New York hosted a funders briefing to discuss the rise of this type of political attack on advocacy work and the roles foundations can play in responding. The briefing's two panels included Madeline Janis's story and a case study from Cecile Richards, President of Planned Parenthood. Several experts provided a background on trends in the field and recommendations for preparedness and Pablo Farías, a Vice President at the Ford Foundation, brought a funder's perspective. (The event was co-sponsored by the Ford Foundation, the Ms. Foundation for Women, the Nathan Cummings Foundation, the New World Foundation, the Ottinger Foundation, Public Interest Projects, the Surdna Foundation, and the Unitarian Universalist Veatch Program at Shelter Rock.)
Examples of political offensives against social justice advocacy abound; Tarso Ramos of Political Research Associates presented a collection of cases. Attacks on movements and institutions, from recent attempts to defund Planned Parenthood to the anti-Obama "birther" controversy, represent a trend which, according to Nan Aron of the Alliance for Justice, is "going to get a lot worse in an election year."
The "rightwing sting" effort to cut Planned Parenthood's federal funding set the organization into motion on an active response, Cecile Richards explained. Reframing the public discourse, the organization revealed that the proposed policy change would mean that anyone attempting to receive preventive care through a government program like Medicaid or the Title X family planning program would no longer have access to services at Planned Parenthood health centers. Through a campaign incorporating television ads and an online storybank representing women and men from every state, Planned Parenthood was able to educate the public and, ultimately, preserve its ability to provide care through federal programs.
Based on LAANE's experience facing a political offensive, Madeline Janis advised nonprofits and foundations in similar situations to "take active steps" at the first sign of an attack. LAANE's own actions included talking to every partner and funder, consulting with a crisis PR firm, scouring all records internally for any potential blemishes, and making everything accessible to the public. Finally, its staff launched a preemptive "reveal yourself" campaign, aimed at drawing attention to the funder of the politically motivated investigation. To date, the client initiating the search has not revealed itself, but has apparently ceased its efforts.
In line with Madeline's advice, Nan Aron urged everyone to "keep your house in order," carefully maintaining 990 tax returns and other records. Mark Fabiani, Principal at Fabiani & Lehane, agreed: His three principles for organizations are "prepare, prevent, and preempt."
The philanthropic sector once strived to be an invisible and politically neutral benevolent force, Pablo Farías noted, but as it has expanded, it has also become more embedded in political discourse. A social justice mission like the Ford Foundation's necessitates a push toward systems change; these philanthropic efforts will inevitably confront power and unearth opposition. Recognizing this, the Ford Foundation has developed clear goals and resources that allow it "to have risk capital to invest" in advocacy activities.
Funders can play a key role in helping organizations be resilient. The co-sponsors of this event came together both to learn from cases of political attacks and to discuss how they might coalesce in partnership with targeted organizations. With unprecedented amounts of money now going into political offensives against advocacy organizations, the ongoing partnership and support of funders in the face of attacks will be essential for the health of nonprofits like LAANE and Planned Parenthood.
Beth Herz is Senior Associate for Programs and Strategy at the Surdna Foundation, a New York-based family foundation that fosters just and sustainable communities guided by principles of social justice in the U.S. She is currently also a PLACES Fellow through The Funders' Network for Smart Growth and Livable Communities.

Seven Restless GOP Districts Revisited
This week, in a run-up to the June 5 primary, we are re-highlighting our profiles of seven Republic congressional districts whose flipping would signal a fundamental groundswell against the Trump administration.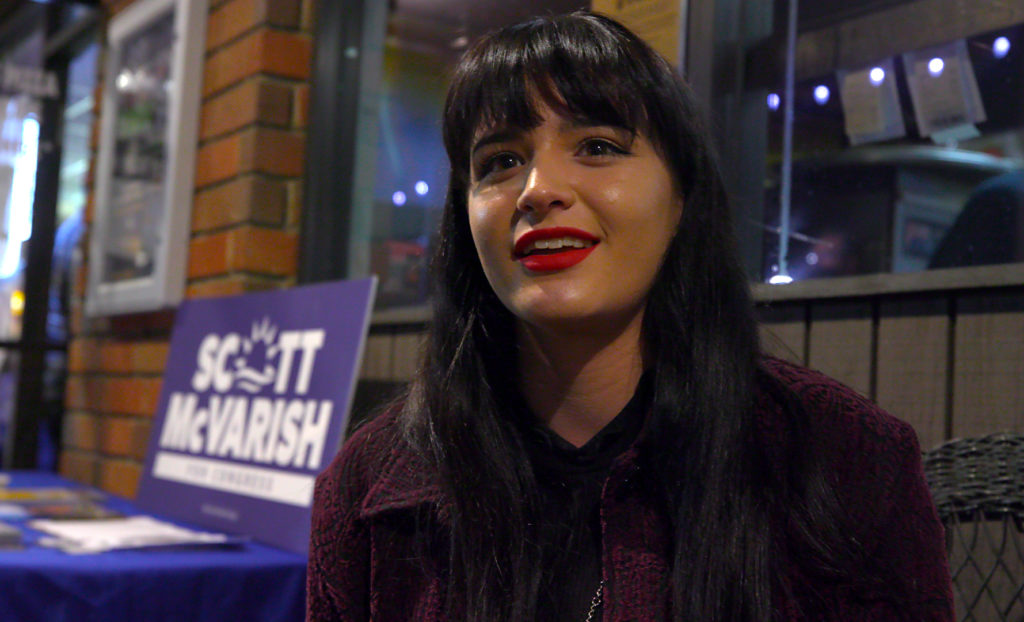 On February 1 Capital & Main launched its Blue State/Red District series profiling seven Republican-held congressional red districts — specifically, the challenges shaping their destinies and the policy rifts between the districts' representatives and their constituents. We began the series because, in 2016, seven of California's 14 Republican-held congressional districts returned all GOP incumbents to the House of Representatives, yet majorities in seven of those districts chose Hillary Clinton over Donald Trump for president. The districts were located in places long associated with rock-ribbed conservatism: The High Desert, Orange County, interior San Diego County and the Central Valley.
This week, in a run-up to the June 5 primary, we are rerunning these stories in the hope of returning attention to these key districts, whose flipping would signal a fundamental groundswell against the Trump administration and its policies.
---
CA 49 (Northern and Central San Diego County) — Kelly Candaele. Co-published by International Business Times.
CA 48 (Coastal Orange County) — Judith Lewis Mernit. Co-published by The American Prospect.
CA 10 (Central Valley) — Larry Buhl. Co-published by International Business Times.
CA 25 (High Desert) — Steve Appleford. Co-published by International Business Times.
CA 21 (San Joaquin Valley) — Larry Buhl.
CA 45 (Orange County) — Judith Lewis Mernit. Co-published by International Business Times.
CA 4 (The Gold Country) — Kelly  Candaele.
---
Copyright Capital & Main