How Heather Booth Changed the World
Like Woody Allen's character in the film Zelig, Heather Booth seems to have been everywhere there was a fight for social justice. She's played key roles in battles for voting rights, child care, workers' rights, immigrant rights, and reproductive freedom.

F
ilmmaker Lilly Rivlin calls political organizer Heather Booth "the most influential person you never heard of."
Over the past half century, Booth has improved the lives of tens of millions of Americans who never knew her name. But if you've met Booth, heard her give a speech or participated in one of her training sessions for organizers, you're one of the lucky ones.
Rivlin's hour-long documentary, Heather Booth: Changing the World, will be screened in a benefit for the Los Angeles Alliance for a New Economy August 3, at Laemmle's Ahrya Fine Arts Theater in Beverly Hills, where she will appear for a discussion. (Click here for event info.)
"Heather is one of the most dynamic, inspiring and fortifying leaders that I have ever worked with," says Madeline Janis, LAANE's co-founder and currently executive director of Jobs to Move America.
"Heather is the most tenacious organizer and campaigner I've ever known," echoed George Goehl, executive director of People's Action, a community organizing network. "That's her magic – her laser focus on what work needs to be done." "Heather is one of the people who makes this all work," adds U.S. Senator Elizabeth Warren. "I'm in awe.''
Like Woody Allen's character in the film Zelig, Booth seems to have been everywhere there was a fight for social justice. She's played key roles in battles for voting rights, child care, workers' rights, immigrant rights, and reproductive freedom. She helped Harold Washington get elected Chicago's first African American mayor. She helped Elizabeth Warren get a consumer protection agency through Congress.
In 2007, Warren, then a Harvard law professor, had an idea for a federal consumer agency. But, as she told Huffington Post reporter David Wood, she had no idea how to make it happen – how to mobilize the political influence to get Congress to push back against the powerful banking lobby.
A colleague said simply, "Call Heather."
Booth became the founding director of Americans for Financial Reform, a coalition of labor unions, civil rights organizations, consumer and citizen action groups as well as unaffiliated individuals who were simply angry at the way financial institutions had abused ordinary Americans and triggered the epidemic of home foreclosures.
With Booth's help, Warren persuaded President Barack Obama and Congress to create the Consumer Financial Protection Bureau (CFPB) as part of the Dodd-Frank bank reform law of 2010. Politicians and other public figures gathered on stage for a gala signing ceremony in the Capitol's Ronald Reagan Building. Booth was in the back of the auditorium.
In Rivlin's film, Booth describes her first foray into activism when, in her early teens, she stood by herself in New York City's Times Square handing out leaflets urging an end to the death penalty. In the late 1950s, Times Square was a dangerous area, dominated by porn shops and addicts. One person spit on her. Flustered, she kept dropping her leaflets. "I was really frightened," she said.
But she didn't give up her idealism or her activism.
As Heather Tobis, she arrived as a freshman at the University of Chicago in 1963. She volunteered at a mental hospital, tutored students at a nearby public school and participated in a folk music club. Then a friend of hers was raped at knifepoint in her bed in an off-campus room.
"When she went to student health for a gynecological exam, she was given a lecture on her promiscuity," Heather recalled in an oral history of the Chicago women's movement. "She was also told that student health didn't cover gynecological exams. So we sat with her and they called it a sit-in."
In 1964, the 18-year-old Booth participated in Freedom Summer, joining hundreds of other Northern college students who moved to Mississippi to help register black voters and organize Freedom Schools.
Booth was a founder of the modern women's movement, a role that started in 1964 when she helped set up a covert abortion network, after learning that a friend was pregnant. The friend wasn't ready to have a child. She was scared and possibly suicidal. She asked Booth if there was anything she could do to help. Booth called around to find a doctor who would perform an abortion, which was then illegal. Word got around and eventually others called her to ask for help. She recruited other volunteers and other doctors. Eventually it became on ongoing organization called the Jane Underground. By some estimates, the Jane Underground group helped secure between 11,000 and 13,000 abortions for women in need between 1965 and 1973, when the Supreme Court finally legalized abortions in Roe v. Wade.
In 1965, Booth attended a meeting of Students for a Democratic Society (SDS)."I was talking and one of the guys yelled at me to shut up. And I was a really, really nice kid. And I stopped talking," she recalled. "I went around and tapped the shoulder of every woman in the group and we went upstairs and made a separate group."
They started a women's action and discussion group, whose members eventually blossomed into leaders of various feminist organizations, including the Chicago Women's Liberation Union.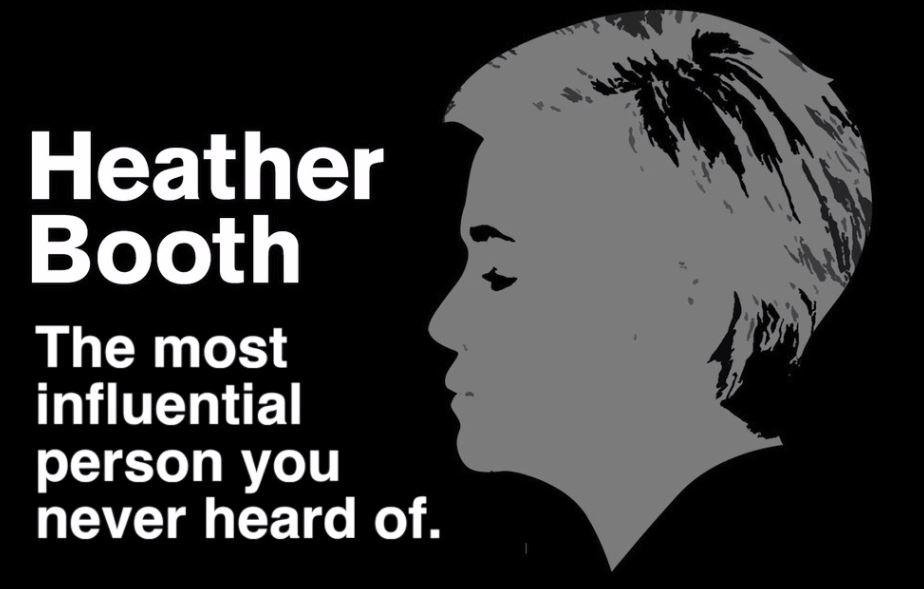 T
hrough the Midwest Academy, a training center for activists, and her many movement activities, Booth, now 71, has trained and mentored some of the nation's most effective and influential organizers and activists.
If she had a resume, it would read like a "who's who" of liberal and progressive groups and activists, including MoveOn, the NAACP, USAction, People's Action, Planned Parenthood, Alliance for Citizenship and the Voter Participation Center, to the National Organization for Women, the National Council of La Raza, the National Committee to Preserve Social Security and Medicare, and the Center for Community Change.
Heather Booth: Changing the World blends interviews from close friends and political colleagues to examine a legacy in progressive politics and organizing.
Through the lens of Booth's life and work, this inspiring and entertaining film explores many of the most pivotal moments in progressive movements that altered our history over the last 50 years.
The film teaches us that at the center of any successful movement are people like Booth who combine a generosity of heart, a lifelong commitment to social justice and a remarkable talent for inspiring others and for thinking strategically.
"I tell the kids who ask me about Mississippi that it wasn't pretty," Booth once recalled, discussing her work registering voters in the early 1960s. "It was hot, smelly, and dirty. I got chiggers in my legs, and it was boring. You can't imagine how incredibly boring and frustrating it is to knock on doors and try to get people to register. But one of the wonderful things about democracy is that people can change."
"If you stand together and organize," Booth says, "you can change the world."

Republican Tax Plan Targets California's Elderly
The Senate tax proposal could add over $1.4 trillion to the federal deficit by 2027, and Republicans are already targeting entitlements. Cutting Medicare and Medicaid may change how some people are allowed to die.

The Senate's version of tax reform, 479 pages with last-minute, handwritten changes in the margins, passed shortly before 2 a.m. on December 2, with only one Republican voting against it. The GOP plan is a windfall for the wealthiest Americans, slashing the top corporate tax rate from 35 to 21 percent, and while a final version won't be unveiled until later this week, the gains for the rich appear to come at the expense of the elderly.
"There are pretty large implications for older adults," said Amber Cutler, a staff attorney with the nonprofit Justice in Aging, which advocates on behalf of the elderly poor.
"The tax bill is the first step in a two-step process," Cutler said. The first, of course, is cutting taxes. The second, in the eyes of Republican lawmakers, is justifying "cuts to programs that serve as a social safety net" because of a massive budget deficit that the bill generates, she said.
By abolishing the Affordable Care Act's individual mandate to buy health insurance, the bill would increase the cost of health care for older Americans. Without that mandate, younger, healthier people may choose not to buy insurance, tilting the insurance market more toward older and sicker people who will see their premiums go up. The Senate bill would also "trigger rules that, barring congressional action, would result in automatic cuts to federal programs," according to the AARP. In 2018 alone, AARP notes, $25 billion of those cuts would come from Medicare as a result of a 2010 law limiting the size of the deficit. The nonpartisan Congressional Budget Office says the Senate tax proposal would add over $1.4 trillion to the federal deficit by 2027, and Republicans are already targeting entitlements.
"We're going to have to get back next year at entitlement reform, which is how you tackle the debt and the deficit," House Speaker Paul Ryan said December 6. That approach means cutting Medicare and its counterpart for low-income Americans, Medicaid. "I think it's the biggest entitlement we've got to reform," Ryan said.
Cutting Medicare and Medicaid may change how some people are allowed to die.
With respect to California's Medicaid program, that could mean "scaling back the program considerably," Cutler said. "Cutting eligibility, cutting benefits — that will lead to more seniors not being able to age at home, but being forced into nursing facilities."
"It will be a catastrophic scaling back of those programs that will impact generations and generations moving forward," Cutler added, calling the looming cuts "a reversal of all the gains from the War on Poverty."
While some older people will see a reduction in their taxes, AARP estimates at least a million people over 65 would see a higher tax bill. But the Republican tax plan would eliminate, or at least cap, the current deduction for state and local taxes, inflicting pain on millions who depend on federal and state social programs, according to the Center on Budget and Policy Priorities (CBPP), a Washington, DC-based progressive think tank.
Removing the deduction for state and local taxes, on its face, is a progressive reform. As the New York Times pointed out, the deductions for non-federal taxes are ones that "upper-class taxpayers are much more likely to claim." Lower-income taxpayers generally elect the standard, non-itemized deduction, which would increase under the proposed bill.
But, the CBPP argues, the progressive nature of the change is superficial. In practice, removing those deductions would make it harder for state and local governments to fund social services, just as funding for those services becomes more vital in the wake of federal budget cuts.
Eliminating those deductions "would push more costs to middle- and low-income people, and make state and local tax systems even more regressive overall than they already are," the CBPP said, adding that the transfer would come at the same time Republicans are proposing in their 10-year budget plan "to shift substantial new costs to states."
Without a commensurate increase in state taxes to make up for lost federal dollars, the combined impact of the tax bill and a Republican budget would mean more people going without food, shelter and health care, according to an analysis of the GOP budget proposal by the Service Employees International Union California. (Disclosure: The public sector workers' union is a financial supporter of this website).
In Los Angeles County alone, SEIU's research found, "at least 64,657 households with a person 60 and over could lose federal housing assistance." Cuts to programs that offset the cost of electricity could mean "up to 17,177 seniors 60 years of age and older" paying more to keep the lights on, the analysis said. The budget proposal also calls for eliminating the Senior Community Service Employment Program, which helps low-income Americans 55 and older find part-time work.
Those seniors would also receive less public assistance. House Republicans are proposing to slash the food stamp budget 40 percent by 2027. In Los Angeles, where 11 percent of the county's 10 million residents rely on the program, that would mean a loss of up to $2 billion in funding. The money has to come from somewhere, or something will have to be cut.
The Republican proposal currently allows a deduction of up to $10,000 in property taxes, with some GOP lawmakers pushing to also give taxpayers the option of counting state and local taxes against that deduction. But while other states may be able to generate revenue with higher property taxes, the California constitution, since the 1978 passage of Proposition 13, limits the tax on property to just one percent. And even so, in a state where the median home value is now over $512,000, according to Zillow, it will be easy enough for property taxes alone to eat up much of the $10,000 deduction. (The House plan limits the mortgage interest deduction to mortgages of $750,000 and below).
Chris Hoene, executive director of the California Budget & Policy Center, said that, at the least, the de facto elimination of the state and local tax deduction is "particularly bad for seniors" who won't benefit from new credits aimed at helping families with young children. He calls the Republican tax plan a deliberate attack on states with more generous social programs.
"What you see are decisions that were clearly made with an eye toward restricting benefits [for] Californians and taxpayers in other states like California," Hoene said. "It's designed to hit states that have higher home values and higher income taxes." Along with budget cuts at the federal level, he said, the GOP tax bill will "inevitably make it more difficult for state and local governments to raise revenues."
---
Copyright Capital & Main