How Far Can California Go It Alone After Trump Reneges on Climate Accord?
Co-published by Fast Company
As news broke Thursday that President Trump would pull out of the Paris climate agreement, California Gov. Jerry Brown was packing his bags for China to attend a convocation of multinational energy policy makers called the Clean Energy Ministerial.
Earth Day, 2016: Secretary of State John Kerry signs climate agreement.
Co-published by Fast Company
Californians who watched cable news on Thursday before, during or after Trump's error-ridden Rose Garden speech, heard—from Senator Rand Paul, from U.S. Environmental Protection Agency Administrator Scott Pruitt, from Trump himself—that the Paris climate agreement was a "bad deal" for Americans. Paul, the Kentucky Republican, asserted on CNN that the agreement required too little of other countries; Pruitt, that it somehow hindered American independence. Trump promised he would "exit and renegotiate any deal which fails to serve America's interest," he said, and so that's what he was doing.
But what the U.S. signed onto in Paris 18 months ago wasn't really wasn't really a "deal" at all; it was a voluntary agreement, without the force of law or the treaty imprimatur of the U.S. Senate. It was so manifestly not an ironclad deal, in fact, that reportedly Secretary of State John Kerry, four hours before deadline, refused to sign unless the word "shall" was changed to "should" in the segment about the U.S. providing $3 billion to the Green Climate Fund, which helps poorer countries in their efforts to establish clean-energy economics. (Trump on Thursday referred to that sum as "a vast fortune").
Nor was the U.S. government's "nationally determined contribution," or NDC, to greenhouse gas reductions all that "draconian," as Trump claimed. California has a near-term legislative mandate to reduce greenhouse gas emissions to 40 percent below 1990 levels by 2030, and an executive order to achieve 80 percent below 1990 reductions by 2050. An international coalition of regional and local jurisdictions led by California, the Under2 MOU, assumes only reductions of 80 to 95 percent by 2050 will keep global temperature rise below 2 degrees Celsius (3.5 degrees Fahrenheit), by the end of the century. The Paris compact hewed to the same climate goal, but when John Kerry put his pen to the accord in December of 2015, the U.S. had agreed to cut the nation's greenhouse gas emissions to, at best, 28 percent of 2005 levels by 2025. By some estimates, thanks mostly to the decline of coal-fired power, the nation is already a third of the way there.
Which doesn't mean Paris was useless. The 21st "Conference of Parties," or COP, an assembly mandated under a United Nations treaty the U.S. Senate ratified in 1992, is where governments come together and share observed data on climate impacts, exchange technological fixes to dirty energy plants and, most of all, affirm individual commitments to climate mitigation. The United States has so far not withdrawn from the UN treaty, and consequently, it must still participate in that process. And dozens of U.S. states and cities remain committed not just to the Paris goals, but to even more aggressive standards arrived at in separate constructive alliances.
In fact, as the news broke Thursday that Trump would pull out of the Paris accord, California Gov. Jerry Brown was packing his bags for China. On Friday, he'd be on his way to a convocation of multinational energy policy makers called the Clean Energy Ministerial. On his agenda next week is a Beijing gathering of the Under2 group, which Brown and Winfried Kretschmann, the Minister-President of the German state of Baden-Württemberg initiated two years ago to promote local solutions to a global problem. So far, over 170 regional and local jurisdictions from 33 countries have signed on, including Oregon, Minnesota and the city of Austin, Texas. With the recent additions of Canada and Mexico in April, the coalition now represents 37 percent of the global economy.
The Under2 Coalition may be California's most significant contribution to climate mitigation since 2006, when then-Assemblymember Fran Pavley, successfully pioneered legislation to control climate-forcing pollutants. Brown insists that the U.S. withdrawal from the Paris accords will only fuel its momentum. California's too: "California will resist this misguided and insane course of action," Brown said in a statement. "Trump is AWOL, but California is on the field, ready for battle."
Informal, information-sharing collaborations with other countries such as Under2 are well within any state's Constitutional rights, says Michael Wara, an associate professor of environmental law at Stanford University. But there are other ways in which states need to be careful. As much as Brown wants to present California as a vanguard nation-state, there are limits to the state's autonomy. "There's a problem for us in the Constitution in that it dictates that the nation speaks with one voice. And that voice is, as we're learning, the president's voice."
That principle applies to the carbon markets as much it does to any other trade deal. California's chief contribution to the clean-economy model is a greenhouse-gas market trading program, where big polluters buy credits from lesser polluters to meet state-mandated emissions caps. By state law that market can link to other greenhouse gas markets whose requirements are at least as strict, but so far, only Canadian provinces have qualified. California and the Canadian province of Quebec linked their carbon markets in 2013; California and Ontario have laid the groundwork for the province to join in 2018.
It's those arrangements that could land the state in dicey legal territory should the Trump administration decide to get tough. "We're tiptoeing up to something that looks like foreign policy," Wara says. "That was fine under Obama, because the U.S. government agreed with California. But we're moving out of that pretty quickly."
Wara cites a 2003 case that involved European insurance companies failing to reimburse policy holders whose families lost everything in the Holocaust. "California passed a law in 1999 that said you can't do business in California if you don't release the names of all the Jewish people who held policies during World War II," he says. The law conflicted with what the U.S. government under President George W. Bush called the "voluntary, non-adversarial mechanisms" it was supposedly employing to resolve the victims' claims. In a contentious 5-4 decision, the U.S. Supreme Court struck down the California law.
"The basic idea is that it's the privilege of the executive branch to conduct foreign policy," Wara says.
Nothing in that decision, however, says that California regulators can't enter into partnerships with willing governments to share expertise gleaned from actual experience. "There aren't that many entities that have experienced environmental regulators in the world," Wara says. California's cap-and-trade program has weaknesses; the price of credits has dropped too low to motivate polluters to mend their ways, and environmental justice groups complain that it concentrates pollution in disadvantaged communities. The program expires in 2020, and legislation that would extend it for another decade fell three votes short in the Assembly Thursday night. Another bill to radically overhaul the trading program is in the works.
But for now the current program still functional, Wara says, "and California's learned a lot from it." When China launches a planned carbon-trading scheme this summer, it will be with the "tremendous advice" its regulators gleaned from California regulators through the Under2 program.
"California's history on air pollution and the environment is that we invent stuff and share it," Wara says. "That's what we should continue to do."
Former EPA Official Finds Hope in the Middle of the Climate Crisis
"Those of us who've been working on environmental justice and climate justice," says Mustafa Ali, "understand we're talking about housing, transportation, the environment, public health and jobs."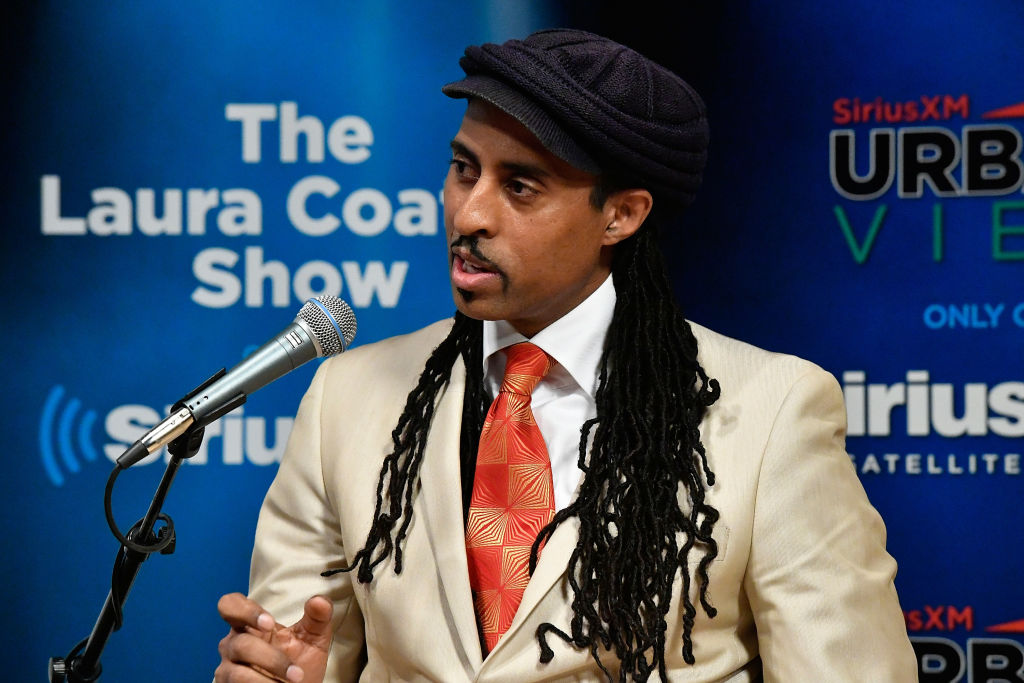 ---
"Because the current administration is so anti-science, so anti-environment, so anti-climate, people who weren't paying attention before are paying attention now."
---
Until he resigned last year, Mustafa Santiago Ali served as the Senior Advisor for Environmental Justice and Community Revitalization at the U.S. Environmental Protection Agency, where he'd worked since 1992. Under the direction of the agency's first administrator of the Office of Environmental Equity, Dr. Clarice Gaylord, Ali helped begin the EPA's effort to recognize and address the disproportionate impacts of pollution on communities situated closest to industrial polluters, communities where people — often people of color — live in poverty. He worked with the Clinton administration on Executive Order 12898, which established a federal program to address environmental justice in communities of color and low-income communities, and in 2007, he went to Capitol Hill to work as a Brookings Institution Congressional Fellow with Rep. John Conyers. He returned to the agency the next year, and stayed until the Trump administration proposed cutting nearly $2 billion from the EPA's already meager $8.2 billion budget, and a leaked memo revealed plans to eliminate the Office of Environmental Justice that Ali had helped found. (Congress ultimately rejected the cuts in the current federal budget, passed in March of 2018).
Ali is now the Senior Vice President of Climate, Environmental Justice & Community Revitalization for the Washington, DC-based Hip Hop Caucus, a national nonprofit that joins the hip hop community to the civic process of politics, social change and the environment. At the recent Climate Reality Conference in Los Angeles, he spoke on a panel of environmental justice advocates, which included Catherine Flowers and mark! Lopez of East Yard Communities for Environmental Justice. Ali had audience members join hands and reaffirm their collective power to effect social and political transformation. I spoke with him afterwards in the over-air-conditioned lobby of the Los Angeles Convention Center.
---
Capital & Main: You spent 24 years at EPA, beginning when George H.W. Bush was still in office, and stayed through the second Bush administration, too. How did you weather other more conservative administrations?
Mustafa Santiago Ali: When I started, at the end of [then-EPA Administrator] William Reilly's administration in 1992, we were really blessed that there was a lot of energy around environmental equity, which became environmental justice. A number of the leaders had gotten together in 1991, through the first National People of Color [Environmental Leadership] Summit in Washington, DC, and put together a set of recommendations before they began to engage with the federal government. One of those recommendations was the creation of an Office of Environmental Equity/Environmental Justice. Those recommendations drove a lot of work that happened in both Republican and Democratic administrations in the early days.
We began to move forward on the creation of the environmental justice small-grants program during the first Bush administration. In the transition to the Clinton administration, we were able to move things forward because an executive order came that I was blessed to be able to work on. Out of that executive order came the interagency working group, which means there are now 17 federal agencies – back then it was 11 — and a couple of White House offices that have distinct responsibility for environmental justice.
There had been successes under all of those administrations. There were challenges in that certain administrations were more tied into business and industry. But all of them made progress before this administration we're in now.
So even Bush II. They had an office to doctor studies done by scientists within Fish and Wildlife, for instance. But you're saying there was still progress on environmental justice then?
There was. It was incremental, and I don't want to oversell it. But without a doubt, it existed. No one ever talked about eliminating the Office of Environmental Justice under Bush.
How hard was it for you to leave?
I had to struggle with it. I prayed, I talked to my parents, I talked to my mentors. There were a couple of times I was going to jump out right at the beginning [of the Trump administration]. Maya Angelou has that great quote about how when someone tells you who they are, believe them. But there's always that thing, you know, maybe they'll have a road to Damascus moment. Maybe there'll be this transition. But it wasn't going to happen. That was being overly hopeful.
I knew the policies they were moving forward on literally could kill people. I knew that, because even when things are moving in a somewhat positive direction, people are still very vulnerable. And I knew that these folks, they just didn't care about all of these leaders, these grassroots leaders and others, who sacrificed everything to try and strengthen environmental laws, to try to get real enforcement actually happening. They've put into their own reports that they know their policies are going to kill people – especially people of color.
Enforcement of environmental crimes is almost non-existent.
I knew that was coming. They were very clear about what they wanted to do around air pollution issues. And since I led the inter-agency working group, I knew that the cumulative effect is that more people were going to get sick and more people were going to die.
You've addressed in your career an overlooked part of environmental justice: the impact of natural and man-made disasters on disadvantaged communities. We saw it in Katrina, in Harvey, and we saw it in Irma and Maria. There are vulnerable people who suffer a disproportionate share of the impacts of these events.
The reason for that — we saw it in Hurricane Maria, all the lives that were lost — is if you don't have a specific focus and understanding of the additional impacts that happen in vulnerable communities, you can't protect folks and help them recover. Flint, the BP oil spill, the hurricanes — we can go down the line in terms of disasters. It doesn't matter if you're talking about low-income white communities, communities of color or indigenous communities. You've got to be thinking, What are the additional things we need to do to help those people?
The Trump administration has been trying to weaken many regulations for chemical facilities and hazardous waste facilities that were written to protect the public. That will also affect vulnerable communities when disasters happen.
They're actually extracting wealth from these communities. Lots of times people think, Oh, these communities in Appalachia. These communities in the Rust Belt. What wealth is there? But when [industries] continue to put these [dangerous facilities] in these communities, housing values plummet, while everyone else's are going up. So you're taking wealth from these communities.
In the same way, when people say climate change isn't real, that means [those communities] can't invest in renewables. That means that communities in the Rust Belt that really need new jobs never get a chance at them. So once again you are taking wealth away from these communities.
How do you get those people to care — the people in the Rust Belt, for instance, who may not understand how they're being harmed by these policies? You tweeted a story about people in Kansas whose water had been contaminated for seven years, and the state health department knew about it but didn't bother to tell them.
That was intentional. It was intentional because sometimes we've set up these barriers in our country around environmental justice. That's a shame. It's about those black people, brown people, maybe indigenous people, and white brothers and sisters [who] sometimes don't think they're going to be impacted also. When we don't help everybody understand that these impacts affect everybody, then we allow people to put these boxes around it and say, "Well, I care, but that's something that's happening to these other folks."
Even in some of the disadvantaged communities of color, it can be hard to get people to care. People are busy feeding their kids. I heard Van Jones make the point years ago at the Bioneers Conference that you can't knock on doors in marginalized communities and scream about how the polar bears are dying. How do you reach out to those people who are already stressed just getting through a day in their lives? How do you talk to them about pollution, let alone climate?
I like to anchor my message in what's going on in people's lives. Normally I would talk about how 27 million people in our country have asthma. Seven million kids. Most folks of color in the urban setting can relate to asthma. They have kids or grandchildren or nieces or nephews [with] asthma. Then we have a conversation about, Okay, where's that coming from? How is this situation being exacerbated? It's because of pollution that's coming out of these plants and pollution coming from the backs of cars. Then I link them into, "Well, did you know that there's currently policy being made that's going to let more pollution come out, so there's going to be more health impacts?"
Those of us who've been working on environmental justice and climate justice for a while understand we're talking about housing, transportation, the environment, public health and jobs. So I talk to people also about their vote, not only in the environmental context, but in the context of the violence that continues to happen in some communities. And how your vote makes the decision about who's the police chief, who's the district attorney. I bring all that together. Then people are like, "Yeah, I got power. And my power's tied up in my vote. And the vote will determine the resources coming into my community, and who's leading that process."
In California the climate fight on the environmental justice front lines and the legislative space are often at odds. It's frustrating, because as mark! Lopez of East Yard Communities for Environmental Justice said on your panel, the frontline communities in the environmental justice fight are where our climate problems begin.
I've noticed that [about California]. Legislators can't do something because of how it will affect business or industry, [but] people in the environmental justice space are saying, "We're the ones who are going to be affected by pollution first. We're the ones who have to deal with this first." [The answer lies in] creating authentic collaborative partnerships.
If we're in a relationship, it means you care about me, and I care about you. In a good marriage, a healthy friendship, many times you care more about the other person than you do about yourself. We've got to get to that. That will get to a greater understanding of how to create a policy that's truly protective of everyone.
You mentioned that 200,000 people die every year prematurely because of air pollution. Can you imagine if 200,000 people were dying of bird flu?
It would be a public health emergency.
But we don't move like we would move if it were a public health emergency. How do you convince people who are making the laws that it is?
We've got two different dynamics going on. One, we really need to accelerate the creation of renewable energy jobs, to create a just transition for the workers in those industries, and to get new people into that space.
Two, we've got to get the money out of politics. We know that's an even harder fight than getting renewable energy jobs in place. There's an addiction to that money. I was at Netroots Nation and many of the political leaders who came to that signed the no fossil-fuel money pledge. If you don't have any accountability to the fossil-fuel world and that money that exists there, then you're less likely to make decisions based on a monetary thing, and you're more likely to be basing your decisions on public health.
You say you're a realist, but also an optimist. What is your cause for optimism right now?
This is an interesting time. I think that our country had to go through this. If we're going to have real talk, we have to acknowledge that there's been no administration that's lived up to what they should be doing on these issues. But now because the current administration is so anti-science, so anti-environment, so anti-climate, people who weren't paying attention before are paying attention now. Foundations are saying we've got to shift our portfolios to better support this work. We have a common destiny that's tied to this.
Even scientists. I have a science background and it hasn't always been the case that scientists [were involved in public policy]. There've always been good scientists, but it's not like the larger scientific organizations were saying we need to do more. Now that is happening. For all the craziness the current administration tries to do and does, [it has] also been a catalyst for people saying we've got to start honoring each other. We've got to start working together. That's what keeps me going — I see these new relationships forming.
---
Copyright Capital & Main