How Congressional Gridlock Is Wreaking Havoc on Our Streets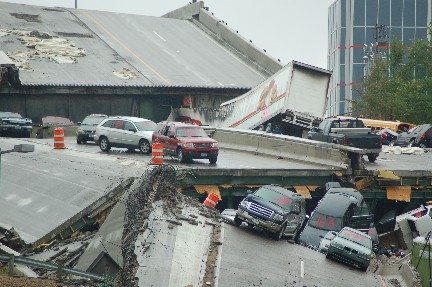 Minneapolis' I-35W Mississippi River Bridge (Kevin Rofidal/Wikimedia)
It's about 6 p.m. and I'm speed-walking to the Seventh and Figueroa Red Line stop to make sure I catch the train after work. At 6:10, the train promptly arrives at the platform and I'm home in 12 minutes. Fortunately, I never have to think twice about hopping on that train or worry about whether the train will shut down or collapse. I also have a convenient alternative to sitting in traffic, and while riding the train I feel secure knowing that our subway system was safely built by skilled hands thanks to government investment in our transit system.
But with the state of the economy and all the talk about the decline of our infrastructure in the United States, I wonder if I have taken what public transportation we have for granted. Then I say to myself, "I'll cross that bridge when I get there." (Pun may or may not be intended.)
Here in Los Angeles, the amount of investment in our transportation infrastructure reassures me that things are heading in the right direction. The Exposition Line will be opening this year, making the commute to my parents' house in South L.A. much easier. Several major transit projects, such as the subway to Westwood, will be breaking ground in the next few years, thanks to Measure R, a sales tax measure that was approved in 2008 by voters in L.A. County.
Unfortunately, Los Angeles is the exception, not the rule. As a country, we're not doing nearly enough to maintain and invest in our infrastructure.
So where are the roadblocks? In Congress, of course.
While Republicans and Democrats are fighting each other tooth and nail on health care reform, Medicare, defense spending and almost everything else, nationwide our roads are crumbling. Literally.  We can't forget about what happened in Minnesota in 2007, where Interstate-34W Bridge collapsed in Minneapolis, killing 13 people.
According to the last report card released from the American Society of Civil Engineers (ASCE), our country received a "D" for the current state of our infrastructure. In order to maintain our current infrastructure and modernize it for the future, we would need to invest more than $2 trillion. And if we look at the grades list, some parts of our infrastructure are in worse shape than others.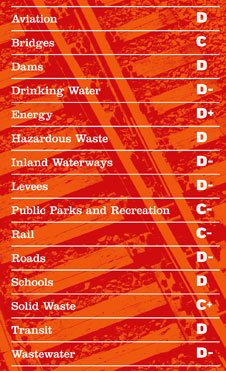 Source: American Society of Civil Engineers
Congress has the ability to do something about this by authorizing a multi-year transportation bill that will fund the operation and modernization of our infrastructure. Several proposals have been outlined over the last several weeks — here's what's on the table:
President Obama has outlined a plan to spend close to half a trillion dollars over six years
The U.S. Senate has a bipartisan bill that proposes spending about $109 billion over two years
The House has proposed spending $260 billion over five years
Compare these proposals with what the experts recommend we spend to maintain and modernize our infrastructure as part of a five-year transportation bill:
Bridges and Roads — $930 billion
Transit — $265 billion
Aviation — $87 billion
Rail — $63 billion
Waterways — $50 billion
TOTAL: $1.4 Trillion
Based on these recommendations, what Congress is proposing is nowhere near what we need to invest in our infrastructure. In fact, Democrats and Republicans are fighting over scraps and don't even agree whether to fund public transit.
Our infrastructure has always been an example of American greatness. When we look back at the development of our modern transit system and our national highway system, hundreds of thousands of people were able contribute to modernizing our cities and boosting our economy. Congress now has another opportunity to rebuild our cities and put people back to work. Let's hope they get on board on time, or we'll all be missing the train.