Blowout! How a Disastrous Gas Leak May Tilt an Election
After a natural gas accident that captured national headlines, residents of a conservative L.A. district have become environmental activists.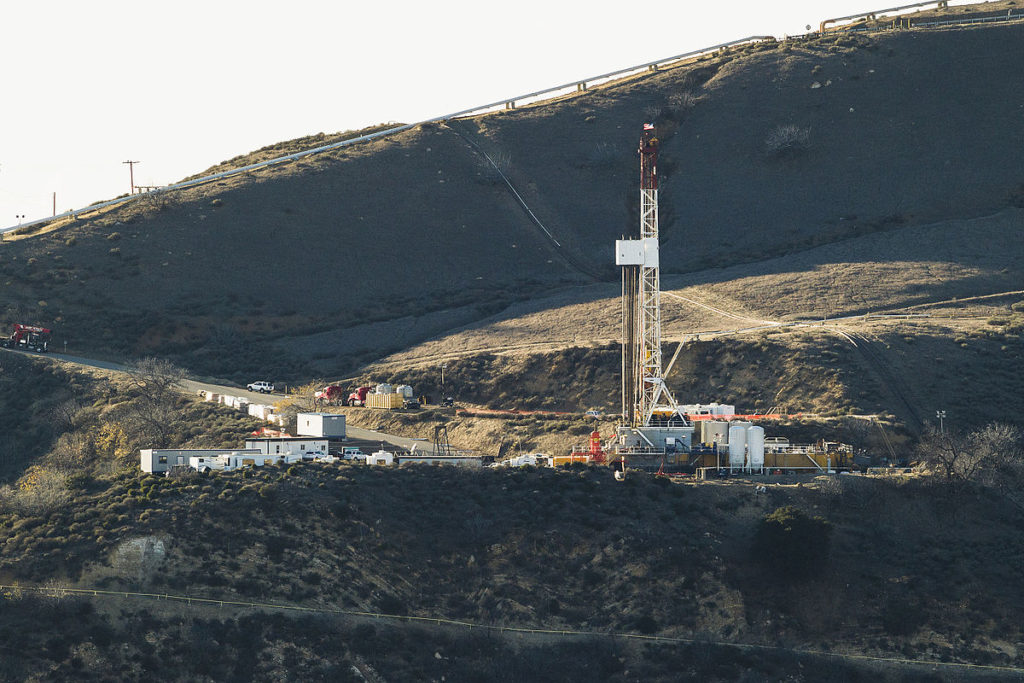 Jane Fowler's first foray into political action came in December of 2015, two months after the largest human-caused release of methane in U.S. history — at the Aliso Canyon natural gas storage facility in northwestern Los Angeles — sent her fleeing from her home. At the first Los Angeles City Council meeting she'd ever attended, she made the mistake of putting her name to a sheet of paper she'd taken for a sign-up sheet. "I only wanted to listen," she says. "I wanted to know what was going on. And then all of a sudden they called my name to speak."
After a moment of panic, Fowler rose to the challenge. She stood up and told the Council how she felt poisoned by her own vegetable garden, how she was so exhausted from absorbing toxic fumes that some days she didn't have enough energy to walk from the couch to the refrigerator. Her dog had died; she worried about her husband's health. "I heard gasps from the audience," she said. After that, "I knew I had to do more."
Almost five years later, Fowler, a 60-year-old mother of two grown children, has become an environmentalist, a climate activist and an ardent campaigner for politicians who share her core belief: That humanity's use of fossil fuels is driving us to extinction. She has since spoken at dozens of community meetings, knocked on doors for congressional candidates and stood on blockades with Extinction Rebellion, a global movement to force governments to declare a climate emergency. Now she's focusing her efforts on a Los Angeles City Council race in the city's 12th District, where she lives.
Around her expansive dining room table, Fowler and her friend Deirdre Bolona, 61, talk about how they've been knocking on doors for Cal State Northridge Professor Loraine Lundquist, a city council candidate who's both pro-science and a committed environmentalist. "She's an astrophysicist," says Bolona, who is tall and animated, with a short blond bob. "And she goes everywhere on her bike."
"We need to have someone who represents us," says Fowler, who is just as tall, but with long black hair she anxiously smooths behind her shoulder. "Who listens to us and doesn't take corporate money." Asked how a city council can make a difference on climate, she says, "Every little bit helps."
*   *   *
Los Angeles' 12th City Council District, which includes parts of the northwestern San Fernando Valley, has long been considered an island of conservatism in an otherwise liberal city. After the gas well blowout, a national scandal that SoCalGas at first downplayed and then took 111 days to fix, local residents like Fowler and Bolona, once comfortable and apolitical, were traumatized into confronting a bureaucracy they suspected had little regard for their well-being. They formed advocacy groups, organized on social media, and helped nudge their district ever so slightly to the left.
Last year Councilmember John Lee, a Republican, nevertheless beat Lundquist by roughly 1,200 votes in an August 13 special election. But Lundquist thinks her chances will be better when she and Lee face off again in the March 3 primary, along with a write-in candidate, Asaad Alnajjar. "I think a lot of those folks who will be coming to the polls to choose a Democratic presidential candidate also want to see a change in their local government," she says.
More specifically, she believes they'll want to put someone in office who understands the existential threat of climate change, raised not only by the Aliso Canyon blowout (in the near term, methane is exponentially worse for the planet than is carbon dioxide), but also by October's Saddleridge Fire, which erupted and spread with unusual ferocity.
Fowler admits that climate wasn't on her radar five years ago. "I'm embarrassed to say I was so ignorant," she says. "I just believed that if it were that bad our politicians would be doing something to fix it."
Says Bolona: "I lived in a bubble."
Grace Yao, a spokesperson for Councilmember Lee, agrees that recent catastrophes have increased "stakeholder engagement" in the district. Lee wants to shut down the Aliso Canyon facility as much as anybody. But pursuing environmental ideals in a car-dependent community, she says, is politically fraught. Lee has drawn fire from environmentalists and praise from business owners by calling for a review of a city project that carved out bike lanes on a busy north-south thoroughfare. He also opposes a rapid transit bus on a crowded east-west artery and has persuaded L.A. Metro to consider alternative routes. "You have a lot of people with a lot of emotion one way or another," Yao says. "[Councilmember Lee] just wants any policy making to be data driven."
Lundquist says she wants data, too, including, perhaps, data on global temperature rise in which transportation is a major factor. "We need leadership that will lead us toward clean energy and better transportation systems — toward all the things we know we need to do to address this climate emergency," she says. "Some of the changes we need to make will be politically difficult. But they are changes that will benefit our lives."
---
Copyright Capital & Main