"House of Cards" No Friend to the House of Labor
Netflix's new House of Cards series offers an inside look at Beltway power games and is far better than most of this genre—which is why its retrograde and even racist union-bashing is so unfortunate. For example, Episode Five sympathetically portrays politicians who lie to unions, and claims eliminating federal funding for school districts engaged in collective bargaining is necessary for education reform.
Teachers' unions are shown as completely out of touch with members, and run not by their female and African-American elected political leadership but rather by white male political consultants. And in an episode that could have been produced by either Michelle Rhee or the National Right to Work Committee, House of Cards depicts elite interests as knowing better what workers want than their own unions. Beneath its plot turns and star power, the series — whose theme is "Bad, for a greater good" — is a clever advertisement for the interests of the One Percent.
After such false anti-union films as Won't Back Down and Waiting for Superman, House of Cards shows that union-bashing in supposedly "liberal" Hollywood continues. And it's unfortunate, because the Kevin Spacey driven show has a lot of great features that drive viewer interest.
Here are the lessons about unions that Episode Five of House of Cards offers:
1. Politicians should lie to workers for "the greater good."
Spacey's character, Franklin Underwood, is a powerful Democratic Congressman from South Carolina charged with getting a newly elected President's education bill through Congress. After days of round-the-clock negotiations, Underwood reaches a deal with teachers unions on the key terms.
But Underwood had no intention of keeping his commitments. And when the unions learn that he has inserted language that would eliminate federal education funding for districts with collective bargaining—i.e., districts with teachers unions — they understandably go ballistic.
Yet Underwood's deceitful conduct toward the teachers unions is shown favorably; he, unlike unions, knows how to get things done. Underwood treats the union's members like ignorant children for not understanding the shifting flow of the legislative process, and refuses to keep his original commitments or to amend the now viciously anti-union bill.
When the unions decide to retaliate by holding a protest against a fundraising event for a nonprofit headed by Underwood's wife, we get the episode's second lesson:
2. Union Leaders Are Out of Touch With Members
Unlike the real world, as in Madison in 2011, when rank and file union members mobilized to protect collective bargaining rights, House of Cards portrays teachers as uninterested in the issue. When the teacher's consultant demands that bodies show up to protest Underwood's fundraiser, he is told that it's not clear that the teachers really care enough to attend. He then demands that bodies be brought to the protest whether they are teachers or not—and says that they could ask Teamster members to attend if teachers are not interested.
Predictably, the media coverage of the protests questions whether any of those present even are teachers—because we are supposed to understand that "real" unionized teachers would quietly accept the loss of collective bargaining rights. By exposing the consultant and the unions for promoting a "fake" event, labor's unethical behavior is highlighted while Underwood's broken commitments and lies are ignored.
In every interaction involving the unions, elected teacher leaders—shown to be African-American women — are treated like support staff for their paid male consultant. In the Michelle Rhee/House of Cards world, no powerful African-American or female labor leaders like the Chicago Teachers Union's Karen Lewis exist — a troubling departure from the truth from a show that allegedly tries to even get the smallest details right.
3. Corporative/Conservative Interests Know Workers' Interests Best
As fanatically anti-union as all of the above is, the crowning indictment comes when Underwood and others bring food from the lavish fundraiser to the chanting protesters.
In the fantasy world created by House of Cards, the male consultant had refused to provide any food to the protesters, who are primarily women of color (since we are told they are not teachers, how they got to the protest is unclear. One implication is that they were paid).
But unlike the manipulative union consultant, who does not care if his protesters go hungry, Underwood and his anti-union allies understand that workers need food. Although the consultant tries to discourage the protesters from eating what has been offered, they accept the food greedily and graciously — leaving the audience believing that the conservative Underwood knows their needs better than unions.
This portrayal is so false, base and degrading to the integrity and fighting spirit of union members as to rival the many films negatively depicting African-Americans in the pre-civil rights era. It seems that anything goes in bashing unions.
In the real world, unions provide food for members on picket lines or engaged in evening protests. And I describe in The Activist's Handbook how low-income residents in San Francisco's Tenderloin district were confronted with a similar offer of food by their adversaries and enjoyed the meal while never relenting on their demands.
In House of Cards, it is unions rather than corporations or the wealthy who must sacrifice for "the greater good." Its packaging of Spacey, Robin Wright and other strong actors, along with a fast-paced plot transforms the series into a national advertisement for the glory and power of the Republican agenda and the One Percent — a fact that Spacey's cynical sensibility may cause many viewers to overlook.
(Randy Shaw is Editor of Beyond Chron, where this post first appeared. His post is republished with permission.)

'Skeleton Crew' Is a Play With a Moral Spine
Set in a Detroit automobile outfitting plant, Dominique Morisseau's drama grabs you from the start with its focus on blue-collar men and women, and their struggle for dignity and self-respect.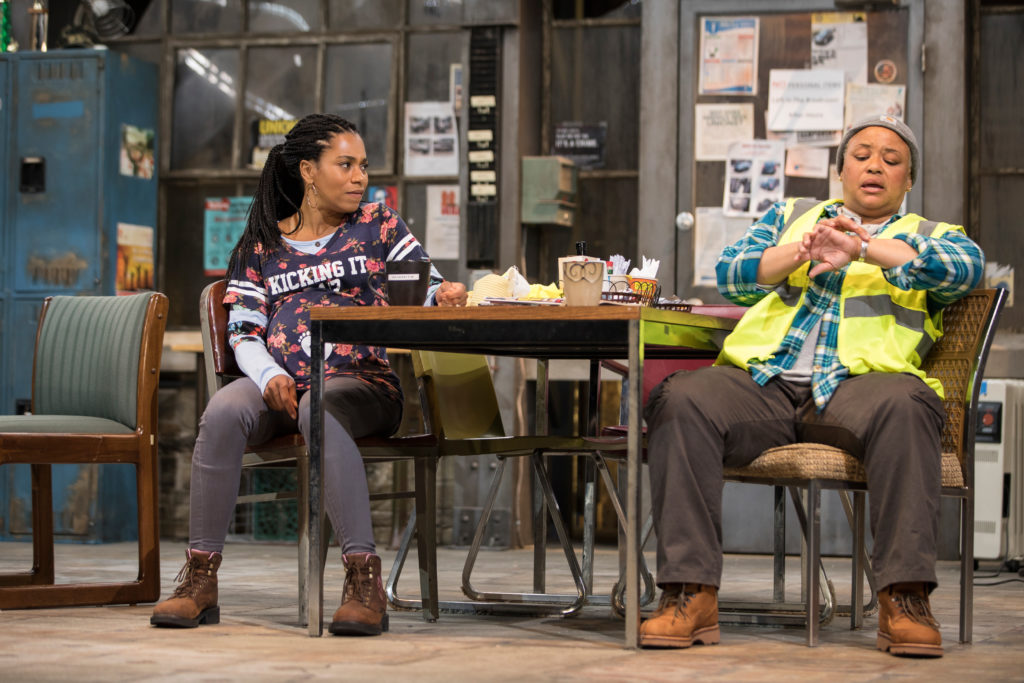 Working-class men and women of color are rarely front and center in today's media and, likewise, are presented all too occasionally on the American stage. So it's buoying to see that trend bucked in playwright Dominique Morisseau's percipient and well-crafted drama, Skeleton Crew. The play is the final installment in her Detroit  Project Trilogy; the first, Paradise Blue, is set in the 1940s amidst displacement caused by urban renewal and gentrification, while the second, Detroit '67, transpires on the eve of the 1967 Detroit riots sparked by a police action.
Directed by Patricia McGregor at Los Angeles' Geffen Playhouse, Skeleton Crew is a play with a moral spine. It takes place in 2008, when the shrinking U.S. auto industry is being further downsized. Morisseau's engaging quartet of characters — Faye (Caroline Stefanie Clay), Dez (Armari Cheatom), Shanita (Kelly McCreary) and Reggie (DB Woodside) – are employed at an automobile outfitting plant. Faye, Dez and Shanita are workers on the line while Reggie (who has a wife and kids, and has pulled himself together after a troubled youth) is their supervisor.
The first three customarily mingle in their break room (designer Rachel Myers' impressively cluttered, dingy and detailed set), trading the sort of familiar barbs and genuine concern for each other common among longtime co-workers. They also face off on philosophy: Upper-middle-aged Faye and the younger, pregnant Shanita take pride in their labor, while Dez, though a good worker, is a malcontent scornful of management and firm in the belief that everyone needs to watch out for himself. He's a thorn in Reggie's side, for while Reggie wants to be supportive of his workers, he must act at the behest of higher management. For his part, Dez resents Reggie's authority, and a palpable unease exists between them.
Besides this male matchup, we're made privy to Dez's attraction to Shanita, who mostly turns away his advances, but every now and then displays a hint of interest. Most poignant is Reggie's regard and affection for the lesbian Faye, which has roots in his boyhood when she loved, and lived, with his now-deceased mom.
These people's various predicaments intensify when rumors spread of the plant's shutdown — a disaster for all, but a particular calamity for the already near-broke Faye who, one year short of retirement, would lose her pension. The crisis forces each of these people to make a choice.
A sound piece of social realism, Skeleton Crew grabs you from the start in its focus on blue-collar men and women, and their struggle against odds for dignity and self-respect. Morisseau not only furnishes these characters a platform for their travails, she endows them with strong values, big hearts and the opportunity to choose between right and wrong.
Unfortunately, the performance I attended did not soar. Many exchanges lacked a fresh edge. The actors certainly had their characters down, but too often they appeared to be coasting on technique. (This seemed particularly true of Clay, who performed the role to great accolades in Washington, DC in 2017, also under McGregor's direction). Additionally, some of the stage movement was not entirely fluid; in confrontations, actors sometimes would just stand and face each other in an artificial way. And Cheatom's interpretation of Dez struck me as a bit overly churlish and depressive: I needed more glimpses of the intelligence and edge that would secretly attract the strong, self-directed Shanita.
The most compelling moments belong to Woodside, well-cast as a man trying his best in difficult circumstances to do the right thing.
---
Gil Cates Theater at the Geffen Playhouse, 10886 Le Conte Ave., Westwood Village; Tues.-Fri., 8 p.m.; Sat., 3 & 8 p.m. Sun., 2 & 7 p.m.; through July 8. (310) 208-5454 or www.geffenplayhouse.org