"House of Cards" No Friend to the House of Labor
Netflix's new House of Cards series offers an inside look at Beltway power games and is far better than most of this genre—which is why its retrograde and even racist union-bashing is so unfortunate. For example, Episode Five sympathetically portrays politicians who lie to unions, and claims eliminating federal funding for school districts engaged in collective bargaining is necessary for education reform.
Teachers' unions are shown as completely out of touch with members, and run not by their female and African-American elected political leadership but rather by white male political consultants. And in an episode that could have been produced by either Michelle Rhee or the National Right to Work Committee, House of Cards depicts elite interests as knowing better what workers want than their own unions. Beneath its plot turns and star power, the series — whose theme is "Bad, for a greater good" — is a clever advertisement for the interests of the One Percent.
After such false anti-union films as Won't Back Down and Waiting for Superman, House of Cards shows that union-bashing in supposedly "liberal" Hollywood continues. And it's unfortunate, because the Kevin Spacey driven show has a lot of great features that drive viewer interest.
Here are the lessons about unions that Episode Five of House of Cards offers:
1. Politicians should lie to workers for "the greater good."
Spacey's character, Franklin Underwood, is a powerful Democratic Congressman from South Carolina charged with getting a newly elected President's education bill through Congress. After days of round-the-clock negotiations, Underwood reaches a deal with teachers unions on the key terms.
But Underwood had no intention of keeping his commitments. And when the unions learn that he has inserted language that would eliminate federal education funding for districts with collective bargaining—i.e., districts with teachers unions — they understandably go ballistic.
Yet Underwood's deceitful conduct toward the teachers unions is shown favorably; he, unlike unions, knows how to get things done. Underwood treats the union's members like ignorant children for not understanding the shifting flow of the legislative process, and refuses to keep his original commitments or to amend the now viciously anti-union bill.
When the unions decide to retaliate by holding a protest against a fundraising event for a nonprofit headed by Underwood's wife, we get the episode's second lesson:
2. Union Leaders Are Out of Touch With Members
Unlike the real world, as in Madison in 2011, when rank and file union members mobilized to protect collective bargaining rights, House of Cards portrays teachers as uninterested in the issue. When the teacher's consultant demands that bodies show up to protest Underwood's fundraiser, he is told that it's not clear that the teachers really care enough to attend. He then demands that bodies be brought to the protest whether they are teachers or not—and says that they could ask Teamster members to attend if teachers are not interested.
Predictably, the media coverage of the protests questions whether any of those present even are teachers—because we are supposed to understand that "real" unionized teachers would quietly accept the loss of collective bargaining rights. By exposing the consultant and the unions for promoting a "fake" event, labor's unethical behavior is highlighted while Underwood's broken commitments and lies are ignored.
In every interaction involving the unions, elected teacher leaders—shown to be African-American women — are treated like support staff for their paid male consultant. In the Michelle Rhee/House of Cards world, no powerful African-American or female labor leaders like the Chicago Teachers Union's Karen Lewis exist — a troubling departure from the truth from a show that allegedly tries to even get the smallest details right.
3. Corporative/Conservative Interests Know Workers' Interests Best
As fanatically anti-union as all of the above is, the crowning indictment comes when Underwood and others bring food from the lavish fundraiser to the chanting protesters.
In the fantasy world created by House of Cards, the male consultant had refused to provide any food to the protesters, who are primarily women of color (since we are told they are not teachers, how they got to the protest is unclear. One implication is that they were paid).
But unlike the manipulative union consultant, who does not care if his protesters go hungry, Underwood and his anti-union allies understand that workers need food. Although the consultant tries to discourage the protesters from eating what has been offered, they accept the food greedily and graciously — leaving the audience believing that the conservative Underwood knows their needs better than unions.
This portrayal is so false, base and degrading to the integrity and fighting spirit of union members as to rival the many films negatively depicting African-Americans in the pre-civil rights era. It seems that anything goes in bashing unions.
In the real world, unions provide food for members on picket lines or engaged in evening protests. And I describe in The Activist's Handbook how low-income residents in San Francisco's Tenderloin district were confronted with a similar offer of food by their adversaries and enjoyed the meal while never relenting on their demands.
In House of Cards, it is unions rather than corporations or the wealthy who must sacrifice for "the greater good." Its packaging of Spacey, Robin Wright and other strong actors, along with a fast-paced plot transforms the series into a national advertisement for the glory and power of the Republican agenda and the One Percent — a fact that Spacey's cynical sensibility may cause many viewers to overlook.
(Randy Shaw is Editor of Beyond Chron, where this post first appeared. His post is republished with permission.)
The Power of the Poster
Carol Wells, the founder of the Center for the Study of Political Graphics in Los Angeles, talks to Capital & Main about the enduring power of political art.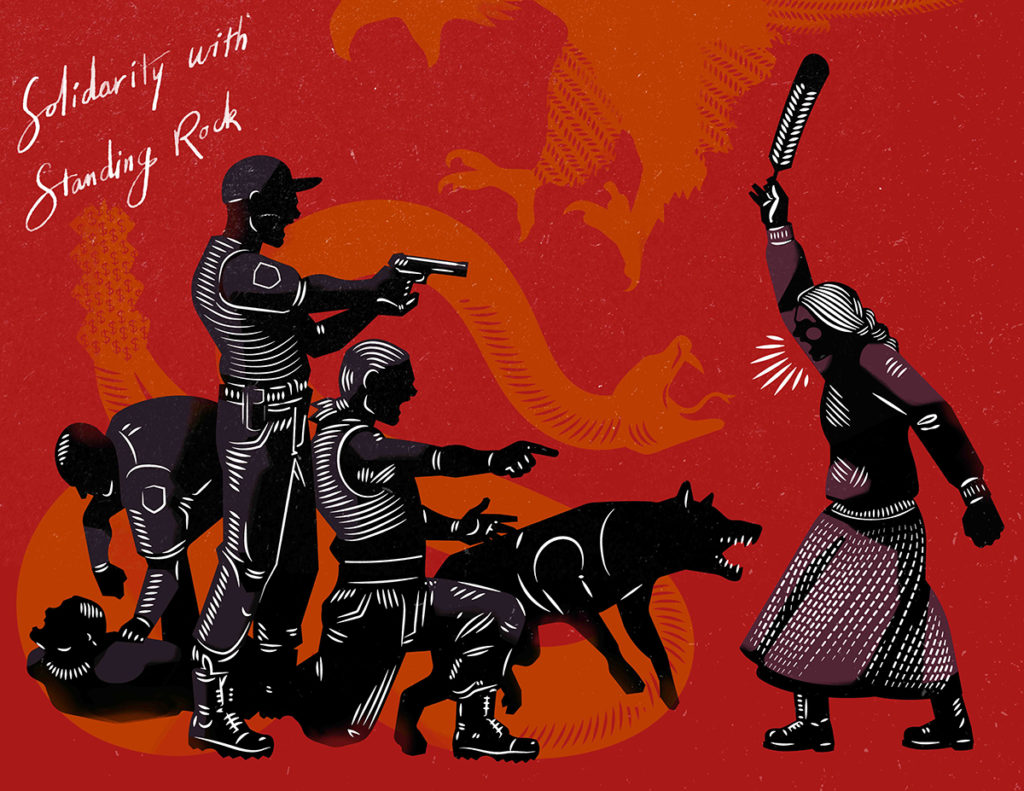 Carol Wells remembers the exact moment she discovered her calling. An art historian at the time, she was on a trip to Nicaragua with her friend David Kunzle, a UCLA art history professor, who was collecting political posters to add to his burgeoning collection. While staying with friends, Wells watched a neighbor's 8-year-old son approach a poster on the wall, stare at it intently, and then start to silently mouth the words. Wells was struck by how engaged the boy was. "In that moment I became obsessed with collecting posters."
Now over 40 years later, Wells is the founder and executive director of the Center for the Study of Political Graphics in Los Angeles. Wells has amassed approximately 90,000 posters, building one of the largest collections of its kind in the world. The Center shares its collection with the public in part through curated exhibits. This year the CSPG has produced Feminae: Typographic Voices of Women by Women and its latest is To Protect & Serve? Five Decades of Posters Protesting Police Violence, running through July 15 at the Mercado La Paloma in downtown Los Angeles.
Since that encounter in Nicaragua in 1981, Wells' obsession with collecting posters hasn't waned. In CSPG's nondescript West L.A. office space, Wells pulls out poster after poster, lecturing passionately on the backstory and cultural impact of each, including one that superimposes text from a New York Times interview with a shocking image of the My Lai massacre ("Q: And babies? A: And babies."). Recently, she managed to sit down with C&M to discuss her passion.
---
Capital & Main: So, you were an art history professor, you happen to see a kid on a trip, and suddenly your life was changed forever?
Carol Wells: Yeah, I'm in Nicaragua alone in the living room with this kid. He's looking around, and all of a sudden, he sees the poster. It was pretty big, bright green, a thick outlines of a woman holding a big basket of coffee beans. And the text in Spanish said, "In constructing the new country, we are becoming the new woman." I see him walk over to the poster and I'm watching him mouth the words. It was a pretty sophisticated concept, so I doubt he figured it out. But I literally had this epiphany: "Oh my God. That's how posters work." You're going about your daily life, and all of a sudden something breaks through the bubble, and it grabs your attention. It's the graphic, it's the color, it's the combination, and it pulls you out of your head and into that poster and it makes you ask a question. "Why is this here? What is this about? What does this mean?" And every time you ask a question, you're a different person than you were before you asked the question.
How many posters do you get a year?
We get between two to five thousand a year donated from all over the world. The bulk of our collection is [from] 1945 and later.
I assume technology has probably hurt the art form, but has it helped get the messages out?
Most people think that, and it's actually not true. Since the internet age started, there's actually a poster renaissance of works on paper. Because you can't walk with your computer monitor in a demonstration. You can't plant your monitor on your lawn.
And you can't put a laptop on the wall…
Exactly. You want to hear a really great story? Truthdig.org published a cartoon [made by] a political cartoonist named Mr. Fish. It was during the Arab spring, and he had superimposed Che Guevara with the stylized beard and King Tut's face, but it had Che's beret. And it [was titled], "Walk like an Egyptian." So, it was a reference to the music, but [it was also] a reference to what was going on the streets of Cairo. I sent it out as our poster of the week to 9,000 people. The very next day, somebody took a photograph on the street of Cairo, with somebody holding a piece of paper with that image on it. A poster can literally go around the world and people will print it out.
What struck me in viewing your exhibits is how many of these posters could still be used today, not only artistically but also, sadly, in the timeliness of their messages.
We had this fabulous poster by Yolanda Lopez, a Bay Area artist, which she first did in 1978. It depicts a young man in Aztec garb pointing a finger like Uncle Sam saying, "Who's the illegal alien, PILGRIM?" And it's a great poster, it's simple, not too many words, funny, provocative. So, we had an exhibit at UCLA in the mid '90s and there were 4 or 5 high school students standing around this poster saying, "Wow, you've got posters up to the minute." And I went over to them and I said, "Look at the date. This is before you were born."
Is that one of your goals with the exhibitions? To show the evergreen nature of this work?
Absolutely. I mean that's why we did the police abuse exhibition now. It basically goes back five decades. It's 50 years of posters protesting police abuse. Mainly in the United States, but also internationally.
What's the goal for CSPG?
Well the aim right now is really to digitize the collection and get it online. We have 10% of the collection digitized. But the mission is to collect and to document, because stories get lost. All the exhibitions, they're showing massacres, they're showing genocide, they're showing police abuse, they're showing all of these horrible things. And people often ask me, "How can you look at this stuff all day long?" I said, "Because the poster artists are optimists. They believe people can change if they have the information."
Yes, that's the reason why they're doing it, right?
That's why they're doing it, and that's why I'm doing this, because I believe that people can change if they knew the truth.
And what happens 20, 50 years from now?
Well, my goal is to stay independent, because the other option is to become part of the university. Universities, for all the fabulous things that they do, they also censor. We did an exhibition at USC in 1992 on the 500 years since Columbus, and how the legacy of racism and exploitation and genocide continues. And one of the board of trustees was Italian and took [the exhibit] as an affront to Columbus. It really wasn't about Columbus, it was about colonialism. And he ordered it down.
Do you have a favorite poster?
I'm always amazed at the creativity and vision of artists. Every week I'll say, "Oh my God, how do they think of that?" But it's always still going to be the poster I saw that kid trying to figure out. It has to be my favorite one because that one changed my life.
What makes a perfect poster?
The right balance between aesthetics and message. If you only rely on the corporate press, the New York Times and L.A. Times, for your information, you're not going to get the side from the street, from the movement, from the activists. The posters are primary historical documents that are recording the issues that were at the time, and the passions that were at the time, and the divisions that were at the time. You're not going to get it anyplace else.
---
Copyright Capital & Main