Hope and Despair Battle in 'Crown Heights'
Crown Heights isn't the tidiest film but that untidiness (so very much like real life) is a lot of its strength.

Lakeith Stanfield and Natalie Paul
Sometimes a single tale of injustice can have greater impact than a tome of statistics. That's how I responded to Crown Heights, writer/director Matt Ruskin's gritty, gripping film, an unvarnished rendering of one man's wrongful incarceration.
The film tells the story of Colin Warner, who in 1980 was arrested, charged and convicted for a murder he did not commit, and spent 21 years in prison before being exonerated and freed.
The spine of the movie is Lakeith Stanfield's uncommonly sensitive portrayal of Colin, whom we meet as a slight, diffident teenager living in a shabby Brooklyn apartment with his mom. A not very skillful petty criminal (early on, we see him hot-wiring a car, which he crashes, and stealing a clunky old TV), Collin interns in an auto mechanics shop, while carrying an abiding torch for a former elementary school classmate, Antoinette (Natalie Paul). One evening he works up the courage to ask her for a date; the encounter never materializes, however, since the following day he's picked up by the police, who claim an eyewitness has identified him as the perpetrator of a shooting in nearby Flatbush.
Although no motive is established, and the police have no weapon and no physical evidence, Colin is convicted and sentenced to 15 years. At a parole hearing he's asked to express remorse; when he protests he can't feel remorse for a crime he didn't commit, he's tongue-lashed by the board chair and denied release. Subjected to bullying and beating by the prison guards, he strikes back and ends up in solitary confinement, with years added to his original sentence. In one of the narrative's cruelest ironies (and there are more than a few), he is still languishing in prison long after the real culprit (who'd been a co-defendant) has been freed — and confessed to the crime.
When, after endless appeals are denied, and Colin's latest lawyer quits, Conlin's lifelong friend, KC (Nnamdi Asomugha), fights on alone. Eventually he hooks up with William J. Robedee (Bill Camp), who runs a modest law practice out of his apartment. KC raises money from the community for legal expenses, and pores tirelessly over court transcripts, tracking down key witnesses until incontrovertible proof of Colin's innocence can be brought before a judge.
Shot in dark, somber shades by cinematographer Ben Kutchins, Crown Heights is a sprawling work that exudes the look and feel of a searing (and at times hard to bear) documentary. Scenes with Colin— his trial, his years in prison, his relationship with Antoinette, who visits him and eventually becomes his wife — are interwoven with KC's battle with the judicial system and the strains those efforts put on his marriage. Ruskin also furnishes historical perspective by inserting clips of presidents Reagan, GHW Bush and Clinton at various times declaiming a war on crime; such sequences lend even crueler irony to the depictions of crooked cops and vituperative DAs, who distort or withhold information as Colin endures behind bars.
Crown Heights isn't the tidiest film. It doesn't progress in a smooth arc; spanning the years, it sidles, with sometimes abrupt transitions from one scenario to another: Colin in isolation, KC tracking down witnesses or arguing with his wife about the cost of this crusade on their marriage. But this untidiness (so very much like real life) is a lot of its strength. That and the thoroughly naturalistic performances make for an intense "you are there" experience of a Job-like narrative that's hard to forget.
One of the reasons we remain riveted is possibly the same reason that Colin, however despairing, never entirely gives up, and that has to do with the beautiful and tender moments that serve as brief respites from the ugly rest. These are his scenes with Antoinette, portrayed by Paul with ingrained loveliness, and occasional flashbacks he has of a lost Eden in Trinidad with his loving grandmother.

'Skeleton Crew' Is a Play With a Moral Spine
Set in a Detroit automobile outfitting plant, Dominique Morisseau's drama grabs you from the start with its focus on blue-collar men and women, and their struggle for dignity and self-respect.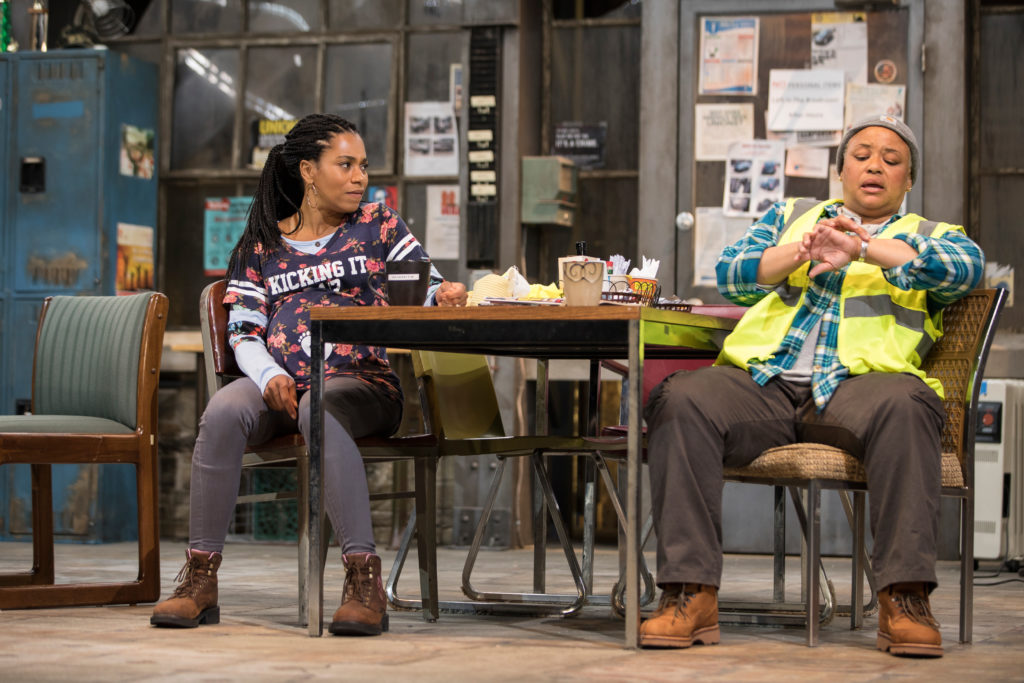 Working-class men and women of color are rarely front and center in today's media and, likewise, are presented all too occasionally on the American stage. So it's buoying to see that trend bucked in playwright Dominique Morisseau's percipient and well-crafted drama, Skeleton Crew. The play is the final installment in her Detroit  Project Trilogy; the first, Paradise Blue, is set in the 1940s amidst displacement caused by urban renewal and gentrification, while the second, Detroit '67, transpires on the eve of the 1967 Detroit riots sparked by a police action.
Directed by Patricia McGregor at Los Angeles' Geffen Playhouse, Skeleton Crew is a play with a moral spine. It takes place in 2008, when the shrinking U.S. auto industry is being further downsized. Morisseau's engaging quartet of characters — Faye (Caroline Stefanie Clay), Dez (Armari Cheatom), Shanita (Kelly McCreary) and Reggie (DB Woodside) – are employed at an automobile outfitting plant. Faye, Dez and Shanita are workers on the line while Reggie (who has a wife and kids, and has pulled himself together after a troubled youth) is their supervisor.
The first three customarily mingle in their break room (designer Rachel Myers' impressively cluttered, dingy and detailed set), trading the sort of familiar barbs and genuine concern for each other common among longtime co-workers. They also face off on philosophy: Upper-middle-aged Faye and the younger, pregnant Shanita take pride in their labor, while Dez, though a good worker, is a malcontent scornful of management and firm in the belief that everyone needs to watch out for himself. He's a thorn in Reggie's side, for while Reggie wants to be supportive of his workers, he must act at the behest of higher management. For his part, Dez resents Reggie's authority, and a palpable unease exists between them.
Besides this male matchup, we're made privy to Dez's attraction to Shanita, who mostly turns away his advances, but every now and then displays a hint of interest. Most poignant is Reggie's regard and affection for the lesbian Faye, which has roots in his boyhood when she loved, and lived, with his now-deceased mom.
These people's various predicaments intensify when rumors spread of the plant's shutdown — a disaster for all, but a particular calamity for the already near-broke Faye who, one year short of retirement, would lose her pension. The crisis forces each of these people to make a choice.
A sound piece of social realism, Skeleton Crew grabs you from the start in its focus on blue-collar men and women, and their struggle against odds for dignity and self-respect. Morisseau not only furnishes these characters a platform for their travails, she endows them with strong values, big hearts and the opportunity to choose between right and wrong.
Unfortunately, the performance I attended did not soar. Many exchanges lacked a fresh edge. The actors certainly had their characters down, but too often they appeared to be coasting on technique. (This seemed particularly true of Clay, who performed the role to great accolades in Washington, DC in 2017, also under McGregor's direction). Additionally, some of the stage movement was not entirely fluid; in confrontations, actors sometimes would just stand and face each other in an artificial way. And Cheatom's interpretation of Dez struck me as a bit overly churlish and depressive: I needed more glimpses of the intelligence and edge that would secretly attract the strong, self-directed Shanita.
The most compelling moments belong to Woodside, well-cast as a man trying his best in difficult circumstances to do the right thing.
---
Gil Cates Theater at the Geffen Playhouse, 10886 Le Conte Ave., Westwood Village; Tues.-Fri., 8 p.m.; Sat., 3 & 8 p.m. Sun., 2 & 7 p.m.; through July 8. (310) 208-5454 or www.geffenplayhouse.org