Hope and Despair Battle in 'Crown Heights'
Crown Heights isn't the tidiest film but that untidiness (so very much like real life) is a lot of its strength.

Lakeith Stanfield and Natalie Paul
Sometimes a single tale of injustice can have greater impact than a tome of statistics. That's how I responded to Crown Heights, writer/director Matt Ruskin's gritty, gripping film, an unvarnished rendering of one man's wrongful incarceration.
The film tells the story of Colin Warner, who in 1980 was arrested, charged and convicted for a murder he did not commit, and spent 21 years in prison before being exonerated and freed.
The spine of the movie is Lakeith Stanfield's uncommonly sensitive portrayal of Colin, whom we meet as a slight, diffident teenager living in a shabby Brooklyn apartment with his mom. A not very skillful petty criminal (early on, we see him hot-wiring a car, which he crashes, and stealing a clunky old TV), Collin interns in an auto mechanics shop, while carrying an abiding torch for a former elementary school classmate, Antoinette (Natalie Paul). One evening he works up the courage to ask her for a date; the encounter never materializes, however, since the following day he's picked up by the police, who claim an eyewitness has identified him as the perpetrator of a shooting in nearby Flatbush.
Although no motive is established, and the police have no weapon and no physical evidence, Colin is convicted and sentenced to 15 years. At a parole hearing he's asked to express remorse; when he protests he can't feel remorse for a crime he didn't commit, he's tongue-lashed by the board chair and denied release. Subjected to bullying and beating by the prison guards, he strikes back and ends up in solitary confinement, with years added to his original sentence. In one of the narrative's cruelest ironies (and there are more than a few), he is still languishing in prison long after the real culprit (who'd been a co-defendant) has been freed — and confessed to the crime.
When, after endless appeals are denied, and Colin's latest lawyer quits, Conlin's lifelong friend, KC (Nnamdi Asomugha), fights on alone. Eventually he hooks up with William J. Robedee (Bill Camp), who runs a modest law practice out of his apartment. KC raises money from the community for legal expenses, and pores tirelessly over court transcripts, tracking down key witnesses until incontrovertible proof of Colin's innocence can be brought before a judge.
Shot in dark, somber shades by cinematographer Ben Kutchins, Crown Heights is a sprawling work that exudes the look and feel of a searing (and at times hard to bear) documentary. Scenes with Colin— his trial, his years in prison, his relationship with Antoinette, who visits him and eventually becomes his wife — are interwoven with KC's battle with the judicial system and the strains those efforts put on his marriage. Ruskin also furnishes historical perspective by inserting clips of presidents Reagan, GHW Bush and Clinton at various times declaiming a war on crime; such sequences lend even crueler irony to the depictions of crooked cops and vituperative DAs, who distort or withhold information as Colin endures behind bars.
Crown Heights isn't the tidiest film. It doesn't progress in a smooth arc; spanning the years, it sidles, with sometimes abrupt transitions from one scenario to another: Colin in isolation, KC tracking down witnesses or arguing with his wife about the cost of this crusade on their marriage. But this untidiness (so very much like real life) is a lot of its strength. That and the thoroughly naturalistic performances make for an intense "you are there" experience of a Job-like narrative that's hard to forget.
One of the reasons we remain riveted is possibly the same reason that Colin, however despairing, never entirely gives up, and that has to do with the beautiful and tender moments that serve as brief respites from the ugly rest. These are his scenes with Antoinette, portrayed by Paul with ingrained loveliness, and occasional flashbacks he has of a lost Eden in Trinidad with his loving grandmother.

A Spiritual Mystery Play Fails to Enlighten
Yusuf Toropov's drama, set in a contaminated, cancer-ridden community, involves a publisher and his brother — a priest struggling against the local archdiocese.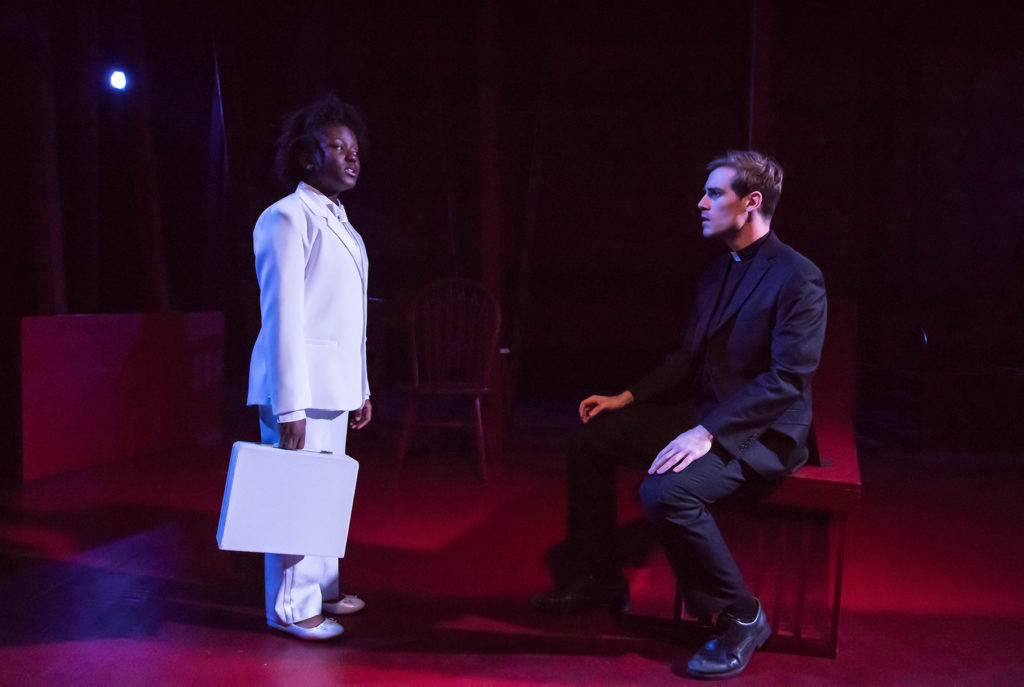 Directed by Chris Fields, Yusuf Toropov's An Undivided Heart, co-produced by the Echo Theater Company and the Circle X Theatre Co., is an aspiring work that aims to be deep but doesn't get there.
The play, running at the Atwater Village Theatre, unfolds on several levels. First, it tells the story of a young Catholic priest who must decide whether or not to publicly expose the pedophiles among his fellow clerics. Second, the work deals with our human struggle to understand why bad things happen with seeming random cruelty (a conundrum whose answers are regularly dispensed by spiritual leaders of all faiths, not very satisfactorily). On yet a third level, the play seeks to express the paradoxical wonder and mystery of life, with an assist from the supernatural.
That's a lot to cover in a little over two hours and, while the production is handsomely staged, its ambitious narrative is diminished by dangling threads, one major improbable setup near the end and too many bits of opaque dialogue.
Tim Wright, Alison Martin and Alana Dietze.
The setting is Holbrook, Massachusetts — a community whose residents have been exposed to contaminants, so cancer is rampant — in the summer of 1992. The story revolves around two brothers, both good guys: Mike (Matthew Gallenstein), a local priest who's written a revelatory book that his superiors want him not to publish, and Max (Tim Wright), an editor, who'd like to help his brother proceed.
When Max arrives at some sort of civic facility (the background particulars of this scene are unclear), he promptly tangles with an angry pregnant clerk named Lynne (Alana Dietz). A few minutes into their altercation, she goes into premature labor, and he rushes her to the hospital — the beginning of a nurturing romance.
Mike, meanwhile, is having strange dreams involving a burning typewriter and a cryptic little girl (Ann'Jewel Lee) who appears to him brandishing a dead cat. The same young person manifests in the dreams of Janice (Tracey A. Leigh, alternating with Jennifer A. Skinner), Max's Buddhism teacher, who is fond of posing riddles. Her favorite: If I am preparing to slice a cat in two, how would you prevent me from doing it?
The narrative shifts between Mike's struggle with his archdiocese, personified by its Cardinal (John Getz, alternating with William Salyers) and Lynne's problems with her dying mom Ruth (Alison Martin, alternating with Sigute Miller), a devout Catholic still in denial over her son's abuse by a priest when he was a youth.
These two storylines are interposed with the baffling dream sequences and Max's (and later Mike's) sessions with the inscrutably smiling Janice and her eschatological brain teasers. One crucial scene that leads to the dramatic climax has Mike looking to entrap an abusive priest (Jeff Alan-Lee, alternating with Jesse Bush) by attending confession with him and pretending to be a pedophile himself. The interchange, in which the priest probes for salacious details, is awkwardly plotted and escalates into over-the-top melodrama.
Cricket Myers' superlative sound design hints at the depth and scope that the playwright himself perhaps had in mind but was unable to attain. Amanda Knehans' set is an effective arrangement of wooden beams, tables and chairs that lighting designer Rose Malone smartly shades with a reddish-orange chroma, like the hues of hell. Elsewhere, she spotlights the players well.
Wright's warm and empathetic Max is highly likable, and he keeps you interested in the scenes he's involved with. Getz is appropriately unctuous as the Cardinal, and Martin draws a richly textured portrait of a not terribly educated housewife, who, buffeted by adversity, still clings to her faith. Michael Sturgis steals the limelight as a singing, simpering cleric. A couple of the other lead performances need refining.
Atwater Village Theatre, 3269 Casitas Ave., Los Angeles; Mon., 8 p.m.; Fri.- Sat., 8 p.m.; Sun., 4 p.m.; through April 22. www.EchoTheaterCompany.com
---
Copyright Capital & Main