Hockey League Turmoil: Gary Bettman's Ruler
Gary Bettman (captcanuk/Wikimedia)
Over the past year we've written quite a bit about the business of sports, and unfortunately, lockouts in the National Football League (NFL) and National Basketball Association (NBA) have given us quite a bit to discuss. We haven't said much about things going on in the National Hockey League (NHL), perhaps because the script has come to seem so familiar, and there seemed little doubt that after some fireworks, things would finally result in a an unsatisfying deal that got everyone back on the ice a bit late, but in time for a meaningful season. Now it's December, and they still ain't playing.
Hockey's labor history is a sorry one, as the league's union was run for decades by a shill for the owners who stole money and helped the bosses keep the players in poverty well past the point you'd think that'd be true. In the '90s, however, players started to make real money, in line with other sports. Unfortunately, the league wasn't growing. Or rather, it wasn't growing in popularity or revenue. It was expanding into new cities — places like Florida and Arizona – with, shall we say, limited experience with hockey. That meant what revenue there was now shared among weak markets not capable of supporting hockey. The disparity in revenue between, say, Toronto and Carolina, combined with the lack of a salary cap, meant that owners found themselves paying salaries that totaled about 70 percent of revenues, well above the norm in other sports leagues.
This led to a lockout that cost the 2004/2005 NHL season. The result was a collective bargaining agreement, widely seen as a huge victory for owners, that created a salary cap; that cap started in the low 50s, and escalated only as revenues grew. Revenues did grow, nearly doubling in the past eight years, so in 2011/2012, players earned 57 percent of "hockey-related revenue," which is more or less where the NBA and NFL were before their recent contracts.
This latest fight shouldn't be much of a surprise in many respects. After all, the other two leagues just won concessions, so the NHL certainly wants them, and NHL Commissioner Gary Bettman was once the heir apparent to NBA head David Stern. The players hired Donald Fehr a few years back; Fehr was the long-time head of the baseball players union, which under Marvin Miller and, to a lesser extent Fehr, was seen as extremely effective.
The fight has had its twists and turns, but here's the basic outline. The owners proposed reversing the revenue split so they'd get 57 percent and players only 43 percent, with the hopes of actually getting to a 50-50 split. They've gotten that. The owners wanted a cap on the number of years any individual player contract could be. They've gotten that. The two sides have agreed on pension contributions, on the definition of "hockey-related revenue" and on something called the "make-whole provision" (if owners cut salaries from 57 percent to 50 percent, they'd in fact be cutting salaries in contracts – some signed mere days before the collective bargaining agreement expired, and players rather understandably cried foul about this).
All of this seems to point toward a season and a deal, which is more or less what Donald Fehr was telling people last week at a press conference. From the looks of things, he intimated, those involved in negotiations hoped to wrap things up that night or the next day. And then he left the stage and checked his voice mail. A few minutes later he returned to the podium to tell people "there's been a development. It's not positive."
Apparently the NHL had left a message canceling negotiations and pulling their offer. They'd done so because rather than simply respond yes or no to their most recent proposal, the union made a counter offer. The counter offer was simple: a) the owners want a 10-year agreement, and the players would agree to eight (the owners had started at five); and b) the owners want individual contracts capped at five years, and the players would agree to eight years.
At times in negotiations, the issues that divide two parties are real and substantive. The merits and justice of each side may be debated, but the economics or facts are different. This is not that.
Indeed, all too often labor negotiations are not about that. Instead, they are about power. The NHL Players Association has never before had a legitimate union leader, much as, 50 years ago, the Major League Baseball Players Association did not. The MLBPA hired Marvin Miller away from the Steelworkers. Miller proposed to treat baseball players as workers and union members, which meant viewing the owners not as patriarchs who knew what was best for the game or for the players, but as owners acting in their own best interests. For years, baseball owners tried to fight Marvin Miller, not to cut the best financial deal, but to ensure they maintained control. Eventually they lost control, and they lost every labor battle they entered into. (They cried all the way to the bank, as owners like George Steinbrenner turned his $10 million investment in the Yankees into something worth about $3.4 billion, according to Forbes).
Something similar is happening now. The NHL is not trying to get the best deal. They've got that and more. They've bested the deal won by the NBA and NFL, and significantly improved upon what they won eight years ago. Their league is growing, and the last thing a league like this one—a sport that could be one of the "big four" or could fall back to second-tier status—needs is another lost season, or angry sponsors (one has threatened to sue them), or canceled TV contracts.
Things fell apart last week for one reason—the players wanted to bring Donald Fehr into the room to close the deal, and the owners and Bettman said doing so was a "deal-breaker." Put another way, the NHL owners are willing to cancel their season to avoid the perception that Donald Fehr got the deal done.
The next time someone tells you it's not about the money, they may be right. For employers, when it comes to unions, it's about the power.

'Skeleton Crew' Is a Play With a Moral Spine
Set in a Detroit automobile outfitting plant, Dominique Morisseau's drama grabs you from the start with its focus on blue-collar men and women, and their struggle for dignity and self-respect.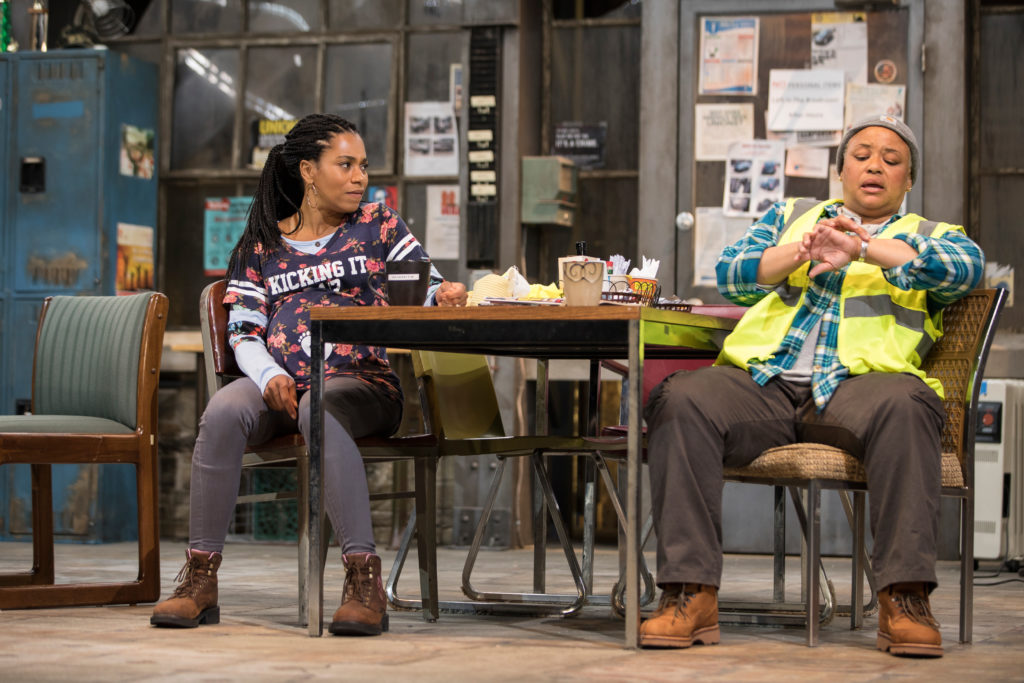 Working-class men and women of color are rarely front and center in today's media and, likewise, are presented all too occasionally on the American stage. So it's buoying to see that trend bucked in playwright Dominique Morisseau's percipient and well-crafted drama, Skeleton Crew. The play is the final installment in her Detroit  Project Trilogy; the first, Paradise Blue, is set in the 1940s amidst displacement caused by urban renewal and gentrification, while the second, Detroit '67, transpires on the eve of the 1967 Detroit riots sparked by a police action.
Directed by Patricia McGregor at Los Angeles' Geffen Playhouse, Skeleton Crew is a play with a moral spine. It takes place in 2008, when the shrinking U.S. auto industry is being further downsized. Morisseau's engaging quartet of characters — Faye (Caroline Stefanie Clay), Dez (Armari Cheatom), Shanita (Kelly McCreary) and Reggie (DB Woodside) – are employed at an automobile outfitting plant. Faye, Dez and Shanita are workers on the line while Reggie (who has a wife and kids, and has pulled himself together after a troubled youth) is their supervisor.
The first three customarily mingle in their break room (designer Rachel Myers' impressively cluttered, dingy and detailed set), trading the sort of familiar barbs and genuine concern for each other common among longtime co-workers. They also face off on philosophy: Upper-middle-aged Faye and the younger, pregnant Shanita take pride in their labor, while Dez, though a good worker, is a malcontent scornful of management and firm in the belief that everyone needs to watch out for himself. He's a thorn in Reggie's side, for while Reggie wants to be supportive of his workers, he must act at the behest of higher management. For his part, Dez resents Reggie's authority, and a palpable unease exists between them.
Besides this male matchup, we're made privy to Dez's attraction to Shanita, who mostly turns away his advances, but every now and then displays a hint of interest. Most poignant is Reggie's regard and affection for the lesbian Faye, which has roots in his boyhood when she loved, and lived, with his now-deceased mom.
These people's various predicaments intensify when rumors spread of the plant's shutdown — a disaster for all, but a particular calamity for the already near-broke Faye who, one year short of retirement, would lose her pension. The crisis forces each of these people to make a choice.
A sound piece of social realism, Skeleton Crew grabs you from the start in its focus on blue-collar men and women, and their struggle against odds for dignity and self-respect. Morisseau not only furnishes these characters a platform for their travails, she endows them with strong values, big hearts and the opportunity to choose between right and wrong.
Unfortunately, the performance I attended did not soar. Many exchanges lacked a fresh edge. The actors certainly had their characters down, but too often they appeared to be coasting on technique. (This seemed particularly true of Clay, who performed the role to great accolades in Washington, DC in 2017, also under McGregor's direction). Additionally, some of the stage movement was not entirely fluid; in confrontations, actors sometimes would just stand and face each other in an artificial way. And Cheatom's interpretation of Dez struck me as a bit overly churlish and depressive: I needed more glimpses of the intelligence and edge that would secretly attract the strong, self-directed Shanita.
The most compelling moments belong to Woodside, well-cast as a man trying his best in difficult circumstances to do the right thing.
---
Gil Cates Theater at the Geffen Playhouse, 10886 Le Conte Ave., Westwood Village; Tues.-Fri., 8 p.m.; Sat., 3 & 8 p.m. Sun., 2 & 7 p.m.; through July 8. (310) 208-5454 or www.geffenplayhouse.org