History Games: The Sequester as Punishment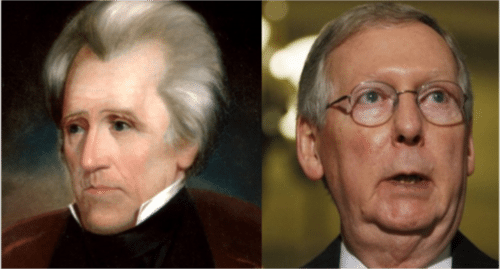 I don't know if Senate Minority Leader Mitch McConnell or House Speaker John Boehner read much history.
But this old history teacher wonders if the GOP's stubborn refusal to seriously negotiate with the Democrats over the sequester cuts is more cribbing from Andy Jackson's 1824 political playbook.
That year, Old Hickory lost the presidency to John Quincy Adams. Immediately, Jackson set out to make Adams a one-termer.
Jackson sent the word to pro-Jackson members of Congress: If Adams is for it, oppose it. If he's against it, support it.
Jackson unseated Adams in 1828.
No sooner was Barack Obama elected president in 2008 than McConnell said the GOP's top political priority was beating him in 2012. "Amens" rose from Boehner and the rest of the party. GOP lawmakers got their marching orders: If Obama's for it, we're not, and vice versa.
Obstructionism worked for Jackson. But it didn't for McConnell last November.
No matter, the McConnell doctrine is still GOP law.
Polls show the Republicans are about as popular as a wet dog at a wedding in most parts of the country. Even so, count me not among lefties who think the sequester snafu is the last nail in the GOP coffin.
Oh, it might be, but it's far from a sure thing.
It all depends on which party John and Jane Q. Public end up faulting for the pain that's coming. Lefty conventional wisdom holds it will the Republicans, hands down.
I wouldn't bet the farm on that, especially if the sequester tanks the economy. History teaches that when hard times hit or won't go away, the voters almost always take it out on the president and his party.
So if the economy falls, the Republicans might just rise.
I hope I'm wrong. I hope the body politic will see Republican obstructionism for the scorched earth politics it is. The GOP is still determined to wreck the Obama presidency, even if it means wrecking the recovery.
I like a graphic that's making the rounds on the Internet. It shows a bloody axe, House Majority leader Eric Cantor, Rep. Paul Ryan and Boehner. "THE SEQUESTER!" starts the caption next to the axe. "BROUGHT TO YOU BY THESE GUYS" it continues next to an arrow pointing at Cantor, Ryan and Boehner. "TO PUNISH YOU FOR VOTING FOR THIS GUY." it concludes with an arrow pointing at Obama.
Here's hoping most Americans conclude that the cartoon is on the money. If they do and put the blame for the sequester mess where it belongs — on the quartet of McConnell, Boehner, Ryan, Cantor and their tea party-tilting Republican pals — I'll happily dine on crow with a big slice of humble pie for dessert.
(Berry Craig is recording secretary for the Western Kentucky AFL-CIO Area Council and a history professor at West Kentucky Community and Technical College. His post first appeared on LA Progressive and is republished with permission.)
Reviewed: A DIY Guide for "The Magicial Resistance"
A new book offers practical tips on how to organize — and cast spells — for equality and the environment.
Religion and politics have gone hand in hand at least from the time of Hammurabi's Code. Though we are guaranteed separation of church and state in the United States, many a prayer has been uttered for political gain. Any and all religions make no bones about their desire to influence social events and governmental organizations using their own methods and views of the Divine, whether it's the Catholic Workers marching for the rights of the poor, Baptist churches rallying for the right of the unborn — or witches casting spells to protect the environment.
---
At a time when many people feel helpless, ceremonial magic places power firmly in the hands of people who want to see positive change for the future.
---
While mainstream faithful said their prayers, conservative chaos magicians invoked Pepe the Frog to aid the 2016 elections. Since then, sorcerers of all stripes and more than few faithful in the Abrahamic faiths have been very publicly throwing down to counteract what they perceive as harmful acts by the current administration.
David Salisbury's Witchcraft Activism is a smart, direct guide to incorporating activism into your witchcraft practice, or experimenting in your activism by adding a little extra whammy. An experienced, long-time activist and well-respected pagan practitioner, Salisbury lays out a guide for activism that incorporates strategy, defense, offense, victory and loss with spiritual tools and magical methods drawn from Western European folk magic traditions.
He begins with setting intention and leads us to getting off the couch and carrying out an action, be it letter writing, participating in marches, attending city council meetings or lobbying — each with certain magical additions to aid in success. Salisbury also gives results based on his actions incorporating magic and suggests a variety of means for different scenarios. Concentration, visualization and focus are stressed as tools, with the addition of sigils, herbs and incantations.
Spiritual actions range from the simple to the complex. Whether meditating before a meeting, doing a divination for suggested actions, writing out a petition and placing it under a candle or using advanced magical practices like egregores, the acts suggested by Salisbury increase dedication to our causes and shift perspective, creating space for new ideas, for relief from burnout and for refocusing on goals.
Over 1.5 million in the United States identify as Pagan or Wiccan in a 2014 Pew Research Center poll—and that's not counting those witches, sorcerers and others who do not identify in those categories. The numbers of magical practitioners have risen steadily over the decades, perhaps because organized religions may not offer a sense of personal connection, of gnosis, or may have goals that are in opposition to participants'. At a time when many people feel helpless, witchcraft, ceremonial magic and folk/indigenous faiths place power firmly in the hands of people who want to see positive change for the future.
Don't believe in magic? Give Salisbury's methods a try and see what happens. You may be surprised, success is your proof. Just stay away from the Goetia!
---
Copyright Capital & Main