Hippocratic Oath or Oath of Hypocrisy?
Both of my legs came out from under me, but it was my left knee that twisted painfully and bore the brunt of the accident. I landed hard. My entire backside was doused in mop-colored water.
An ice machine had been leaking for nearly three months creating a pool. I wish I could call it a puddle, but when a person can drown in the water they fall in, I'll refer to it as a pool.
I felt like a real idiot after it had happened. I mean everyone knew that the LAKE of water was there. Servers, cooks, the chef and even the restaurant management of the Hyatt Andaz hotel knew to be wary of this certain area, but as minds go, mine was somewhere else — but came crashing back to reality within an instant.
The week after the accident was filled with doctor's office visits, crutches, anti-inflammatories and a meeting with a representative from the Occupational Safety and Health Administration (CAL-OSHA).
This happened over a year ago but, interestingly, one side affect of my workplace injury is that I embrace and work with my union, Unite Here, Local 11, to boycott Hyatt and hold it accountable when it comes to on-the-job injuries.
A study published in the American Journal of Industrial Medicine examined a total of 50 hotel properties from five different hotel companies and found that Hyatt housekeepers had the highest injury rate of all housekeepers in the industry when compared by hotel company.
In 2010 Hyatt housekeepers filed multi-city injury complaints with OSHA, reporting injuries on the job at 12 different Hyatts employing 3,500 workers. OSHA or its state counterparts have been receptive to these complaints and have issued 18 citations against 11 Hyatt hotels and three against a Hyatt subcontractor, totaling $118,125 in penalties — while alleging violations of safety regulations that protect housekeepers and other employees.
Last week, Taylor Harless, a boycott organizer for Local 11, asked me if I'd like to join a special delegation with a few other volunteers to visit a man by the name of T. Warner Hudson III, M.D. Dr. Hudson is the President of American College of Occupational and Environmental Medicine. ACOEM claims to be the nation's largest medical society dedicated to promoting the health of workers through preventive medicine, clinical care, research and education.
Sounds like the doctor and ACOEM would be a perfect fit to support Unite Here's boycott of Hyatt, right? Nope.
ACOEM, despite its knowledge of Hyatt's abuses, has planned its three-day American Occupational Health Conference in April at the Hyatt Regency in Century Plaza and the organization hasn't budged from its decision, despite visits from union members, along with leaflets and letters sent from other healthcare professionals asking it to support the boycott.
Of course, I took this personally.
Taylor, myself and a few other volunteers from Unite Here decided to pay a visit on Dr. Hudson, who is Medical Director of the Ronald Reagan UCLA Medical Center Occupational Health Facility. We entered UCLA's Franz Hall, where Dr. Hudson has his office. We got lost in a corridor of hallways and mazes when a man behind us spoke out.
"You guys all headed up?"
One of the volunteers turned her head around and beamed.
"Dr. T. Warner Hudson, so good to see you!"
He seemed confused at first. He also couldn't do much with his hands because he was holding a large container of brownish-red soup. There were no handshakes. Taylor pointed to me.
"Doctor Hudson, this is Jim, He's a Unite Here member. He'd love to chat with you."
I have never seen a man's expression fall to such depths so quickly. We all got in the elevator with him. I'm sure he had the most uncomfortable elevator ride of his life. He listened to me with a pained, impatient face.
I went over my issue and told him why it was important to support our boycott. He got so flustered he missed his floor, which gave me more time to describe my injury in detail.  On second thought, maybe I should've have pushed all the buttons to all the floors.
His face seemed to grow redder and redder. I swear I saw veins pop in his eyeballs. I stepped back to avoid the splatter.
The elevator door opened. Doctor Hudson raced to his office, the soup sloshing in its container. He whirled around in the archway. He denied getting any emails about Hyatt's workplace injury statistics.
He shrugged. He winced. He sighed. And finally he retreated back to his personal office.
"What about your Hippocratic Oath?" Taylor called out as he closed the door.
No response. Just a lot of confused and shocked faces of receptionists and nurses who watched and then asked us to leave.
"You want to do another delegation next week?" Taylor asked.
"Sure." I said.
Government Shutdown's Silver Lining: A Corporate Hiring Guru Speaks Out
Ending the shutdown won't curtail the hiring opportunities for corporate recruiters, says one expert. It's like divorce: Once you start thinking about leaving, the odds that it will happen go up dramatically.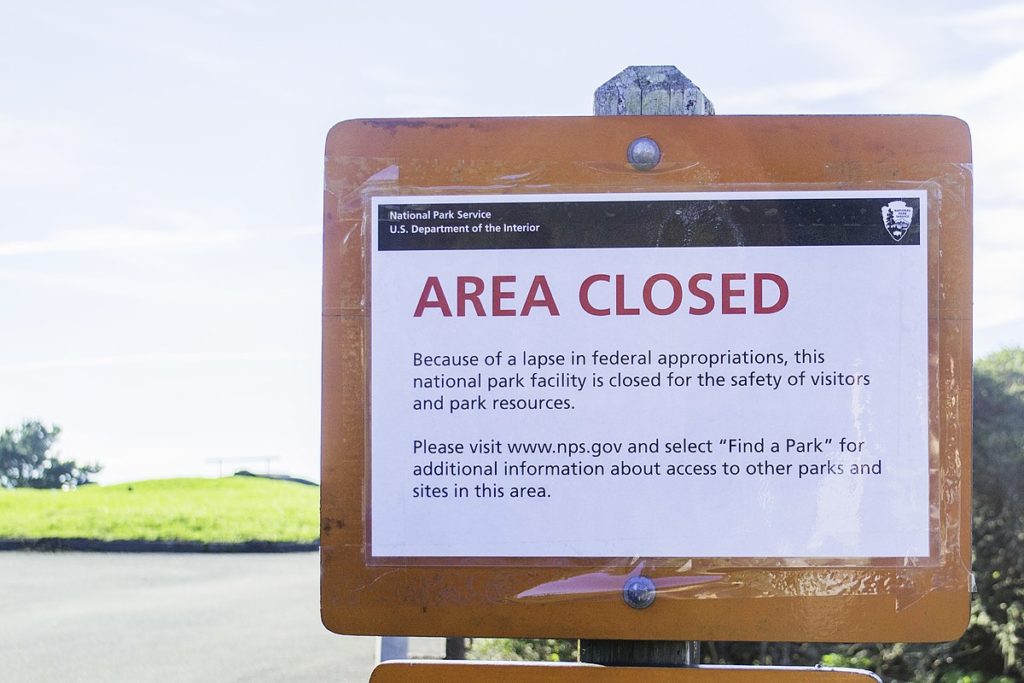 ---
In the new economic climate, even the most mission-driven of federal workers might be forgiven for abandoning the nation's parks, airways and regulatory agencies.
---
When the federal government shut down for 16 days in 2013, corporate hiring guru John Sullivan advised companies on how to raid federal government workplaces for talent.
A blog post he penned at the time caused some to charge him with being unpatriotic, he said recently, while others thanked him for the reminder that federal workers were ripe for the plucking.
This time around, the climate is even better for corporations looking to cull staff from a workforce that is already well-trained and also known for its loyalty, Sullivan tells Capital & Main by phone. He describes the current moment—with hundreds of thousands of federal employees forgoing paychecks and, in many cases, sitting at home — as tantamount to "a sale on Black Friday."
---
Congresswoman:  The shutdown could have a long-term impact on the federal government's ability to attract workers with IT skills.
---
"If you've been screaming for the last two years" about the skills-and-talent shortage, "this week there isn't one," says Sullivan, who heads the human resource management program at San Francisco State University's College of Business.
The partial shutdown, that began on December 22 when President Trump failed to secure funding from Congress for his border wall, has impacted employees at a host of federal agencies, including the departments of Agriculture, Commerce, Homeland Security, Housing and Urban Development, Interior, Justice, State, Transportation and Treasury and the NASA.
What makes this particular shutdown so suitable for raiding federal workplaces? It's not just that employee morale has taken a nosedive, thanks to a president who is at war with many of the agencies he oversees. Nor is it only the fact that Trump threatened to keep the government closed for as long as a year, a notion that "really scares people," says Sullivan.
---
With Amazon's opening new offices in the District of Columbia area, three out of four IT workers in DC say they would consider leaving their current jobs for the tech behemoth.
---
It's also the economic climate. Companies are growing. Unemployment is low. Remote work is increasingly an option. Technical advances have made looking for a job easier than it was in 2013. "You can say 'boo' to your phone and apply for a job," adds Sullivan, delivering his matchmaking pitch with such force that even the most mission-driven of federal workers might be forgiven for abandoning the nation's parks, airways and regulatory agencies.
Congresswoman Robin Kelly (D-IL), the ranking member of the House Subcommittee on Information Technology, worried, in a statement last week, that the shutdown would have a long-term impact on the federal government's ability to attract workers with IT skills. The federal government has generally struggled to attract young tech workers, and Amazon's new offices in the District of Columbia area has three out of four IT workers in DC saying they would consider leaving their current jobs for the tech behemoth.
Tech workers — and upper-salaried talent — are not the only employees coveted by the private sector, says Sullivan. Forest Service employees. Coast Guard workers. Transportation and Safety Administration agents. Any unpaid workers could be lured away, especially in states like California and Texas, where economies are strong, he maintains. An employment agency for California's casinos recently put this shout out on Twitter: "Any @TSA employees looking for new opportunities, PTGaming is hiring!" along with the popular hashtag, #shutdownstories.
The shutdown could also prompt federal employees to throw scruples to the wind and step into the infamous revolving door that leads workers from government jobs to the private sector and back again. When Sullivan was advising companies in 2013, he helped firms hire from agencies that regulated them.
"And by the way," asks Sullivan, persisting with his siren song, "if I was a regulator, [with] President Trump eliminating all those regulations, why am I needed? Why not go to the private sector?"
Sullivan, who says he is an underpaid government worker in his own right, is concerned about the public cost of his and others' efforts to lure away the federal government's top talent. The best employees will leave first, and "literally billions" in training dollars will be lost, he predicts.
But he puts the blame squarely on a public sector that undervalues its workers. Corporations that pilfer federal government workforce for talent offer a kind of public service and corrective by demonstrating the price that must be paid "for degrading public service and unnecessarily frustrating federal employees," he wrote in his 2013 post.
Ending the shutdown won't curtail the hiring opportunities for corporate recruiters, says Sullivan. "It's like divorce. Once you start thinking about [leaving], the odds [that it will happen] go up dramatically."
---
Copyright Capital & Main