Hippocratic Oath or Oath of Hypocrisy?
Both of my legs came out from under me, but it was my left knee that twisted painfully and bore the brunt of the accident. I landed hard. My entire backside was doused in mop-colored water.
An ice machine had been leaking for nearly three months creating a pool. I wish I could call it a puddle, but when a person can drown in the water they fall in, I'll refer to it as a pool.
I felt like a real idiot after it had happened. I mean everyone knew that the LAKE of water was there. Servers, cooks, the chef and even the restaurant management of the Hyatt Andaz hotel knew to be wary of this certain area, but as minds go, mine was somewhere else — but came crashing back to reality within an instant.
The week after the accident was filled with doctor's office visits, crutches, anti-inflammatories and a meeting with a representative from the Occupational Safety and Health Administration (CAL-OSHA).
This happened over a year ago but, interestingly, one side affect of my workplace injury is that I embrace and work with my union, Unite Here, Local 11, to boycott Hyatt and hold it accountable when it comes to on-the-job injuries.
A study published in the American Journal of Industrial Medicine examined a total of 50 hotel properties from five different hotel companies and found that Hyatt housekeepers had the highest injury rate of all housekeepers in the industry when compared by hotel company.
In 2010 Hyatt housekeepers filed multi-city injury complaints with OSHA, reporting injuries on the job at 12 different Hyatts employing 3,500 workers. OSHA or its state counterparts have been receptive to these complaints and have issued 18 citations against 11 Hyatt hotels and three against a Hyatt subcontractor, totaling $118,125 in penalties — while alleging violations of safety regulations that protect housekeepers and other employees.
Last week, Taylor Harless, a boycott organizer for Local 11, asked me if I'd like to join a special delegation with a few other volunteers to visit a man by the name of T. Warner Hudson III, M.D. Dr. Hudson is the President of American College of Occupational and Environmental Medicine. ACOEM claims to be the nation's largest medical society dedicated to promoting the health of workers through preventive medicine, clinical care, research and education.
Sounds like the doctor and ACOEM would be a perfect fit to support Unite Here's boycott of Hyatt, right? Nope.
ACOEM, despite its knowledge of Hyatt's abuses, has planned its three-day American Occupational Health Conference in April at the Hyatt Regency in Century Plaza and the organization hasn't budged from its decision, despite visits from union members, along with leaflets and letters sent from other healthcare professionals asking it to support the boycott.
Of course, I took this personally.
Taylor, myself and a few other volunteers from Unite Here decided to pay a visit on Dr. Hudson, who is Medical Director of the Ronald Reagan UCLA Medical Center Occupational Health Facility. We entered UCLA's Franz Hall, where Dr. Hudson has his office. We got lost in a corridor of hallways and mazes when a man behind us spoke out.
"You guys all headed up?"
One of the volunteers turned her head around and beamed.
"Dr. T. Warner Hudson, so good to see you!"
He seemed confused at first. He also couldn't do much with his hands because he was holding a large container of brownish-red soup. There were no handshakes. Taylor pointed to me.
"Doctor Hudson, this is Jim, He's a Unite Here member. He'd love to chat with you."
I have never seen a man's expression fall to such depths so quickly. We all got in the elevator with him. I'm sure he had the most uncomfortable elevator ride of his life. He listened to me with a pained, impatient face.
I went over my issue and told him why it was important to support our boycott. He got so flustered he missed his floor, which gave me more time to describe my injury in detail.  On second thought, maybe I should've have pushed all the buttons to all the floors.
His face seemed to grow redder and redder. I swear I saw veins pop in his eyeballs. I stepped back to avoid the splatter.
The elevator door opened. Doctor Hudson raced to his office, the soup sloshing in its container. He whirled around in the archway. He denied getting any emails about Hyatt's workplace injury statistics.
He shrugged. He winced. He sighed. And finally he retreated back to his personal office.
"What about your Hippocratic Oath?" Taylor called out as he closed the door.
No response. Just a lot of confused and shocked faces of receptionists and nurses who watched and then asked us to leave.
"You want to do another delegation next week?" Taylor asked.
"Sure." I said.

What the NLRB's About-Face on McDonald's Means for Franchise Workers
While the National Labor Relations Board is currently divided 2-2, the confirmation of another Trump appointee will restore the Republican majority — which is bad news for fast-food-chain workers.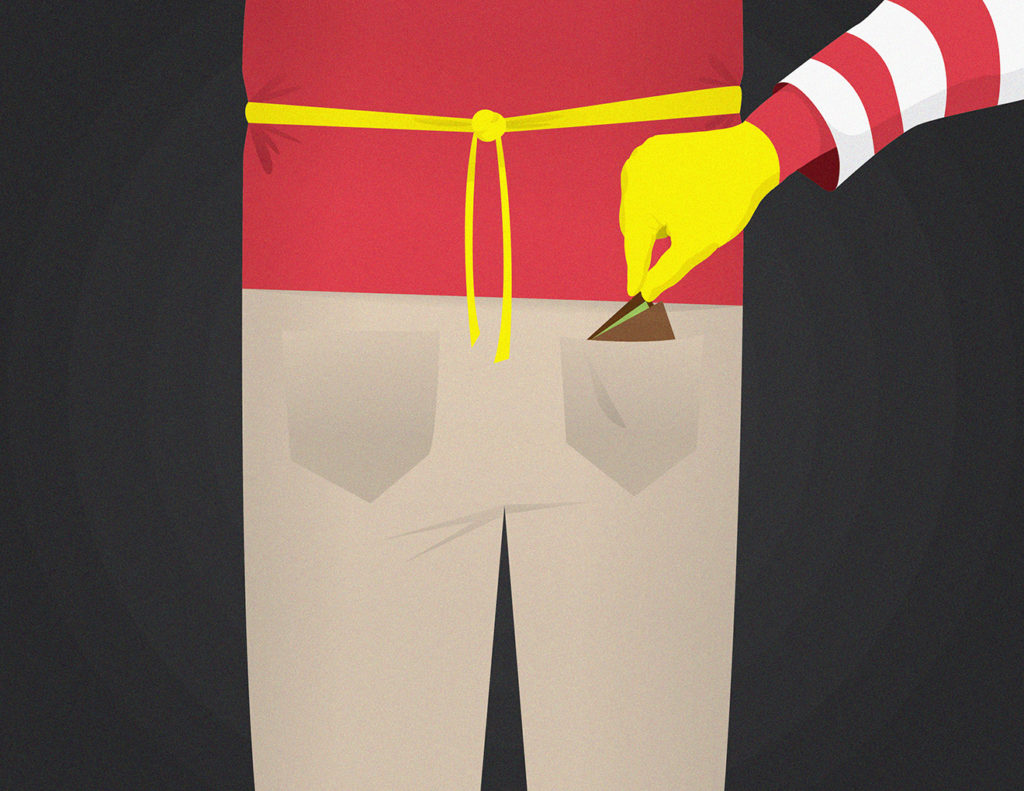 ---
With Donald Trump's election, the momentum at the NLRB is now with employers.
---
Workers at McDonald's joined the union-backed Fight for $15 campaign because many found that they could not get by on minimum wage without the help of family and public assistance. But joining that campaign spurred retaliation, with dozens of employees alleging that they lost money or their job for organizing to get better pay.
Enter the U.S. National Labor Relations Board.
In a victory for workers, the board decided the McDonald's Corporation was jointly responsible for punitive actions against employees across the country because the company dictates, among other things, how those employees cook and clean. That 2015 decision, in a case called Browning-Ferris, established a broad definition of "joint employer." It made franchisors potentially liable for the actions of individual franchises, citing the "indirect" control they exercised over employees and their workplaces. And it meant fast-food chains, among others, would have to collectively bargain with employees who joined a union.
Donald Trump was elected president the next year. By December 2017, the NLRB was back on the side of business with respect to who is and who is not a joint employer, the board overturning with a 3-2 vote the "indirect control" standard of Browning-Ferris.
Then a Republican member of the board retired, evenly dividing the NLRB along partisan lines. The board's inspector general then issued a report in February 2018 saying the December decision never should have been made — that, in particular, a Trump appointee should have recused himself due to a conflict of interest. The decision was thrown out, with congressional Democrats, such as Massachusetts Senator Elizabeth Warren, calling for hearings.
By that point, however, the NLRB had already ordered its lawyers to retreat in the most visible battle over the "indirect" joint-employer standard.
When an administrative trial began back in 2016, the NLRB had said McDonald's was jointly responsible for alleged labor violations at its franchises, including reduced hours, surveillance and wrongful termination of employees who had been organizing for better pay.
"If McDonald's is involved in determining working conditions at its franchised operations, it is responsible for what happens to workers subject to those conditions," NLRB lawyer Jamie Rucker said at the time.
But the NLRB sought and won a 60-day suspension of that trial earlier this year. Lawyers representing the Fight for $15 movement and its allies say the NLRB is now rushing through a proposed settlement that would see McDonald's get off without a finding of joint liability — which won't make it any easier for low-wage workers to collectively bargain.
"What I see is an attack on workers' ability to form a union," said attorney Marni von Wilpert of the progressive Economic Policy Institute (EPI). "If you were able to find a joint-employment relationship with the corporate [franchisor], then all of a sudden they all have one big employer, and all the employees can go to corporate McDonald's. That's really what it's all about, whether workers can organize."
Under the proposed settlement, McDonald's admits no wrongdoing, but its franchisees agree to cover back pay for workers fired as a result of their organizing.
The NLRB "is proposing a sham settlement," said Mary Joyce Carlson, a lawyer representing Fight for $15. "McDonald's directed a wave of retaliation that stretched from coast to coast and included illegally harassing, surveilling and firing workers in the Fight for $15. The hardworking cooks and cashiers who were organizing to get off of food stamps and out of poverty deserve a ruling in their case, not a settlement hammered out at the last minute in collusion with the Trump administration."
With Trump's election, the momentum at the NLRB is now with employers. Any setbacks would appear to be temporary: while divided 2-2 for now, the confirmation of another Trump appointee will restore the Republican majority. Once that happens, the NLRB can be expected to seek another opportunity to overturn the Browning-Ferris joint employer standard.
While Browning-Ferris did not explicitly pertain to the franchise model, it clearly spooked those who depend on it — and inspired those who think franchisors like McDonald's should be liable for the mistreatment of employees at locations bearing its name.
Fight for $15 has prioritized organizing at fast-food businesses, but forming unions is extremely difficult when a dozen small restaurants with the same name may have a dozen different owners. There are over 14,000 McDonald's restaurants in the United States, with only one in 10 owned by the corporation. The ability to collectively bargain with McDonald's, the corporate franchisor, would make a union's task easier — and help address the sort of labor violations that regulators routinely find at fast-food franchises. An EPI report says unionized workers are half as likely to be victims of wage theft, for example.
At an April 5 hearing, Fight for $15 attorney Kathy Krieger urged NLRB Administrative Law Judge Lauren Esposito to reject the settlement. Krieger argued that McDonald's had conspired with its franchises to thwart worker organizing, the corporation recommending, she said, that franchisees "restrict crew members from taking their meals or their rest breaks outside the crew room" as a means "to prevent concerted activity."
McDonald's attorney Willis Goldsmith said the company would never accept a settlement identifying it as a joint employer. "The franchisees, they're independent business people," he said. "They did whatever they did, and if they are willing to concede that, they're going to have to pay people. It's not our job."
While it appears the NLRB under Trump will ultimately reimpose the stricter, pre-Browning-Ferris standard that a joint employer must have direct rather than indirect control of workers, industry groups aren't taking any chances.
Jenna Weisbord, a communications manager at the International Franchise Association to which McDonald's belongs, said her group is looking to Congress to pass the "Save Local Business Act," which would legislatively reimpose the pre-Browning-Ferris standard. "We understand the Senate will take on this task later this year," she said of the bill, which passed the House last year.
A television ad campaign sponsored last year by the franchise association and the U.S. Chamber of Commerce argues the measure would restore "balance to labor law" in the face of a "runaway government agency." That agency, in the era of Trump, is increasingly tilting in the favor of business.
---
Copyright Capital & Main