Highway Robbery: Mitt Romney's War on Mass Transit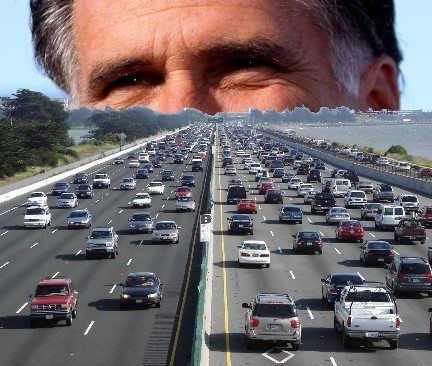 Since when did one's mode of transportation become about politics? Who ever thought that riding one's bike to the grocery store, taking the bus to work or driving to run errands could be a sign of one's political stripes?
In some cities, such as New York and San Francisco, riding the train defines the experience of everyone living there. Entire movies, books and blogs have documented the romance and day-to-day life of riding public transit and navigating busy sidewalks. Can you even imagine what a New York free of subways, buses and pedestrians would look like? Republican or Democrat, liberal or conservative, you're on the train.
Just ask Mitt.
Mitt Romney is among a vocal set of Republicans who have decided that certain forms of transportation   are more democratic than others; he subscribes to the belief that roads are a given right of Americans, but that public transit is not.
This is interesting logic considering his previous governorship over a state with great cities like Boston that were entirely designed around transit. In Massachusetts, the Highway Trust Fund he presided over includes a highway account, which receives 15.44 cents per gallon of the gasoline tax, and a mass transit account, which receives 2.86 cents per gallon. In other words, Massachusetts taxpayers provide five times more support for roads than they do for public transit.
A free market ideology is the culprit behind this line of thinking. Romney has said that public transit "should pay for itself." Only a year ago, some of those in his party even railed against seemingly non-controversial bike trails with the award for most draconian going to a Republican Tea Party candidate in 2010 calling bicycling the "gateway drug to communism."
Here's the problem with this equation: Roads and highways don't pay for themselves, cars produce pollution that transit-riding residents pick up the health tab for, and without bus service, some communities wouldn't have access to employment or be mobile at all. Frankly, the air would stink a lot more without mass transit.
So what does a Romney presidency mean for Los Angeles? If Romney takes the helm, we could see the decimation of public transit funding, with the current battle in Congress over a new transportation bill already putting transit funding on the chopping block.
Angelenos understand the nightmares of traffic-choked streets and a city that has, for far too long, encouraged too much driving. This is why Measure R was approved by voters in 2008 to fund the expansion of light rail and mass transit in Los Angeles. In 30 years, L.A. is going to look like a radically different place, with trains connecting most parts of the region. Yet while L.A. leads the country in showing how carcentric cities can do right, Romney and the Republicans would slash the budgets until public transit wouldn't even be considered a viable transportation option anymore.
Additionally, the jobs produced by transit projects – the most effective way to rejuvenate L.A. County's economy and reduce unemployment and poverty long term – would be threatened if Republicans tried to reduce the federal funding of these projects in the Metropolitan Transit Authority's Long Range Transportation Plan (LRTP).
Public transit, a public benefit that serves everyone, will never pay for itself. Neither will roads, also used by the public. And that's okay. It's important to serve the public's needs rather than simply running everything like a business.
Romney shouldn't force Americans who are struggling to stay afloat amidst foreclosures and unemployment to spend more of their money on auto transportation costs. This would truly be a bridge to nowhere.