Hell's ZIP Code: Clearing the Air in West Fresno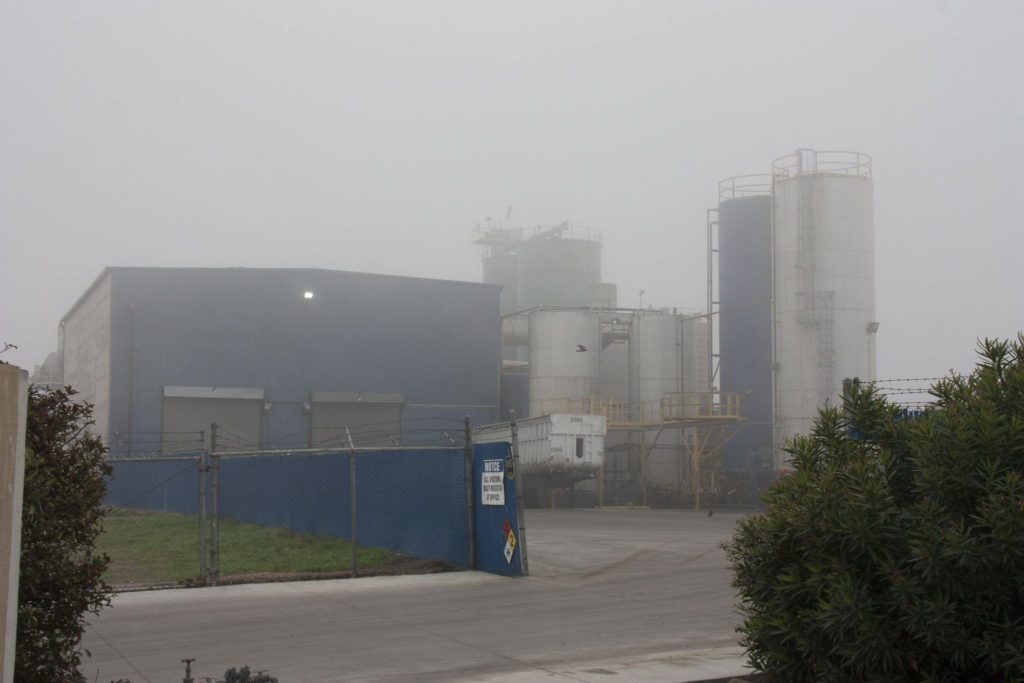 One day late last year, retired police officer Robert Mitchell took several visitors on a tour of the West Fresno community where he has lived for decades. But it was hardly a nostalgia excursion.

This is an encore posting from our State of Inequality series

First, there was a stop at Hyde Park, a former dump. There was another at a sports complex and fishing pond built on a Superfund cleanup site. And still another at a controversial meat-rendering plant operated by Darling Ingredients Inc. that residents say has spewed foul smells into nearby residential areas for more than half a century.
"You constantly had the horrific odor of the processing that occurs here at Darling," said Mitchell, a thoughtful man with a bushy white beard and deep voice. He and his visitors stood outside the Darling plant, an anonymous sprawl of low-slung industrial buildings and storage silos on West Belgravia Avenue. "You awaken with the smell, you walk around constantly with the smell, and unless one has lived in the area with this type of stench, you don't understand how it impacts you."
Enviromental Inequality video for Capital & Main's "State of Inequality" series. from LAANE on Vimeo.
"It's very unhealthy," he adds. "It certainly doesn't add to the quality of life that every resident should have in his community."
By almost any measure, the quality of life in West Fresno is far from ideal. Though it is located in the San Joaquin Valley, one of the world's most plentiful sources of fresh fruits, nuts and vegetables, this community is plagued by environmental and health problems. As one indication, a 2012 study found that life expectancy for residents of West Fresno was nearly 10 years lower than for people living in Northeast Fresno, about a dozen miles away, and nearly 20 years lower than for people living in Huron, a small city about an hour's drive away. As another, an estimated one in four middle school children in the area have asthma, more than double the state average.
Moreover, an exhaustive study of 8,000 census tracts in the state by the California Environmental Protection Agency, identified West Fresno as the most disadvantaged place to live in the state, based on 12 pollution and environmental factors and seven population characteristics. Half of California's 10 most disadvantaged census tracts are located in the West Fresno ZIP code, 93706.
John Capitman, executive director of the Central Valley Health Policy Institute and a professor of public health at Fresno State University, says that the California EPA study shows a familiar trifecta relationship between economic inequality, racial segregation and environmental degradation.
"It's more than just counting pollutants," he says. "It really points to histories of policy making and decisions about where to site dangerous activities, commercial activities and highways relative to where people are living."
"The neighborhoods that have the most extreme scores aren't just near a highway — there is [ongoing] exposure to pesticides and other air toxics, there are problems with the quality of water. All of those things ganging up on each other along with pollution and racial segregation."
Mary Curry, an 83-year-old African American woman who has lived in West Fresno for nearly 60 years, says that the Darling plant has been a constant source of environmental and health problems over the years.
Referring to the smells from the plant, she says, "It's awful. It makes you nauseous. I have asthma and it makes your asthma worse." She notes that the plant is located near two schools, and that a teacher at one of the schools told her he wasn't able open the windows because the smells made the children sick.
Still, it's not as bad as in the past, residents say.
"They'd have animal carcasses stacked up as high as they could over there and you could smell them," Curry recalls, referring to the plant. "The children were walking through the drippings, the trucks weren't covered. They were walking through the drippings off the trucks going to school and going home."
How the residents of West Fresno — who are overwhelmingly nonwhite and low-income — wound up living with Darling and other sources of pollution is not a chicken-and-egg question.
"The City Fathers, as a rule, did not look upon our portion of the city in the same fashion that they did other portions of the city," said Mitchell, the retired police officer and member of Concerned Citizens of West Fresno. "As we moved in, meaning the African Americans and the Hispanics, there was a migration away from West Fresno by the majority population. Thereafter, the zoning and other regulations that exist in cities were not applied in the same respect in West Fresno. We had this abundance of industry being allowed to locate within close proximity to neighborhoods of residents."
Capitman, the Fresno State professor, says that the Darling plant reflects that reality.
"The Darling plant is both a story about unequal burden but also a story about unequal voice," he says. "The plant is both a specific source of pollutants but also a strong reminder of organized neglect and disregard for the well-being of people in African American and Latino dominated communities. You are looking at stories of not only unjust distribution of the costs and benefits of modern life, but also real differences among communities and their voices, their capacity to shape policy and politics at the local level."
Company corporate counsel Amy Callow responded by email to requests for comment about activist criticisms by saying, in part:
Darling operates and maintains a state of the art odor control system that meets the San Joaquin Valley Air Pollution Control District (SJVAPCD) standard for Best Available Control Technology (BACT) . . . Darling is a valued neighbor in the Fresno community. As an example, just last week Darling was honored by the community habitat group for being an outstanding partner of the group and community. Darling also enjoys the support of local businesses whose services Darling uses.
The environmental problems in West Fresno have taken a lasting toll on its residents, says Kevin Hamilton, chief program officer for Clinica Sierra Vista in Fresno, a federally qualified health center. Adults have a high rate of obesity. And the problems are particularly worrisome among West Fresno children, who suffer disproportionately high rates of asthma and obesity. Asthma is the number one problem for children coming to local emergency rooms.
The problems partly stem from the bad air quality. "It's pretty awful to be stuck in an environment where you're afraid to let your kids go out and play," Hamilton says.
The environmental and health problems in West Fresno are in stark contrast with the fruit-crate-label image of the San Joaquin Valley, with its the bountiful fields of strawberries, citrus trees, almonds, pistachios and vegetables growing below the distant Sierras. The region has been called "the food basket of the world."
But for West Fresno residents, the area is more of a food desert. There are few if any stores in the community that sell healthy food, although it's a convenient place to buy liquor and cigarettes.
In recent years, West Fresno residents have begun to take steps to try to solve the problems. The activist group Concerned Citizens of West Fresno has filed a lawsuit seeking an injunction to prevent Darling from operating the plant without a conditional use permit. The lawsuit is pending.
Mary Curry, who belongs to the group, explains her motivation.
"People need to know we are human beings and have rights," says Curry. "All people should have the right to breathe clean air."
---
(Photo: Debbie George)