"Heist" Chronicles Theft of American Dream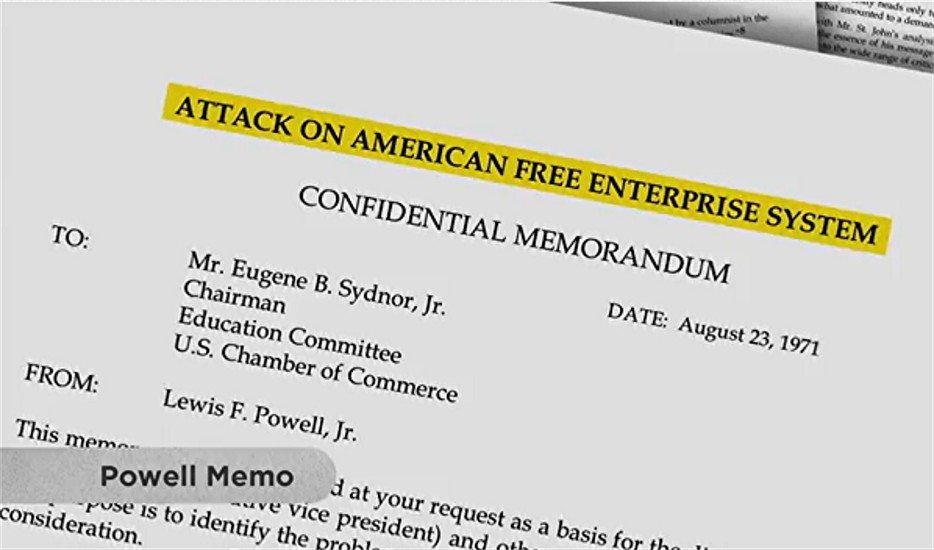 Heist, a new film by Frances Causey and Donald Goldmacher, joins the growing list of angry documentaries chronicling the destruction of America's economy and its middle class by powerful corporate forces. Like Inside Job and just about any title in the Brave New Films catalog, Heist gets our blood boiling with its money-pile graphics and occasional glib comments exhaled by Wall Street fat cats. Call this genre the Cinema of Outrage.
Subtitled Who Stole the American Dream?, the film breaks away from the pack, however, by drilling deep to explain how we came to find ourselves on the verge of where Argentina was a dozen years ago. The film also eschews conspiracist viewpoints and refuses to offer up, say, Alan Greenspan or the Koch brothers as villainous piñatas for us to vicariously bash.
Instead, Causey and Goldmacher soberly state their case that a concerted, multi-generational effort by business interests and their conservative familiars in Congress has lopsidedly transferred wealth from the poor and middle class to the wealthy. Along the way, this strategy has stripped away the job security and high living standard enjoyed by the average American between 1945 and 1970.
(See trailer:)

The film makers locate the start of this highly successful political offensive with a detailed 1971 memo sent by future Supreme Court Justice Lewis Powell to the U.S. Chamber of Commerce — a think piece that would eventually spawn a broad assault on the New Deal's legacy. (Okay, there is some conspiracist whispering.) It lays out the corporate agenda as clearly as a battle map found in the boot of a Heritage Foundation spy.
That agenda has targeted unions, entitlement programs, government regulation and mainstream media. Heist isn't reductive eye candy: It demonstrates, for example, that a major problem of the American economy isn't simply the flight of good manufacturing jobs to the man-made plains of Shenzhen, but the flight there of even crummy service-sector jobs.
If, however, your idea of a Periclean Age is Bill Clinton, forget it — Causey and Goldmacher won't let you get misty-eyed over his presidency, as interviews and news clips assembled from the time remind us of Clinton's complicity in deregulation and the dismantling of the social safety net. The assault on the middle class, Heist reminds us, has been a bipartisan project.
Through interviews with Senator Bernie Sanders, authors Robert Kuttner and Nomi Prins and others, Heist offers specific fixes to the current crisis, even if they aren't particularly novel: public funding of elections, a return to fair taxation, grassroots political initiatives, renewable energy, etc. That some of these strategies fall under the "fight back" category (i.e., they only restore real wages and America's safety net to 1970 or 1980 levels) isn't the fault of the film makers or the activists they interview – America's situation is so grave that merely restorative actions are required before any needed structural changes can be made.
In the end, it's up to us to do something once we leave screenings of Heist. As Rebuild the Dream president Van Jones says toward the film's end, all of us as citizens have to decide whether we are merely locusts devouring America, or honey bees who nurture it.
Heist screens with a panel discussion Thursday, April 19, 7 p.m., at the Grand Lake Theater, Oakland.

A Woman's Art Is Never Done: The Feminae Exhibition
A striking juxtaposition between the past and present courses throughout the small gallery. Celia Blomberg's "International Women's Day March 8" can't help but make one think of 2017's Women's March, which occurred 37 years after the print's first appearance.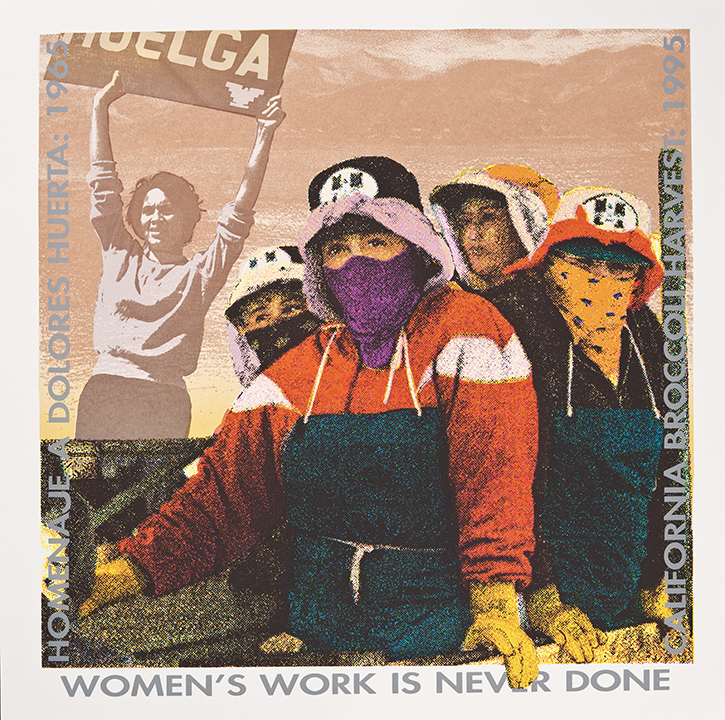 Among the 50-plus works in the Feminae: Typographic Voices of Women By Women exhibit is Yolanda Lopez's "Women's Work is Never Done." Lopez's title is particularly ironic, given the exhibit's gender-based subject matter. The show spans work from the past 50 years, making it easy to understand how much society is still grappling with its themes of gender inequality. Culled from the archives of the Center for the Study of Political Graphics, the graphic images of protest, persuasion and empowerment are truly works of art in their own right.
However, political posters aren't made to merely spruce up walls, but to help figuratively bring barriers down as well.
Two silkscreens from the 1970s, Liliana Porter and John Schneider's "This Woman is Vietnamese" and See Red Woman's Workshop's "So Long As Women Are Not Free People Are Not Free," are particularly powerful, underscoring, as they do, the fact that the subjugation and persecution of women crosses borders and cultures as an unfortunate shared global experience. These two pieces' stark simplicity exemplifies most of the work in the exhibit. In the former, a New York Times photo of a distraught Vietnamese woman with a gun held to her head is centered above these basic words typed out in a typewriter font: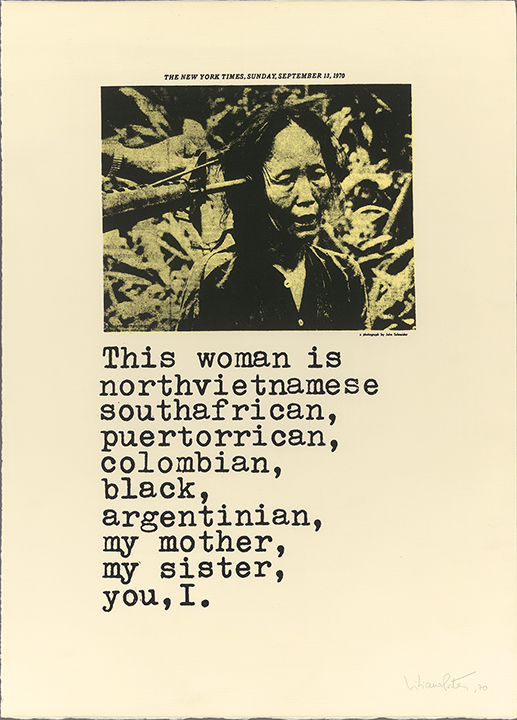 This woman is
northvietnamese
southafrican
puertorrican,
colombian,
black,
argentinian,
my mother,
my sister,
you, I.
By juxtaposing the photo with these words, the creators take the plight of this woman and immediately globalize her pain. In the latter, three female demonstrators are silkscreened in red onto a yellow background. They are marginalized by being stuck in the lower left third of the poster, but two of them are raising their fists skyward and their mouths are open, screaming in defiance. Its non-serif, eponymous type reads: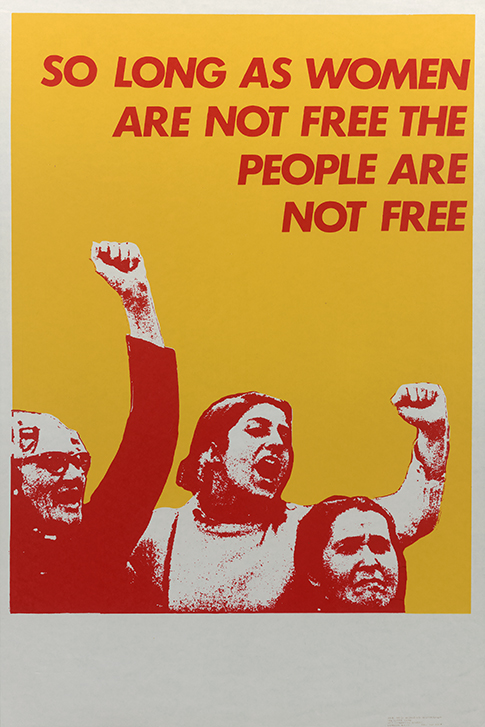 SO LONG AS WOMEN
ARE NOT FREE THE
PEOPLE ARE
NOT FREE
This piece's message takes the global message even farther, making the plight of women a human one — a common theme in the exhibition.
There is also a striking juxtaposition between the past and present that seethes throughout the small gallery. Celia Blomberg's "International Women's Day March 8" can't help but make one think of 2017's Women's March that would take place 37 years later. See Red Woman's Workshop's 1977 "Black Women Will Not Be Intimidated" could easily be repurposed to address the recent spate of blue-on-black brutality. Notable works by Barbara Kruger, Sister Corita Kent and the Guerilla Girls are also included.
Ironically , while it can be surmised that most of these works were made as populist posters to be distributed at the time as banners of protest, their beautiful simplicity and nostalgic elegance probably have resulted in the originals (mostly now found in art museums) sporting hefty vintage-resale prices.
But it is not just the art that has stood the test of time. The fact that the issues addressed in the show — feminism, choice, gender equality, war, immigration, police brutality or violence against women — are all issues at the forefront of debate in 2018 ultimately engenders conflicting feelings.
On one the hand, it is inspiring to see a vibrant exhibit that showcases such diversity in artistic styles, no doubt spawned by the diversity of the artists' own backgrounds. On the other hand, there is a realization that while there has been some progress over the past half century, there is so much work to be done.
Art Center's Hoffmitz Milken Center for Typography, 950 South Raymond Ave., Pasadena; through May 15.
---
Copyright Capital & Main