"Heist" Chronicles Theft of American Dream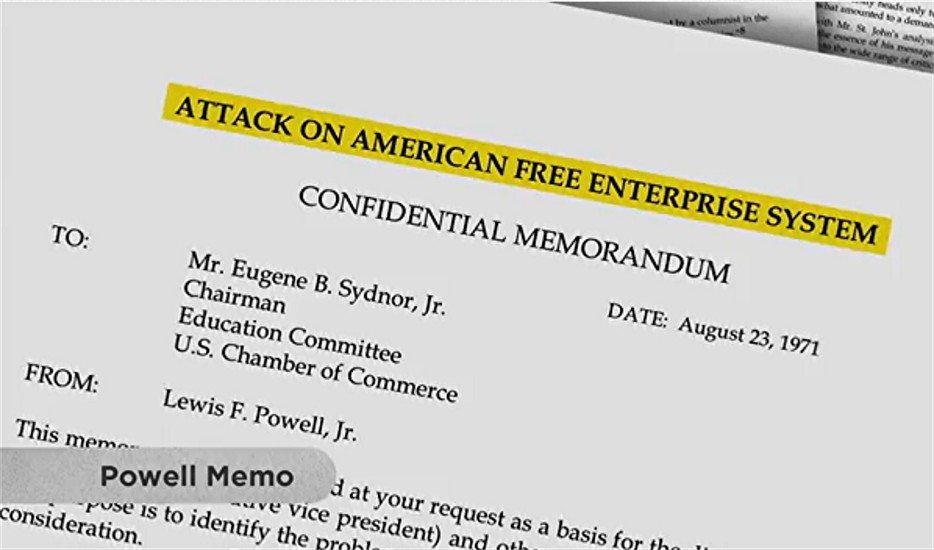 Heist, a new film by Frances Causey and Donald Goldmacher, joins the growing list of angry documentaries chronicling the destruction of America's economy and its middle class by powerful corporate forces. Like Inside Job and just about any title in the Brave New Films catalog, Heist gets our blood boiling with its money-pile graphics and occasional glib comments exhaled by Wall Street fat cats. Call this genre the Cinema of Outrage.
Subtitled Who Stole the American Dream?, the film breaks away from the pack, however, by drilling deep to explain how we came to find ourselves on the verge of where Argentina was a dozen years ago. The film also eschews conspiracist viewpoints and refuses to offer up, say, Alan Greenspan or the Koch brothers as villainous piñatas for us to vicariously bash.
Instead, Causey and Goldmacher soberly state their case that a concerted, multi-generational effort by business interests and their conservative familiars in Congress has lopsidedly transferred wealth from the poor and middle class to the wealthy. Along the way, this strategy has stripped away the job security and high living standard enjoyed by the average American between 1945 and 1970.
(See trailer:)

The film makers locate the start of this highly successful political offensive with a detailed 1971 memo sent by future Supreme Court Justice Lewis Powell to the U.S. Chamber of Commerce — a think piece that would eventually spawn a broad assault on the New Deal's legacy. (Okay, there is some conspiracist whispering.) It lays out the corporate agenda as clearly as a battle map found in the boot of a Heritage Foundation spy.
That agenda has targeted unions, entitlement programs, government regulation and mainstream media. Heist isn't reductive eye candy: It demonstrates, for example, that a major problem of the American economy isn't simply the flight of good manufacturing jobs to the man-made plains of Shenzhen, but the flight there of even crummy service-sector jobs.
If, however, your idea of a Periclean Age is Bill Clinton, forget it — Causey and Goldmacher won't let you get misty-eyed over his presidency, as interviews and news clips assembled from the time remind us of Clinton's complicity in deregulation and the dismantling of the social safety net. The assault on the middle class, Heist reminds us, has been a bipartisan project.
Through interviews with Senator Bernie Sanders, authors Robert Kuttner and Nomi Prins and others, Heist offers specific fixes to the current crisis, even if they aren't particularly novel: public funding of elections, a return to fair taxation, grassroots political initiatives, renewable energy, etc. That some of these strategies fall under the "fight back" category (i.e., they only restore real wages and America's safety net to 1970 or 1980 levels) isn't the fault of the film makers or the activists they interview – America's situation is so grave that merely restorative actions are required before any needed structural changes can be made.
In the end, it's up to us to do something once we leave screenings of Heist. As Rebuild the Dream president Van Jones says toward the film's end, all of us as citizens have to decide whether we are merely locusts devouring America, or honey bees who nurture it.
Heist screens with a panel discussion Thursday, April 19, 7 p.m., at the Grand Lake Theater, Oakland.

'Skeleton Crew' Is a Play With a Moral Spine
Set in a Detroit automobile outfitting plant, Dominique Morisseau's drama grabs you from the start with its focus on blue-collar men and women, and their struggle for dignity and self-respect.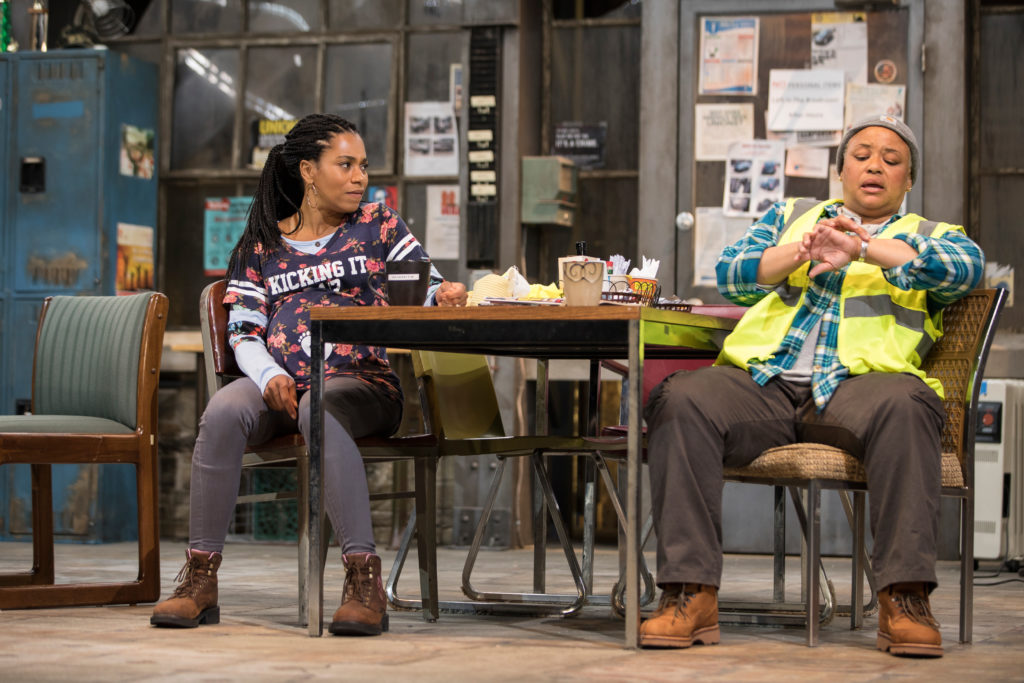 Working-class men and women of color are rarely front and center in today's media and, likewise, are presented all too occasionally on the American stage. So it's buoying to see that trend bucked in playwright Dominique Morisseau's percipient and well-crafted drama, Skeleton Crew. The play is the final installment in her Detroit  Project Trilogy; the first, Paradise Blue, is set in the 1940s amidst displacement caused by urban renewal and gentrification, while the second, Detroit '67, transpires on the eve of the 1967 Detroit riots sparked by a police action.
Directed by Patricia McGregor at Los Angeles' Geffen Playhouse, Skeleton Crew is a play with a moral spine. It takes place in 2008, when the shrinking U.S. auto industry is being further downsized. Morisseau's engaging quartet of characters — Faye (Caroline Stefanie Clay), Dez (Armari Cheatom), Shanita (Kelly McCreary) and Reggie (DB Woodside) – are employed at an automobile outfitting plant. Faye, Dez and Shanita are workers on the line while Reggie (who has a wife and kids, and has pulled himself together after a troubled youth) is their supervisor.
The first three customarily mingle in their break room (designer Rachel Myers' impressively cluttered, dingy and detailed set), trading the sort of familiar barbs and genuine concern for each other common among longtime co-workers. They also face off on philosophy: Upper-middle-aged Faye and the younger, pregnant Shanita take pride in their labor, while Dez, though a good worker, is a malcontent scornful of management and firm in the belief that everyone needs to watch out for himself. He's a thorn in Reggie's side, for while Reggie wants to be supportive of his workers, he must act at the behest of higher management. For his part, Dez resents Reggie's authority, and a palpable unease exists between them.
Besides this male matchup, we're made privy to Dez's attraction to Shanita, who mostly turns away his advances, but every now and then displays a hint of interest. Most poignant is Reggie's regard and affection for the lesbian Faye, which has roots in his boyhood when she loved, and lived, with his now-deceased mom.
These people's various predicaments intensify when rumors spread of the plant's shutdown — a disaster for all, but a particular calamity for the already near-broke Faye who, one year short of retirement, would lose her pension. The crisis forces each of these people to make a choice.
A sound piece of social realism, Skeleton Crew grabs you from the start in its focus on blue-collar men and women, and their struggle against odds for dignity and self-respect. Morisseau not only furnishes these characters a platform for their travails, she endows them with strong values, big hearts and the opportunity to choose between right and wrong.
Unfortunately, the performance I attended did not soar. Many exchanges lacked a fresh edge. The actors certainly had their characters down, but too often they appeared to be coasting on technique. (This seemed particularly true of Clay, who performed the role to great accolades in Washington, DC in 2017, also under McGregor's direction). Additionally, some of the stage movement was not entirely fluid; in confrontations, actors sometimes would just stand and face each other in an artificial way. And Cheatom's interpretation of Dez struck me as a bit overly churlish and depressive: I needed more glimpses of the intelligence and edge that would secretly attract the strong, self-directed Shanita.
The most compelling moments belong to Woodside, well-cast as a man trying his best in difficult circumstances to do the right thing.
---
Gil Cates Theater at the Geffen Playhouse, 10886 Le Conte Ave., Westwood Village; Tues.-Fri., 8 p.m.; Sat., 3 & 8 p.m. Sun., 2 & 7 p.m.; through July 8. (310) 208-5454 or www.geffenplayhouse.org