HBO Looks at America's Abortion Divide
Tracy Droz Tragos' documentary, Abortion: Stories Women Tell could be pared down, but it is often powerful and the struggles of the women it depicts are not easily forgotten.
Produced and directed by Tracy Droz Tragos, the HBO documentary Abortion: Stories Women Tell shares the experiences of women living in the Bible Belt and coping with unplanned pregnancies. The film is unlikely to change the thinking of firm believers on either side of the issue, but for viewers whose opinions waiver, who are unsure of the morality of abortion or are unclear about the motives behind it, the film will be educational and illuminating.
Tragos grounds her documentary in her home state of Missouri, where one abortion clinic serves the entire state. While Missouri has some of the most draconian restrictions in the nation, it's hardly alone in limiting abortion access. Since the Roe v. Wade Supreme Court decision in 1973, over half the states have enacted some form of restriction.
In September 2014, the burden on Missouri women coping with an unwanted pregnancy was compounded when the state legislature overrode Governor Jay Nixon's veto to pass a law mandating a wait period of 72 hours between the initial consultation for an abortion and the actual terminating procedure (with no exceptions for rape and incest). This meant that women who had already driven hours from their home for their first appointment needed to return three days later before anything was done. Practically speaking, this not only intensifies patients' trauma but creates a special burden on working women with children and single mothers (who are in the majority among the people whose stories are recounted here).
Much of the documentary is shot at Hope Clinic in Granite City, Illinois, just over the state border, where many women travel for their procedures — among other reasons, to avoid the three-day waiting period. The interviewees include the clinic's staff: Erin, the doctor (pregnant herself at the time the film was made), the nurses, the receptionists, the escorts (who act to shield the patients from protesters) and a female security guard. Many have personal histories that have brought them to a place where they continue to work under great emotional pressure from their families and the community at large. That pressure is constant; there's never a moment when one or more pro-birth protesters are not heard outside the clinic calling down God's judgment on the women and their medical providers.
To frame the situation, Tragos opens with an enthusiastic pro-birth rally being swept away by then-Missouri Speaker of the House Tim Jones, in which he sounds a triumphant note of victory in the fight to do away with all clinics – not only in Missouri but, via "a ripple effect," throughout the United States.
Besides Jones, the documentary features other prominent pro-birth activists including Susan Jaramillo, a statuesque blonde woman who has had three abortions herself but now actively opposes them, maintaining that the experience cannot help but irrevocably damage a woman and cover her with shame. (Now a devout Christian, Jaramillo has written a book, How God Rewrote My Heart). Another religiously devout pro-birther, Kathy Forck, laments, "I can't believe that I am a citizen of a country that says it's okay to kill a baby." A third, Reagan Nielsen, is a student activist who recruits other students and whose verbal altercation with an articulate pro-choice advocate at a Planned Parenthood conference encapsulates the ideological clash between pro-choicers who maintain that a woman's circumstances should be a relevant factor in her decision, and anti-choice activists who don't.
But the filmmaker's main focus is on the abortion-seekers. First among them is Amie, a divorced mother who works 70 to 90 hours per week as a server and bartender to support her two children, and is now pregnant with a third. In some ways the film's linchpin because she's the patient we get to know best, Amie's choice to terminate has to do with her finances — the virtual impossibility of carrying through with the pregnancy while continuing to work and take care of her family. In later interviews, we learn more as she opens up about her anger, her aloneness, her wanting to reach out to women in similar circumstances — and her struggle to combat the feelings of shame that she rationally understands are unwarranted but that filter, in despite her best efforts to ignore them.
Other women seek abortions for different reasons: Monique, because her husband viciously abuses her, or Chelsea, a churchgoer whose deformed fetus had no chance of survival. Like Amie, many speak of their sense of isolation and of being judged by others. Yet most firmly believe their choice is for the best. A "journal" Erin keeps in the clinic is available for anyone to write in — and they do. Sometimes the doctor peruses it, and the comments — in one way or another a self-affirmation — inspire her to keep at it despite the mounting obstacles involved.
Abortion: Stories Women Tell isn't uniformly gripping; at 93 minutes, it could be pared. Sequences that document the workings of the clinic — the receptionist taking phone calls, for example, or the conversation between doctor and patient in an examining room, are of minimal interest (especially if you're someone who's been there yourself, or knows someone who has.) A slow, mournful soundtrack (by Nathan Halpern) accompanies much of the film, and at times gives it a ponderous and self-conscious feel. A few of the interviews could also be pruned.
But other sequences are powerful. If you're pro-choice, the intensity of the pro-birth people, as individuals and in a group, is almost terrifying to observe. Against that backdrop, the struggle of women like Amie who are fighting for their dignity and their future emerges in clearly delineated and compelling focus, and is not easily forgotten.
Los Angeles Renters Fight Back to Keep Their Pets — and Homes
Co-published by Beyond Chron
Evoking a previously unenforced "no pet" clause is one good way for property owners to empty a building before it's put up for sale, or to push out low-rent tenants in a gentrifying area.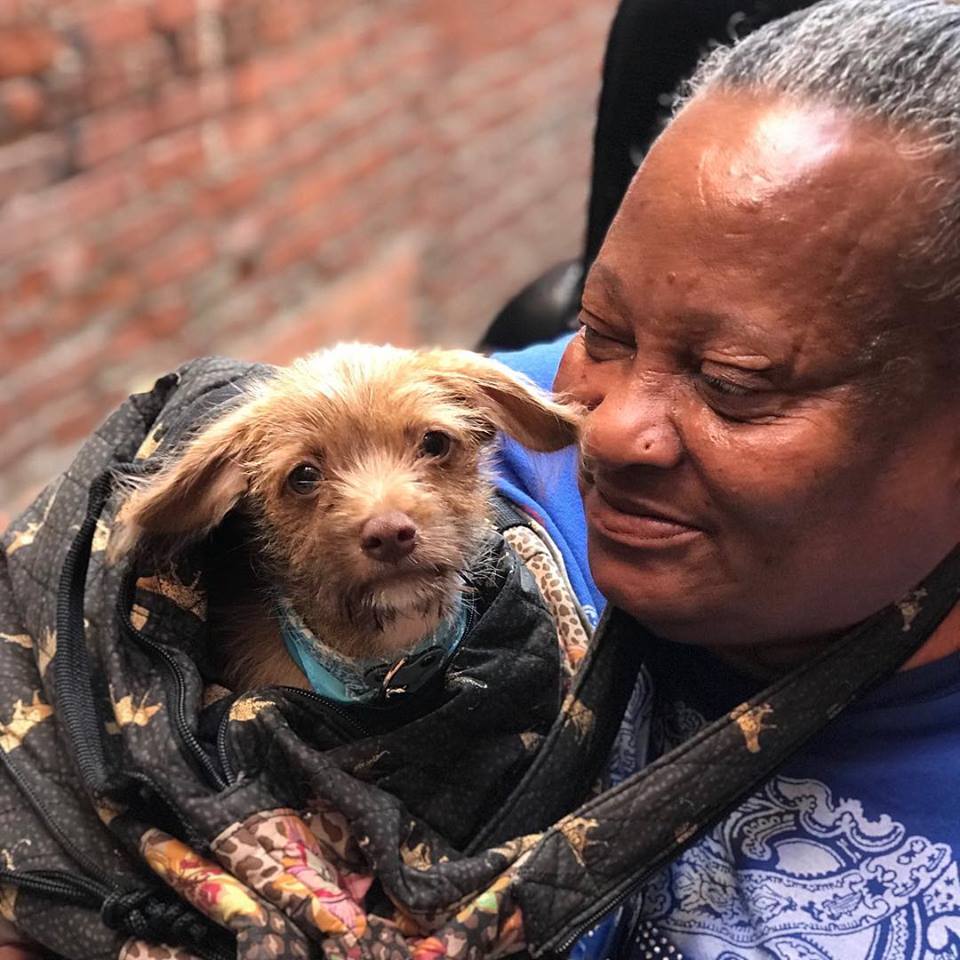 Co-published by Beyond Chron
The El Rancho Mobile Home Park in Compton, California, a cluster of aging trailers parked on a concrete slab was, nevertheless, an inviting place for low-wage tenants, thanks to its policies and prices. Even blue-collar workers could make the rent; kids and dogs were both welcome. Some tenants — Spanish-speaking house cleaners and baby-sitters, the elderly and disabled — had been there for decades. Although leases, written in English, specified dogs had to be under 25 pounds, the rule had never been enforced. Many households had bigger dogs — several, in fact.
So the notice that management tacked to their doors last May sparked panic: Residents had seven days to comply with the original rule or leave. The "choice" was no choice at all — turn in beloved animals at the local shelter or move to…well, nowhere. In a county with the nation's largest gap between rent prices and average wages, the alternative to a $750 a month apartment is essentially the street.
But in early June three residents went to the monthly free animal care clinic run by Downtown Dog Rescue (DDR) in Compton. All had previously had their pets sterilized there, and they'd gotten word that this time there'd be a lawyer present. Longtime housing rights attorney Dianne Prado, sitting not far from the spaymobile, heard their stories and felt a familiar anger rising in her.
If the landlord accepted your pets for years, he can't just say no now, she told them, adding, "This isn't gonna happen." Prado made a single phone call to the trailer park's management company lawyer, Max Eggleston, and with the magic words, "I'm the attorney who represents…" the problem seemed to disappear. (Eggleston says that there was no change in policy, and that tenants have always been expected to "adhere to their leases.") One of the tenants who'd already surrendered his dog to a county shelter reclaimed it, then phoned Prado crying, with his pet in his arms.
"A whole group of people about to be traumatized, 20-plus pets that were going to be added to the shelter population — nope," Prado said. "Just like that, done."
Los Angeles-area courts hear some 54,000 eviction cases each year, and no one knows how many more move "voluntarily" at the first landlord threat. Pet issues — sometimes legitimate, often not — are high on the list of why: Evoking a previously unenforced "no pet" clause is one good way for property owners to empty a building before it's put up for sale, or to push out low-rent tenants in a gentrifying area.
Pets also hamper tenants from finding any housing at all — about half of Los Angeles' rental units and most homeless shelters don't allow them. The federal Fair Housing Act requires landlords to make "reasonable accommodation" for tenants with physical or mental disabilities, a requirement that includes accepting certified service or emotional support animals. But tenants can't insist on rights if they don't know they have them.
Enter Prado's public interest law firm, the Housing Equality and Advocacy Resource Team (HEART), and the legal services offered by the Inner City Law Center via DDR's Pet Resource Center on Skid Row. These parallel efforts may represent the first time no-cost attorneys have focused solely on pets as the driver of housing problems. They also mark a powerful merger of movements: the struggles for social justice and for animal welfare.
The South Los Angeles Animal Shelter, located on 60th St. near Western Ave., echoes with the crash of bottles from a next-door recycling plant and the frenzied barking of 300-plus dogs. On a recent fall day, Prado was conducting business on a folding table near the shelter's intake office, armed with a laptop, phone and legal forms. Her first client, referred by an animal rescue group, was a Latina in her 40s who'd brought her teenage daughter and a thick file folder of papers. Their landlord had sent a "Notice to Quit" the $642-a-month apartment below Baldwin Hills that the mother had rented for decades because of a terrier named Cookie.
"But we've had the dog for five years!" she told Prado, adding that it had been classified an emotional support animal for her daughter, who was being treated for anxiety and depression. The girl said nothing but looked down at her hands.
"No te preocupes," Prado ordered, then in a rush of alternately reassuring and indignant Spanish — when injustice riles her, she talks like a tape recorder set on fast — explained that she would take the case, "todo es gratis." In the time it took her client to sign a representation agreement, she had left a message for the landlord's lawyer, pulled out a flyer with immigration information, and pointed toward the shelter's main office, where the terrier's license could be renewed. (The dog was already spayed; every family getting Prado's representation has or will have a sterilized pet.)
"Next!"
Two women, currently employed, appeared with a dog and a blizzard of contradictory notices about having to leave their Boyle Heights rental. Prado got to work.
It's a more crowded and grimmer scene at the weekly Pet Resource clinic. Dozens of pet owners, over half of them homeless, arrive on foot at a dead-end street off Seventh St. and Central Ave., some bearing animals in shopping carts and bicycle baskets. Los Angeles Animal Services workers offer vouchers for free spay and neuter surgery; DDR volunteers provide bags of food and other supplies. Meanwhile, an attorney and paralegal work the lines in a low-key way. "How're you doing? Good to see you! Any other problems you need help with today?"
Mental health and addiction issues are the norm here, and "sometimes it takes a few meetings to build trust," says James Gilliam, the Inner City Law Center's directing attorney. That was how he encountered a 65-year-old Latina whose love of her dog had consigned her to the sidewalk. "She'd been matched for housing in a low-income building," Gilliam continues, "and even though she had a letter saying that she was disabled, and her dog was a support animal, she was not being allowed to move in with it. She couldn't find a shelter that took animals either. I wrote a 'reasonable accommodation' letter and gave her five copies. Two weeks later, because of that legal letter, she was in the approved low-income housing."
HEART and the Pet Resource Center legal clinic are separate entities that grew from a shared root: the vision of Lori Weise. Weise founded DDR in the late 1990s and has spent decades helping pet owners on Skid Row and in South L.A. Her work has been shaped by the understanding that a great deal of animal suffering is directly connected to the economic suffering of humans. Like most rescues, DDR saves and rehomes shelter dogs, but "for me," says Weise, "it's always been about the people."
Since 2013, the organization's "intervention program" at the South L.A. Animal Shelter has helped keep more than 7,000 animals out of the always-crowded facility by giving financial and other tangible assistance to struggling pet owners who are considering a pet surrender. The program, offering everything from money for reclamation fees to vouchers for vet care and even construction of dog-proof fences in open yards, has been widely imitated; programs based on Weise's model exist at several Los Angeles-area shelters, as well as in other cities and states.
Over time, intervention program counselors have repeatedly seen families forced to choose between their housing and their animals'. The problem is widespread. A survey by the National Council on Pet Population Study and Policy found the top two reasons for surrender of both dogs and cats were "moving" and "landlord not allowing pets." In a 2015 motion, Los Angeles City Councilmember Paul Koretz noted that "since 2011, at least 22.6 percent of relinquished dogs and 18.6 percent of relinquished cats" had been turned over to city shelters because of tenancy restrictions.
The question was what to do. But also in 2015, both Weise and Prado, then a supervising staff attorney at Inner City Law, were speakers at a downtown forum on poverty and pets. Prado's passionate commentary about how low-income tenants threatened with eviction inevitably lost because they had no legal representation was "a lightbulb moment for me," Weise says. "I was listening to someone outside animal rescue who understood the problem."
Prado, who's got a 9-ish-year-old pitbull named Falcor that she rescued from the side of a freeway, felt the same. "Lori brings services together that no one else in the animal advocacy world would have thought were joined," she says. The Pet Resource Center began the following year as a collaboration between Weise, the L.A. Animal Services Department and Inner City Law. In 2018, Prado left to start her own practice; her current clients come through shelter intervention counselors, rescue groups and community pet care clinics.
One strength of this strategy, its ability to organize without anyone noticing, comes from meeting clients "where they are," as Weise would put it, and in settings that have nothing to do with their legal issues.
"When someone is facing or experiencing homelessness, people try to home in on one issue," says Tai Glenn, chief counsel and director of legal services at Inner City. "But part of what we're seeing is that there has to be a more holistic approach. This is a place where that can happen."
Prado notes that many of her clients are not only dealing with eviction threats but problems like cockroach and rat infestations. "Without the pets, there are many people I've helped who'd never even have spoken to me," she says. "No one wants to talk to a lawyer!"
Another strength is the strategy's logic. Humans evicted because of animals face predictable financial and emotional consequences, including job loss, depression, poverty. Eleven percent of Los Angeles County's unsheltered homeless directly cite eviction or foreclosure as responsible for putting them on the street. Animals made homeless when their people lose housing face life in a shelter cage. Keeping dogs out of shelters and keeping people off the street are part of the same fight.
"Look," says Larry Gross, longtime executive director of the Coalition for Economic Survival and current president of Los Angeles' Board of Animal Services Commission, "for L.A. to be a real no-kill city…you have to get the animals into homes, and when 64 percent of the population are renters, that means they have to be accepted in apartments. In addressing homelessness, there needs to be an emphasis on keeping people in the housing they have, because we're never going to reduce the numbers unless we turn off the faucet."
In August, the city of Los Angeles City Council Housing Committee recommended that the city explore a housing "right to counsel" ordinance that would guarantee legal representation to low-income tenants facing eviction. For tenants, that would be a game changer. Meanwhile, in less than two years, the various members of the Pet Resource Center legal team have successfully fought 79 pre-eviction notices, defended clients in eviction court a dozen times and kept 113 animals at home and out of shelters.
Between June 2018, when Prado opened HEART, and October, she says, she helped some 100 families, including defending 10 evictions in court; the rest of her cases didn't even get that far. "Especially when a client is low-wage or Spanish-speaking, a landlord's three-day notice is just a push to see if someone will push back," she says. "The most important thing I do is preventing a threatened eviction from ever getting to court."
Behind the numbers are faces human, canine: The man who'd gotten a 24-hour notice to get rid of his beloved small dog, Champagne. The single mother with a dog and three kids, one disabled. The family of five and dog terrified of losing a rent-controlled Wilmington apartment — who later returned to offer Prado flowers and a thank-you note. And the Baldwin Hills-area mother and daughter and their dog, Cookie; Prado's emailed response to their landlord's attorney went unanswered, her client's next rent check was cashed, and the problem just went away.
---
Copyright Capital & Main