HBO Looks at America's Abortion Divide
Tracy Droz Tragos' documentary, Abortion: Stories Women Tell could be pared down, but it is often powerful and the struggles of the women it depicts are not easily forgotten.

Produced and directed by Tracy Droz Tragos, the HBO documentary Abortion: Stories Women Tell shares the experiences of women living in the Bible Belt and coping with unplanned pregnancies. The film is unlikely to change the thinking of firm believers on either side of the issue, but for viewers whose opinions waiver, who are unsure of the morality of abortion or are unclear about the motives behind it, the film will be educational and illuminating.
Tragos grounds her documentary in her home state of Missouri, where one abortion clinic serves the entire state. While Missouri has some of the most draconian restrictions in the nation, it's hardly alone in limiting abortion access. Since the Roe v. Wade Supreme Court decision in 1973, over half the states have enacted some form of restriction.
In September 2014, the burden on Missouri women coping with an unwanted pregnancy was compounded when the state legislature overrode Governor Jay Nixon's veto to pass a law mandating a wait period of 72 hours between the initial consultation for an abortion and the actual terminating procedure (with no exceptions for rape and incest). This meant that women who had already driven hours from their home for their first appointment needed to return three days later before anything was done. Practically speaking, this not only intensifies patients' trauma but creates a special burden on working women with children and single mothers (who are in the majority among the people whose stories are recounted here).
Much of the documentary is shot at Hope Clinic in Granite City, Illinois, just over the state border, where many women travel for their procedures — among other reasons, to avoid the three-day waiting period. The interviewees include the clinic's staff: Erin, the doctor (pregnant herself at the time the film was made), the nurses, the receptionists, the escorts (who act to shield the patients from protesters) and a female security guard. Many have personal histories that have brought them to a place where they continue to work under great emotional pressure from their families and the community at large. That pressure is constant; there's never a moment when one or more pro-birth protesters are not heard outside the clinic calling down God's judgment on the women and their medical providers.
To frame the situation, Tragos opens with an enthusiastic pro-birth rally being swept away by then-Missouri Speaker of the House Tim Jones, in which he sounds a triumphant note of victory in the fight to do away with all clinics – not only in Missouri but, via "a ripple effect," throughout the United States.
Besides Jones, the documentary features other prominent pro-birth activists including Susan Jaramillo, a statuesque blonde woman who has had three abortions herself but now actively opposes them, maintaining that the experience cannot help but irrevocably damage a woman and cover her with shame. (Now a devout Christian, Jaramillo has written a book, How God Rewrote My Heart). Another religiously devout pro-birther, Kathy Forck, laments, "I can't believe that I am a citizen of a country that says it's okay to kill a baby." A third, Reagan Nielsen, is a student activist who recruits other students and whose verbal altercation with an articulate pro-choice advocate at a Planned Parenthood conference encapsulates the ideological clash between pro-choicers who maintain that a woman's circumstances should be a relevant factor in her decision, and anti-choice activists who don't.
But the filmmaker's main focus is on the abortion-seekers. First among them is Amie, a divorced mother who works 70 to 90 hours per week as a server and bartender to support her two children, and is now pregnant with a third. In some ways the film's linchpin because she's the patient we get to know best, Amie's choice to terminate has to do with her finances — the virtual impossibility of carrying through with the pregnancy while continuing to work and take care of her family. In later interviews, we learn more as she opens up about her anger, her aloneness, her wanting to reach out to women in similar circumstances — and her struggle to combat the feelings of shame that she rationally understands are unwarranted but that filter, in despite her best efforts to ignore them.
Other women seek abortions for different reasons: Monique, because her husband viciously abuses her, or Chelsea, a churchgoer whose deformed fetus had no chance of survival. Like Amie, many speak of their sense of isolation and of being judged by others. Yet most firmly believe their choice is for the best. A "journal" Erin keeps in the clinic is available for anyone to write in — and they do. Sometimes the doctor peruses it, and the comments — in one way or another a self-affirmation — inspire her to keep at it despite the mounting obstacles involved.
Abortion: Stories Women Tell isn't uniformly gripping; at 93 minutes, it could be pared. Sequences that document the workings of the clinic — the receptionist taking phone calls, for example, or the conversation between doctor and patient in an examining room, are of minimal interest (especially if you're someone who's been there yourself, or knows someone who has.) A slow, mournful soundtrack (by Nathan Halpern) accompanies much of the film, and at times gives it a ponderous and self-conscious feel. A few of the interviews could also be pruned.
But other sequences are powerful. If you're pro-choice, the intensity of the pro-birth people, as individuals and in a group, is almost terrifying to observe. Against that backdrop, the struggle of women like Amie who are fighting for their dignity and their future emerges in clearly delineated and compelling focus, and is not easily forgotten.

Living Homeless in California: Public Bathrooms and Other Mirages
A 2017 audit found that in Los Angeles, from 9 p.m. to 6 a.m., there were only nine public toilets available for Skid Row's estimated 1,777 unsheltered homeless people.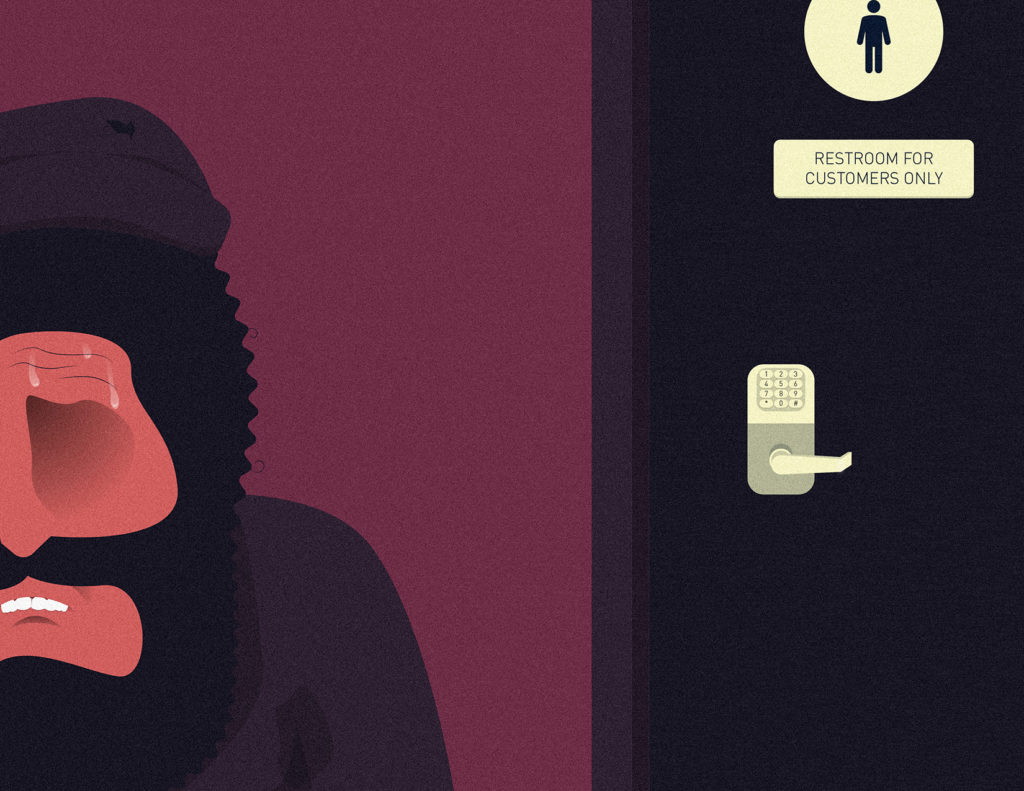 ---
"There's feces in the streets every day. When you're not paying attention you step in it, or roll through it with your wheelchair."
---
At nighttime on the eastern end of Los Angeles' Skid Row, a trek to the nearest public toilet is nearly unthinkable.
East of Crocker Street, the human scale of the homeless missions and single-room occupancy hotels recedes and the landscape becomes bleaker and more industrial.
Aaron Milsaps, known as Ace, says he knows better than to make the trip at night. In the outlying area near Fifth St. and Central Ave., where Milsaps has sheltered for nearly three years beneath a plastic tarpaulin, there are no guarantees of personal safety.
Toilets and showers are a 10-minute walk away, down streets lined with iron-fenced lots and shuttered wholesale businesses. The sidewalks are overcrowded in every direction with tents and tarps that, taken together, comprise the largest concentration of homeless people in the country.
The trouble Milsaps hears on the street at night keeps him inside his rudimentary dwelling until the rumbling of the first diesel trucks at dawn.
Milsaps, who worked as a systems administrator for the Jet Propulsion Laboratory in Pasadena two decades ago, keeps a bucket lined with a plastic trash bag in his tent. Like hundreds of others who sleep on the streets of Skid Row where toilets are scarce, he ties off the bag when he is finished and, when no one is looking, deposits it in a city trash can.
A 2017 audit of public toilets on Skid Row found that from 9 p.m. to 6 a.m., there were only nine available for Skid Row's estimated 1,777 unsheltered homeless people. County health officials recommended in 2013 that "Toilet facilities should be installed on all streets within the Skid Row Target Area with a maximum distance of 300 feet between units."
Los Angeles city officials are unveiling new programs intended to mitigate a public health crisis, but homeless advocates and Skid Row residents say the city needs to do more. (See "Stopping a Hygiene Crisis on Skid Row.")
---
Homeless Activist to L.A. Mayor:
"The toilets that you bringing, it's 10 years late and it's 300 too short!"
---
Milsaps, 56, is in decent health, but he sympathized with neighbors who rely on wheelchairs to get around or have physical ailments that can make them incontinent. For them, the 10-minute walk to the nearest bathroom is "time enough to crap in your pants."
"There's feces in the streets every day," he added. "It reaches everywhere. When you're not paying attention you step in it, or roll through it with your wheelchair, and you're back in your tent wondering where the smell's coming from."
Six blocks westward, on a commercial block at Sixth and Los Angeles streets, an Armenian woman arrives at 7:15 a.m. to raise a metal security door and open her small convenience store for business. She has owned the V.M.C. Cigarette & Snack Shop for 30 years.
Early mornings are the worst, she said. "They use this side of the street as a restroom," she said, referring to homeless people in the area.
---
The presence of urine and feces on public streets has jumped significantly, increasing the risk of people contracting infectious diseases, including meningitis and respiratory infections.
---
The businesswoman, who declined to give her name, was not initially in favor of the city's installing more public toilets nearby, but the severity of the problem has brought her around on the issue. "It's totally crazy. And it's getting more and more crazy," she said.
Astrid Escalante is the owner of Maple Restaurant, located across the block from V.M.C. Escalante has run Maple at this location for the last eight years and says public restrooms in the past have been havens for crack and heroin use. "Many are going in there to shoot up or smoke drugs," she said.
She noted that with the crisis of overcrowded homeless people on Skid Row, adding more toilets is just common sense: "It's a good idea. It's depressing to see so many going to the bathroom in the street."
Safety fears appear to have a heavy influence on many homeless people's preference for public streets over bathrooms. County auditors reported in 2013 that 40 percent of the urine and feces on public streets in Skid Row were found within 600 feet of a public restroom.
"You've got to have a spotter watching your back [if you use a public restroom]," said Michael Buggs, a 63-year-old man who was sitting in front of a tent where he lives at Sixth and San Pedro streets. "Take a friend with you to stand outside."
---
The Union Rescue Mission's CEO, Rev. Andy Bales, has contracted three types of bacteria — E. coli, strep and staph — while doing homeless outreach on Skid Row. He lost a leg in 2016.
---
At a Dec. 4 press conference inaugurating a new hygiene center on Crocker Street, a member of the Los Angeles Community Action Network (LA CAN), an anti-poverty activist group based in Skid Row, tore up a commendation from the mayor. A video of the moment shows the man, named General Dogon, charging, "The toilets that you bringing, it's 10 years late and it's 300 too short!"
"I was pissed off and tore up the certificate and told the mayor I'm not impressed," Dogon told Capital & Main. "People up there glamorized and clapping — I think it's a disgrace. People don't have the resources to keep themselves clean. No place to wash their hands. This is how disease is spread."
On one recent afternoon, a homeless woman named Venus was weaving on rollerblades through a chaotic scene on a sidewalk near Gladys Park. The stench of urine, present in varying degrees on every block of Skid Row, was as sour as vinegar.
She stopped at a large hole in the asphalt where a trickle of cloudy green liquid formed a malodorous pool.
"It's a cesspool," Venus, 48, said matter-of-factly, looking out from glasses frames that held no lenses. A trailer that offers free access to showers and bathrooms had opened a hydrant nearby, and the water drip diluted the green-dimmed flow somewhat.
Long before last year's Hepatitis A scare in Los Angeles, county health officials had warned that the continued presence of urine and feces in public streets was an incubator for infectious disease.
---
Union Rescue Mission will install 16 toilets for women and the Midnight Mission has already made toilets available to the public 24 hours a day — and showers until 9:30 p.m.
---
The Los Angeles County Department of Public Health studied environmental conditions in Skid Row in 2012, finding "small piles of feces and/or urine on the sidewalks and grass areas" on eight of the 10 blocks surveyed. A follow-up survey in 2013 found that the presence of urine and feces on public streets had jumped by 82 percent, increasing the risk of people contracting infectious diseases, including meningitis, respiratory infections, enteric pathogens like Hepatitis A and Salmonella, and Staphylococcus aureus, or Staph skin infections.
Afterward, the city launched Operation Healthy Streets, a power-wash and disinfecting of Skid Row's major sidewalks, alleys, parks and other public access areas. Sanitation workers used backhoes to scoop trash from gutters, and other equipment to vacuum storm drains.
Nonetheless, public health concerns continue.
"Skid Row has never been in worse condition," says the Rev. Andy Bales, CEO of Union Rescue Mission for more than 20 years.
Bales has contracted three types of bacteria — E. coli, strep and staph — while doing homeless outreach on Skid Row in 2014, and lost a leg in 2016.
County Coroner data show that 805 people died while homeless in 2017, a 12 percent increase over the prior year. Bales attributed the rise in deaths in part to infections that arise from urine and feces on the street. "There's been lots of talk but not nearly enough action around toilets," he said.
Union Rescue Mission will install 16 toilets for women in a prefabricated or sprung structure in the mission's back parking lot, Bales said. He added that the stalls will be accessible 24 hours a day with round-the-clock security, and that he expects them to be open to the public by July.
The Midnight Mission has already made toilets available to the public 24 hours a day (and showers until 9:30 p.m.) and recently assigned private security to ensure safety and prevent drug use.
Bales said the days when portable toilets and showers might have triggered insurmountable opposition from certain quarters are past. The potential for a future public health crisis has helped engineer a consensus that action is needed.
"I think we're all beyond that. I think we've reached a compromise. But a shortage of restrooms on Skid Row still remains a potentially deadly issue."
---
Copyright Capital & Main