Hard As Nails: Battling Toxic Chemicals and Low Wages in California's Salons
Nail-care salons are an $8.5 billion industry that is booming in America, but one that is also replete with an often-exploited immigrant work force, low wages, dangerous chemicals and difficult patrons. Change, though, is gradually coming.
All Photographs by Joanne Kim
---
As late summer temperatures peak, so does customer volume at nail salons. When it comes to spa services, many customers expect luxury at a low price, and nail salon workers and owners must navigate complicated territory. It is an economically booming territory but replete with an often exploited immigrant work force, low wages, dangerous chemicals and difficult patrons. Change, though, is gradually coming as some spas move to healthier practices, and advocates seeking better conditions and wages for salon technicians have emerged.
Kathylynn Do at Santa Monica Beach Nail Spa welcomes the seasonal rush. "In the summer, I have more business," she said. "It's a tourist area."
Kathylynn Do, owner of Santa Monica Beach Nail Spa, learned about the possible health hazards to her employees due to chemical exposure from the California Healthy Nail Salon Collaborative.
At her shop a few blocks from the Pacific Ocean, she juggles a lot of walk-ins. Do launched her business with a $7,000 loan from her sister while she was going to school and raising a couple of kids. As the law requires, she pays workers minimum wage plus tips — an amount left up to the customer. Sometimes the clients are from Europe, where tipping is not a custom, she said. That means nail workers get stiffed. (Not all customers do the math on what a 15 to 20 percent tip on the spa's $28 manicure-pedicure should be — more than $4 and, at 20 percent, more than $5.)
A low-road approach to nail-salon pricing and payment dominates the business and makes wage theft common. Workers are on the clock but uncompensated with minimum wage
Sometimes customers can be a hassle, like the one who recently walked in and demanded service on the spot while those with appointments were being tended to. And there are mean Yelp reviews to contend with.
Do's shop boasts a businesslike, get-the-job-done yet homey atmosphere.
A block down the street from Do's shop at Organic Nails and Spa Studio, the atmosphere is more high-end – slightly fragrant, natural light, soothing Spotify music stream. Aesthetician Amy Pham recently treated a client to a hot rock massage on her hands, arms and feet, and then stopped to display organic and vegan products to a visitor.
Valentina Popovi receives a set of acrylic nails with a French manicure by employee Mike Dung Nguyen.
Pham began her career in Boston more than 15 years ago. "I worked in a lower end spa—a very chemical spa," she said. "At night, the owner had to hire a bouncer for security at the door. A bad location." Customers paid $5 or $7 for service, and technicians were expected to take what was offered. The signature mani-pedi at Organic Nails and Spa Studio where she works now is $48 and includes a hot rock massage.
Pham and Do are part of the spectrum that makes up the $8.5 billion nail care industry in the United States. Nails Magazine credits social media and new nail technologies for industry expansion. Nail art is wildly popular on Instagram and Pinterest. Gels and other methods make mani-pedis last longer and contribute to the demand.
A 60-40 split between spa owners and technicians is a common industry practice. For an hour-long $23 mani-pedi, this could work out to $9.20 to be shared between two workers.
Low pricing may also help drive the expansion, said Kent Wong, executive director of the University of California, Los Angeles Labor Center. Nail care is part of what Wong calls a proliferation of service sectors staffed by low-wage immigrant workers—nail salon work, garment work and the hospitality industry.
Mani-pedis became more accessible as prices dropped, he told Capital & Main. "It makes it more affordable — people who used to go only on a special occasion can now go regularly."
Technicians are supposed to receive minimum wage, but some owners treat them as contractors instead of as employees. And, while fee rates vary from spa to spa, a 60-40 split between owners and their technicians is a common industry practice. For a $23 mani-pedi, which can take two salon workers about an hour, this could mean that the technicians will share $9.20. They could get more if the customer knows to tip, but many don't.
Santa Monica Beach Nail Spa strives to use chemicals that are as nontoxic as possible. All employees use gloves to ensure that there is no contact with their skin.
Nail workers in California average about $22,000 a year, said Julia Liou, co-founder of the California Healthy Nail Salon Collaborative, an advocacy group, citing Department of Labor statistics. Nail technicians frequently work with harmful chemicals the collaborative calls the "toxic trio" — dibutyl phthalate, toluene and formaldehyde — all linked to a range of serious health hazards, from cancers to respiratory, neurological and reproductive dangers.
"They're handling chemicals, pretty bad chemicals for long periods of time," said Liou. Do and Pham stopped using the chemicals as participants in the Santa Monica Healthy Nails Program, established with organizing and advocacy support from the California Healthy Nail Salon Collaborative.
When Pham worked in what she called "a very chemical spa" in Boston, she saw one co-worker die of lung cancer at 35 and another miscarry.
Do was convinced to replace her products by a Healthy Nail Salon Collaborative organizer who knocked on her door. It was a financial challenge and she got complaints when she raised prices by a dollar. "One dollar only," she said. "Now I have a healthy nail salon. I buy something good for your nails. It's not a big deal — it's good for you. It's good for me. It's affecting your health, it's affecting mine."
In Santa Monica, where residents are health-conscious and skew toward higher-income brackets, a Healthy Nails certification hanging in the shop can boost business — and did for Do's salon.
But the Santa Monica shops are not typical. The low-road approach to pricing and payment dominates and makes wage theft common. Workers are on the clock but uncompensated with minimum wage — a ubiquitous practice, said John Trang, an attorney with Asian Americans Advancing Justice. Trang represents plaintiffs suing the Tustin Nail Spa, a business that has changed ownership several times while operating under the same name.
Margaret McCormick, second from left, is visiting Santa Monica from Denver, Colorado.
The suit, first filed in 2015, alleges failure to provide wages for hours worked or for overtime. It also says the salon did not offer times for breaks and meals. Throughout the industry, Trang said, many shop owners don't understand that their workers are not contractors to be paid by the job but are entitled to a minimum wage. At other times owners overlook minimum wage requirements, and the technicians are unaware of their rights or hesitate to speak up.
The nail industry in California is based on small shops run by Vietnamese families, said Trang, whose mother is a retired nail technician.
Employees need and want the jobs, Trang said: "How many industries can one think of where you might be an immigrant woman, who speaks very little English—and you don't have a lot of upfront costs, you don't have get an education for three, four years like nursing, you can do a license, take some classes, put in some money, maybe a few thousand for some courses and just jump in and start working?"
"Folks put up with exploitation," Trang added. "They know they are being screwed over but they put up with it. And that's gendered. There's an immigration aspect to it. There's a racial aspect. And it's unfortunate."
Notions of what is appropriate in a workplace are also factors in salon operations. Trang's mother regularly called her employer "Big Sister" or "Auntie," he said. "There's a kind of honorific in many Asian languages — this idea that there is a familial aspect," he said. "That makes it harder to bring a legal claim or even raise workplace concerns." But the close relationships in a small shop and the sense that everyone is in the trenches together can level the playing field a bit to make it easier to speak up, he said.
Few cases have been filed against salons for abusive practices or wage issues, according to Trang's research. "No more than 20, 25 — tiny given the industry has been around for decades," he said.
With spa services in high demand, advocates say, the challenge is to assure salon work is a good job, fairly compensated and doesn't endanger workers' health.
Liou and Trang represent two currents of a California movement to create justice in the nail salon industry — to protect health and win fair wages.
Gel manicure samples.
Two pieces of legislation went into effect this year to require posting of information in multiple languages to inform nail salon workers about labor laws (including spelling out the difference between contract workers and employees.) A third measure supports guidelines for local governments to encourage local healthy nails programs like the one in Santa Monica.
Liou said the initial legislative push on the health front was to forbid the toxic trio, but "banning that thing is a huge lift." One prominent cosmetics company even flew in staff who distributed beauty goodie bags in the legislature to oppose a bill blocking the chemicals, she said.
The approach is both legislative and local. The California Healthy Nails Collaborative has formed local partnerships to establish healthy nails programs in Santa Monica, the City and County of San Francisco, and San Mateo and Santa Clara counties.
The push for nail worker protections is also robust in New York.
Governor Andrew Cuomo created a task force to enforce health and wage protections for nail technicians after a New York Times story outlined the industry's vicissitudes.
The article broke amid a steady worker rights push from the New York Healthy Nail Salons Coalition led by the New York Committee for Occupational Safety and Health and Adhikaar, a human rights organization that works closely with the Nepali community, many of whom turn to work in the salon industry in New York.
Adhikaar (which means "rights" in Nepali) provides education and helps remedy issues centering on salon owners not paying minimum wage or passing tips on to workers, said executive director Pabitra Benjamin.
"People know they are owed," she said. "With a cash economy — even if they have legal status, they are not getting the cash from their tips or they may not be getting the amount reflected on their checks. It's a tip economy. A lot of folks work on a cash basis. It varies from salon to salon."
Like the California Healthy Nail Salon Collaborative, Adhikaar emphasizes working with salon owners and staff. Adhikaar approached owners to put up posters in shops to inform workers — and owners — of workplace rights.
The Adhikaar posters also let consumers know they have a role in a just workplace, Benjamin said. "We want people going to nail salons to know that workers have their rights too," she said. "Even the basics of tipping. A five percent tip is not cool. A 10 percent tip is not cool. Twenty percent should be standard. It's that type of education that's needed."
---
Copyright Capital & Main
Los Angeles' Measure B Is a Moonshot Aimed at Creating a Public Bank
A baby step toward establishing municipal banking in America's second-largest city would be a giant leap for this national movement.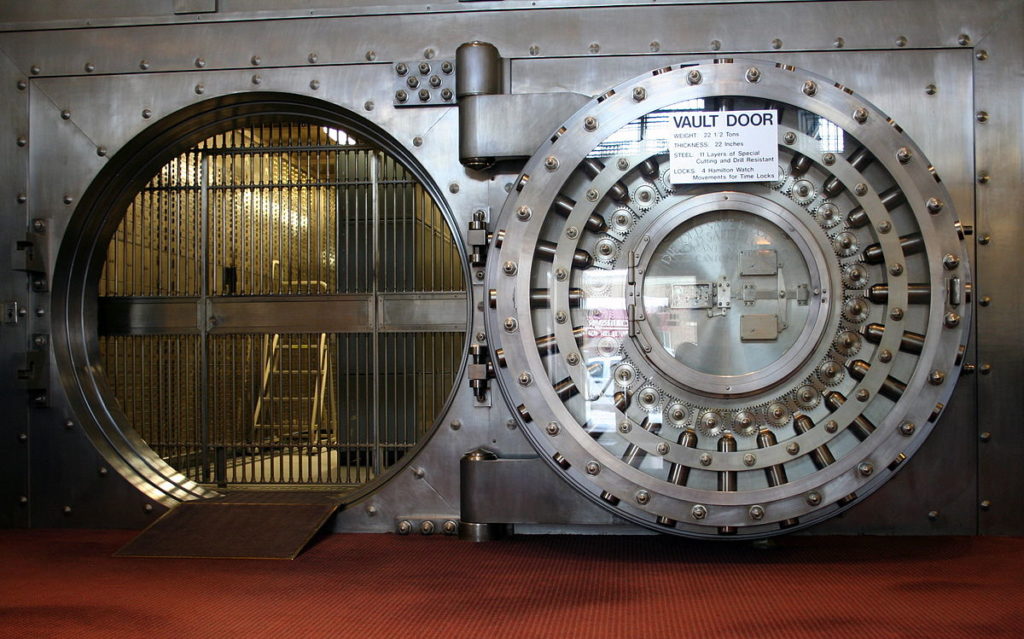 A ballot measure in support of creating a public bank in Los Angeles could serve as a referendum on an idea that has gained traction in cities and states across the country since the 2008 financial crisis.
"To have a resounding 'Yes' vote from Los Angeles, which is one of the most powerful opinion centers of the world, would be tremendously historic," says Trinity Tran, co-founder of Public Bank LA, an advocate for Measure B, which would amend the city charter to allow the city to establish a municipal bank.
But Measure B is a baby step in what promises to be a lengthy process to set up a municipal bank whose stated purpose is to provide the nation's second-largest city with a socially responsible and cost-effective alternative to Wall Street banks.
The movement for public banks draws inspiration from the success of a 99-year-old public bank in the red state of North Dakota and from Germany's network of over 400 regional public banks (or Sparkassen), which advocates say provided significant funds for the development of that country's renewable energy sector.
Since the Great Recession, over 20 U.S. states have introduced bills to establish state-owned banks or to study their economic feasibility. New Jersey Democratic Governor Phil Murphy, a former Goldman Sachs executive, successfully campaigned for his current job on the promise of creating a state-owned bank. And California's gubernatorial frontrunner Gavin Newsom has made the formation of a state bank that would fund infrastructure, student loans and housing part of his platform as well.
A lack of resources is one motivation for city and state leaders' interest in public banking, said Deborah Figart, a distinguished professor of economics at Stockton University in New Jersey.
After the Great Recession, "we really became much more aware of unmet infrastructure needs," said Figart, who conducted an economic impact study for the proposed New Jersey bank. The American Society of Civil Engineers gives the U.S. a D+ grade for the state of its roads, bridges and other infrastructure — "practically a failing grade," she noted. Meanwhile, local governments devote a significant portion of their budgets to paying interest on bonds that go to Wall Street banks and finance companies at a time when interest rates are on the rise.
In Los Angeles, the push for the bank emerged from grassroots activists who demanded that the city divest from San Francisco-based Wells Fargo, whose aggressive sales practices resulted in more than three million deposit and credit card accounts being opened without customers' knowledge.
"We knew that it wasn't really divesting if we were going to move our money to another predatory extractive bank," said Tran. "So we introduced public banking early on in the campaign as a permanent solution to housing the city's public finances."
Last year, the city paid $1.1 billion in interest to bondholders, which in turn funds "wars and pipelines and private prisons," said Tran, who would rather see tax money put to work to address city needs like housing and clean energy. Her banking advocacy began four years ago when she started meeting with fellow activists in Koreatown coffee shops. As of October 20, "Yes on B" supporters had raised $10,128 for the measure, according to the Los Angeles City Ethics Commission. No committee has been formed to oppose the measure.
There are critics, however. Rob Nichols, president and CEO of the American Bankers Association, writing in The Hill, fears that the public bank proposal would suffer from a "scattered business focus" and fall under "undue political influence" that would result in risky loans that would damage the public purse.
"It's easy to make the banks the bad guy," said Stuart Waldman, president of the Valley Industry and Commerce Association. But "it's not easy to run a bank," and a municipal bank would require significant start-up capital. "This is public money, so if they lose public money, if they realize that it doesn't work, that hurts every person in L.A."
The Los Angeles Times editorialized that the measure was one of "the most ill-conceived, half-baked ballot measures in years" and urged a no vote, in part, because the measure does not articulate a vision or plan for the bank.
But if the proposal on the ballot lacks detail, it's because city officials have not wanted to invest in a business plan and feasibility study while the city is still prohibited by its charter from operating a bank, City Council President Herb Wesson told a news conference in October.
Wesson assured reporters that there was "no way on God's green earth" the city would move to create a municipal bank without a subsequent citywide vote on a more detailed plan, and the ballot argument in favor of the measure that goes to every city voter says as much. For now, voters are only being asked to remove a legal hurdle in the charter that prevents the city from establishing a municipal financial institution.
Proponents of public banking regularly point to the Bank of North Dakota as a model. The Progressive-era institution was created in 1919 out of frustration with a banking system that was putting the squeeze on farmers. The bank was initially greeted with suspicion by a national press corps anxious about a Bolshevik incursion into the finance sector. But the bank, now very much part of the state's business establishment, has seen record profits for 14 consecutive years. Because it steered clear of the volatile derivatives market, the Bank of North Dakota avoided the upheaval many financial institutions suffered when the housing market tanked in 2008.
"It's partly because you have civil servants in charge rather than folks whose paychecks depend on how much money the bank makes in a quarter," Sam Munger, director of external affairs for the State Innovation Exchange, told The American Prospect.
Considered a "banker's bank" with a $4.9 billion loan portfolio that supports agriculture, business, homeownership and higher education, the Bank of North Dakota does not compete with other financial institutions.
"It's not a bank for regular household customers, for car loans, credit cards and mortgages," said Figart. "It is a bank for accepting public deposits and lending mostly to the public sector or public-private partnerships."
Wesson has talked about L.A.'s municipal bank as a place where the cannabis industry could park its cash since pot is illegal under federal law. Such a move could restrict the bank's ability to make federal wire transfers, but the L.A. activists who back the initiative see other uses for the bank.
"For our organization, it was never about cannabis; it was always about neighborhood issues," says Gisele Mata, housing organizer of Alliance for Californians for Community Empowerment, a community-based non-profit that has been part of the coalition advocating the bank.
Public Bank LA leaders envision Los Angeles's municipal bank playing a similar role to that of the Bank of North Dakota, but focusing on the city's priorities. "It would start as a banker's bank for the city, refinancing city debt and trying to consolidate the investment away from Wall Street and harmful extractive industries," co-legislative director David Jette told KPCC-FM in October.
Public Bank LA, he added, also envisions the municipal bank "partnering with local credit unions and community banks" to fund housing, small businesses, low-interest student loans, renewable energy projects and, eventually, credit for the underbanked. The bank could also fund infrastructure projects more cheaply than commercial banks by avoiding the interest and fees that go to commercial banks, according to advocates.
Many hurdles remain before an L.A. bank could become operational. State and federal laws do not currently provide a regulatory framework for the formation of public banks, according to an August report by the city's Chief Legislative Analyst's office. The city must come up with a source of collateral for the bank and an oversight structure, and receive approval from the California Department of Business Oversight.
But a modern public bank can be made from scratch. In April, the Federal Reserve approved a public bank for American Samoa in the South Pacific, after the Bank of Hawaii abandoned the geographically remote U.S. Territory.
The North Dakota and American Samoan banks may be rare cases for now, but Figart believes that "in the next five years, there will be" more public banks, and "in the next 10 years, there certainly will be more."
---
Copyright Capital & Main