Happy 94th Birthday, Pete Seeger!
Pete Seeger, arguably the person most responsible for the revival and popularity of folk music in the United States, turns 94 on May 3. Seeger's unparalleled life led him to engage in nearly all of the leading social movements of the 20th century, including the labor sit-ins in the 1930s, the economic justice campaigns of the 1940s, fighting the blacklist and promoting peace in the 1950s, the civil rights movement of the 1950s and 1960s and the environmental movement that began in the 1970s. Fortunately, Seeger's extensive writings are now available in a new book, Pete Seeger: In His Own Words, selected and edited by Rob Rosenthal and Sam Rosenthal. The book offers unusual insight into Seeger's motivations, and for his relentless optimism in the face of adversity. Seeger has spoken the truth for nearly 100 years, and his writings offer inspiration to all those working for peace, justice and for a better world.
Pete Seeger is often described as an icon. This is an apt term for someone who popularized the notion of socially responsible singing in the 20th century, and, along with Harry Belafonte, was among the leading combined cultural figure/activists of his time. Seeger linked Woody Guthrie to Bob Dylan, and then added a connection to Bruce Springsteen; the latter revived many of Seeger's songs in his landmark The Seeger Sessions recording.
If you know little about Seeger, I strongly suggest viewing the 2007 documentary, Pete Seeger: The Power of Song. It includes remarkable footage of Seeger from the 1930s to the present, including his singing in the fields of Mississippi to young civil rights activists affiliated with SNCC [Student Nonviolent Coordinating Committee]. The video will lead many to want to learn more about this remarkable man, which is why Rob and Sam Rosenthal's book of selected letters from Seeger is so important.
A Man of Principle
Pete Seeger has been, above all, a man of principle. He sacrificed a lucrative singing career with the Weavers (their hit, "Goodnight, Irene," sold over two million copies in a single year) because he refused to name names before a Congressional committee. He was kept off network television for 17 years because of this blacklist, and when he finally returned he gave a kick in the pants to his adversaries by singing his anti-war anthem, "Waist Deep in the Big Muddy" on the Smothers Brothers Show in 1967. CBS then censored Seeger's appearance, but thanks to the activism of Tommy Smothers Seeger was allowed to return to the show and sing the song in 1968.
Among the letters uncovered by the Rosenthal's is one from 1957 titled "The Bar of Judgment." It includes Seeger's review of a 1956 album by Burl Ives, in which Seeger describes Ives' work as "one of the very best collections you can find of sailors' chanteys and ballads." He concludes his review by "giving thanks to Burl Ives" for producing such a fine work.
What does this letter tell us about Pete Seeger? Seeger notes in the letter that many were surprised by his positive review considering that Ives was brought before the House Un-American Committee and "fingered, like any common stool-pigeon, some of his early radical associates of the early 1940s." Seeger notes that Ives did this "only to preserve his lucrative contracts," which makes his action "even more despicable."
Yet Seeger was able to put aside his personal feelings about Ives and write a review that promoted Ives' album, saying "a good book is useful no matter who wrote it." At the time, Seeger was still blacklisted, and Ives was reaping commercial success that, absent the blacklist, Seeger would also have enjoyed.
Yet Seeger never became bitter, and never sacrificed his principles for money. His musical career was put on hold for years while he lived with his family in a cabin lacking indoor plumbing he built in Beacon, New York on the Hudson River. He would go on to lead the successful effort to restore and revive the Hudson River, an effort described in Seeger's letters that reveal him to be a master community organizer in addition to all of his other skills.

The Seeger Musical Legacy
If you take a look at the songs Seeger wrote, you will find many associated with him missing. That's because Seeger was the chief popularizer of such Woody Guthrie songs as "This Land Is Your Land." He also enabled the world to learn the songs of Huddie Ledbetter (aka Leadbelly). Among the letters in the book —"I Knew Leadbelly"– describes the 17-year-old Seeger meeting Ledbetter, who wrote "Goodnight, Irene" and other hits.
In another letter, Seeger recounts that Paul Robeson "was the hero of my youth." He attended Robeson's Madison Square Concert in the late 1930s, and was also present at the 1949 Peekskill riots where right-wing fascists aligned with local police tried to kill the legendary black singer.
The civil rights anthem "We Shall Overcome" is widely known today because Pete Seeger popularized it in his 1948 edition of "People's Songs." He describes the roots of the song in a letter, and how he learned of it in 1947 from Zilphia Horton of the Highlander Fold School.
It's no wonder that Dylan, Springsteen and virtually every great singer who aspired to reclaim folk traditions revere Pete Seeger. This single man has known all of the folk icons of the 20th Century (he also reclaimed folk songs with Alan Lomax) and still performs concerts into his 90s!
Bruce Springsteen joined Seeger at the 2009 concert that preceded Barack Obama's inauguration. In typical Seeger fashion, he sang the version of "This Land is Your Land" that criticized private property and the nation's mistreatment of the poor, rather than the sanitized version that has replaced it in schools and more "mainstream" recordings.
Pete Seeger is one of the greatest Americans of the past century. Like Tom Joad, wherever there was a struggle for justice, he was there.
The Rosenthals (their father Rob is a professor at Wesleyan University and son Sam is a musician) have done a tremendous service in sorting through Seeger's file cabinets to retrieve these letters. They have produced a book that all Seeger admirers will want to read.
(Randy Shaw is Editor of BeyondChron, where this post first appeared. He sang "If I Had a Hammer," "Passing Through" and other Seeger songs as a youth in summer camp.)

'Skeleton Crew' Is a Play With a Moral Spine
Set in a Detroit automobile outfitting plant, Dominique Morisseau's drama grabs you from the start with its focus on blue-collar men and women, and their struggle for dignity and self-respect.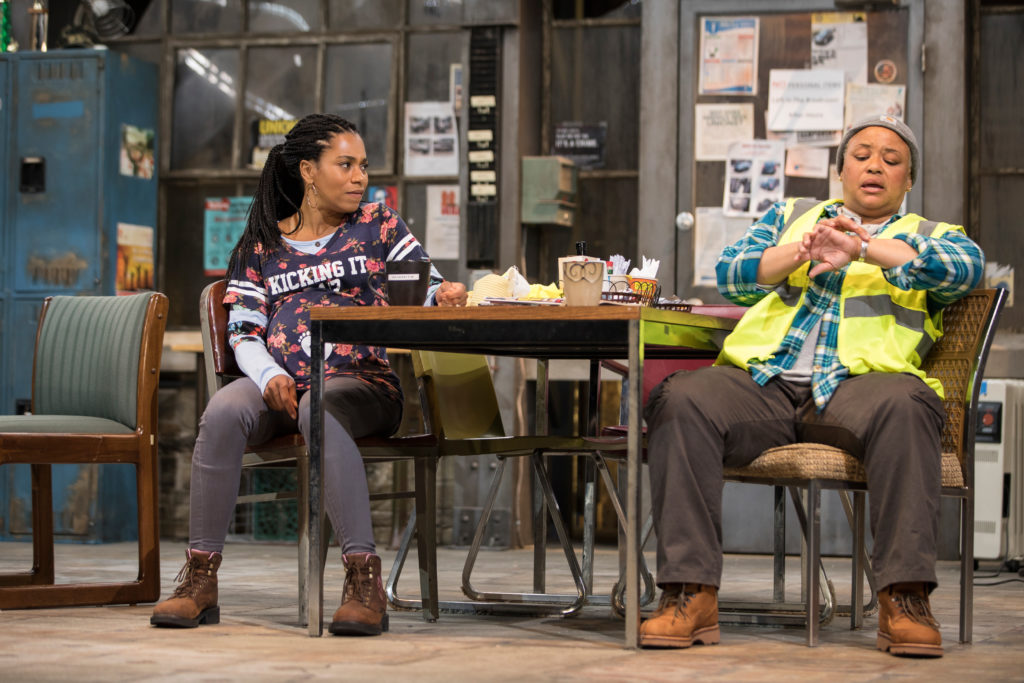 Working-class men and women of color are rarely front and center in today's media and, likewise, are presented all too occasionally on the American stage. So it's buoying to see that trend bucked in playwright Dominique Morisseau's percipient and well-crafted drama, Skeleton Crew. The play is the final installment in her Detroit  Project Trilogy; the first, Paradise Blue, is set in the 1940s amidst displacement caused by urban renewal and gentrification, while the second, Detroit '67, transpires on the eve of the 1967 Detroit riots sparked by a police action.
Directed by Patricia McGregor at Los Angeles' Geffen Playhouse, Skeleton Crew is a play with a moral spine. It takes place in 2008, when the shrinking U.S. auto industry is being further downsized. Morisseau's engaging quartet of characters — Faye (Caroline Stefanie Clay), Dez (Armari Cheatom), Shanita (Kelly McCreary) and Reggie (DB Woodside) – are employed at an automobile outfitting plant. Faye, Dez and Shanita are workers on the line while Reggie (who has a wife and kids, and has pulled himself together after a troubled youth) is their supervisor.
The first three customarily mingle in their break room (designer Rachel Myers' impressively cluttered, dingy and detailed set), trading the sort of familiar barbs and genuine concern for each other common among longtime co-workers. They also face off on philosophy: Upper-middle-aged Faye and the younger, pregnant Shanita take pride in their labor, while Dez, though a good worker, is a malcontent scornful of management and firm in the belief that everyone needs to watch out for himself. He's a thorn in Reggie's side, for while Reggie wants to be supportive of his workers, he must act at the behest of higher management. For his part, Dez resents Reggie's authority, and a palpable unease exists between them.
Besides this male matchup, we're made privy to Dez's attraction to Shanita, who mostly turns away his advances, but every now and then displays a hint of interest. Most poignant is Reggie's regard and affection for the lesbian Faye, which has roots in his boyhood when she loved, and lived, with his now-deceased mom.
These people's various predicaments intensify when rumors spread of the plant's shutdown — a disaster for all, but a particular calamity for the already near-broke Faye who, one year short of retirement, would lose her pension. The crisis forces each of these people to make a choice.
A sound piece of social realism, Skeleton Crew grabs you from the start in its focus on blue-collar men and women, and their struggle against odds for dignity and self-respect. Morisseau not only furnishes these characters a platform for their travails, she endows them with strong values, big hearts and the opportunity to choose between right and wrong.
Unfortunately, the performance I attended did not soar. Many exchanges lacked a fresh edge. The actors certainly had their characters down, but too often they appeared to be coasting on technique. (This seemed particularly true of Clay, who performed the role to great accolades in Washington, DC in 2017, also under McGregor's direction). Additionally, some of the stage movement was not entirely fluid; in confrontations, actors sometimes would just stand and face each other in an artificial way. And Cheatom's interpretation of Dez struck me as a bit overly churlish and depressive: I needed more glimpses of the intelligence and edge that would secretly attract the strong, self-directed Shanita.
The most compelling moments belong to Woodside, well-cast as a man trying his best in difficult circumstances to do the right thing.
---
Gil Cates Theater at the Geffen Playhouse, 10886 Le Conte Ave., Westwood Village; Tues.-Fri., 8 p.m.; Sat., 3 & 8 p.m. Sun., 2 & 7 p.m.; through July 8. (310) 208-5454 or www.geffenplayhouse.org