"Hansel & Gretel Bluegrass" — A Different Kind of Hunger Game
The 24th Street Theatre has a reputation for producing quality theater suitable for everyone from 8 to 80 years old. Hansel & Gretel Bluegrass, Bryan Davidson's compelling musical adaptation of the fairy tale about two hungry and imperiled children, is the company's latest effort.

Angela Giarratana and Caleb Foote as a Depression-era Hansel and Gretel (Photo by Cooper Bates)
The 24th Street Theatre has a reputation for producing quality theater suitable for everyone from 8 to 80 years old. Hansel & Gretel Bluegrass, Bryan Davidson's compelling musical adaptation of the fairy tale about two hungry and imperiled children, is the company's latest effort.
Directed by Debbie Devine, the piece is notable for its eternal theme: the plight of children abandoned because of economic crisis. Indeed, it's widely believed that the origins of "Hansel und Gretel" (published by the Grimm brothers in 1812) rose out of Europe's Great Famine (1315 to 1321) when, unable to feed their kids, parents abandoned them in the woods.
The practice of child abandonment (and infanticide) has continued through the centuries. Catholic churches in 17th-century France helpfully furnished a sort of cradle-shaped drop-box where mothers could deposit their infants for permanent sanctuary. In the U.S., Civil War orphans and other unwanted youngsters were transported, by trainloads, out West for adoption. And today, thousands of minors from impoverished and war-torn lands south of our border make their way here unaccompanied .
This makes the play at hand both timely and universal. Davidson's adaptation is set in eastern Kentucky during the Great Depression, its narrative relayed with a sly, slithery folksiness by a radio DJ (Bradley Whitford on video), who takes periodic nips from his personal flask as he sagely spins his tale. The Duke, as he calls himself, has received a letter from a young boy, the son of an out-of-work coal miner, disturbed by the wails of his younger sister, weeping because she's hungry. Her crying angers the boy, and in his letter he writes that he wishes she'd never been born. So the Duke begins narrating the story of Hansel (Caleb Foote) and Gretel (Angela Giarratana), the children of another pink-slipped miner who, in desperation, guides them to the middle of the forest and disappears, hoping against hope they will be able to survive on their own, since he has nothing to offer them.
Left alone, the brother and sister clash: Hansel, a macho boy, is good at practical stuff and protective of Gretel, but he's also bossy and dismissive of her love of music and overall sensitivity. When they meet the blind Mountain Woman (Sarah Zinsser), Gretel's resentment of her brother propels her into this shady lady's clutches, even as the wary Hansel makes an unsuccessful effort to escape, and nearly dies before Gretel wakes to her own folly and manages to save him.
This gender-spiked conflict plays out beautifully under Devine's astute direction. But while the performers are spot-on — Foote and Giarratana especially interact with rhythmic grace —it is the tapestry of light (Dan Weingarten), sound (Christopher (Moscatiello), set (Keith Mitchell), music (the Get Down Boys) and splendid videography (Matthew G. Hill) — the latter a vital visual element of the narrative's progression — that make the piece so memorable.
Hill's artistry reflects off Mitchell's eerie, fantastical grotto of a set — the perfect backdrop for a myth, even as it suggests the ominous caverns of a coal mine. The sequences where the Duke appears, larger than life, serve as a bridge to our own culture, give or take a few decades, in tandem with the band, who appear in silhouette, and whose music mingles a plucky beat and a plaintive sadness.
---
24th Street Theatre, 1117 West 24th Street, Los Angeles; Sat. 3 & 7:30 p.m.; Sun, 3 p.m., through December 11. (213) 745-6516 or www.24thstreet.org

'Skeleton Crew' Is a Play With a Moral Spine
Set in a Detroit automobile outfitting plant, Dominique Morisseau's drama grabs you from the start with its focus on blue-collar men and women, and their struggle for dignity and self-respect.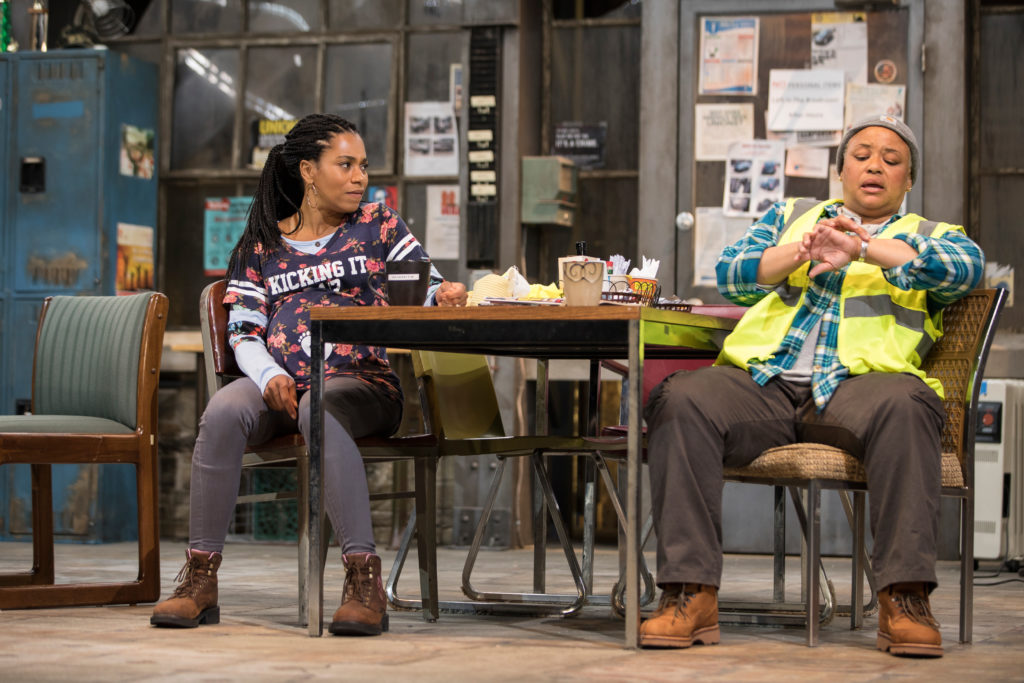 Working-class men and women of color are rarely front and center in today's media and, likewise, are presented all too occasionally on the American stage. So it's buoying to see that trend bucked in playwright Dominique Morisseau's percipient and well-crafted drama, Skeleton Crew. The play is the final installment in her Detroit  Project Trilogy; the first, Paradise Blue, is set in the 1940s amidst displacement caused by urban renewal and gentrification, while the second, Detroit '67, transpires on the eve of the 1967 Detroit riots sparked by a police action.
Directed by Patricia McGregor at Los Angeles' Geffen Playhouse, Skeleton Crew is a play with a moral spine. It takes place in 2008, when the shrinking U.S. auto industry is being further downsized. Morisseau's engaging quartet of characters — Faye (Caroline Stefanie Clay), Dez (Armari Cheatom), Shanita (Kelly McCreary) and Reggie (DB Woodside) – are employed at an automobile outfitting plant. Faye, Dez and Shanita are workers on the line while Reggie (who has a wife and kids, and has pulled himself together after a troubled youth) is their supervisor.
The first three customarily mingle in their break room (designer Rachel Myers' impressively cluttered, dingy and detailed set), trading the sort of familiar barbs and genuine concern for each other common among longtime co-workers. They also face off on philosophy: Upper-middle-aged Faye and the younger, pregnant Shanita take pride in their labor, while Dez, though a good worker, is a malcontent scornful of management and firm in the belief that everyone needs to watch out for himself. He's a thorn in Reggie's side, for while Reggie wants to be supportive of his workers, he must act at the behest of higher management. For his part, Dez resents Reggie's authority, and a palpable unease exists between them.
Besides this male matchup, we're made privy to Dez's attraction to Shanita, who mostly turns away his advances, but every now and then displays a hint of interest. Most poignant is Reggie's regard and affection for the lesbian Faye, which has roots in his boyhood when she loved, and lived, with his now-deceased mom.
These people's various predicaments intensify when rumors spread of the plant's shutdown — a disaster for all, but a particular calamity for the already near-broke Faye who, one year short of retirement, would lose her pension. The crisis forces each of these people to make a choice.
A sound piece of social realism, Skeleton Crew grabs you from the start in its focus on blue-collar men and women, and their struggle against odds for dignity and self-respect. Morisseau not only furnishes these characters a platform for their travails, she endows them with strong values, big hearts and the opportunity to choose between right and wrong.
Unfortunately, the performance I attended did not soar. Many exchanges lacked a fresh edge. The actors certainly had their characters down, but too often they appeared to be coasting on technique. (This seemed particularly true of Clay, who performed the role to great accolades in Washington, DC in 2017, also under McGregor's direction). Additionally, some of the stage movement was not entirely fluid; in confrontations, actors sometimes would just stand and face each other in an artificial way. And Cheatom's interpretation of Dez struck me as a bit overly churlish and depressive: I needed more glimpses of the intelligence and edge that would secretly attract the strong, self-directed Shanita.
The most compelling moments belong to Woodside, well-cast as a man trying his best in difficult circumstances to do the right thing.
---
Gil Cates Theater at the Geffen Playhouse, 10886 Le Conte Ave., Westwood Village; Tues.-Fri., 8 p.m.; Sat., 3 & 8 p.m. Sun., 2 & 7 p.m.; through July 8. (310) 208-5454 or www.geffenplayhouse.org