Growers Move to Gut California's Farm Labor Law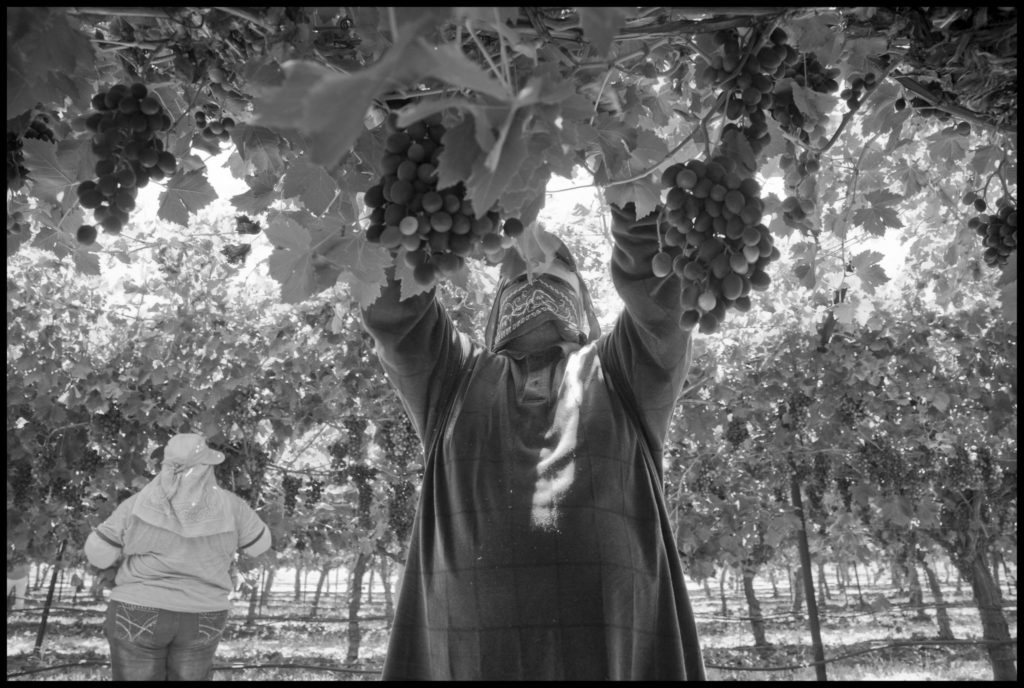 When hundreds of people marched to the Los Angeles City Council last October, urging it to pass a resolution supporting a farm worker union fight taking place in California's San Joaquin Valley, few had ever heard the name of the company involved. That may not be the case much longer. Gerawan Farming, one of the country's largest growers, with 5,000 people picking its grapes and peaches, is challenging the California law that makes farm workers' union rights enforceable. Lining up behind Gerawan are national anti-union think tanks. What began as a local struggle by one grower family to avoid a union contract is getting bigger, and the stakes are getting much higher.
The Gerawan workers got the City Council's support and, on February 10, the Los Angeles Unified School District Board of Education passed a resolution that went beyond just an encouraging statement. The LAUSD purchases Gerawan's Prima label fruit through suppliers for 1,270 schools and 907,000 students. The LAUSD's resolution, proposed by board member Steve Zimmer, requires the district to verify that Gerawan Farming is abiding by state labor laws, "and to immediately implement the agreement issued by the neutral mediator and the state of California."
Verifying compliance, however, may not be easy. In mid-March a hearing on Gerawan's violations of the Agricultural Labor Relations Act (ALRA) ended after 104 days of testimony by 130 witnesses. According to the labor board's general counsel, Sylvia Torres-Guillén, and its regional director in Visalia, Silas Shawver, Gerawan mounted an intense campaign against the United Farm Workers after the union requested bargaining in October 2012. The two charged that Gerawan sought to "undermine the United Farm Workers' status as its employees' bargaining representative; to turn its employees against the union; to promote decertification of the UFW; and to prevent the UFW from ever representing its employees under a collective bargaining agreement."
The conflict at Gerawan Farming has been building for 26 years. In 1990 more than a thousand workers voted in a union election in its fields near Madera, in the San Joaquin Valley, choosing the United Farm Workers. Five years later, having exhausted legal efforts to overturn the vote, co-owner Mike Gerawan finally sat down with UFW representatives. Instead of negotiating, however, he told them: "I don't want the union and I don't need the union." That ended bargaining before it even started. Over the next 17 years, with no contract, Gerawan Farming grew to become one of the nation's largest growers, exporting its Prima label fruit globally.
Hardball tactics towards unions in the fields have been typical of California growers. Although the Agricultural Labor Relations Act in 1975 gave farm workers the right to vote for unions, the law had no teeth to force unwilling growers to negotiate contracts afterwards. According to University of California, Davis professor Philip Martin, workers were unable to win agreements in 243 of 428 farms where they'd voted for the UFW between 1975 and 2002.
In 2002, however, California's legislature passed two bills that amended the original law. Today the ALRA allows a union to ask for a mediator if a grower won't reach agreement on a first-time contract. Once the board adopts the mediator's report it becomes a contract. The process is called mandatory mediation. Growers challenged this process and lost in the state court of appeals in 2006. The UFW has since used the law to negotiate contracts at several large employers, covering about 3,000 workers.
In 2012 the UFW made another demand for bargaining at Gerawan. This time, according to labor board documents, the company unleashed a sophisticated public relations and legal counterattack, not just against the union but against the law itself. In that effort, it's acquired the help of some of the country's most conservative advocacy groups and think tanks. Losing mandatory mediation would be devastating to the UFW. No real union can survive indefinitely without being able to win contracts, and through them, gain members and improve wages and conditions.
A Dirty Election
The UFW says it continued working with Gerawan workers to improve conditions during the 17-year hiatus between 1995 and 2012. According to Gerawan's publicist, Erin Shaw, "The UFW abandoned Gerawan employees without ever negotiating a collective bargaining agreement."
Nevertheless, from January to July of 2013, the company sat down at the bargaining table. But when bargaining went nowhere, the union filed for mandatory mediation.

In June 2013, while bargaining was going on, Gerawan rehired a former employee named Silvia Lopez, who then set about collecting signatures on a petition for a decertification election to get rid of the UFW. Companies can't assist such efforts, but Lopez and her friends gathered signatures during work hours, while the company set up a supportive website, helpfarmworkers.com, that announced, "This website is [the workers'] effort to insure that their voices are heard in Sacramento, and they get to make their own decision." In time Lopez would become the face of the pro-company, anti-union worker championed by right to work organizations.
Fifteen-year employee Severino Salas charges foremen told workers the company would uproot trees and vines if the union came in.  "They'd just plant almonds and pistachios that don't need many workers. People were afraid to support the union, even though they wanted it, for fear of losing their jobs," he recalls.
On September 18 that year, as the mediator prepared to issue his report, Lopez turned in her petitions. Shawver and his staff compared the signatures to the employee list and found there weren't enough and that some were forged. The decertification petition was dismissed. A second decertification campaign was immediately launched. Gerawan Farming foremen stopped crews from going to work and demanded they sign petitions.  Then workers were put on buses to Sacramento and Visalia, to demonstrate outside the ALRB offices. Grower organizations paid the expenses.
Meanwhile a media campaign produced TV and newspaper stories alleging workers were being denied the right to vote in a decertification election. The labor board in Sacramento, whose appointed members have final say over the agency's decisions, seesawed back and forth.
After Shawver and Torres-Guillén rejected Gerawan's second petition, the board ordered the pair to conduct the decertification election anyway, despite the charges of company interference.
Workers voted on November 5, 2013. Their votes were impounded, however. Legally, they cannot be counted unless an investigation concludes the company had nothing to do with organizing the decertification campaign.
After the election, the ALRB finally approved the mediator's contract. Gerawan Farming refused to implement it, and Torres-Guillen formally charged the company with violating the mandatory mediation law.
Gerawan, joined by the Western Growers Association, the California Farm Bureau Federation and the California Grape and Tree Fruit League, then asked a judge at the state court of appeals in Fresno to declare mandatory mediation unconstitutional.
According to veteran labor lawyer David Rosenfeld, who teaches law at the University of California, Berkeley's Boalt Hall School of Law, "Gerawan has all the money in the world, and doesn't lose anything by appealing.  In the meantime, they can delay implementing the contract for at least a couple of years."  The company's problem, he believes, is that the state supreme court is generally favorable to workers' issues.
 Tomorrow, Part 2: Conservative Groups Gather Around Gerawan; The Impact of Decertification.
---

(David Bacon is a California writer and photographer, covering labor, immigration and globalization.  His latest book is The Right to Stay Home – How U.S. Policy Drives Mexican Migration.)
All photos in this story taken by David Bacon

The Real Costs of Living in California
A new report from United Ways of California shows that 1 in 3 working families struggle to make ends meet.

These seem to be boom times for Americans, as monthly statistics from the U.S. Labor Department tout a fast-rising economy and dwindling unemployment since the final years of the Obama administration. What those numbers fail to measure is the real cost of making ends meet, and how far out of reach that remains for many working households that continue to struggle.
The reality in California is that one in three households are falling short, according to Struggling to Stay Afloat: The Real Cost Measure in California 2018, a new report from the nonprofit United Ways of California. The study sought to document the actual costs of a "a bare-bones decent standard of living," says Peter Manzo, president of the nonpartisan advocacy group, and include the real-world impact of housing costs, transportation, education and other immovable factors.
The report is downloadable from the United Ways website, which also has interactive features where each county is examined in detail. In an interview with Capital & Main this week, Manzo explained the report's findings.
---
Captial & Main: What inspired this study?
Peter Manzo: The federal poverty level doesn't really take into account the cost of living in California. It also doesn't tell you where we would like families to be. It doesn't show you what is doing OK and how far most households are from it. Everyone knows it can be expensive to live in California, but this adds more detail.
How did you determine what the real costs were?
The real cost measure we used is a basic needs budget: housing, food, transportation, health care, childcare, taxes and 10 percent of the total for miscellaneous – things like your mobile phone bill. The interesting thing about the real cost measure is that the household budget varies by composition. So if you have two adults working full-time minimum-wage jobs, the household budget was different from the same two adults with an infant. The cost structure changes significantly by adding family members.
It looks like different parts of the state are affected differently.
Obviously, coastal areas are more expensive to live in than inland areas in terms of housing. Even so, there are high numbers of households struggling to meet the cost of a decent standard of living in those lower-cost areas. It's interesting to contrast much of the Bay Area with L.A. County, which has a much higher rate of struggling households: 38 percent of households in L.A. County struggle vs. the composite number across those Bay Area counties, which is about 25 percent. It's very expensive to live in Santa Clara County, but there are more households that are earning above what they need.
If you look at Fresno County, that's a very different situation.
On our website, you can look at neighborhood level data. You can look at it by neighborhood, which is real important. With Fresno, you have a high rate of need. And if you look at West Fresno, which sadly is pretty well known for having a very high unemployment rate and a lot of struggling families, it looks worse than other parts of Fresno.
In the Bay Area there is more opportunity, while in Fresno County the opportunities are less and people are struggling at a higher rate than other parts of the state.
Yes. It's very tough in a lot of place in the Central Valley and the Inland Empire. There are struggling households in just about every part of the state. Every ethnic and racial group struggles. No one's immune to it.
The Bay Area has been going through a difficult boom period where a lot of people moved in and housing costs went up. L.A. seems to be in the middle of that too. How do those kinds of changes affect people's ability to keep up?
HUD fair market rent, which is a proxy for actual rents, increased almost 45 percent in the last three years in Alameda County. That's a steep jump. The Bay Area cost ripple is still going on. L.A. County has rising rents. Our offices are in Downtown L.A., and you can't turn around without bumping into a crane. In the last three years, there has been an incredible boom in construction. And it seems to be mostly high-market condos that aren't very affordable and aren't that well occupied. My sense is that people are buying them for a second home. Obviously we need more housing units, but they need to be affordable. What we want to point out in our study is that we need to do more for renters. There are many more people living in apartments whose rents may go up than would be housed by new construction. Maintaining affordability is key.
How does education play into it?
We see a correlation between a higher level of education and a lower rate of struggle. Households led by college graduates, only 15 percent of those households struggle, compared to 78 percent for households led by somebody who doesn't have a high school diploma.
How do children in a household affect the ability to keep up?
That's one of our big findings. A household with kids really changes the budget of what a decent standard of living looks like. Some people would quarrel with us about this, but we feel children should have access to quality pre-school and childcare. We know most kids don't actually get access to that, but we think they should, and that's included in our budget. We find that 6 in 10 households with a child under 6 are struggling – especially when they're led by a single mother.
It looks like in many parts of the state, transportation is also a big cost, approaching the level that people pay for housing.
Our assumption is that families need a car. We talk to people who do studies back east, and often the assumption there is that low-income households are using public transportation. But even in the Bay Area, most people need a car. It's like a lifeline, to drive around and get to work. It's a little like Grapes of Wrath: You need to be able to move. Our costs are based on reported expenditures from the Bureau of Labor Statistics. If we had a high functioning public transportation system down here, that would help a lot of people.
These are overwhelmingly working households: 9 in 10 of them have a working adult, and in 80 percent of them the household is working full-time. Oftentimes, when people talk about poverty, they just know what the poverty level is – but it doesn't really tell you what they're contending with, and the trade-offs they're having to make. And there's often an assumption that poor people are lazy and if they just get a job, things would be better. Our point is that these are overwhelmingly working families. They have jobs and they're still not earning enough for a decent standard of living.