Governor Signs Late Flurry of Bills
Among the pile of bills that the legislature passed at the end of their session and delivered to Governor Jerry Brown's desk were some significant ones for workers, health, education and the environment. The deadline for Brown to sign the bills was midnight Tuesday.
California became the first state to ban single use plastic bags, the formerly ubiquitous grocery bags that have a special talent for working themselves into waterways, beaches, and sensitive environmental areas.
The statewide ban follows – and replaces – dozens of local bans, including Los Angeles and San Francisco. Senate Bill 270, which the Sacramento Bee called "one of the most contentious bills of 2014," was authored by state Senators Alex Padilla (D-Pacoima), Kevin de León (D-Los Angeles) and Ricardo Lara (D-Long Beach). The latter two joined as authors and helped solidify a majority in the legislature after ensuring that economic incentives would be available to help companies and workers impacted by the change.
The reality," Padilla told Capital & Main's Bill Raden last month, "is [that] for communities like mine plastic bags floating in the streets, in our parks, in the storm drain channels, is problematic. I come from local government, so I know what the cost is to cities and counties to try to collect plastic bags, to try to recycle plastic bags — it's a very inefficient process."
Those who think they will miss the plastic bags can take heart – the remnants of bags already working their way through the environment will still be around next century.
Local governments will gain some options for infrastructure projects that had been lost with the old community redevelopment agencies. State Senator Jim Beall (D-San Jose) proposed SB 628, which will expand the Infrastructure Financing District law so that local agencies can implement tax increment financing without approval from voters (though issuing bonds would still require a 55 percent vote). The new system has been characterized as a partial replacement for the CRAs.
The Healthcare Workplace Violence Prevention Act, also introduced by Padilla, will require hospitals to adopt plans to prevent and mitigate violence. The California Nurses Association, who sponsored the SB 1299, cite U.S. Bureau of Labor Statistics data showing that healthcare workers are five times more likely than average to be the victim of workplace violence.
Higher education in California could change thanks to SB 850, allowing community colleges to award bachelor's degrees during a trial period beginning with the 2017-18 school year. According to the Sacramento Bee, 21 other states offer community college baccalaureates. State Senator Marty Block (D-San Diego) and supporters hope that the new programs will improve accessibility.
The Tests Facing California's New Governor
Gavin Newsom now leads the state with the nation's biggest economy and largest population — and one riven by economic inequality. What will be his most important challenges?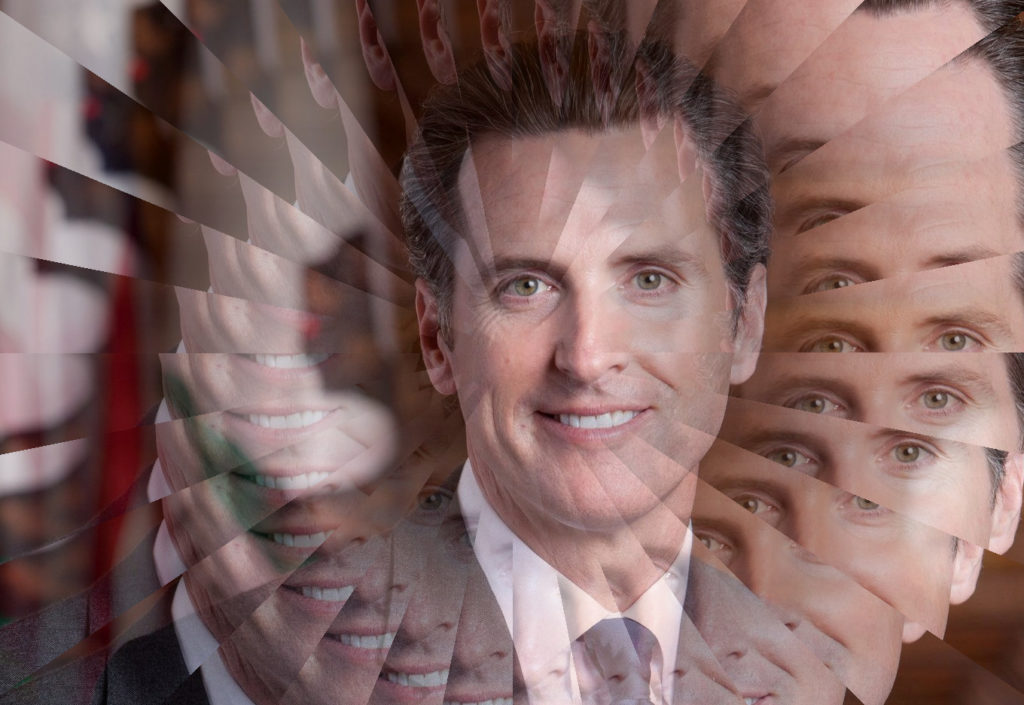 Gavin Newsom inherits a state that should be any governor's dream: A California that is the cradle of the tech revolution and brims with prosperity, a one-party state with supermajorities in both chambers for Newsom's Democrats. But there are clouds darkening the horizon: Daily prophecies tell of coming economic storms; legislative initiatives taken on behalf of immigrants, retirement security and the stemming of global warming are increasingly thwarted by a bellicose White House. And that Democratic Party monopoly in Sacramento masks a deepening ideological fault line dividing pro-business moderates and progressives – the latter of which have largely chafed for the last 16 years under the thrifty administrations of Jerry Brown and Arnold Schwarzenegger, and are eager to burst out with far-reaching (if pricey) legislation.
Then, there are memories of three high-riding liberal governors (Pat and Jerry Brown, and Gray Davis) whose programs or careers were derailed by resentful taxpayers. There are more recent memories, too: Of an impulsive, hard-partying San Francisco mayor whose blunted ambitions led him to spend eight years in the ceremonial wilderness of the lieutenant governor's office. Newsom is said to have matured into a more circumspect, pragmatic politician, although some of the old doubts were fanned back to life by an unflattering New Yorker profile that appeared shortly before his landslide victory November 6.
Perhaps overriding all these auguries is the undeniable fact that despite its enviable economy, its abundance of billionaires-in-residence and laudable array of social services, California still has the highest poverty rate in the U.S., nearly half of its children live in poverty or near-poverty, and merely finding an affordable place to live has become an existential challenge for many. These and similar factors superimpose on the state another kind of fault line, that of economic inequality. Most of the new governor's time will be spent wrangling crises that spring from this disparity. Which is why the following Capital & Main stories primarily focus on the inequality that separates so many Californians from one another.
Affordable Housing, by Jessica Goodheart.
Single-Payer Health Care, by Gabriel Thompson.
Climate Change and Big Oil, by Judith Lewis Mernit.
Inequality Interviews with Manuel Pastor, Ann Huff Stevens and David Grusky.
Early Childhood Education, by Bill Raden.
Inequality in California: Six Takeaways.
---
Copyright Capital & Main