GOP Pulls Plug on Government — And the Party's Future
For the third time in less than 20 years, congressional Republicans are bringing the nation's government to a halt in an attempt to reverse the outcome of national elections. The first instance was Republicans' shutdown of the government in 1995-96 (which, actually, was two shutdowns in rapid succession). The second was their impeachment of President Bill Clinton in 1998. Today, we're slogging through the third — yet another shutdown.
Each instance had its proximate causes. In 1995, the GOP-controlled Congress, led by House Speaker Newt Gingrich, refused to fund the government after Clinton rejected its spending cuts to Medicare benefits and Republicans failed to muster the votes to override his vetoes. In 1998, the House, led by then-Majority Whip Tom DeLay, impeached Clinton for having sex with an intern but denying it to a special prosecutor (whose charge, uncovering Clinton's alleged business scandals, had turned up nothing). This week, Republicans have shuttered the government to pressure President Obama to stop implementation of the Affordable Care Act. Repealing the health-care law would require either a Republican president or veto-proof majorities in both the House and Senate, but Republicans failed to elect any one of these in 2012.
The punishment the GOP metes out never really fits the "crime" Republicans insist has compelled them to act. In rejecting the Republicans' proposed Medicare cuts in 1995-96, Clinton was simply reasserting what had been national policy for 30 years. Republicans never convinced most ordinary Americans, much less constitutional scholars, that Clinton's sexual relations with Monica Lewinsky, and his denial of same, amounted to the high crimes and misdemeanors that the Founders said were grounds for impeachment. And it's absurd to argue that Obamacare — modeled after a right-wing think tank's proposal for a health-insurance program that left the private health-insurance industry intact — is a socialist threat to the American way of life. If Republicans truly believe that Obama must be forced to undo the socialization of medical insurance, they would demand the repeal of Medicare, not Obamacare.
So, what's really going on? What's behind this two-decade drive to employ the obstructive power of a governmental minority to undo the policies that a majority enacted or to unseat an elected president? Plainly, the gap between the Republican Party and the rest of the nation has widened. And as that gap has grown, Republicans have become more insular and more desperate — a toxic combination for a functioning democracy.
The Republicans who swept to power in 1994 were the first House and Senate delegations that reflected the party's new center of power in the white South. For the first time in Republican history, most of the party's top legislative leaders came from former Confederate states , where resistance to minority and worker rights was an established tradition. Even today, this resistance remains key to the GOP's hold on power; the voter-suppression efforts in Republican-controlled Southern states make this clear.
Since 1995, the demographic and cultural changes transforming this nation have deepened the Republicans' marginality. The growth of Latino and Asian populations — both groups increasingly trend Democratic — has relentlessly reduced the white share of the electorate, on which Republicans have come to rely almost exclusively. The only presidential election in which the GOP nominee has won a plurality of the popular vote since then was George W. Bush's reelection in 2004. The current Republican hold on the House is the product of the lily-white, gerrymandered districts that GOP legislators crafted after the 2010 Census; in 2012, House Democrats won nearly 1.4 million more popular votes than House Republicans.
All this leaves only two ways that Republicans can affect public policy at the national level: They can embrace minority rights (through, say, immigration reform) and accept a legitimate role for government in the nation's economic affairs (which, polls show, millennials strongly support) — that is, they can move to the center. Or they can try to maximize the power of their minority status by trying to disrupt the nation to the point that the majority will be compelled to support Republican positions.
Rationality dictates the first choice, but rationality doesn't hold much sway in today's GOP. Insularity is largely to blame. Right-wing media fuel support for Republican lawmakers' most obstructionist tendencies. And Republicans in safely GOP districts don't have to concern themselves with voters who may blanch at their radicalism.
Is this course sustainable? Ultimately, no. Eventually, the number of millennials, voters of color and fed-up moderates will rise to the point that 218 sufficiently white and conservative House districts can no longer be crafted. How much havoc Republicans can wreak until then, however, is anybody's guess.
(This post first appeared on the Washington Post and is republished with permission.)

Rick Scott Invested in the Same Financial Firms As Florida's Pension System
Co-published by MapLight
For most of his time in office, Florida's governor has shielded his investments from public view. A new disclosure shows Rick Scott and his wife have invested at least $18 million in financial firms managing money for the state's pension system that he oversees.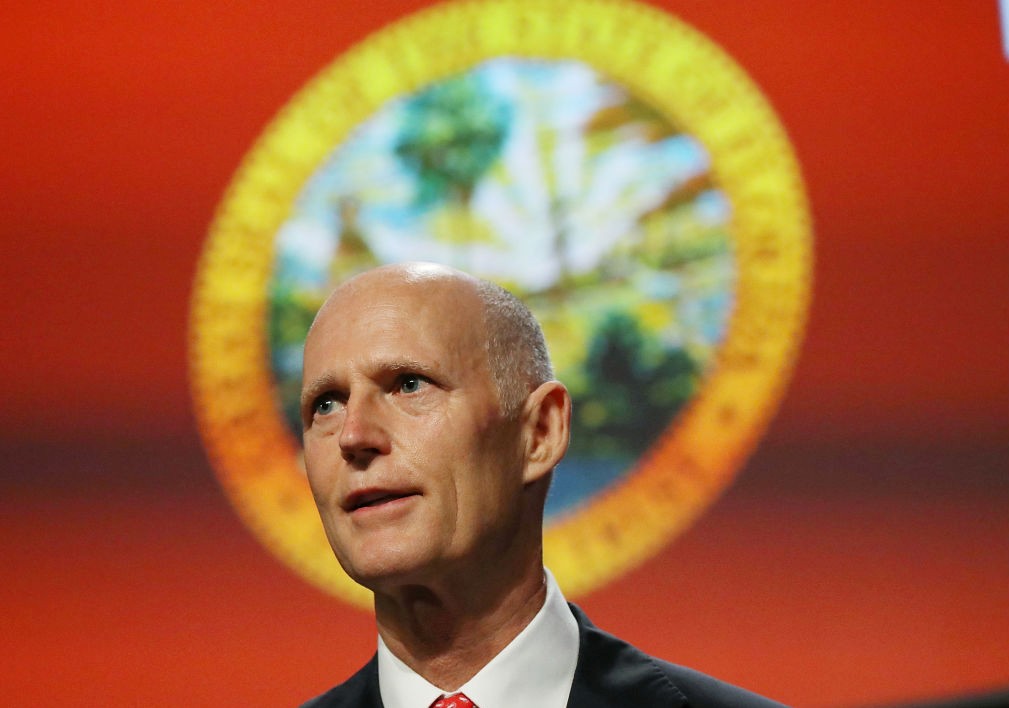 ---
Former SEC Lawyer: "There needs to be an investigation into whether the state is subsidizing Rick Scott's personal returns."
---
Co-published by MapLight
Florida Gov. Rick Scott and his wife have invested at least $18 million in three financial firms managing money for the state's pension system that Scott oversees — a situation that intertwines the governor's personal finances with his responsibility for supervising state employees' retirement savings.
The investments were first divulged in a federal financial disclosure form that Scott filed as part of his U.S. Senate campaign in July. For most of his time in office, Scott has shielded his investments from public view, and only reported their overall value in his blind trust.
The terms of Scott's investments remain undisclosed. The firms' own corporate documents say they can give certain investors special preferences not afforded to other investors — and experts have in recent years argued that hedge funds, private equity firms, and other "alternative investments" are giving such preferences to elite investors. One former Securities and Exchange Commission attorney told MapLight and Capital & Main that Scott must disclose whether he is being given such preferences.
---
Critics have raised questions about how blind the Scott family trusts really are.
---
Florida ethics laws are supposed to prohibit state officials from entering into contractual relationships with companies that do business with their agencies. However, after Scott became governor in 2011, state ethics officials said he and his family members could put their assets into a blind trust to avoid conflicts of interest and still maintain their investments in companies operating in Florida.
Critics have raised questions about how blind the Scott family trusts really are. Scott placed one of his longtime business associates in charge of managing his blind trust. The Tampa Bay Times reported that Scott's blind trust has invested with a private equity firm tied to a high-speed rail project in Florida. The trust also had an indirect interest in a cancer treatment company that received tax breaks from Scott's administration.
---
"The question is whether Rick Scott is being allowed to invest on better terms than the state pension fund."
---
"When Governor Scott was elected, he put all of his assets in a blind trust, which is managed by an independent financial professional who decides what assets are bought, sold or changed," said Scott campaign spokesperson Lauren Schenone. "The rules of the blind trust prevent any specific assets or the value of those assets within the trust from being disclosed to the governor, and those requirements have always been followed."
Scott is one of three state officials who serve as trustees for the Florida State Board of Administration, which manages a $160 billion fund for roughly 400,000 retirees. Scott, Attorney General Pam Bondi, and Chief Financial Officer Jimmy Patronis oversee lucrative state investment deals granted to cash-hungry Wall Street firms.
The three firms that have received $325 million worth of Florida pension investments have allowed the Scott family's blind trusts to simultaneously invest their personal fortunes in these funds. Scott's investments in the funds did not appear in a 2014 disclosure itemizing his holdings. His campaign did not say when the investments were made.
"There are no ethics rules that prohibit or limit a trustee from investing in funds also invested in by the SBA," said SBA spokesperson John Kuczwanski, though he added that trustees are subject to Florida's general code of ethics. Kuczwanski said that the governor has no involvement in specific pension investment decisions.
Don Hinkle, a Democratic lawyer, filed a lawsuit last year alleging that the governor has failed to comply with the state's blind trust and financial disclosure laws. He said he was surprised by the news that Scott had invested in the same firms as the Florida pension system.
"I would think that he would have avoided investments where the state of Florida's money is propping his up," Hinkle told MapLight and Capital & Main.
In 2011, a few months after Scott became governor, the SBA committed $150 million to Highline Capital Partners, a New York-based hedge fund. Scott's financial disclosure shows that his family's trusts have invested at least $4 million in the same Highline fund as the state.
The SBA also committed $100 million in 2015 to a hedge fund managed by Canyon Capital Advisors, a Los Angeles-based firm created by veterans of the notorious investment bank Drexel Burnham Lambert, which was driven into bankruptcy as a result of illegal and unethical trading practices. Scott and his family have invested at least $12 million in Canyon funds, according to his financial disclosure.
Before Scott became governor, the SBA invested $75 million with VSS, a New York-based private equity firm that was launched by a co-founder of Psychology Today. Scott and his wife, Ann, have invested more than $2.2 million in another VSS fund. A spokesperson for VSS said the firm doesn't comment on its investors.
All three firms' SEC filings say they can offer certain investors special fee terms or other benefits not offered to other investors.
"Alternative investment funds have the ability to offer every investor different fees at a different rate of return, so the question is whether Rick Scott is being allowed to invest on better terms than the state pension fund," said former SEC attorney Edward Siedle, whose Florida-based firm conducts forensic investigations of state pension systems.
"If you give one investor an advantage, another investor has to be disadvantaged," Siedle said. "That means there needs to be an investigation into whether the state is actually subsidizing Rick Scott's personal returns and whether the governor enjoys advantages that are harming the retirees."
Schenone, Scott's spokesperson, said that his blind trust has "been upheld multiple times by the State Commission on Ethics and the court system. Governor Scott has also followed the requirements of all state and federal financial filings."
She noted that former Florida Republican Gov. Jeb Bush and Scott's 2010 Democratic opponent Alex Sink had also used blind trusts, although Scott's campaign attacked Sink for hers at the time.
"Blind trusts sound good but can run afoul of state laws requiring public officials to disclose their personal finances," a Scott campaign ad said in 2010. "[But] simply moving large amounts of money into a blind trust does not magically erase the knowledge of what you own."
---
This piece was reported by Andrew Perez of MapLight and David Sirota of Capital & Main, and published in partnership with the Florida Center for Investigative Reporting.