Gloria Steinem Carries On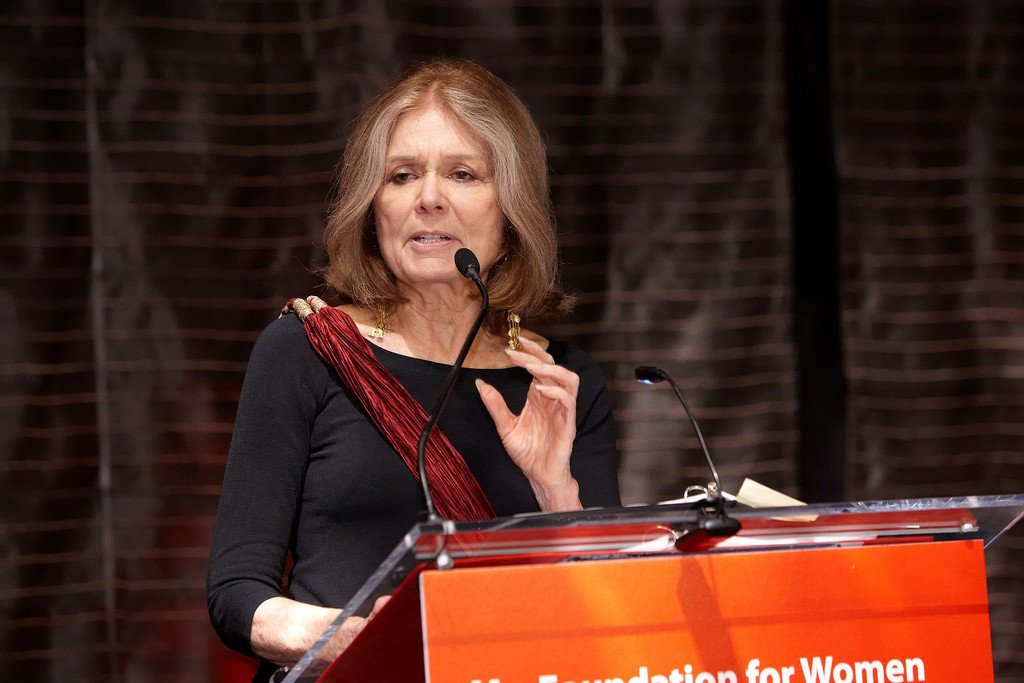 The most wonderful thing about hearing Gloria Steinem speak recently at the Getty House was meeting the two high school students sitting in front of me.  These young Latinas had just formed a feminism club at  Montebello High, and its first meeting was a big success.  The goal of the club, they told me, is to "explore what feminism means to other students and to educate ourselves."  The two were here to get a boost of ideas and inspiration from Steinem — and were they excited.
Over 100 high school students, overwhelmingly female and from a wide diversity of backgrounds, came to hear Steinem and to submit questions to which she responded.  It felt like Feminism 101 and seemed to be exactly what the young women came for.
Amy Wakeland, who prefers to be identified as the First Lady of Los Angeles, and her husband, Mayor Eric Garcetti, have opened the once-private Getty House mayoral residence to more than 10,000 people since Garcetti became mayor.  That includes attendees of the Women's Leadership Series, which Steinem's presentation capped off for the year.
At 81 years old, Gloria Steinem is on a wide-ranging promotional book tour; it's hard to pick up a newspaper or magazine without seeing a review or article about her and her book, My Life on the Road.  She's been called a feminist icon and the face of the women's movement for her relentless speaking and touring on behalf of women's empowerment.  As her book  describes, she has spent half of her last 40 years travelling on behalf of feminism.  She says she hasn't spent more than eight consecutive days at home –  a lifestyle she promotes for others, but which seems very one-dimensional and constricting.  While the women's movement introduced the notion that "the personal is political," Steinem provides little information on how she maintains personal balance and sanity – not to mention intimacy and the warmth of deep human relationships — living a life of pure advocacy.
The women's movement of the 1970s and '80s was a messy affair – many scattered organizations, a distrust of leaders, competing strategies and rage at the system of patriarchy that sometimes slipped into rage at other feminists.  In that climate, no one would have been designated the movement's spokesperson, even though the larger culture was looking for such a voice.  Steinem, over time, in her generous and self-deprecating way, gradually filled that role and, in the process, was very careful to promote the perspectives of marginalized women in her vision of feminism.  She didn't break new ground in her feminist understandings but she was inclusive and direct in sharing what liberation for every woman entails.
While Steinem likes to describe herself as a feminist organizer, I'd say she's more of an agitator and mobilizer; organizing takes long-term and deep engagement with people who are seeking change, helping them develop not just the will for change but the strategy, skills, smarts and persistence to make it happen.  Given her lifestyle, Steinem isn't able to provide that on-the-ground, intense engagement and it probably doesn't suit her.  Forty years after she started, Steinem's still speaking at large and small venues to women and girls across the country; you have to honor her for taking on this somewhat repetitive and tiring task.
Yet for an old feminist like myself, Steinem's writing and speaking do come across as somewhat repetitive and tiring.  Stories and phrases sound like they've been used hundreds of times and, given how many speeches and interviews she's given, probably have.  Life has changed a lot for women in the U.S. and the world, but her rap seems to be the same as it was in the 1980s.  That may not make any difference to the young women hearing Steinem for the first time, but it does present feminism less as a cutting-edge political challenge to the status quo and more as a movement singing the same song as it has for the past four decades.
As Steinem would heartily agree, the world needs new feminist voices laying out the challenges of this new century and the one to come.  Those voices will probably come from young women like those who gathered at the Getty House to hear her.
---
(Photo: Ms. Foundation for Women)