Give Us This Day Our Daily Perks
It's just not fair. For years, business and civic leaders have been telling public officials like me to "run government like a business." Recruit top-flight executives who know how to get things done. Spend what's necessary at the "top" so that the over-arching goals of the enterprise can be achieved. Get rid of all of that unnecessary bureaucratic "process" that just slows things down. Make the "deals" happen and get on with the business of government.
Unfortunately, when we do just that, we get slammed. In fact, an outside observer might point out that all of this emphasis on running government like a business is just a trap for the poor unsuspecting schlubs (a.k.a., government officials) who are just trying to do what they're told.
Case in point is the situation at the Housing Authority of the City of L.A., responsible for all public housing in L.A. (and the sister city agency to the L.A. Community Redevelopment Agency, where I have been a board member for nine years.) The recently fired CEO of HACLA, Rudolph Montiel, was bitterly criticized for his high salary of $450,000 per year and his unreasonably "pricey" $1.2 million severance package. The city controller just-released a scathing report criticizing my sister and brother commissioners for running up huge dining and travel tabs over the past few years. This is a follow-up to a recent local CBS News investigation making similar charges.
To add insult to injury, a recent Daily News editorial argued that "taxpayers and the residents who rely on the Housing Authority need the assurance that the men and women leading the agency are making the right decisions for the right reasons."
But what are the "right decisions for the right reasons?" If you're operating a public agency like a business, what's wrong with high salaries for people at the top? Big severance packages are necessary to make sure we can recruit top-flight executives. Generous dining tabs and travel budgets? All of that sounds to me like what the private sector does. Just the cost of doing "business." In fact, it sounds like the Housing Authority leadership was focusing on getting results no matter the cost. Isn't that what they were supposed to be doing?
(In fact, it's what some of the leading candidates for president of the United States continue to say to this day.)
Now some do-gooder anti-business types say that the old mantra of running government like a business is wrong. They claim government is about public good while business is for private profit. They say that people in top government positions should be hired based on their commitment to the mission of managing public resources for public benefit. Sometimes, these naysayers argue, government officials need to do business over meals, but they should have modest budgets to help pay for these kinds of expenses.
Well, Public, make up your mind. As a government official expected to think like a businesswoman, I need to operate in an environment that enhances my entrepreneurial impulses. Imagine this. I have to make an important decision that I need to talk over with my other highly compensated colleagues. (Confession: I'm actually paid nothing for my work as a CRA Commissioner, but that fact is beside the point.) We go out to dinner at a lovely restaurant and have a tough conversation over a plate of sustainably harvested and beautifully roasted Alaskan salmon. Add a bottle of my favorite New Zealand Sauvignon Blanc and I think we can all agree that the perfect environment to enhance my creative juices has been created. Now, imagine making a decision to cut pensions, lay off scores of people and otherwise find ways to save millions while dining at Denny's on the $3.99 Breakfast Slam? Unthinkable.
If we are expected to run government like a business, then those of us at the top need to be able to spend whatever it takes to interact with our peers to make the tough, business-oriented decisions that are expected of us. If that decision-making process costs $1,000 a plate, so be it.
(By the way, in case there's any doubt, this is intended to be humorous. I do NOT believe that government should be run like a business OR that government officials should be allowed to buy fancy dinners. I am perfectly happy with the $3.99 Denny's Breakfast Slam.)
The Tests Facing California's New Governor
Gavin Newsom now leads the state with the nation's biggest economy and largest population — and one riven by economic inequality. What will be his most important challenges?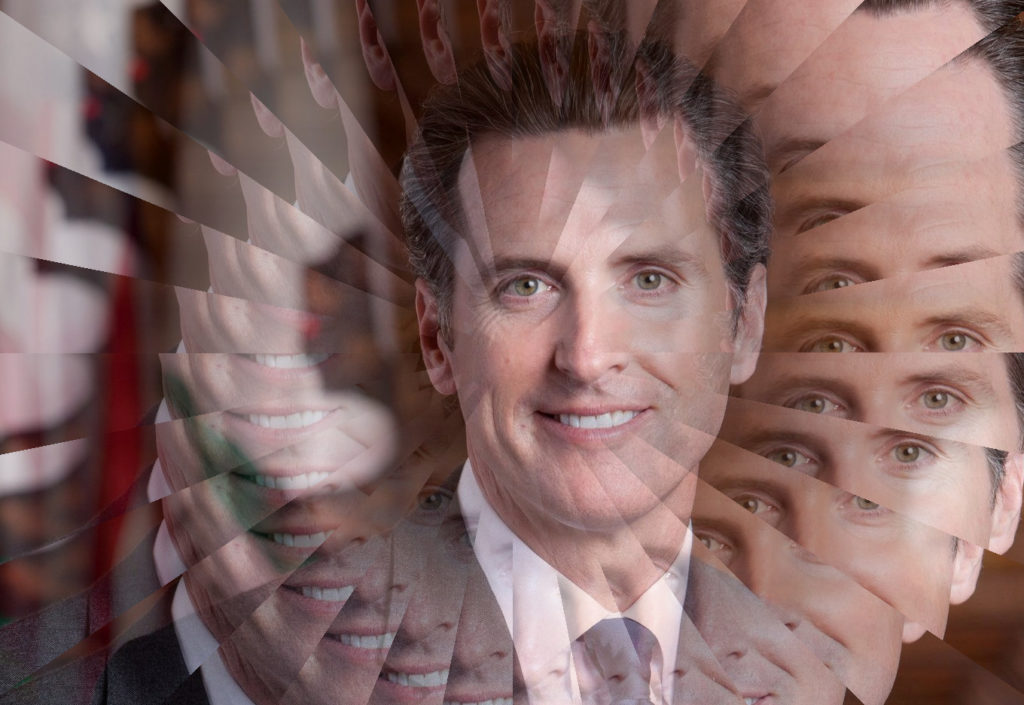 Gavin Newsom inherits a state that should be any governor's dream: A California that is the cradle of the tech revolution and brims with prosperity, a one-party state with supermajorities in both chambers for Newsom's Democrats. But there are clouds darkening the horizon: Daily prophecies tell of coming economic storms; legislative initiatives taken on behalf of immigrants, retirement security and the stemming of global warming are increasingly thwarted by a bellicose White House. And that Democratic Party monopoly in Sacramento masks a deepening ideological fault line dividing pro-business moderates and progressives – the latter of which have largely chafed for the last 16 years under the thrifty administrations of Jerry Brown and Arnold Schwarzenegger, and are eager to burst out with far-reaching (if pricey) legislation.
Then, there are memories of three high-riding liberal governors (Pat and Jerry Brown, and Gray Davis) whose programs or careers were derailed by resentful taxpayers. There are more recent memories, too: Of an impulsive, hard-partying San Francisco mayor whose blunted ambitions led him to spend eight years in the ceremonial wilderness of the lieutenant governor's office. Newsom is said to have matured into a more circumspect, pragmatic politician, although some of the old doubts were fanned back to life by an unflattering New Yorker profile that appeared shortly before his landslide victory November 6.
Perhaps overriding all these auguries is the undeniable fact that despite its enviable economy, its abundance of billionaires-in-residence and laudable array of social services, California still has the highest poverty rate in the U.S., nearly half of its children live in poverty or near-poverty, and merely finding an affordable place to live has become an existential challenge for many. These and similar factors superimpose on the state another kind of fault line, that of economic inequality. Most of the new governor's time will be spent wrangling crises that spring from this disparity. Which is why the following Capital & Main stories primarily focus on the inequality that separates so many Californians from one another.
Affordable Housing, by Jessica Goodheart.
Single-Payer Health Care, by Gabriel Thompson.
Climate Change and Big Oil, by Judith Lewis Mernit.
Inequality Interviews with Manuel Pastor, Ann Huff Stevens and David Grusky.
Early Childhood Education, by Bill Raden.
Inequality in California: Six Takeaways.
---
Copyright Capital & Main