Geniuses Among Us – the MacArthur Foundation Class of 2015
Gary Cohen, Co-Founder of Health Care Without Harm
It's that time of year when I look for my name on the list of MacArthur Fellows, and not finding it once again resolve to keep working and wait until next time. But truly, perusing such a list is as humbling as it is inspiring.
From puppeteers and choreographers to novelists, set designers, economists, chemists, sociologists, journalists, educators, environmentalists and community leaders, the MacArthurs each year offer a who's who of the best and the brightest, making us feel optimistic about the capabilities of the human mind and spirit.
"These 24 delightfully diverse MacArthur Fellows," as MacArthur President Julia Stasch states, "are shedding light and making progress on critical issues, pushing the boundaries of their fields, and improving our world in imaginative, unexpected ways."
And what's especially unique about the MacArthur Genius grant, as stated on the foundation's website, is that "the fellowship is not a reward for past accomplishment, but rather an investment in a person's originality, insight, and potential." In other words, it's a forward-looking award and provides encouragement and financial support so that these high-achieving visionaries can continue their work unimpeded by financial challenges. The current prize for each recipient amounts to $625,000, paid over a five-year period.
Where did all this money come from, you might wonder. Well, from John D. and Catherine T. MacArthur, of course, who endowed the foundation from a vast fortune made primarily through insurance services and property investment. Interestingly, John D. was a conservative capitalist, but one of his sons decidedly was not, and after a drawn-out battle against the mostly conservative board of directors of the foundation in the late 1970s, he prevailed. The MacArthurs have since become a mainstay of the liberal philanthropic establishment, awarding innovative artists, scientists, activists and thinkers who are finding ways to build a better, more equitable world.
Some standouts this year include Gary Cohen, founder of Healthcare Without Harm, that takes the Hippocratic oath a step further into environmental health, positively impacting communities around hospitals where environmental toxins, waste issues and a reliance on fossil fuels create the same illnesses that they are, in fact, trying to treat. Through best practices, Mr. Cohen has shown that such efforts are not only prudent but cost effective and easier to implement than often assumed.
In a similar vein, social entrepreneur and visionary Alex Truesdell creates user-friendly tools and furniture for disabled children, once again reminding us all that assumed limitations are sometimes quite easily overcome with imagination and innovation.
The same can be said for many of our attitudes and prejudices connected with race, as journalist Ta-Nehisi Coates has so eloquently expressed in his bestseller Between the World and Me and his many articles for the Atlantic, such as the widely read and discussed "The Case for Reparations."
Composer, lyricist, and performer Lin-Manuel Miranda sheds a similar light on contemporary issues of race, immigration and multiculturalism, bringing his Washington Heights neighborhood to the Broadway stage with his street-savvy musical theater shows such as Hamilton and In the Heights.
And speaking of life in the inner city, sociologist Matthew Desmond is being recognized for offering groundbreaking insights into entrenched poverty and racial inequality in American cities, showing how such inequities are, in fact, sustained by existing housing policies.
Economist Heidi Williams looks at similar culture-wide inefficiencies in health care markets where drug patents and intellectual property rights actually work against not only innovators but those who are suffering from grave illnesses.
In other words, we can do better, and these individuals are offering suggestions on how to do just that.
Take for instance the amazing work of inorganic chemist Peidong Yang, who through semiconductor nanowires and nanowire photonics technology has actually created a leaf that can photosynthesize and create all manner of chemical offspring and energy, adding a truly magical, god-like, sci-fi example of how we can take solar energy to the next level.
Environmental engineer Kartik Chandran is doing similarly amazing things with waste water, eliminating the harmful byproducts of recycling that water by using mixed microbial communities to create a more ecologically friendly and efficient means of resolving the growing problem of water scarcity. Through his group Engineers Without Borders, he is taking this technology and sharing it with communities all across the globe.
We're not just talking about geniuses here, but pioneers who are offering some fascinating solutions as they lead us forward through an increasingly complex and stressed world that needs all the geniuses it can muster. For a full listing of this year's 24 grantees, as well as video interviews of each recipient, visit https://www.macfound.org/fellows/class/2015/. Prepare to be astonished.
Photos courtesy the John D. & Catherine T. MacArthur Foundation.

'Skeleton Crew' Is a Play With a Moral Spine
Set in a Detroit automobile outfitting plant, Dominique Morisseau's drama grabs you from the start with its focus on blue-collar men and women, and their struggle for dignity and self-respect.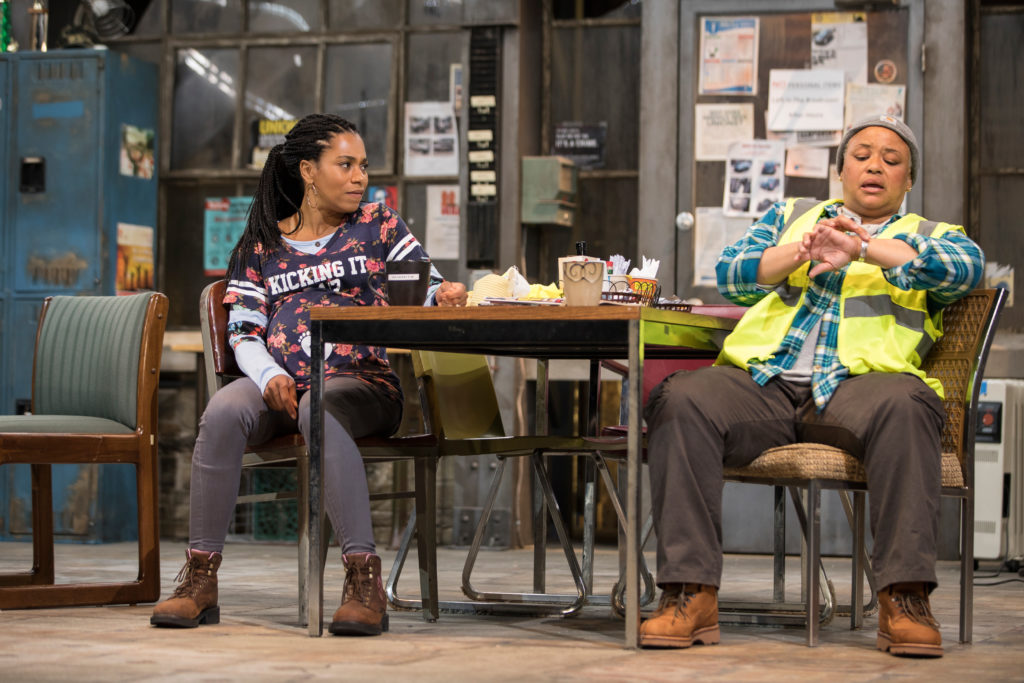 Working-class men and women of color are rarely front and center in today's media and, likewise, are presented all too occasionally on the American stage. So it's buoying to see that trend bucked in playwright Dominique Morisseau's percipient and well-crafted drama, Skeleton Crew. The play is the final installment in her Detroit  Project Trilogy; the first, Paradise Blue, is set in the 1940s amidst displacement caused by urban renewal and gentrification, while the second, Detroit '67, transpires on the eve of the 1967 Detroit riots sparked by a police action.
Directed by Patricia McGregor at Los Angeles' Geffen Playhouse, Skeleton Crew is a play with a moral spine. It takes place in 2008, when the shrinking U.S. auto industry is being further downsized. Morisseau's engaging quartet of characters — Faye (Caroline Stefanie Clay), Dez (Armari Cheatom), Shanita (Kelly McCreary) and Reggie (DB Woodside) – are employed at an automobile outfitting plant. Faye, Dez and Shanita are workers on the line while Reggie (who has a wife and kids, and has pulled himself together after a troubled youth) is their supervisor.
The first three customarily mingle in their break room (designer Rachel Myers' impressively cluttered, dingy and detailed set), trading the sort of familiar barbs and genuine concern for each other common among longtime co-workers. They also face off on philosophy: Upper-middle-aged Faye and the younger, pregnant Shanita take pride in their labor, while Dez, though a good worker, is a malcontent scornful of management and firm in the belief that everyone needs to watch out for himself. He's a thorn in Reggie's side, for while Reggie wants to be supportive of his workers, he must act at the behest of higher management. For his part, Dez resents Reggie's authority, and a palpable unease exists between them.
Besides this male matchup, we're made privy to Dez's attraction to Shanita, who mostly turns away his advances, but every now and then displays a hint of interest. Most poignant is Reggie's regard and affection for the lesbian Faye, which has roots in his boyhood when she loved, and lived, with his now-deceased mom.
These people's various predicaments intensify when rumors spread of the plant's shutdown — a disaster for all, but a particular calamity for the already near-broke Faye who, one year short of retirement, would lose her pension. The crisis forces each of these people to make a choice.
A sound piece of social realism, Skeleton Crew grabs you from the start in its focus on blue-collar men and women, and their struggle against odds for dignity and self-respect. Morisseau not only furnishes these characters a platform for their travails, she endows them with strong values, big hearts and the opportunity to choose between right and wrong.
Unfortunately, the performance I attended did not soar. Many exchanges lacked a fresh edge. The actors certainly had their characters down, but too often they appeared to be coasting on technique. (This seemed particularly true of Clay, who performed the role to great accolades in Washington, DC in 2017, also under McGregor's direction). Additionally, some of the stage movement was not entirely fluid; in confrontations, actors sometimes would just stand and face each other in an artificial way. And Cheatom's interpretation of Dez struck me as a bit overly churlish and depressive: I needed more glimpses of the intelligence and edge that would secretly attract the strong, self-directed Shanita.
The most compelling moments belong to Woodside, well-cast as a man trying his best in difficult circumstances to do the right thing.
---
Gil Cates Theater at the Geffen Playhouse, 10886 Le Conte Ave., Westwood Village; Tues.-Fri., 8 p.m.; Sat., 3 & 8 p.m. Sun., 2 & 7 p.m.; through July 8. (310) 208-5454 or www.geffenplayhouse.org