Geniuses Among Us – the MacArthur Foundation Class of 2015
Gary Cohen, Co-Founder of Health Care Without Harm
It's that time of year when I look for my name on the list of MacArthur Fellows, and not finding it once again resolve to keep working and wait until next time. But truly, perusing such a list is as humbling as it is inspiring.
From puppeteers and choreographers to novelists, set designers, economists, chemists, sociologists, journalists, educators, environmentalists and community leaders, the MacArthurs each year offer a who's who of the best and the brightest, making us feel optimistic about the capabilities of the human mind and spirit.
"These 24 delightfully diverse MacArthur Fellows," as MacArthur President Julia Stasch states, "are shedding light and making progress on critical issues, pushing the boundaries of their fields, and improving our world in imaginative, unexpected ways."
And what's especially unique about the MacArthur Genius grant, as stated on the foundation's website, is that "the fellowship is not a reward for past accomplishment, but rather an investment in a person's originality, insight, and potential." In other words, it's a forward-looking award and provides encouragement and financial support so that these high-achieving visionaries can continue their work unimpeded by financial challenges. The current prize for each recipient amounts to $625,000, paid over a five-year period.
Where did all this money come from, you might wonder. Well, from John D. and Catherine T. MacArthur, of course, who endowed the foundation from a vast fortune made primarily through insurance services and property investment. Interestingly, John D. was a conservative capitalist, but one of his sons decidedly was not, and after a drawn-out battle against the mostly conservative board of directors of the foundation in the late 1970s, he prevailed. The MacArthurs have since become a mainstay of the liberal philanthropic establishment, awarding innovative artists, scientists, activists and thinkers who are finding ways to build a better, more equitable world.
Some standouts this year include Gary Cohen, founder of Healthcare Without Harm, that takes the Hippocratic oath a step further into environmental health, positively impacting communities around hospitals where environmental toxins, waste issues and a reliance on fossil fuels create the same illnesses that they are, in fact, trying to treat. Through best practices, Mr. Cohen has shown that such efforts are not only prudent but cost effective and easier to implement than often assumed.
In a similar vein, social entrepreneur and visionary Alex Truesdell creates user-friendly tools and furniture for disabled children, once again reminding us all that assumed limitations are sometimes quite easily overcome with imagination and innovation.
The same can be said for many of our attitudes and prejudices connected with race, as journalist Ta-Nehisi Coates has so eloquently expressed in his bestseller Between the World and Me and his many articles for the Atlantic, such as the widely read and discussed "The Case for Reparations."
Composer, lyricist, and performer Lin-Manuel Miranda sheds a similar light on contemporary issues of race, immigration and multiculturalism, bringing his Washington Heights neighborhood to the Broadway stage with his street-savvy musical theater shows such as Hamilton and In the Heights.
And speaking of life in the inner city, sociologist Matthew Desmond is being recognized for offering groundbreaking insights into entrenched poverty and racial inequality in American cities, showing how such inequities are, in fact, sustained by existing housing policies.
Economist Heidi Williams looks at similar culture-wide inefficiencies in health care markets where drug patents and intellectual property rights actually work against not only innovators but those who are suffering from grave illnesses.
In other words, we can do better, and these individuals are offering suggestions on how to do just that.
Take for instance the amazing work of inorganic chemist Peidong Yang, who through semiconductor nanowires and nanowire photonics technology has actually created a leaf that can photosynthesize and create all manner of chemical offspring and energy, adding a truly magical, god-like, sci-fi example of how we can take solar energy to the next level.
Environmental engineer Kartik Chandran is doing similarly amazing things with waste water, eliminating the harmful byproducts of recycling that water by using mixed microbial communities to create a more ecologically friendly and efficient means of resolving the growing problem of water scarcity. Through his group Engineers Without Borders, he is taking this technology and sharing it with communities all across the globe.
We're not just talking about geniuses here, but pioneers who are offering some fascinating solutions as they lead us forward through an increasingly complex and stressed world that needs all the geniuses it can muster. For a full listing of this year's 24 grantees, as well as video interviews of each recipient, visit https://www.macfound.org/fellows/class/2015/. Prepare to be astonished.
Photos courtesy the John D. & Catherine T. MacArthur Foundation.
Filmmaker Adam McKay Talks About Dick Cheney and the Imperial Presidency
"Our democracy at its root is about the throne," says the creator of Vice. "But what Cheney tried to do was bring the power back to one person on that throne."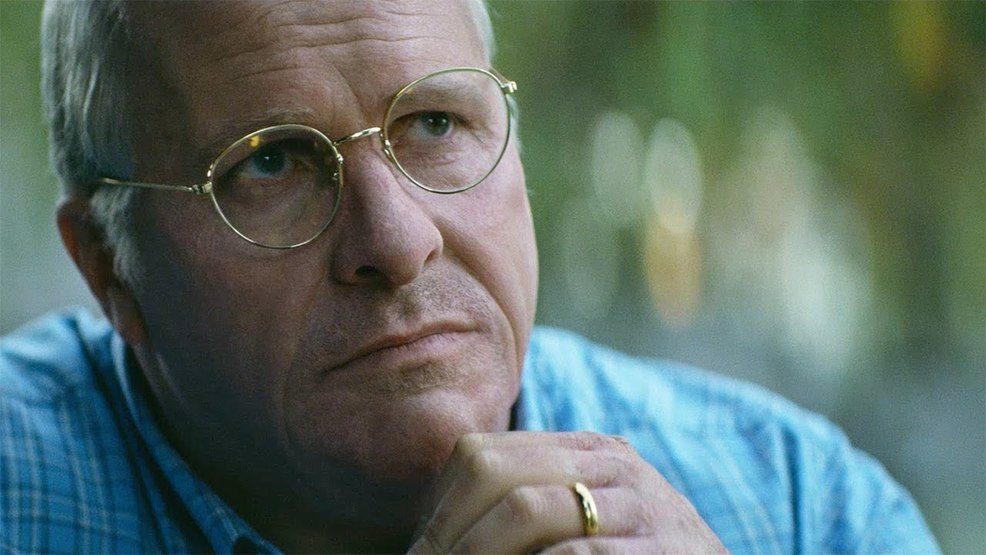 Vice President Dick Cheney quickly faded into the background after leaving the Bush White House in 2009. But while many may not remember the ins and outs of Cheney's record, the recent film Vice argues that he was one of the most powerful and influential architects of the current world, and that Cheney intensified the emergencies facing America today.
Capital & Main reporter David Sirota spoke with Vice screenwriter and director Adam McKay, who had taken on the project after winning an Academy Award for screenwriting on his previous movie, The Big Short.
Vice has been nominated for eight Oscars, including Best Picture — but has also generated its share of controversy. McKay discusses some of the criticism of the film here, along with the twists and turns of the life of Cheney, who rose to become arguably the most potent vice president in American history. The following interview excerpt has been edited for concision and clarity.
---
David Sirota: Do you believe that we are today living in the world that Dick Cheney created?
Adam McKay: Without a doubt, yeah. Trump is a force of charisma, but not in a good way. He's perfect for the 24-hour news cycle — no one knows how to dominate it better than him.
But the actual structural changes that happen to our government, to regulations, to the way we view democracy, to the way the American people interact with government … those changes happened under the hand [of] a grand master of bureaucratic knowledge, Dick Cheney. You look at the Middle East. You look into visions that were widened. I'd definitely go to that period and I say at the center of it, expanding executive power, was Dick Cheney.
There's a scene in the movie where a young Cheney is depicted as not all that partisan — it almost made it seem like him choosing a job with a Democratic or Republican lawmaker was completely random. Is that true to life?
It's not that far off. Cheney's dad was an FDR Democrat. [Dick Cheney] had no interest in politics at all through high school…The first time he really started getting any taste for feet-on-the-floor politics was when he was getting [his] master's up in the University of Wisconsin. He did intern for a Republican, handed out buttons and stuff. We interviewed some people from his early days. He was not an ideologically driven guy.
What he knew was that when he went to D.C. he needed a rocket ship. He needed to get something going. Lynne wasn't entirely happy about him taking this fellowship. She wanted him to get a Ph.D. and become a professor. That was what she always pictured that they would do. So he had to get something going quick when he got to D.C. because he wasn't making any money. And if you wanna get something going quick in the late '60s in Washington, D.C., Donald Rumsfeld was your guy.
What do you think radicalized Dick Cheney and made him such an ideologue?
The first radicalization was just the environment he kind of came of age in, which was the Nixon White House and the Ford White House, which were all about executive power — the imperial presidency. And then his conversation about the unitary executive theory with a young [Antonin] Scalia, who was a lawyer in the Justice Department.
Everything that I found with Cheney goes back to the unitary executive theory. You look at his minority opinion that he wrote on the Iran-Contra affair with David Addington. They actually have several lines in it where they say the president has monarchical-like powers.
The radicalization of Cheney, to me, is two steps. Number one is the political environment he grew up in, [and then] introduction to the unitary executive — [which] was weaponized by 9/11. Especially when he said, "Give me all the unfiltered intelligence." A lot of Washington insiders said, "Anyone who would do that — [it] would drive them crazy." One guy described it as like "listening to Led Zeppelin full volume, 24 hours a day."
So I think he was already an extreme right-winger who then came into collision course with this very traumatic event, 9/11.
Your movie depicts Cheney as motivated by the acquisition of power — but do you believe he had specific policy goals beyond that?
As far as policy goals go, war is the key to being able to use these sorts of unparalleled powers. Some legal scholars would call [these] insane powers. So I always felt like Cheney was putting together these pieces of power to expand his own power … which I do believe made him a power addict … His wife's desire for power, and by extension, America's desire for power, which did fit neatly with the neocons.
But I also think invading Iraq did two things. It activated the unitary executive theory — [if] writings from the DOJ [Department of Justice] that came about at that time were filled with references to the unitary executive theory.
And yes, the oil too, was a part of it. Cheney also is an oil guy. He grew up in an oil state, Wyoming That was his whole life. All his friends are oil guys. I always look at Cheney as a right-hand man, and I think that he serves power: Sometimes that power is oil barons, other times that power is a presidency — the notion of a powerful presidency.
So I think Iraq was sort of a mishmash of ideas. I think it was unitary executive and I think it was definitely oil, and I think it was most of all expansion of executive power and a show of force to the world.
What are the most significant and lasting parts of Cheney's legacy?
I would just say in general, those eight years of Bush and Cheney were so dispiriting that they made a lot of people kind of give up on government. And the fact that we can't fix something that really can be improved pretty easily and pretty quickly, like the opioid epidemic or like gun safety laws. Those are things that 30, 40 years ago we would've had bills passed on the issue. We would've seen fewer deaths within a year, within two years. Even the assault weapon ban, you saw deaths go down after that…
Then, obviously, the Middle East is just a wreck. Our friend, Adam Davidson, had a friend of his, a journalist, go to Iraq recently and come back and just say, "It's awful. It's completely undone." And obviously, with what happened in Syria, ISIS, all that kind of stuff. Those are the clear, kind of bad effects of Cheney and I would say the rise of this particular form of the Republican Party.
Much of your film resurrects events that have been forgotten in the American psyche, because we have this tendency to venerate leaders the moment they leave office. It's as if presidents and their administrations suddenly get immunity from retrospective scrutiny. Why do you think that is?
I feel a lot of this goes back to the pardoning of Nixon. That's a bad, bad thing. I think he should've done some time. I think it's important to not imbue these leaders with king-like mystical properties. Do you remember Jerry Lewis saying, "We should never criticize the president"?
I think we just like the idea of powerful people. We like the idea of a king. We like the idea of these celebrities that get treated like kings. Why did the Bushes keep getting elected to office? Why did the Kennedys keep getting elected to office after several of them did pretty terrible things? We just like that idea. We like the idea that some people's blood is more special than ours. I don't know why. It's really deranged…
Our democracy at its root is about the throne. What they tried to do with the Constitution, the original people that wrote it, was break up the power so you don't have one crazy guy sitting in the throne. But what Cheney tried to do was bring the power back to one person on that throne…
I guess my answer is democracy is still really new, and clearly it's not going well right now. And I think we're going to have to have a whole moment where we look at it and fix a bunch of stuff because parts of it aren't working too well.
Many people say Donald Trump's administration is the worst in American history. After doing a movie on Cheney and the Bush administration, do you agree?
Everyone wants things to be ranked and compared to each other. The real answer is that there is a safe that was filled with diamonds that represent our democracy and checks and balances. They couldn't get a goon like Donald Trump to go in and crack the safe because he doesn't even read books. Like he's not an educated guy.
So they had to go get an expert like Dick Cheney to go in there. Dick Cheney went in, he cracked the safe, he took all the jewels out of the safe, he exited the store, he left the front door wide open. Then after an hour some stray dogs wandered into the store and started crapping all over the place and peeing everywhere. And then when the owner went in, one of the dogs bit him and he said, "These dogs are the worst."
That, to me, is Cheney versus Trump. Yeah. Cheney cracked the safe, Trump is the strange bizarre dude who wandered in (and) took a crap in the store…The police arrest the street guy because look, he took a crap. He's in the store. Meanwhile, Cheney is across town giving W. Bush one diamond while he takes the other 99 and W. Bush is delighted with the one diamond.
---