Geniuses Among Us – the MacArthur Foundation Class of 2015
Gary Cohen, Co-Founder of Health Care Without Harm
It's that time of year when I look for my name on the list of MacArthur Fellows, and not finding it once again resolve to keep working and wait until next time. But truly, perusing such a list is as humbling as it is inspiring.
From puppeteers and choreographers to novelists, set designers, economists, chemists, sociologists, journalists, educators, environmentalists and community leaders, the MacArthurs each year offer a who's who of the best and the brightest, making us feel optimistic about the capabilities of the human mind and spirit.
"These 24 delightfully diverse MacArthur Fellows," as MacArthur President Julia Stasch states, "are shedding light and making progress on critical issues, pushing the boundaries of their fields, and improving our world in imaginative, unexpected ways."
And what's especially unique about the MacArthur Genius grant, as stated on the foundation's website, is that "the fellowship is not a reward for past accomplishment, but rather an investment in a person's originality, insight, and potential." In other words, it's a forward-looking award and provides encouragement and financial support so that these high-achieving visionaries can continue their work unimpeded by financial challenges. The current prize for each recipient amounts to $625,000, paid over a five-year period.
Where did all this money come from, you might wonder. Well, from John D. and Catherine T. MacArthur, of course, who endowed the foundation from a vast fortune made primarily through insurance services and property investment. Interestingly, John D. was a conservative capitalist, but one of his sons decidedly was not, and after a drawn-out battle against the mostly conservative board of directors of the foundation in the late 1970s, he prevailed. The MacArthurs have since become a mainstay of the liberal philanthropic establishment, awarding innovative artists, scientists, activists and thinkers who are finding ways to build a better, more equitable world.
Some standouts this year include Gary Cohen, founder of Healthcare Without Harm, that takes the Hippocratic oath a step further into environmental health, positively impacting communities around hospitals where environmental toxins, waste issues and a reliance on fossil fuels create the same illnesses that they are, in fact, trying to treat. Through best practices, Mr. Cohen has shown that such efforts are not only prudent but cost effective and easier to implement than often assumed.
In a similar vein, social entrepreneur and visionary Alex Truesdell creates user-friendly tools and furniture for disabled children, once again reminding us all that assumed limitations are sometimes quite easily overcome with imagination and innovation.
The same can be said for many of our attitudes and prejudices connected with race, as journalist Ta-Nehisi Coates has so eloquently expressed in his bestseller Between the World and Me and his many articles for the Atlantic, such as the widely read and discussed "The Case for Reparations."
Composer, lyricist, and performer Lin-Manuel Miranda sheds a similar light on contemporary issues of race, immigration and multiculturalism, bringing his Washington Heights neighborhood to the Broadway stage with his street-savvy musical theater shows such as Hamilton and In the Heights.
And speaking of life in the inner city, sociologist Matthew Desmond is being recognized for offering groundbreaking insights into entrenched poverty and racial inequality in American cities, showing how such inequities are, in fact, sustained by existing housing policies.
Economist Heidi Williams looks at similar culture-wide inefficiencies in health care markets where drug patents and intellectual property rights actually work against not only innovators but those who are suffering from grave illnesses.
In other words, we can do better, and these individuals are offering suggestions on how to do just that.
Take for instance the amazing work of inorganic chemist Peidong Yang, who through semiconductor nanowires and nanowire photonics technology has actually created a leaf that can photosynthesize and create all manner of chemical offspring and energy, adding a truly magical, god-like, sci-fi example of how we can take solar energy to the next level.
Environmental engineer Kartik Chandran is doing similarly amazing things with waste water, eliminating the harmful byproducts of recycling that water by using mixed microbial communities to create a more ecologically friendly and efficient means of resolving the growing problem of water scarcity. Through his group Engineers Without Borders, he is taking this technology and sharing it with communities all across the globe.
We're not just talking about geniuses here, but pioneers who are offering some fascinating solutions as they lead us forward through an increasingly complex and stressed world that needs all the geniuses it can muster. For a full listing of this year's 24 grantees, as well as video interviews of each recipient, visit https://www.macfound.org/fellows/class/2015/. Prepare to be astonished.
Photos courtesy the John D. & Catherine T. MacArthur Foundation.
The Power of the Poster
Carol Wells, the founder of the Center for the Study of Political Graphics in Los Angeles, talks to Capital & Main about the enduring power of political art.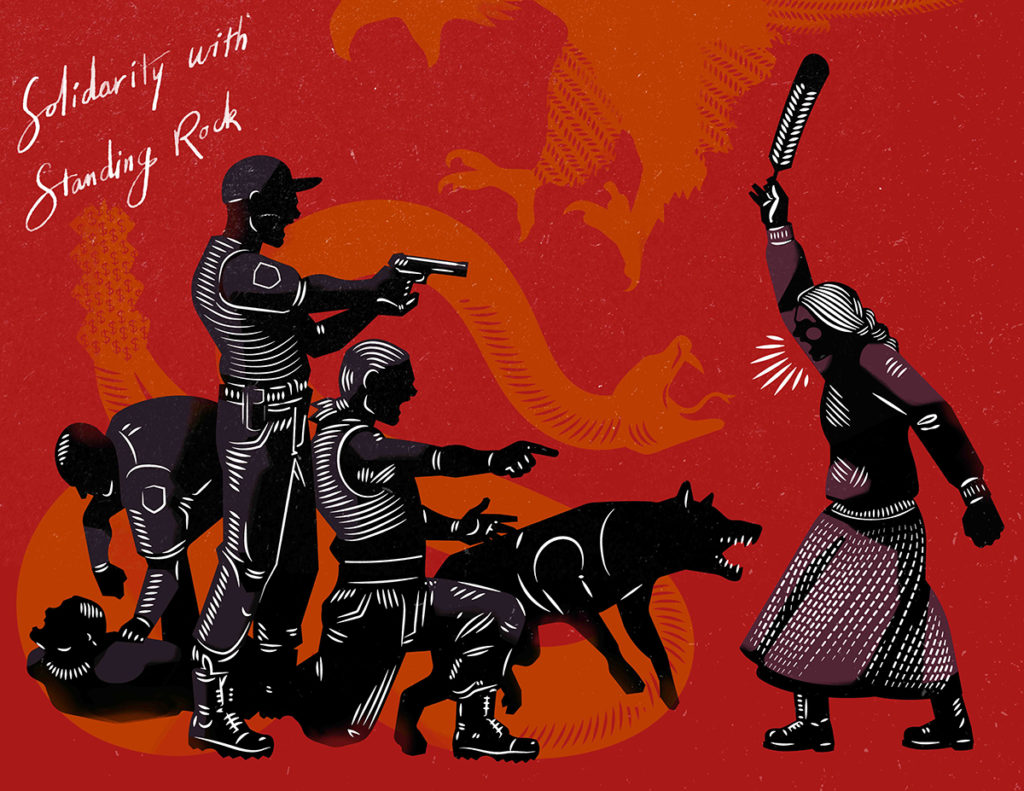 Carol Wells remembers the exact moment she discovered her calling. An art historian at the time, she was on a trip to Nicaragua with her friend David Kunzle, a UCLA art history professor, who was collecting political posters to add to his burgeoning collection. While staying with friends, Wells watched a neighbor's 8-year-old son approach a poster on the wall, stare at it intently, and then start to silently mouth the words. Wells was struck by how engaged the boy was. "In that moment I became obsessed with collecting posters."
Now over 40 years later, Wells is the founder and executive director of the Center for the Study of Political Graphics in Los Angeles. Wells has amassed approximately 90,000 posters, building one of the largest collections of its kind in the world. The Center shares its collection with the public in part through curated exhibits. This year the CSPG has produced Feminae: Typographic Voices of Women by Women and its latest is To Protect & Serve? Five Decades of Posters Protesting Police Violence, running through July 15 at the Mercado La Paloma in downtown Los Angeles.
Since that encounter in Nicaragua in 1981, Wells' obsession with collecting posters hasn't waned. In CSPG's nondescript West L.A. office space, Wells pulls out poster after poster, lecturing passionately on the backstory and cultural impact of each, including one that superimposes text from a New York Times interview with a shocking image of the My Lai massacre ("Q: And babies? A: And babies."). Recently, she managed to sit down with C&M to discuss her passion.
---
Capital & Main: So, you were an art history professor, you happen to see a kid on a trip, and suddenly your life was changed forever?
Carol Wells: Yeah, I'm in Nicaragua alone in the living room with this kid. He's looking around, and all of a sudden, he sees the poster. It was pretty big, bright green, a thick outlines of a woman holding a big basket of coffee beans. And the text in Spanish said, "In constructing the new country, we are becoming the new woman." I see him walk over to the poster and I'm watching him mouth the words. It was a pretty sophisticated concept, so I doubt he figured it out. But I literally had this epiphany: "Oh my God. That's how posters work." You're going about your daily life, and all of a sudden something breaks through the bubble, and it grabs your attention. It's the graphic, it's the color, it's the combination, and it pulls you out of your head and into that poster and it makes you ask a question. "Why is this here? What is this about? What does this mean?" And every time you ask a question, you're a different person than you were before you asked the question.
How many posters do you get a year?
We get between two to five thousand a year donated from all over the world. The bulk of our collection is [from] 1945 and later.
I assume technology has probably hurt the art form, but has it helped get the messages out?
Most people think that, and it's actually not true. Since the internet age started, there's actually a poster renaissance of works on paper. Because you can't walk with your computer monitor in a demonstration. You can't plant your monitor on your lawn.
And you can't put a laptop on the wall…
Exactly. You want to hear a really great story? Truthdig.org published a cartoon [made by] a political cartoonist named Mr. Fish. It was during the Arab spring, and he had superimposed Che Guevara with the stylized beard and King Tut's face, but it had Che's beret. And it [was titled], "Walk like an Egyptian." So, it was a reference to the music, but [it was also] a reference to what was going on the streets of Cairo. I sent it out as our poster of the week to 9,000 people. The very next day, somebody took a photograph on the street of Cairo, with somebody holding a piece of paper with that image on it. A poster can literally go around the world and people will print it out.
What struck me in viewing your exhibits is how many of these posters could still be used today, not only artistically but also, sadly, in the timeliness of their messages.
We had this fabulous poster by Yolanda Lopez, a Bay Area artist, which she first did in 1978. It depicts a young man in Aztec garb pointing a finger like Uncle Sam saying, "Who's the illegal alien, PILGRIM?" And it's a great poster, it's simple, not too many words, funny, provocative. So, we had an exhibit at UCLA in the mid '90s and there were 4 or 5 high school students standing around this poster saying, "Wow, you've got posters up to the minute." And I went over to them and I said, "Look at the date. This is before you were born."
Is that one of your goals with the exhibitions? To show the evergreen nature of this work?
Absolutely. I mean that's why we did the police abuse exhibition now. It basically goes back five decades. It's 50 years of posters protesting police abuse. Mainly in the United States, but also internationally.
What's the goal for CSPG?
Well the aim right now is really to digitize the collection and get it online. We have 10% of the collection digitized. But the mission is to collect and to document, because stories get lost. All the exhibitions, they're showing massacres, they're showing genocide, they're showing police abuse, they're showing all of these horrible things. And people often ask me, "How can you look at this stuff all day long?" I said, "Because the poster artists are optimists. They believe people can change if they have the information."
Yes, that's the reason why they're doing it, right?
That's why they're doing it, and that's why I'm doing this, because I believe that people can change if they knew the truth.
And what happens 20, 50 years from now?
Well, my goal is to stay independent, because the other option is to become part of the university. Universities, for all the fabulous things that they do, they also censor. We did an exhibition at USC in 1992 on the 500 years since Columbus, and how the legacy of racism and exploitation and genocide continues. And one of the board of trustees was Italian and took [the exhibit] as an affront to Columbus. It really wasn't about Columbus, it was about colonialism. And he ordered it down.
Do you have a favorite poster?
I'm always amazed at the creativity and vision of artists. Every week I'll say, "Oh my God, how do they think of that?" But it's always still going to be the poster I saw that kid trying to figure out. It has to be my favorite one because that one changed my life.
What makes a perfect poster?
The right balance between aesthetics and message. If you only rely on the corporate press, the New York Times and L.A. Times, for your information, you're not going to get the side from the street, from the movement, from the activists. The posters are primary historical documents that are recording the issues that were at the time, and the passions that were at the time, and the divisions that were at the time. You're not going to get it anyplace else.
---
Copyright Capital & Main