Gene Autry: Radical Singing Cowboy?
OMG! Was Gene Autry, the "singing cowboy" on TV and in the movies, really a radical?
I just discovered this Autry recording of the pro-labor song "The Death of Mother Jones," about the great radical union organizer — Mary Harris Jones, sometimes called the "most dangerous woman in America" by her enemies — who died at 100 in 1930. Autry recorded the song in February 1931 during the Great Depression. It is so obviously pro-union that there's no way Autry couldn't have known what it meant.
Like many baby-boomers, I grew up watching Autry in his cowboy films and his popular television show. He was famous for singing cowboy songs like "Back in the Saddle" and "Tumbling Tumbleweeds," as well as popular hits like "Rudolph the Red-Nosed Reindeer," "Here Comes Peter Cottontail," and "Frosty the Snowman."
In the 1930s, 1940s and 1950s, he was one of Hollywood's biggest stars. He made 640 recordings, including more than 300 songs that he wrote or co-wrote. He was the first performer to sell out Madison Square Garden. He appeared in 93 movies, including Red River Valley, Saddle Pals, Apache Country and Pack Train. From 1940 to 1956, he was a popular radio entertainer on his Melody Ranch show on the CBS Radio Network. He was also the first movie star to transfer his popularity to television. He had a successful weekly TV show from 1950 to 1955. He also produced other Western-themed TV series, including Annie Oakley, The Range Rider, Buffalo Bill, The Adventures of Champion and Death Valley Days, whose emcee was a fading actor named Ronald Reagan. Autry is the only entertainer to have all five stars on the Hollywood Walk of Fame, one each for Radio, Recording, Motion Pictures, Television and Live Theatre/Performance.
Autry became a multimillionaire through his investments in hotels, real estate, radio stations and the California Angels baseball team. In 1958 he endowed the Gene Autry Western Heritage Museum in Los Angeles, specializing in Western history.
Don Cusic, author of Gene Autry: His Life and Career, says that Autry grew up admiring Franklin Roosevelt and Harry Truman. In mid-life he became more conservative and supported Dwight D. Eisenhower, Richard Nixon, Barry Goldwater and Ronald Reagan. Even so, he remained a registered Democrat, but called himself an "independent."
So what's with Autry recording "The Death of Mother Jones," a blatantly left-wing song? According to Cusic, the recording sold well. Autry did not write the song, but its author is unknown. Here are the lyrics:
The world today's in mourning
O'er the death of Mother Jones;
Gloom and sorrow hover
Around the miners' homes.
This grand old champion of labor
Was known in every land;
She fought for right and justice,
She took a noble stand.
O'er the hills and through the valley
In ev'ry mining town;
Mother Jones was ready to help them,
She never turned them down.
On front with the striking miners
She always could be found;
And received a hearty welcome
In ev'ry mining town.
She was fearless of every danger,
She hated that which was wrong;
She never gave up fighting
Until her breath was gone.
This noble leader of labor
Has gone to a better land;
While the hard-working miners,
They miss her guiding hand.
May the miners all work together
To carry out her plan;
And bring back better conditions
For every laboring man.
Autry's decision to record the song may simply have been a fluke, or he may have absorbed some of the populist and radical ideas floating around the Southwest when he was a boy and a young man.
Autry was born in tiny Tioga, Texas in 1907, then moved to Oklahoma as a teenager. His father was a buyer and trade of livestock, but in both places his parents raised cattle and vegetables on a rented farm, and Gene worked with them. After leaving high school in 1925, Autry worked as a telegrapher for the St. Louis-San Francisco Railway in Oklahoma.
In the early 1900s, Oklahoma was a hotbed of radical ideas and activism, as Garin Burbank describes in When Farmers Voted Red: The Gospel of Socialism in the in the Oklahoma Countryside, 1910-1924 (1976), as James Green documents in Grassroots Socialism: Radical Movements in the Southwest, 1895-1943 (1978), and as Jim Sissett shows in Agrarian Socialism In America: Marx, Jefferson, and Jesus in the Oklahoma Countryside, 1904-1920 (1999). The Farmer's Union (1904-1907) and then the Socialist Party (1907-1920) were influential movements in the state.
The Socialists were particularly strong among tenant farmers, but it also had a base in the cities. In 1911 Oscar Ameringer earned 23 percent of the vote running for mayor of Oklahoma City on the Socialist ticket. In 1912, Socialist Party presidential candidate Eugene Debs garnered 16.4 percent of the Oklahoma vote, the highest margin of any state except Nevada. Four years later, Allan L. Benson gained 15 percent of the state vote for president. But the Socialists' opposition to U.S. entry in World War One led to various attacks and the party was disbanded in 1917. In 1928, the state Socialist Party was reorganized, but it never regained its former influence. Even so, its radical ideas shaped the lives and beliefs of many Oklahomans, including Woody Guthrie, who was born in 1912 and Tom Joad, the fictional protagonist in John Steinbeck's 1939 novel, The Grapes of Wrath, who is radicalized by his experiences as a migrant laborer forced to leave his family farm and move to California during the Depression.
Was Gene Autry one of them?
While working in the railroad telegraph office, Autry was discovered by the popular humorist (and Oklahoman) Will Rogers, who heard Autry singing to himself while strumming a guitar. In 1929 Autry was billed as "Oklahoma's Yodeling Cowboy" on KVOO radio in Tulsa. He got a recording contract in 1929 was soon performing on the "National Barn Dance" show for radio station WLS in Chicago. His first hit record, "That Silver Haired Daddy of Mine," came out in 1931, a few months after he'd recorded "The Death of Mother Jones." He made his first movie in 1934. For the next quarter-century, Autry was one of America's biggest celebrities.
I can find no documentation of how Autry came to record "The Death of Mother Jones," nor any evidence that he voiced any radical political views throughout his career.
But what about these lines from his popular song, "Here Comes Santa Claus," which Autry wrote in 1946?
"He doesn't care if you're rich or poor/for he loves you just the same."
Mother Jones might not have believed in Santa Claus, but she would have agreed with those sentiments.
(This post first appeared on Huffington Post and is republished with permission.)
'Skeleton Crew' Is a Play With a Moral Spine
Set in a Detroit automobile outfitting plant, Dominique Morisseau's drama grabs you from the start with its focus on blue-collar men and women, and their struggle for dignity and self-respect.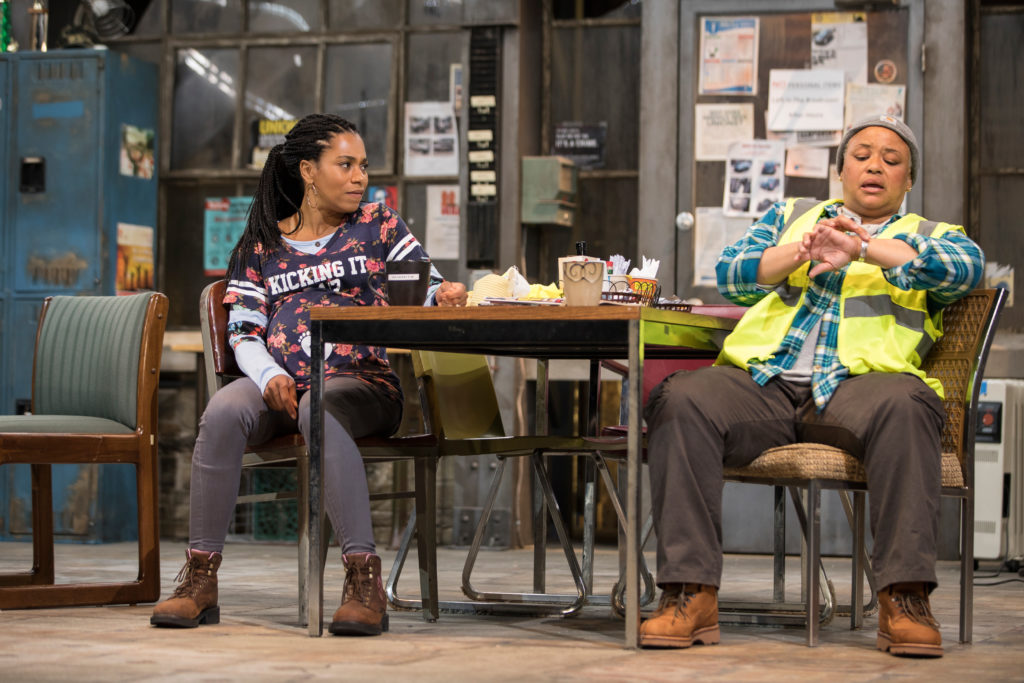 Working-class men and women of color are rarely front and center in today's media and, likewise, are presented all too occasionally on the American stage. So it's buoying to see that trend bucked in playwright Dominique Morisseau's percipient and well-crafted drama, Skeleton Crew. The play is the final installment in her Detroit  Project Trilogy; the first, Paradise Blue, is set in the 1940s amidst displacement caused by urban renewal and gentrification, while the second, Detroit '67, transpires on the eve of the 1967 Detroit riots sparked by a police action.
Directed by Patricia McGregor at Los Angeles' Geffen Playhouse, Skeleton Crew is a play with a moral spine. It takes place in 2008, when the shrinking U.S. auto industry is being further downsized. Morisseau's engaging quartet of characters — Faye (Caroline Stefanie Clay), Dez (Armari Cheatom), Shanita (Kelly McCreary) and Reggie (DB Woodside) – are employed at an automobile outfitting plant. Faye, Dez and Shanita are workers on the line while Reggie (who has a wife and kids, and has pulled himself together after a troubled youth) is their supervisor.
The first three customarily mingle in their break room (designer Rachel Myers' impressively cluttered, dingy and detailed set), trading the sort of familiar barbs and genuine concern for each other common among longtime co-workers. They also face off on philosophy: Upper-middle-aged Faye and the younger, pregnant Shanita take pride in their labor, while Dez, though a good worker, is a malcontent scornful of management and firm in the belief that everyone needs to watch out for himself. He's a thorn in Reggie's side, for while Reggie wants to be supportive of his workers, he must act at the behest of higher management. For his part, Dez resents Reggie's authority, and a palpable unease exists between them.
Besides this male matchup, we're made privy to Dez's attraction to Shanita, who mostly turns away his advances, but every now and then displays a hint of interest. Most poignant is Reggie's regard and affection for the lesbian Faye, which has roots in his boyhood when she loved, and lived, with his now-deceased mom.
These people's various predicaments intensify when rumors spread of the plant's shutdown — a disaster for all, but a particular calamity for the already near-broke Faye who, one year short of retirement, would lose her pension. The crisis forces each of these people to make a choice.
A sound piece of social realism, Skeleton Crew grabs you from the start in its focus on blue-collar men and women, and their struggle against odds for dignity and self-respect. Morisseau not only furnishes these characters a platform for their travails, she endows them with strong values, big hearts and the opportunity to choose between right and wrong.
Unfortunately, the performance I attended did not soar. Many exchanges lacked a fresh edge. The actors certainly had their characters down, but too often they appeared to be coasting on technique. (This seemed particularly true of Clay, who performed the role to great accolades in Washington, DC in 2017, also under McGregor's direction). Additionally, some of the stage movement was not entirely fluid; in confrontations, actors sometimes would just stand and face each other in an artificial way. And Cheatom's interpretation of Dez struck me as a bit overly churlish and depressive: I needed more glimpses of the intelligence and edge that would secretly attract the strong, self-directed Shanita.
The most compelling moments belong to Woodside, well-cast as a man trying his best in difficult circumstances to do the right thing.
---
Gil Cates Theater at the Geffen Playhouse, 10886 Le Conte Ave., Westwood Village; Tues.-Fri., 8 p.m.; Sat., 3 & 8 p.m. Sun., 2 & 7 p.m.; through July 8. (310) 208-5454 or www.geffenplayhouse.org