"Gatz": A Modern Fairy Tale From Fitzgerald's Jazz Age Classic
There's an almost childlike thrill one feels watching the early moments of Gatz, the six-hour re-enactment of The Great Gatsby that opened last night at Redcat and which runs through December 9. It comes from listening to an ensemble of committed actors perform every word of F. Scott Fitzgerald's 1925 novel as though we were being read a fairy tale by our parents. In a way, Fitzgerald's story about a mysterious man (or is he an ogre?) who lives in a Long Island castle and who pines for a young woman in marital distress is a modern fairy tale. It's also a Jazz Age fable about soul-destroying materialism, class snobbery and feelings of racial entitlement – which means it also has something for everyone in 21st-century America.
This visiting production, staged by New York's Elevator Repair Service theater company, has been around in its present form for six years. It is not, I stress, an adaptation of the book, nor a staged reading, but a literal performance of every word printed between its covers. The way it accomplishes this is pure genius. The show begins at some shlubby office, probably in New York, possibly in the early 1990s, when a man (Scott Shepherd) walks in and, after several attempts to boot up a computer, slumps at his desk and flips open a Rolodex. Inside, he finds a paperback copy of the novel, which he begins reading aloud.
"In my younger and more vulnerable years, my father gave me some advice . . ."
So begins this artifact of American Lit classes, albeit delivered in an almost defiantly flat voice by Shepherd, who, however, becomes so engrossed in the book that he cannot stop reading it. Soon he's doing so with full-throttle emotion – while his colleagues warily stare at him. The man is hooked, both on the book and on the role he now assumes — that of its narrator, Nick Caraway, a young bond dealer who has moved from the Midwest to a wealthy part of Long Island. His neighbor is the enigmatic millionaire Jay Gatsby, who has established himself here to be near his old flame, Daisy.
It takes about 20 or 30 minutes before the dozen office workers take on the roles of the novel's other characters, but when this happens the play transitions from its drab milieu to the novel's locales, where we meet Gatsby, Daisy, Tom and all the others. These characters still must navigate filing cabinets, typewriters, monitors and desks, but by now they have thoroughly brought us into the novel's world. (At least they don't have to carry the paperback with them for their script, as does Shepherd.)
Much of this, of course, is the work of director John Collins, who is responsible for the lion's share of Gatz's concept. Some of the show's set pieces are unforgettable, especially the drunken party scene that takes place in a Manhattan apartment – a long moment that beautifully captures the dangerous hubris of its revelers and their era. In a cast of standouts, the evening still belongs to Shepherd, a shape-shifter of an actor who, I was told by Collins, has actually memorized the entire novel and could, should he drop the book onstage, continue reciting its lines from heart.
With breaks and dinner intermission, the show runs about eight hours. As far as monumentally long productions go, Gatz is easily a more intellectually rewarding experience than such pop spectacles as Nicholas Nickleby, but not as emotionally challenging as Angels in America or The Kentucky Cycle. That's because Gatz is often more about itself than its source material. This isn't to say it doesn't display an understanding and affection for Fitzgerald's novel – it does, and Collins' love and respect of Fitzgerald's language are obvious.
But so much of Gatz is about its own recurring sight gags, stage business and shtick in general that, after a while, it turns into an inside joke. (ERS has a connective history with the Wooster Group and some of that company's excessive mannerisms can be glimpsed here.) The Great Gatsby certainly has a martini-dry sense of sardonic humor, but Gatz often seems like one very long gag. Which is why, toward its end, it loses some steam and theatergoers may find themselves staring at Shepherd's copy of the novel to see how many pages are left.
Gatz, by Elevator Repair Service, Redcat, 631 West Second St., Los Angeles.

A Woman's Art Is Never Done: The Feminae Exhibition
A striking juxtaposition between the past and present courses throughout the small gallery. Celia Blomberg's "International Women's Day March 8" can't help but make one think of 2017's Women's March, which occurred 37 years after the print's first appearance.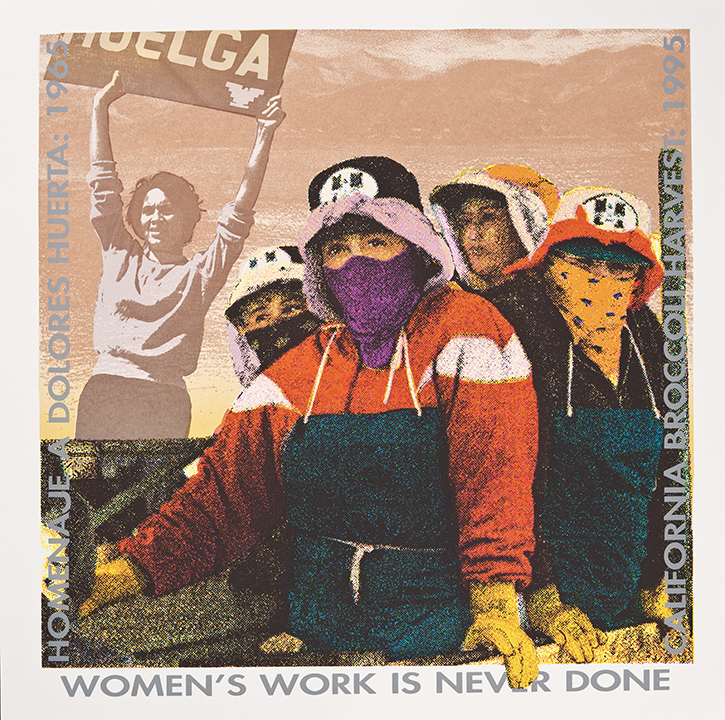 Among the 50-plus works in the Feminae: Typographic Voices of Women By Women exhibit is Yolanda Lopez's "Women's Work is Never Done." Lopez's title is particularly ironic, given the exhibit's gender-based subject matter. The show spans work from the past 50 years, making it easy to understand how much society is still grappling with its themes of gender inequality. Culled from the archives of the Center for the Study of Political Graphics, the graphic images of protest, persuasion and empowerment are truly works of art in their own right.
However, political posters aren't made to merely spruce up walls, but to help figuratively bring barriers down as well.
Two silkscreens from the 1970s, Liliana Porter and John Schneider's "This Woman is Vietnamese" and See Red Woman's Workshop's "So Long As Women Are Not Free People Are Not Free," are particularly powerful, underscoring, as they do, the fact that the subjugation and persecution of women crosses borders and cultures as an unfortunate shared global experience. These two pieces' stark simplicity exemplifies most of the work in the exhibit. In the former, a New York Times photo of a distraught Vietnamese woman with a gun held to her head is centered above these basic words typed out in a typewriter font: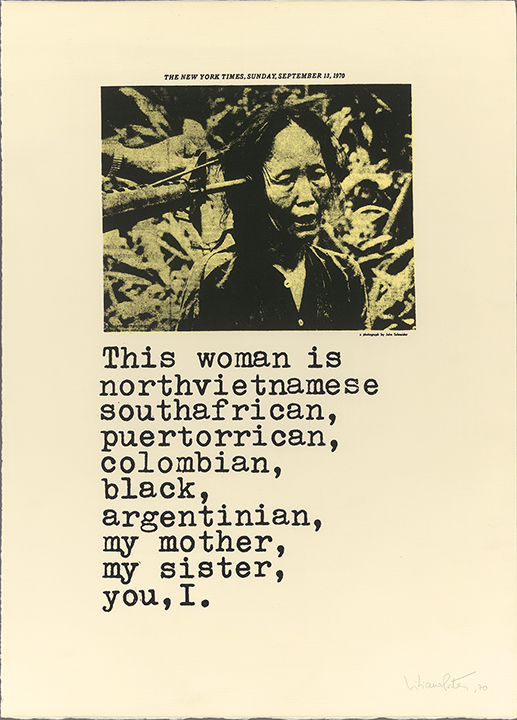 This woman is
northvietnamese
southafrican
puertorrican,
colombian,
black,
argentinian,
my mother,
my sister,
you, I.
By juxtaposing the photo with these words, the creators take the plight of this woman and immediately globalize her pain. In the latter, three female demonstrators are silkscreened in red onto a yellow background. They are marginalized by being stuck in the lower left third of the poster, but two of them are raising their fists skyward and their mouths are open, screaming in defiance. Its non-serif, eponymous type reads: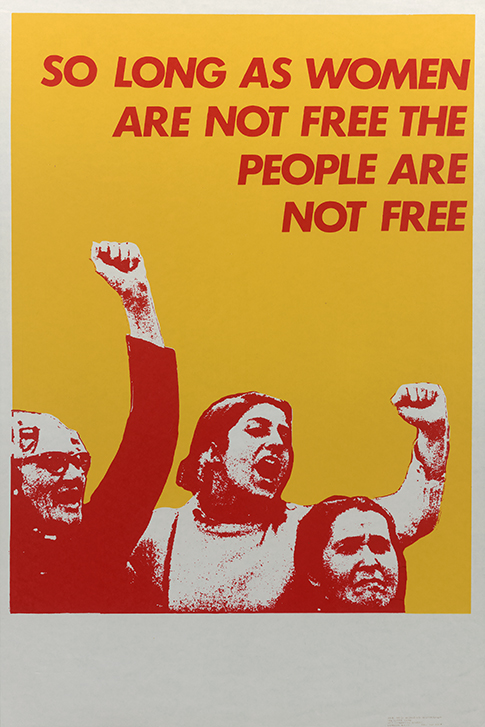 SO LONG AS WOMEN
ARE NOT FREE THE
PEOPLE ARE
NOT FREE
This piece's message takes the global message even farther, making the plight of women a human one — a common theme in the exhibition.
There is also a striking juxtaposition between the past and present that seethes throughout the small gallery. Celia Blomberg's "International Women's Day March 8" can't help but make one think of 2017's Women's March that would take place 37 years later. See Red Woman's Workshop's 1977 "Black Women Will Not Be Intimidated" could easily be repurposed to address the recent spate of blue-on-black brutality. Notable works by Barbara Kruger, Sister Corita Kent and the Guerilla Girls are also included.
Ironically , while it can be surmised that most of these works were made as populist posters to be distributed at the time as banners of protest, their beautiful simplicity and nostalgic elegance probably have resulted in the originals (mostly now found in art museums) sporting hefty vintage-resale prices.
But it is not just the art that has stood the test of time. The fact that the issues addressed in the show — feminism, choice, gender equality, war, immigration, police brutality or violence against women — are all issues at the forefront of debate in 2018 ultimately engenders conflicting feelings.
On one the hand, it is inspiring to see a vibrant exhibit that showcases such diversity in artistic styles, no doubt spawned by the diversity of the artists' own backgrounds. On the other hand, there is a realization that while there has been some progress over the past half century, there is so much work to be done.
Art Center's Hoffmitz Milken Center for Typography, 950 South Raymond Ave., Pasadena; through May 15.
---
Copyright Capital & Main