"Gatz": A Modern Fairy Tale From Fitzgerald's Jazz Age Classic
There's an almost childlike thrill one feels watching the early moments of Gatz, the six-hour re-enactment of The Great Gatsby that opened last night at Redcat and which runs through December 9. It comes from listening to an ensemble of committed actors perform every word of F. Scott Fitzgerald's 1925 novel as though we were being read a fairy tale by our parents. In a way, Fitzgerald's story about a mysterious man (or is he an ogre?) who lives in a Long Island castle and who pines for a young woman in marital distress is a modern fairy tale. It's also a Jazz Age fable about soul-destroying materialism, class snobbery and feelings of racial entitlement – which means it also has something for everyone in 21st-century America.
This visiting production, staged by New York's Elevator Repair Service theater company, has been around in its present form for six years. It is not, I stress, an adaptation of the book, nor a staged reading, but a literal performance of every word printed between its covers. The way it accomplishes this is pure genius. The show begins at some shlubby office, probably in New York, possibly in the early 1990s, when a man (Scott Shepherd) walks in and, after several attempts to boot up a computer, slumps at his desk and flips open a Rolodex. Inside, he finds a paperback copy of the novel, which he begins reading aloud.
"In my younger and more vulnerable years, my father gave me some advice . . ."
So begins this artifact of American Lit classes, albeit delivered in an almost defiantly flat voice by Shepherd, who, however, becomes so engrossed in the book that he cannot stop reading it. Soon he's doing so with full-throttle emotion – while his colleagues warily stare at him. The man is hooked, both on the book and on the role he now assumes — that of its narrator, Nick Caraway, a young bond dealer who has moved from the Midwest to a wealthy part of Long Island. His neighbor is the enigmatic millionaire Jay Gatsby, who has established himself here to be near his old flame, Daisy.
It takes about 20 or 30 minutes before the dozen office workers take on the roles of the novel's other characters, but when this happens the play transitions from its drab milieu to the novel's locales, where we meet Gatsby, Daisy, Tom and all the others. These characters still must navigate filing cabinets, typewriters, monitors and desks, but by now they have thoroughly brought us into the novel's world. (At least they don't have to carry the paperback with them for their script, as does Shepherd.)
Much of this, of course, is the work of director John Collins, who is responsible for the lion's share of Gatz's concept. Some of the show's set pieces are unforgettable, especially the drunken party scene that takes place in a Manhattan apartment – a long moment that beautifully captures the dangerous hubris of its revelers and their era. In a cast of standouts, the evening still belongs to Shepherd, a shape-shifter of an actor who, I was told by Collins, has actually memorized the entire novel and could, should he drop the book onstage, continue reciting its lines from heart.
With breaks and dinner intermission, the show runs about eight hours. As far as monumentally long productions go, Gatz is easily a more intellectually rewarding experience than such pop spectacles as Nicholas Nickleby, but not as emotionally challenging as Angels in America or The Kentucky Cycle. That's because Gatz is often more about itself than its source material. This isn't to say it doesn't display an understanding and affection for Fitzgerald's novel – it does, and Collins' love and respect of Fitzgerald's language are obvious.
But so much of Gatz is about its own recurring sight gags, stage business and shtick in general that, after a while, it turns into an inside joke. (ERS has a connective history with the Wooster Group and some of that company's excessive mannerisms can be glimpsed here.) The Great Gatsby certainly has a martini-dry sense of sardonic humor, but Gatz often seems like one very long gag. Which is why, toward its end, it loses some steam and theatergoers may find themselves staring at Shepherd's copy of the novel to see how many pages are left.
Gatz, by Elevator Repair Service, Redcat, 631 West Second St., Los Angeles.

'Skeleton Crew' Is a Play With a Moral Spine
Set in a Detroit automobile outfitting plant, Dominique Morisseau's drama grabs you from the start with its focus on blue-collar men and women, and their struggle for dignity and self-respect.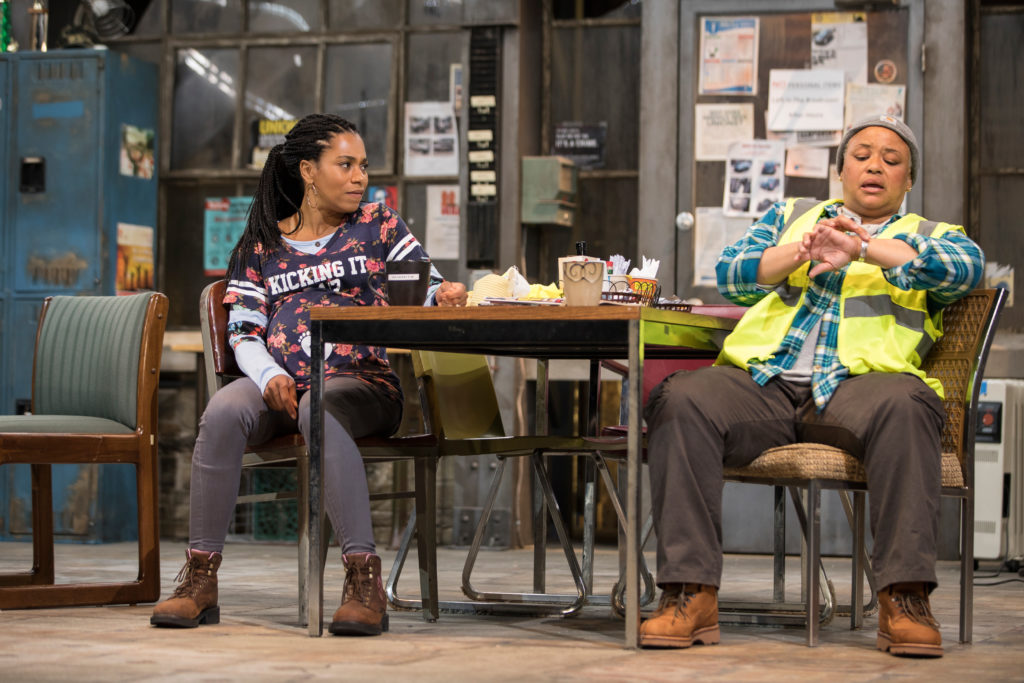 Working-class men and women of color are rarely front and center in today's media and, likewise, are presented all too occasionally on the American stage. So it's buoying to see that trend bucked in playwright Dominique Morisseau's percipient and well-crafted drama, Skeleton Crew. The play is the final installment in her Detroit  Project Trilogy; the first, Paradise Blue, is set in the 1940s amidst displacement caused by urban renewal and gentrification, while the second, Detroit '67, transpires on the eve of the 1967 Detroit riots sparked by a police action.
Directed by Patricia McGregor at Los Angeles' Geffen Playhouse, Skeleton Crew is a play with a moral spine. It takes place in 2008, when the shrinking U.S. auto industry is being further downsized. Morisseau's engaging quartet of characters — Faye (Caroline Stefanie Clay), Dez (Armari Cheatom), Shanita (Kelly McCreary) and Reggie (DB Woodside) – are employed at an automobile outfitting plant. Faye, Dez and Shanita are workers on the line while Reggie (who has a wife and kids, and has pulled himself together after a troubled youth) is their supervisor.
The first three customarily mingle in their break room (designer Rachel Myers' impressively cluttered, dingy and detailed set), trading the sort of familiar barbs and genuine concern for each other common among longtime co-workers. They also face off on philosophy: Upper-middle-aged Faye and the younger, pregnant Shanita take pride in their labor, while Dez, though a good worker, is a malcontent scornful of management and firm in the belief that everyone needs to watch out for himself. He's a thorn in Reggie's side, for while Reggie wants to be supportive of his workers, he must act at the behest of higher management. For his part, Dez resents Reggie's authority, and a palpable unease exists between them.
Besides this male matchup, we're made privy to Dez's attraction to Shanita, who mostly turns away his advances, but every now and then displays a hint of interest. Most poignant is Reggie's regard and affection for the lesbian Faye, which has roots in his boyhood when she loved, and lived, with his now-deceased mom.
These people's various predicaments intensify when rumors spread of the plant's shutdown — a disaster for all, but a particular calamity for the already near-broke Faye who, one year short of retirement, would lose her pension. The crisis forces each of these people to make a choice.
A sound piece of social realism, Skeleton Crew grabs you from the start in its focus on blue-collar men and women, and their struggle against odds for dignity and self-respect. Morisseau not only furnishes these characters a platform for their travails, she endows them with strong values, big hearts and the opportunity to choose between right and wrong.
Unfortunately, the performance I attended did not soar. Many exchanges lacked a fresh edge. The actors certainly had their characters down, but too often they appeared to be coasting on technique. (This seemed particularly true of Clay, who performed the role to great accolades in Washington, DC in 2017, also under McGregor's direction). Additionally, some of the stage movement was not entirely fluid; in confrontations, actors sometimes would just stand and face each other in an artificial way. And Cheatom's interpretation of Dez struck me as a bit overly churlish and depressive: I needed more glimpses of the intelligence and edge that would secretly attract the strong, self-directed Shanita.
The most compelling moments belong to Woodside, well-cast as a man trying his best in difficult circumstances to do the right thing.
---
Gil Cates Theater at the Geffen Playhouse, 10886 Le Conte Ave., Westwood Village; Tues.-Fri., 8 p.m.; Sat., 3 & 8 p.m. Sun., 2 & 7 p.m.; through July 8. (310) 208-5454 or www.geffenplayhouse.org