Garcetti and Greuel Take the Pledge: No Walmart Money
Update: KPPC FM's Hayley Fox reports that L.A. City Councilwoman and mayoral candidate Jan Perry is also declining Walmart campaign funds.

Los Angeles' two top mayoral candidates announced Thursday they will not accept campaign contributions from Walmart, which is locked in a battle with community and labor groups over the retail giant's plans to open a 3300-square-foot grocery store in Chinatown.
The pledges by L.A. City Councilman Eric Garcetti and his chief opponent, City Controller Wendy Greuel, bring new focus to Saturday's protest march and rally against Walmart. Both candidates have endorsed the June 30 action.
"Los Angeles loses if we run a race to the bottom in terms of wages and working conditions," Garcetti said. "Our economy needs good middle class jobs to get back on track, and that's what we should be working toward."
The two candidates urged other elected politicians to also refuse money from Walmart. The councilman and controller noted Walmart's documented abuse of its employees and the corrosive economic effects the arrival of the company's stores have on communities. Besides Chinatown, Walmart has plans to insert its outlets in a number of Los Angeles County communities.
"For far too long corporations like Walmart have been getting special treatment, while middle-class families have been struggling in this tough economy and bearing the brunt of the tax burden," said Greuel.
Greuel and Garcetti join U.S. Congresswoman Judy Chu, who earlier this month pledged never to take Walmart money.
"We as elected officials need to make it crystal clear that we will not stand for this attack on our workers and our neighborhoods," said Chu. "And what better way to do that than for us…to turn down Walmart's money?"
The Tests Facing California's New Governor
Gavin Newsom now leads the state with the nation's biggest economy and largest population — and one riven by economic inequality. What will be his most important challenges?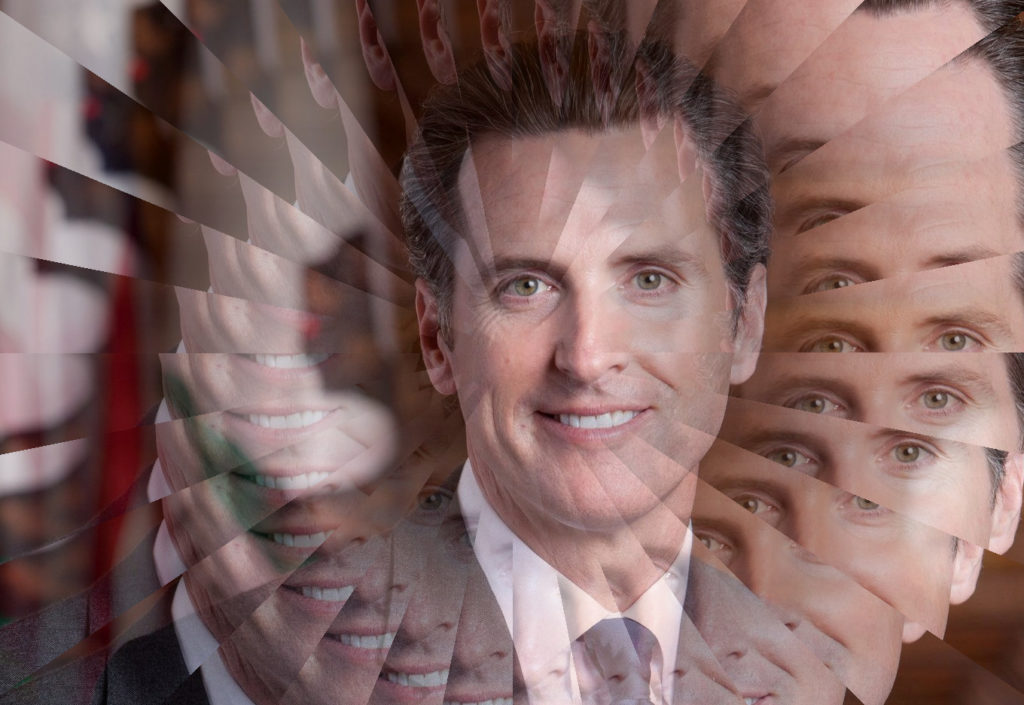 Gavin Newsom inherits a state that should be any governor's dream: A California that is the cradle of the tech revolution and brims with prosperity, a one-party state with supermajorities in both chambers for Newsom's Democrats. But there are clouds darkening the horizon: Daily prophecies tell of coming economic storms; legislative initiatives taken on behalf of immigrants, retirement security and the stemming of global warming are increasingly thwarted by a bellicose White House. And that Democratic Party monopoly in Sacramento masks a deepening ideological fault line dividing pro-business moderates and progressives – the latter of which have largely chafed for the last 16 years under the thrifty administrations of Jerry Brown and Arnold Schwarzenegger, and are eager to burst out with far-reaching (if pricey) legislation.
Then, there are memories of three high-riding liberal governors (Pat and Jerry Brown, and Gray Davis) whose programs or careers were derailed by resentful taxpayers. There are more recent memories, too: Of an impulsive, hard-partying San Francisco mayor whose blunted ambitions led him to spend eight years in the ceremonial wilderness of the lieutenant governor's office. Newsom is said to have matured into a more circumspect, pragmatic politician, although some of the old doubts were fanned back to life by an unflattering New Yorker profile that appeared shortly before his landslide victory November 6.
Perhaps overriding all these auguries is the undeniable fact that despite its enviable economy, its abundance of billionaires-in-residence and laudable array of social services, California still has the highest poverty rate in the U.S., nearly half of its children live in poverty or near-poverty, and merely finding an affordable place to live has become an existential challenge for many. These and similar factors superimpose on the state another kind of fault line, that of economic inequality. Most of the new governor's time will be spent wrangling crises that spring from this disparity. Which is why the following Capital & Main stories primarily focus on the inequality that separates so many Californians from one another.
Affordable Housing, by Jessica Goodheart.
Single-Payer Health Care, by Gabriel Thompson.
Climate Change and Big Oil, by Judith Lewis Mernit.
Inequality Interviews with Manuel Pastor, Ann Huff Stevens and David Grusky.
Early Childhood Education, by Bill Raden.
Inequality in California: Six Takeaways.
---
Copyright Capital & Main