Future Shock: A Letter from 2060
(Editor's Note:  This is an encore posting from our State of Inequality series.)
March 1, 2060
Dear Granddaughter,
Just the other day, you asked me two questions that I failed to answer. How did California get into the fix it's in today? And, a half century ago, when I was writing regularly about our home state, did anyone see this future coming?
I must confess the real reason for my evasion was that your questions reminded me of a document from those days that I couldn't immediately put my hands on. It took me a week but I finally found it on a very old laptop computer I still hang onto. (I know, I know, I'm a dinosaur!)
This artifact is dated 2010, and it's a map of sorts — not of a city but of a future. California's future. The map was the result of a process of envisioning undertaken by two different research centers at the University of California and of a little-known think tank in Palo Alto known as the Institute for the Future.
We had reason to be afraid about the future then. California, for all its wealth and advantages, looked to be in a precarious position in the second decade of the 21st century. The state's government was broken, with its budget and tax systems unable to produce the kind of investments to make every child educated and healthy.
No one paid much attention to the map when it came out. People were so busy in those days, in the midst of the first Great Recession, that they didn't think that much about what California would become. Anyway, some smart people talked to a lot of other smart people and did a lot of thinking, and they came up with this map.
To be precise about it, it wasn't just one future they mapped – it was four different futures, four different possibilities of what the future of California could bring.
One of those four scenarios made an immediate impact on me. Because it was just so scary. On the map it was labeled the Collapse Scenario.
The path to this future began with a huge natural disaster—a series of earthquakes, perhaps triggering related disasters (like flooding from levee collapses). A recession ensued. The disaster would be so big that the public sector couldn't afford to fix up the state. The private sector, already powerful and wealthy, tried to fill the void by privatizing basic services: water, police and education. The University of California system was completely privatized—truth be told, we were almost already there in 2015 – and its mission was refocused on producing research scientists and technologists who could produce new wealth for the wealthy.
Under this future, the map of California itself changed. The Bay Area and the San Diego-Orange County region split off and became separate, wealthy and walled-off metro areas. Much of the rest of the state slipped into slum-like conditions. Crime, after historic declines in the late 20th and early 21st centuries, rose – as did school dropout rates, as more people tried to support their families with low-skill labor jobs. The state's agricultural system, weakened by the privatization of water and infrastructure, failed.
This vision – of what would happen if a profoundly unequal society remained unchecked — didn't make much news when it was released. Maybe that was because people didn't pay attention to think tanks. Or maybe it was because this vision of the apocalypse didn't feel like news. We felt like we'd seen it all before in apocalyptic stories and films. A 2014 novel, Edan Lepucki's California, which became popular after a comedian named Stephen Colbert encouraged his fans to buy it as a protest against the mega-retailer Amazon, envisioned a similar Armageddon, with most Californians living off the land while a few pockets of heavily guarded urban wealth remained.
I know what you're thinking. Things didn't turn out exactly like that, Grandpa. And you're right. So I should point out that the map of California's future had three other scenarios, each quite different.
One, called Smart State, suggested that California would grow as at least some people became smarter and smarter – at technical know-how, at entrepreneurship, at cutting-edge design in food, fashion and transportation. (That's how we got the infamous start-up that sold those beautifully designed, self-driving suicide kits, with the poison embedded in Swiss chocolate and Napa wine). We would get so good at using data that smart systems would manage almost everything in our homes and lives. The trouble, of course, was that those who weren't highly educated and well-paid couldn't get in on the smart growth, and the rich-poor gap in this smarter state widened.
In still another scenario, called Culture Commons, the state didn't grow very much – what, with fewer people arriving and a declining birth rate. And so California made a virtue out of that lack of growth by reining in demand for natural resources. The culture shifted to focus on things that didn't cost so much money – individual and community acts of conservation and the development of community-based creative arts. This new culture emphasized low-cost collaboration and the building of common systems for community health and small-scale food distribution. California, under this scenario, would become a poorer and less dynamic place, but it would a more cohesive and energy efficient place. (At least there would be less traffic).
And finally, the map offered what I thought of back then as the most optimistic vision. Transformation Scenario, they called it. Californians would make "fundamental changes in the way they organize themselves," transforming "the institutional landscape of California." Old institutions wouldn't disappear but they'd be replaced by new ones that would build connections between people to provide health, education, food production and manufacturing in more efficient and cheaper ways. This California would be dominated more by networks than institutions, with new kinds of communities and new ways of providing emergency responses and caring for an aging population. As a result, the very nature of growth and value would change. And so would how we consume and buy and sell, with new types of currency and exchanges, often relying on the interactive architectures first used in that era's video games.
Isn't it uncanny how things turned out? That all four scenarios, in one form or another came to pass?
For, as predicted in the Collapse Scenario, we saw the state, strapped for cash and its leaders with little discretion, unable to respond effectively after the great quakes, dam collapses and fires of 2023 and 2024, and the resulting Second Great Recession. (I still cry sometimes when I think of how we never bothered to rebuild Sacramento and Bakersfield). And yes, we still see people with wealth accumulated over many years retreating into enclaves, and we know that many of our oldest institutions, including the University of California, exist as smaller, privatized versions of themselves.
And, as predicted by the Smart State scenario, we couldn't imagine life in the second half of the 21st century without all the databased smart technologies that run every aspect of our lives. And we know all too well that the benefits of these advances have accrued to the most technologically adept among us.
But, as also predicted, we've seen a more robust commons, and exponential growth in the arts and collaborative experiences that enrich our lives. Work may change, but music and theater seem like the sturdiest of ties between eras. And, finally, we've seen the Transformation Scenario comes to pass, with new institutions slowly replacing the old. Of course, that long-ago scenario didn't tell us just how painful and costly even the most positive transformations would be.
Of course, we never anticipated the ways in which these disparate changes would fit together – or, as you know, not fit together. We never appreciated how the biggest differences in California would be between different regions and different communities – and within our regions and communities.
We didn't think of how enclaves of old wealth would sit right beside new or transformed institutions. We didn't give much thought to the confusion that would be created by all this change in so many different directions. We thought there were divides in our society then, but those splits seemed manageable compared to the confusing and chaotic and complicated divides that appear like plagues today. (I should add: no one anticipated how much of a godsend Mexico would be, with its middle class that took off early in the 21st century and just kept growing. We really couldn't have done without all their investment and aid, and the good advice on democratic governance that came from Mexico City, the national capital closest to California.)
The future fulfilled some of our worst fears about inequality, and some of our fondest hopes about better communities, at the very same time. I know you are worried about which way things will go from here. We did too. But the good news is that you don't need an armed guard and a passport to visit San Francisco or San Clemente, and you don't have to take on $1 million in debt to get a degree from UC Davis, as one part of that 50-year-old map predicted. If you work at bridging the big divides in the society, your problems won't go away. But they will be, at the very least, different than you expected.
---
(Joe Mathews is an editor and columnist for Zócalo Public Square and has reported for the Los Angeles Times, Wall Street Journal and Baltimore Sun. He is co-author of California Crackup: How Reform Broke the Golden State and How We Can Fix It.)

Diablo in the Details: Who Will Shoulder the Costs of a Nuclear Power Plant Shutdown?
Built atop an earthquake fault on an idyllic California sea cliff, the Diablo Canyon nuclear plant has hardly gone a day in its history without stirring controversy.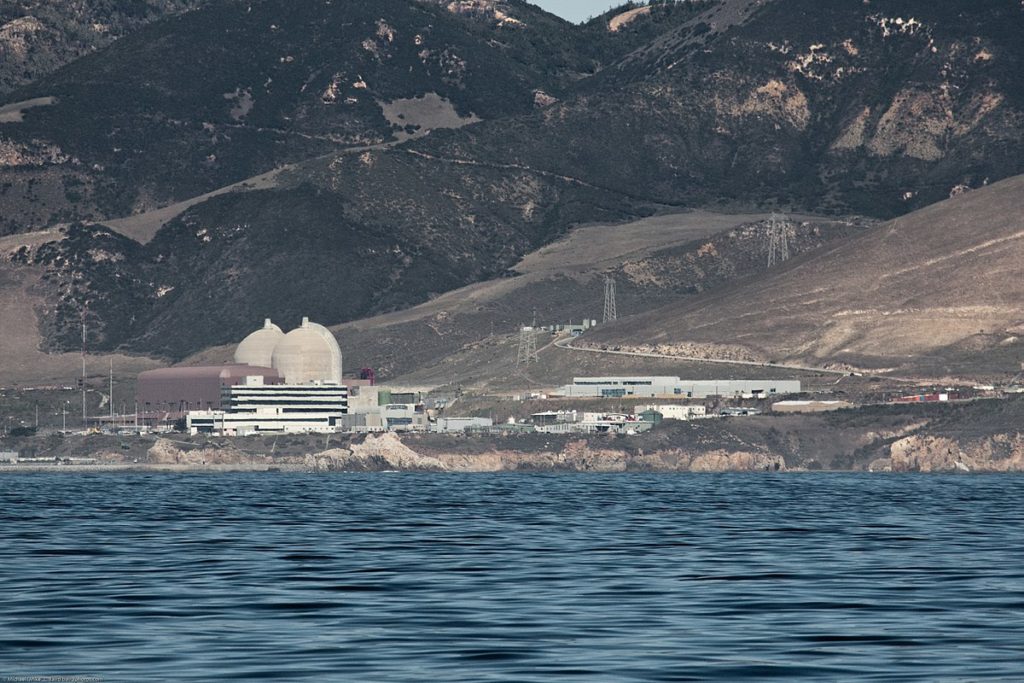 The agreement was lauded as historic. Environmental groups, labor and the state's largest electrical utility had come together in the summer of 2016 and crafted a joint proposal to shutter California's last nuclear power plant. For the enviros, who had opposed the plant since the San Francisco-based utility Pacific Gas & Electric first proposed it more than a half century ago, there would be the promise of clean energy to replace the plant's annual 18,000 gigawatt-hours of electricity, supplying three million homes — 20 percent of PG&E's service area — with energy free of greenhouse gases. For labor, represented by the International Brotherhood of Electrical Workers Local 1245, there would be ample funds to retain skilled workers, and retrain the ones losing their jobs.
There was even $85 million in "community impact mitigation" funds for the local community to offset lost property taxes and other costs to the local economy.
With this agreement the utility would finally secure the California Public Utilities Commission's approval to unplug and dismantle Diablo Canyon's two units when their federal licenses expire in 2024 and 2025.
The approval to unplug, at least, was granted. An administrative law judge with the utilities commission responded to the joint proposal with a proposed decision, authorizing the utility to take the Diablo Canyon facility off the grid six years from now. But the revised proposal denied PG&E the $1.76 billion it had requested for the suite of benefits in the joint proposal. Instead, it authorized the utility to recover from its customers exactly $241.2 million for costs associated with the plant's retirement. It shifted the responsibility for community impacts to the legislature, and punted the issue of replacement power to the utility. And it cut what was a proposed $363.4 million to retain and retrain workers by more than a third.
On January 11, the commissioners adopted a final decision that made only modest changes to the proposed decision as written by the administrative law judge.
Peter Miller, western energy project director with the Natural Resources Defense Council, says his organization was disappointed with the cuts. "We'd struck a great deal with the labor union on Diablo Canyon," he says. Retiring a nuclear plant is, in terms of economic consequences, the same as powering down a coal plant. Avila Beach, where the plant sits, is a company town, organized around a "big, old power plant that doesn't fit the modern grid," Miller says. "Instead of just turning the key and abandoning the plant, the town and the workers, we wanted to find a more collaborative way to retire the plant and jumpstart the replacement process."
The joint proposal had also been crafted to avoid what happened at the San Onofre plant in 2013, when cracks in a new steam generator's tubing caused the plant to shut down suddenly and permanently. All but 400 of the plant's 2,200 or so workers lost their jobs, and Southern California Edison, the plant's major owner, replaced much of the nuclear plant's emissions-free generation with polluting natural gas.
On March 16, State Sen. Bill Monning (D-Carmel) and Assemblymember Jordan Cunningham (R-San Luis Obispo) announced SB 1090, a bill that would require the commission to restore certain elements of the joint proposal, including the full funding for workers. The law also stipulates that clean energy must replace what the nuclear plant produced. Monning's bill will also allow PG&E to bill customers for the proposal's original $85 million to soften the blow to the community when the plant shuts down.
"San Luis Obispo County agreed to house the Diablo Canyon Nuclear Power Plant, which provides power to more than three million people and benefits Californians despite the negative repercussions," Monning said in a statement. "The County and its residents deserve to be compensated for the impacts they will incur when the plant shuts down."
But do they? Matthew Freedman, a staff attorney with The Utility Reform Network (TURN), warns that it's not PG&E shareholders paying the costs of the plant's retirement. The utility will recover the costs in customers' bills. He worries that what he calls Monning's "end run" around the utilities commission's decision could set an expensive precedent for any community with a power plant nearing the end of its natural life.
"We're sensitive to the fact that communities have been reliant on Diablo Canyon for employment and revenue," he says. But there was never any expectation that the plant was going to operate beyond the end of its current license. The costs of an aging nuclear plant, combined with competition from natural gas, rooftop solar and rapid gains in energy efficiency, mean that the electricity once touted as "too cheap to meter" will soon be too costly to produce. "That's been known for decades," Freedman says.
If SB 1090 passes, "it will embolden every community where a power plant is closing to have their representative run a bill in the legislature to get a chunk of money on everyone else's dime," Freedman says. He notes that the Orange County communities around San Onofre didn't get a payout when that plant shutdown. "Perhaps," Freedman says, "this will give them ideas."
Built near an earthquake fault on an idyllic California sea cliff, the Diablo Canyon nuclear plant has hardly gone a day in its history without stirring controversy. Pacific Gas & Electric announced plans to build it in 1963, but more than 20 years passed before it went into service, thanks in part to organized opposition to the plant during a time when people in the U.S. had ecology on the brain. Mothers for Peace, founded in 1969 to protest U.S. involvement in the Vietnam War, shifted its energies in 1973 full time to stopping the construction of Diablo Canyon; a group called the Abalone Alliance formed in 1977 specifically to oppose the plant. Their members pored over legal and technical documents, dragged PG&E through lawsuits, and when that didn't work, chained themselves to fences to stop machinery. Jackson Browne was arrested for his part in the protests in 1981; Jerry Brown, California's governor then as now, vowed to do everything in his power to shut the project down.
Plant opponents were not without cause. In 1971, oil company surveyors had discovered an offshore fault sufficiently long to produce a 7.5 magnitude earthquake less than three-and-a-half miles from the site of the two reactors under construction. As Diablo Canyon had only been designed to withstand a magnitude 6.75 quake, PG&E was forced to redesign the plant to a higher seismic standard. As late as 1981, under pressure from activists, the Nuclear Regulatory Commission was suspending PG&E's license to test and operate the plant until it could pass several seismic tests. The delays were expensive. When Diablo Canyon's first reactor finally went online in 1985, PG&E customers were on the hook for $5.8 billion in construction costs, roughly $5.2 billion more than the original 1968 estimate.
Pacific Gas & Electric has been recovering those costs, along with any other capital expenditures, via its customers' bills since the start of the plant's life. Matthew Freedman doesn't think the utility should be able to tack more on at the end. "PG&E loves to provide money collected from ratepayers and act like they're engaging in a charitable endeavor like a good corporate citizen," he says. "But there's nothing in [Monning and Cunningham's bill] that assigns any responsibility to the utility."
With or without support for workers and local residents, however, no new fuel rods will be loaded into Diablo Canyon's reactors after 2025. The steam generators will power down, and electricity production will cease. The plant will stand for a time, as San Onofre does, a relic of a bygone era, as workers begin the multi-billion-dollar process of relocating spent fuel from pools to heavy steel casks, decontaminating the plant's radioactive innards and removing its crapped-out equipment. And for the first time since 1957, when the ill-fated Santa Susana Sodium Reactor began operations near Moorpark, California, California's grid will be free of nuclear power.
---
Copyright Capital & Main