For Now, California Bails on Bail Reform
Co-published by The American Prospect
The consensus among policy experts remains: Something should be done about California's money-bail system, which most affects the poor. But the bail-bond industry — and politics — continues to be an obstacle.

(Photo by Robert Gauthier/Los Angeles Times via Getty Images)
Co-published by The American Prospect
Over 60 percent of the county jail population in the Golden State is composed of "inmates awaiting trial or sentencing," according to one report. That's about 50,000 people on any given day.
---
F
ew will defend, on principle, keeping someone behind bars just because they don't have the money to get out. In practice, however, while anyone awaiting trial is considered innocent until proven guilty, there are tens of thousands of people — many of whom will never be convicted of anything — sitting in jail cells right now due not to a criminal conviction, but simply because their bank accounts are empty.
But efforts to reform that system in California, one of the United States' leading jailers, have always met the same fate, following an intense push by the multinational bail industry. In 2013, a reform measure passed the state Senate "but died in the Assembly after heavy lobbying" from that industry, as the Los Angeles Times reported.
This year, a measure that would have largely done away with money bail died on the Assembly floor by a vote of 37 to 35; its Senate companion, SB 10, passed that chamber, but on August 25 it was announced that this legislation would not be taken up until next year, its sponsors saying they plan to work with Governor Jerry Brown this fall.
"Nobody will sit there and tell you the bail system isn't broken," Andrew LaMar, communications director for California state Senator Robert Hertzberg, told Capital & Main before the August 25 announcement. Liberal California is an example of that: A broken system that all, including those who profit from it, will concede is deeply flawed. It's actually changing that system which regularly proves controversial, with self-styled critics of the status quo funding politicians and lobbyists in a campaign to preserve it.
Over 60 percent of the county jail population in the Golden State is composed of "inmates awaiting trial or sentencing," according to a 2015 report from the Public Policy Institute of California, a nonpartisan think tank. That's about 50,000 people on any given day.
Many of those detained won't be found guilty of anything: A third of those charged with a felony in 2015 were never convicted of one, per the California Attorney General's office, and those who are convicted often receive sentences that do not entail any time behind bars, meaning the totally innocent can be deprived of their liberty for longer than a convicted felon. And anyone who is bailed out — charged or convicted or not — never gets back the money paid to secure their release.
As Human Rights Watch noted in an April 2017 report on bail in California, "The state jails large numbers of people for hours and days against whom prosecutors never even file criminal charges." And those people, who can't afford bail that is five times higher than the rest of the country, "are overwhelmingly poor, working class, and from racial and ethnic minorities."
It's hard to find anyone who will defend that, even at an industry trade association. "Is it overused? Is it abused in some places? Is it set too high? Sure," says Jeff Clayton, executive director of the American Bail Coalition. "There are problems."
One problem with changing the current system is, as is often the case, to be found in the details. Clayton argues that, while no one should be denied their liberty due to insufficient funds, practically doing away with bail altogether could mean empowering a judge to impose more onerous monitoring requirements than already exist.
"We realize something needs to be done," Clayton tells Capital & Main, "but this is like doing a playbook of what the national talking points are, rather than really digging into the problems in California."
"
T
his" is Senate Bill 10, introduced by Senator Hertzberg. The legislation, passed by the Senate, would have largely done away with money bail, replacing it with pretrial risk assessments that a judge could use to decide whether someone accused of a crime is a flight risk or danger to the public. Bail would be an option, but only if deemed necessary to ensure someone's return. It would no longer be the default.
"Once we got a bill through the Senate, they started to go crazy," LaMar, the Hertzberg aide, said of the pro-bail lobby. "For them it's DEFCON 1. We knew that was going to happen."
What's arguably changed is what now constitutes the "bail industry," where there are billions to be collected.
"It's the insurance companies that are the people to watch here," Margaret Dooley-Sammuli, criminal justice and drug policy director at the American Civil Liberties Union of California, tells Capital & Main. "They are spending a lot of money to hire lobbyists and make contributions, and to work behind the scenes to stop reform."
As detailed in a May 2017 report from the ACLU and Color of Change, a handful of big insurance companies underwrite most of the $14 billion in bail bonds issued every year.
One of those companies is Tokio Marine, a multinational insurance company with "an entire department exclusively dedicated to providing bail bond services," according to its website.
"For the first time ever," says ACLU spokesperson Daisy Vieyra , "they hired a lobbyist here in California, specifically to derail the bail reform legislation."
Tokio Marine did not respond to a request for comment, but a disclosure form filed by the Sacramento-based lobbying firm Aaron Read & Associates reveals that the company hired the group in April 2017 to lobby the California legislature and Governor Jerry Brown on bail legislation.
B
etween 2000 and 2012, the bail industry spent
upwards of $500,000
on lobbying in California, according to the Justice Policy Institute. It has also been donating. The American Bail Coalition, which represents insurance companies such as Lexington National, Whitecap Surety and the American Surety Company, dropped $1.2 million in California campaign contributions in 2014 alone, according to the ACLU.
The chair of the ABC Board, Bill Carmichael, also serves as chairman of the American Legislative Exchange Council's Private Enterprise Advisory Council. ALEC is known for drafting legislation, designed for states, with one such bill, the Uniform Bail Act, calling for the elimination of "pretrial services" wherever they might exist — SB 10 would create them — in favor of money bail.
ALEC has also lobbied states to create new forms of bail: In Mississippi, people who can't afford a fine are turned over to bondsmen, who now administer payment plans, for a profit, and track down those who have been fined if they should ever stop paying. This is known as "post-conviction bail."
In California, the industry isn't so ambitious, merely seeking to beat back reform, not legislate into existence a new line of business. While supporters of SB 10 sounded optimistic, pointing to a broad coalition and a consensus that something should be done, the industry boasted of past success in defeating reform, and of allies in law enforcement who see bail as a means of detaining suspects for interrogation and pressuring them to accept plea bargains while in custody.
"Bail reform in California is imminent," Senator Hertzberg said in an August 25 press release. Indeed, the consensus among policy experts remains: Something should be done. But industry — and politics — continues to be an obstacle: That was the press release announcing that imminent reform would be delayed.
Governor Jerry Brown is more cautious with respect to criminal justice reform than many of his state's liberal Democrats, but his endorsement of bail reform could help ensure its passage; it's just a question, now, of what that reform will look like following his collaboration with lawmakers for whom reform means something more radical.
---
Copyright Capital & Main

State Senator Predicts "Sledgehammer Time" If GOP Tax Bill Passes
Holly Mitchell, a leading legislative advocate for children and low-income Californians, says the state may return to the days of budget cutting if the current Congressional Republican tax plan becomes law.

State Senator Holly Mitchell (All photos by Joanne Kim)
Holly Mitchell, the state Senator who represents Los Angeles' heavily blue-collar 30th District, has been called by one colleague the "social conscience of the entire Senate." A personable policy wonk whose career included a stint as chief executive of Crystal Stairs, a child development nonprofit, Mitchell chairs the Senate Budget Committee — the first African-American woman to do so. She recently sat down in Pico-Fairfax with Capital & Main at the Paper and Plastik Cafe to talk about the possible effects of the Republican tax bill on California's poor.
---
Capital & Main: Taking the temperature between now and New Year's, what's your prognosis for the House and Senate tax bills?
Senator Mitchell: The GOP tax plan is a redistribution of wealth from the poor to the rich or semi-rich. It gambles away the health care of poor people and this is unacceptable.
I'm so disappointed with the work of the [U.S.] Senate Budget Committee. I can't imagine being a legislator, getting a report from the Congressional Budget Office that says the things it says about these bills — and voting to pass it. Did they ignore it? Did they not care?
One Senator, when interviewed, expressed concern about the bill's potential to make the deficit skyrocket. When asked if that was enough to make him not vote for it he said, "I'm not sure. I'm still working on it."
Senator Mitchell: The whole point of having the support of fiscal analysts and the Congressional Budget Office, with their independent status, is to provide you with critical data to help you make a decision. How can you say, "Oh yeah, that's bad, but I'm not sure if I'm going to go forward on this or not"? Politics is continuing to trump — lowercase T—what's best.
Is Sacramento concerned?
Senator Mitchell: Am I concerned? Yes! But I think what I'm more concerned about now is the Healthy Families Program.
This is the entitlement for California families who aren't poor enough for Medi-Cal — but don't earn enough to have private insurance.
Senator Mitchell: It provides care for about two million kids [and] requires federal reauthorization. And [Congress] has not reauthorized it. That could have immediate impacts on California's budget. It's a separate process [from the federal tax bills] but they have already missed the deadline.
It's also been said that the tax proposals could undermine affordable housing construction in California because they would affect the credits and tax breaks that developers receive.
Senator Mitchell: Yes, which are critical for developments to pencil out. Given how far behind we are in terms of our housing-unit need, it would be devastating. L.A. County has done amazing things — voters have said yes to Prop M, yes to Prop HHH. All of that could be compromised — this delicate balance where developers can come in, get these credits to build affordable units. We're already behind the eight ball in terms of our need. This would be yet another blow.
Defenders of the tax bill say everybody will get their taxes cut initially. Then by 2027, according to the Congressional Budget Office, middle- and low-income people will experience a net loss.
Senator Mitchell: They claim that they're protecting "the middle class" — folks who make $100,000 and over. But that's not how we define the middle class in California—here the salary threshold is much lower. What they claim is good news, I think, masks the bad news. And they're rushing it through the process.
What steps are needed to analyze and create a response for a new federal tax plan's effect on California?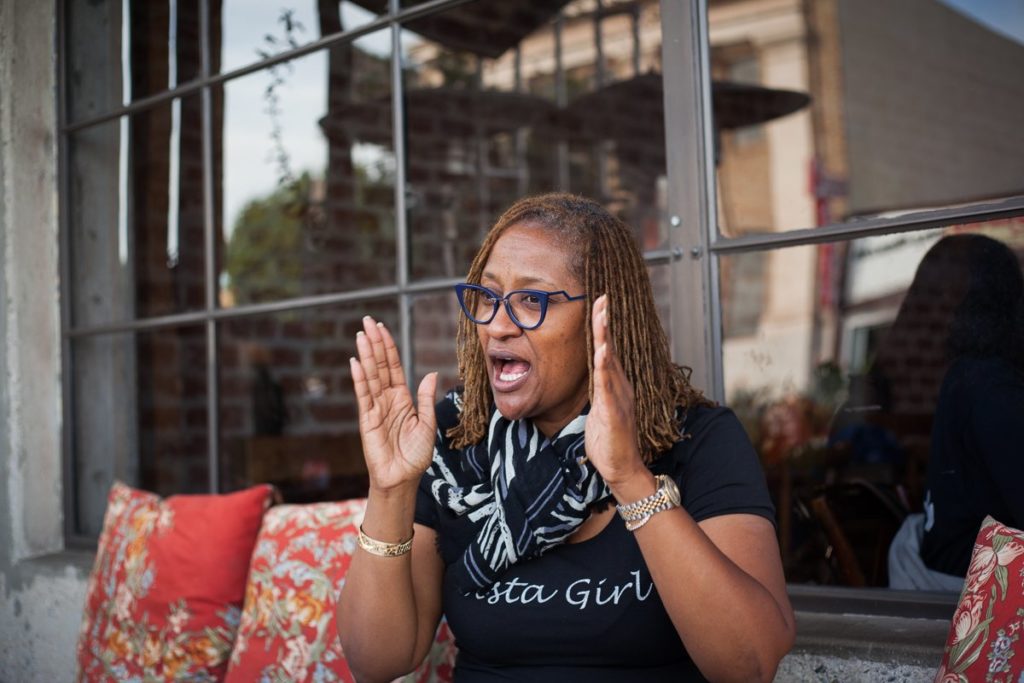 Senator Mitchell: It will be a process. Unlike [the U.S. Senate], I will rely on our Department of Finance, the Legislative Analyst's Office, the Senate Budget Committee staff to have discussions, to have a full budget hearing.
What's your sense of the tax proposals' potential effect on the state's economic health?
Senator Mitchell: How we earn income as a state government could be severely impacted. We are socking money away into rainy-day funds to try to prepare for the time at which our recovery will slow down — [but] we couldn't save enough to prepare for these [federal] proposals and the kind of hole they could blow in the state's general fund.
What's your plan if California does take a financial hit?
Senator Mitchell: As budget chair, I would be forced, as painful as that would be, to go back to the days of cutting. We may not be able to use a scalpel. It may be sledgehammer time — it would be devastating. In terms of the trend we've experienced with investments in K through 12, early education, the investments we have made in the last couple of years in the University of California and Cal State University systems — all these investments that we've made to expand access to services, would be impacted.
We fund Opti-Cal and Dental-Cal [for eye and dental care] — those are the kinds of core, basic human services that we could potentially have to roll back again. Medi-Cal funding helps undergird and support our overall health-care delivery system. If that went away, everything would be compromised.
---
Copyright Capital & Main