Food 4 Less Workers Reach Tentative Agreement With Kroger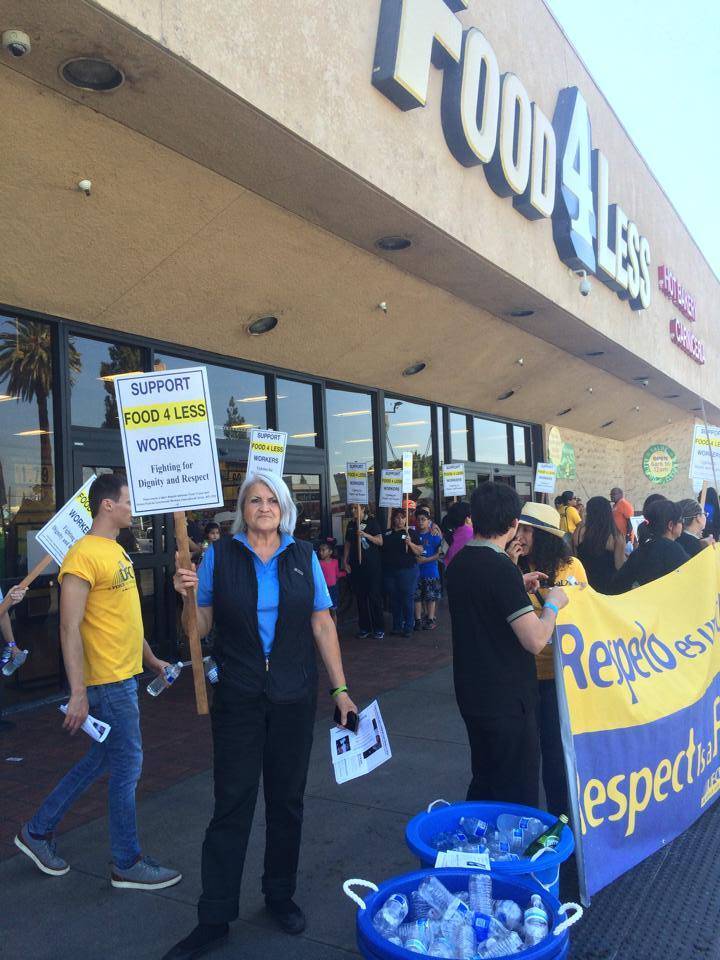 Standoff: Union picket line before a tentative agreement.
Food for Less grocery workers and the Kroger Corporation backed away from the edge of a cliff Tuesday, following weeks of a labor standoff. Both sides averted a potentially devastating strike with a tentative labor agreement whose proposed contract covers some 6,500 workers at 90 stores throughout Southern California.
Employees authorized a strike in July and then launched a consumer boycott in the face of Kroger's threat to slash contributions to medical plans, reduce hours and transfer the work of higher-paid employees to those lower on the wage scale.
In mid-August hundreds of workers turned out on informational picket lines and urged consumers to shop elsewhere. During this time, Kroger recruited strike-busters from Ralphs, another grocery chain it owns.
Why did Kroger refuse to budge? The Cincinnati-based Fortune 500 Company that owns Food 4 Less, Ralphs and Frys recorded a half-billion-dollar profit for the first quarter of 2014, so it wasn't as though the company had to shave costs to yield profits. Analysts say the Food 4 Less negotiations were the last before Kroger negotiates a new contract with Ralphs employees—hence a show of muscle. Ralphs workers' most recent two-year contract talks were concluded this past May.
Union officials say workers saw no option other than to push back against Kroger demands. The downward spiral of wage and work standards affects the daily lives of employees in the most essential ways.
Kroger was pushing to guarantee monthly hours rather than weekly—that means that an employee might work 20 hours one week and eight another.
"You can't count on a paycheck that way. You think you can pay down a credit card–then you don't get the hours the following week and find you can't buy food. It undermines the whole concept of a good job—you're chasing work and that is not our idea of what a good job means," said Rick Icaza, President of United Food and Commercial Workers (UFCW) Local 770.
The new agreement is anticipated to eliminate that uncertainty for now.
The UFCW can't  disclose details  before employees ratify the agreement  after Labor Day, but says the proposed contract is consistent with the terms of employment at all the major chains.
Ken Jacobs, Chair of the University of California, Berkeley's Center for Labor Research and Education, notes that it's common for grocery industry negotiations to go to the brink—but that a persistently weak labor market emboldens employers to push for concessions from labor in order to set precedent—one of lower work and wage standards.
"They do what they think they can get away with, which is why we need unions," says Jacobs.
The dispute is settled for the short term, but the stakes remain high as supermarket corporations and the unions that represent company employees try to find their footing in a rapidly shifting grocery retail landscape.
Consumers used to hit the local grocery store to pick up food essentials. But now we can acquire food items along with clothing, shoes, sportswear and cosmetics  at general merchandise retailers such as Target and Walmart. These chains with low-wage, nonunion business models have grabbed a significant share of the food market, upping the profit pressure on traditional grocery chains.
The effect has been a push on the part of employers to reduce work standards and wages.
"Shelved," a 2014 report prepared by the Food and Research Center at U.C. Berkeley (and commissioned by the UFCW), analyzes trends in the grocery industry. "Shelved" reports that the "low-cost model has impacted the behavior of many of California's long-standing unionized grocery chains, which have cited Walmart's expansion as a competitive pressure that has forced them to pursue similarly low labor costs."
Nonunion gourmet and organic food stores have also entered the picture, according to the report, as well as so-called ethnic markets in the inner city, from where large grocery chains have largely decamped.
"Numerous studies indicate that the growth of this low-cost model has created serious downward pressure on wages and working conditions industry-wide," the report says, "and has shifted substantial costs onto taxpayers: Thirty-six percent of California food retail workers use some form of public assistance according to government data, for a total annual cost to the state of $662 million."
Both sides in the Food 4 Less standoff negotiated in the shadow of the painful 2003-2004 strike and lockout, when 70,000 Southern California grocery employees walked off the job at Vons (owned by Safeway), Ralphs (a Kroger chain) and Albertsons. The four-month strike cost the three companies an estimated $2 billion.
Ralphs—but not its parent company Kroger—was charged with illegally rehiring locked-out workers under false names and Social Security numbers, and eventually settled with a guilty plea and $20 million in fines, along with a $50 million penalty with which to reimburse workers.
The illegal tactic prolonged the grocery companies' ability to withstand the strike. It was hugely damaging to employees who lost homes and savings as they struggled to wait out four months of no work.
But it cost the companies as well– many consumers unwilling to cross the picket line permanently changed their shopping habits, while the customers that went to Trader Joe's kept going to Trader Joe's.
Kroger may have taken that into account as the negotiations with Food 4 Less employees continued.
Also in the mix—competitive pressure from a pending merger between the Albertsons and Safeway chains. Private equity firm Cerberus owns Albertsons and has borrowed $7.6 billion to acquire Safeway.
Someone has to pay that debt. Worker advocates fear the large-scale borrowing will exert further downward pressure on work standards as flagship grocery chains look to cut corners.
Government Shutdown's Silver Lining: A Corporate Hiring Guru Speaks Out
Co-published by Fast Company
Ending the shutdown won't curtail the hiring opportunities for corporate recruiters, says one expert. It's like divorce: Once you start thinking about leaving, the odds that it will happen go up dramatically.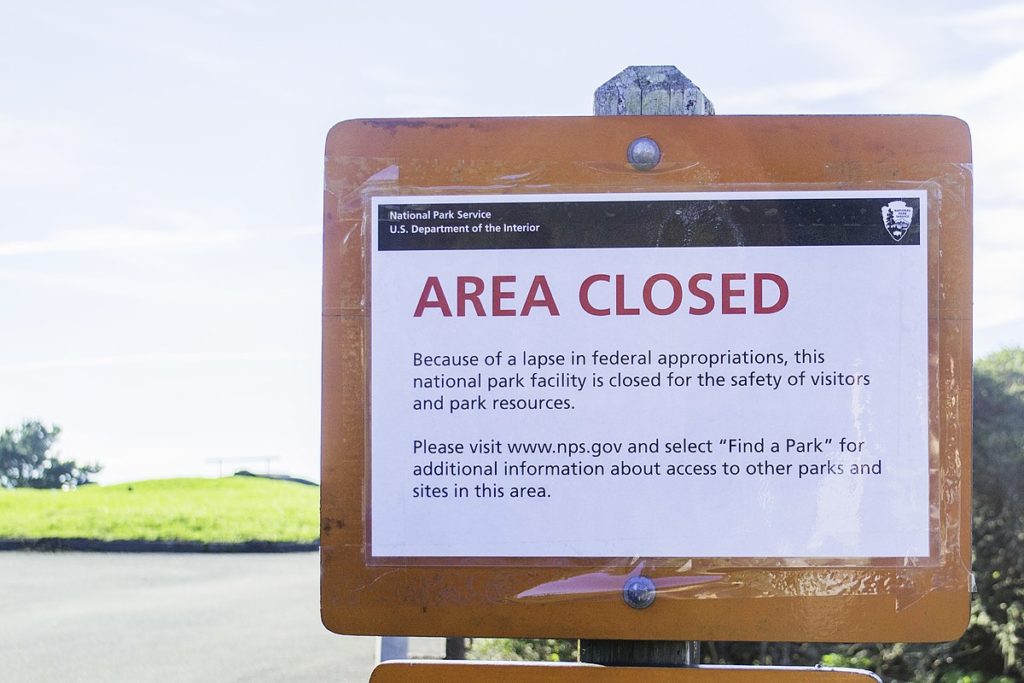 ---
In the new economic climate, even the most mission-driven of federal workers might be forgiven for abandoning the nation's parks, airways and regulatory agencies.
---
Co-published by Fast Company
When the federal government shut down for 16 days in 2013, corporate hiring guru John Sullivan advised companies on how to raid federal government workplaces for talent.
A blog post he penned at the time caused some to charge him with being unpatriotic, he said recently, while others thanked him for the reminder that federal workers were ripe for the plucking.
This time around, the climate is even better for corporations looking to cull staff from a workforce that is already well-trained and also known for its loyalty, Sullivan tells Capital & Main by phone. He describes the current moment—with hundreds of thousands of federal employees forgoing paychecks and, in many cases, sitting at home — as tantamount to "a sale on Black Friday."
---
Congresswoman:  The shutdown could have a long-term impact on the federal government's ability to attract workers with IT skills.
---
"If you've been screaming for the last two years" about the skills-and-talent shortage, "this week there isn't one," says Sullivan, who heads the human resource management program at San Francisco State University's College of Business.
The partial shutdown, that began on December 22 when President Trump failed to secure funding from Congress for his border wall, has impacted employees at a host of federal agencies, including the departments of Agriculture, Commerce, Homeland Security, Housing and Urban Development, Interior, Justice, State, Transportation and Treasury and the NASA.
What makes this particular shutdown so suitable for raiding federal workplaces? It's not just that employee morale has taken a nosedive, thanks to a president who is at war with many of the agencies he oversees. Nor is it only the fact that Trump threatened to keep the government closed for as long as a year, a notion that "really scares people," says Sullivan.
---
With Amazon's opening new offices in the District of Columbia area, three out of four IT workers in DC say they would consider leaving their current jobs for the tech behemoth.
---
It's also the economic climate. Companies are growing. Unemployment is low. Remote work is increasingly an option. Technical advances have made looking for a job easier than it was in 2013. "You can say 'boo' to your phone and apply for a job," adds Sullivan, delivering his matchmaking pitch with such force that even the most mission-driven of federal workers might be forgiven for abandoning the nation's parks, airways and regulatory agencies.
Congresswoman Robin Kelly (D-IL), the ranking member of the House Subcommittee on Information Technology, worried, in a statement last week, that the shutdown would have a long-term impact on the federal government's ability to attract workers with IT skills. The federal government has generally struggled to attract young tech workers, and Amazon's new offices in the District of Columbia area has three out of four IT workers in DC saying they would consider leaving their current jobs for the tech behemoth.
Tech workers — and upper-salaried talent — are not the only employees coveted by the private sector, says Sullivan. Forest Service employees. Coast Guard workers. Transportation and Safety Administration agents. Any unpaid workers could be lured away, especially in states like California and Texas, where economies are strong, he maintains. An employment agency for California's casinos recently put this shout out on Twitter: "Any @TSA employees looking for new opportunities, PTGaming is hiring!" along with the popular hashtag, #shutdownstories.
The shutdown could also prompt federal employees to throw scruples to the wind and step into the infamous revolving door that leads workers from government jobs to the private sector and back again. When Sullivan was advising companies in 2013, he helped firms hire from agencies that regulated them.
"And by the way," asks Sullivan, persisting with his siren song, "if I was a regulator, [with] President Trump eliminating all those regulations, why am I needed? Why not go to the private sector?"
Sullivan, who says he is an underpaid government worker in his own right, is concerned about the public cost of his and others' efforts to lure away the federal government's top talent. The best employees will leave first, and "literally billions" in training dollars will be lost, he predicts.
But he puts the blame squarely on a public sector that undervalues its workers. Corporations that pilfer federal government workforce for talent offer a kind of public service and corrective by demonstrating the price that must be paid "for degrading public service and unnecessarily frustrating federal employees," he wrote in his 2013 post.
Ending the shutdown won't curtail the hiring opportunities for corporate recruiters, says Sullivan. "It's like divorce. Once you start thinking about [leaving], the odds [that it will happen] go up dramatically."
---
Copyright Capital & Main