Flint's Water Disaster: A Lead-Pipe Cinch
Early 20th century Flint postcard
For southwest Flint resident Qiana Dawson, it started when she was combing her 2-year-old daughter Rylan's hair. Dawson was gently spraying water on the child's head to ease the task, when Rylan started crying, as if she were in pain. She took her to a dermatologist.
And that was when her family discovered the problem with Flint's water. "I don't think you anticipate things like this," Dawson said nearly two years later. "You take water for granted." Even in hardscrabble Flint, drifting in and out of receivership since the last century, with a population that's shrunk nearly 21 percent in 15 years and has one of the nation's top crime rates — clean, healthy tap water seemed like a citizen's basic right. Now Flint's water is only safe for washing floors and flushing toilets. Dawson and her family of four have had to use bottled water for everything else—brushing teeth, cooking, washing vegetables, even bathing. "It costs about $7 just to bathe a child with bottled water," she told Capital & Main. 
She still pays over $120 month for her useless public water. Dawson and others interviewed for this article said that some Flint parents have been told that if their water is turned off, their children may be put into foster care.
It started as a tale of two bankrupt cities, one large and one small. Detroit sits near a Great Lake, with an abundant supply of fresh drinking water. Little Flint is 65 miles inland. The little city bought water from the big city, while the big city kept raising prices to fund its own collapsing services.
So the Flint City Council voted in 2013 to share a new pipeline to Lake Huron. But this would take at least two years. Meanwhile, Flint's emergency manager, Darnell Earley, who was appointed by Governor Rick Snyder to run the city, decided to tap the Flint River to save all Flint's water costs. (Earley has claimed the decision wasn't his. Howard Croft, a former top Flint official, says the real decision was Snyder's.) The governor's managers had previously fired police and cut city wages relentlessly, but for this decision the blowback turned global. In a December act of political contrition, the beleaguered governor, after denying the Flint problem for 18 months, confessed to an error, promised to fix things and released pertinent emails. He formed an investigative panel which his enemies instantly distrusted. But certainly there was plenty of blame to go around.
Starting with Flint. Within days after its river entered the system in early 2014, it seemed as if no one in the Flint Department of Public Works had ever heard of water treatment. First there came high-level E. coli bacteria. The city responded by urging consumers to boil water while the city over-chlorinated it, creating dangerous chemical compounds. Consumers complained their water now smelled like garbage.
Meanwhile, another peril crept in. The Flint River was no longer the toxic waterway it was when it drained Flint's vanished General Motors plants. But it still was tainted by the salt applied to roads every Michigan winter. Fiercely corrosive to metals like iron and chrome found in water mains and pipes, it caused water to "look more like coffee, or tea," according to Dawson, which she and her neighbors brought in jugs to council meetings. They were all told that the water was safe and not to worry. Far more worrisome was the invisible lead dissolved in the same water.
"Some of the pipe was over 100 years old," said Siddhartha "Sid" Roy, one of the team of over 20 experts from Virginia Polytechnic who came to Flint to investigate. About half the homes had lead piping connecting the water mains, which had their own lead residues. A simple, common corrosion cure is adding phosphate chemicals. Asked by the Environmental Protection Agency, a Flint official reportedly said Flint did have a phosphate treatment program. Both the New York Times and Los Angeles Times have reported Flint had no such program, while other reports suggested the treatment was omitted to save $60 a month.
"I struggle to understand how this happened," says Roy. According to Virginia Tech's sampling of over 270 homes, the omission caused average lead levels in Flint's faucet water of 11 parts per billion—double the recommended maximum. One sample tested at 13,000 ppb—more than double the federal "toxic waste" level. It is assumed that most of the city's 8,556 children 5 years old or under were exposed to this tainted water. No one knows how many might suffer from their exposure. There is also an assumption that less affluent families' older homes are more likely to be affected. Lead poisoning can be irreversible.
Father Dan Scheid, of St. Paul's Episcopal Church in downtown Flint, said:
"It falls on the poor." Flint has 40 percent unemployment and is 60 percent black. Scheid added: "There is a lot of finger pointing…I think it can do good if it casts light on those who are liable."
Already, EPA regional administrator (and Obama appointee) Susan Hedman, who allegedly sat on an EPA warning about lead in Flint's water for five months, has resigned on a week's notice. Heads have rolled in Michigan's bureaucracy—particularly in the state Environmental Quality Agency, which had staunchly denied any dangers, while reportedly installing filters on its own office water coolers. "People were complaining about the water quality from the first day," said Scheid. "It took 18 months for official acknowledgement and reaction. Would it have taken nearly that long in a wealthy community?''
"Then the GM engine plant staff complained that the river water was corroding freshly made components. GM started getting its water [elsewhere],'' Scheid noted. Officialdom ignored the possibility that water bad enough to corrode steel castings might also harm people. "I want the Flint community to know how very sorry I am that this has happened,'' Snyder said, announcing the resignation of his EQA head. But many feel Snyder himself stands atop the pyramid of blame.
Early this year the American Civil Liberties Union, which has been a major partner in the Flint water supply investigation, announced the Justice Department was "working closely with the Environmental Protection Agency on the investigation into the contamination of the city of Flint's water supply." The ACLU has since announced its own legal action. Meanwhile,  State Attorney General Bill Schuette said the state may refuse to defend Michigan Environmental Quality employees from a pending Flint class action suit.
Melissa Mays, a Flint water activist with a group called Water We're Fighting For, wants justice. But she also wonders where the money will come from, not just to upgrade the water infrastructure (the estimates range from $60 million to over $1 billion), but to treat and care for those who may have suffered possibly irreversible harm from lead exposure. "We need to do blood tests on all of Flint's children," she said, and secure needful funding of treatments like chelation. Good diet is important too, she added, because fresh produce, especially greens, helps reduce lead's effects. She noted that Flint is a food desert for fresh, healthy produce. There are very few full-service grocery store for over 99,000 Flintians.
Flint remains in the nation's eye. Coca-Cola and PepsiCo, along with Freemasons and a local Militia (sans guns) are delivering water to those in need (a case weighs nearly 26 pounds—quite a tote if you have to take a bus). Water or funding for water is also being donated by churches as far away as Memphis, Tennessee and Inglewood, California. Hundreds of union plumbers in Michigan have come to install faucet filters and (where necessary) new faucets for free. Working people everywhere relate to Flint's plight, because we all now really live in a culture prone to demolishing the basic benefits of society for the short-term gain of a few.
Just ask anyone waiting in line for bottled water in Flint.
---
Marc Haefele is a commentator on KPCC's
Off Ramp
program and has written for the
 New York Times 
and
 Los Angeles Times.

Battery Blood: California Has Worse Lead Standards Than Arkansas and Texas. Why?
Battery recycling is considered one of the most potentially hazardous industries. Yet Vernon's Exide workers were routinely being poisoned with nearly nonexistent intervention by Cal/OSHA.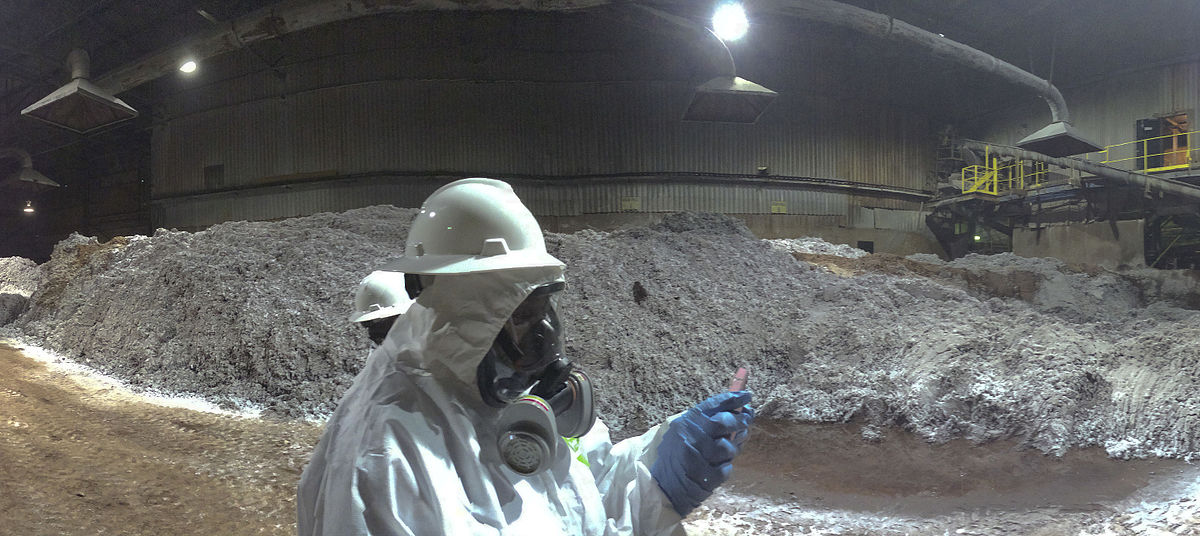 ---
How could California, the model state when it comes to tough environmental regulations, have failed to assess lead-contamination dangers at a battery-recycling facility?
---
In the summer of 2008, California's Department of Occupational Safety and Health (Cal/OSHA) inspected Exide Technologies' vehicle-battery recycling plant in Vernon, California, an industrial suburb of Los Angeles. The ensuing laboratory analysis of air from the plant's smelter room, where batteries are melted down to reclaim their lead, revealed that levels of the neurotoxin exceeded federal standards by a factor of 13. Despite the toxic air, Cal/OSHA found no serious violations at Exide, issuing only a token fine of $150 for what it deemed a low-level violation.
Asked today about that inspection, Cal/OSHA spokesperson Erika Monterroza told Capital & Main that it was "handled appropriately," adding that the high level of lead that smelter-room workers were exposed to would only have been excused if other safety measures, such as "protective clothing, onsite showers, clean change rooms, proper housekeeping, clean lunchrooms, medical surveillance, effective training and implementation of engineering and administration controls" were deemed effective in reducing "exposures to as low as feasible." However, there is little to no evidence that Cal/OSHA's 2008 inspection included the measures Monterroza cited.
How could California, perceived by many as the model state when it comes to tough environmental regulations, have fallen so short when it came to assessing lead-contamination dangers at the Vernon battery-recycling facility?
Part of the answer stems from how the Occupational Safety and Health Administration (OSHA) works in the Golden State. In 29 states, workers at private companies such as Exide are are protected by federal OSHA, which is administered by the U.S. Department of Labor. In the remaining 21 states, including California, state-run OSHA programs protect workers employed by private industry. Even so, according to Monterroza, "Cal/OSHA's program is required to be, and is, at least as effective as federal OSHA."
---
In California, communication about workers with high levels of lead in their blood was nearly nonexistent between Cal/OSHA and the Department of Public Health.
---
But our investigation found that when it comes to protecting workers from lead, California operates in a different universe from states with federal OSHA oversight. While workers were routinely being poisoned in Vernon, with nearly nonexistent intervention by Cal/OSHA, battery-recycling plants in federal OSHA states were facing inspections so robust they amounted to an existential threat to the plants. The message to these lead polluters seemed simple: Either clean up your act or be fined out of business. A case in point: The same summer as Cal/OSHA's 2008 Vernon inspection, another Exide battery-recycling plant, in Fort Smith, Arkansas, was hit with $71,000 in fines for having high levels of lead in its smelting department, and for other serious violations, including poorly fitted respirators. All told, inspectors found 22 "serious violations" at the Arkansas plant. A serious violation, an OSHA press release about the Fort Smith citations noted, is "one in which the hazard could cause death or serious physical harm to employees, and the employer knew or should have known about it."
And after a 2012 inspection of a Johnson Controls battery plant in Ohio, federal OSHA issued 20 citations for "serious"and "willful" health violations, and issued $188,600 in fines. At yet another Exide facility, in Frisco, Texas, OSHA fined the plant $77,000 in 2011. That same year, Exide reached an agreement with Texas officials to pay $20 million for improvements to its engineering systems at the Frisco plant to cut down on lead emissions.
In Vernon, Cal/OSHA required no engineering changes that would impact levels of lead in the plant.
"OSHA is supposed to have workers' backs," said Rania Sabty-Daily, an expert in industrial hygiene and an assistant professor at California State University, Northridge. Sabty-Daily said Cal/OSHA completely failed to take into account a fundamental fact in its 2008 Exide inspection.
Photo: Laurie Avocado
"The records you dug up showed that lots of workers were being exposed to lead at levels high enough that their health was being compromised," she said. "That should have led inspectors to seek out the safety problems causing the health problems. Any occupational hygienist knows that a real-world factory is imperfect — we can't just rely on respirators, which are often not fitted properly. And there are other avenues for exposure. What happens when the worker takes off their boots? Are the shower facilities adequate?"
Making workplaces safer became a central OSHA focus in 2001, when the agency launched the National Emphasis Program on lead. This ambitious initiative sought to eliminate the conditions that had caused lead-related health issues in workers. The lead-reduction program was reinforced with even more stringent standards in 2008.
The directive legally mandates that when workers are found to have blood-lead levels above those considered by the U.S. Centers for Disease Control and Prevention (CDC) to represent a serious health risk (25 micrograms per deciliter or above), those cases "shall be considered high-gravity, serious and must be handled by inspection." And it wasn't just the 29 federal OSHA states that adopted the tough inspection standards. Nine states that have their own OSHA programs, including Indiana, Oregon and North Carolina, chose to adopt the same federal standards. For unexplained reasons, California did not adopt lead standards required by 38 other states.
Elsewhere, others saw a profound improvement. "Without question it's an absolutely essential program that I saw make a difference when it came to protecting workers from being exposed to lead," Clyde Payne, who retired in 2014 as the area director of U.S. OSHA's Jackson, Mississippi office, told Capital & Main
---
"People were getting lead-poisoned in just a few months on the job. That tells you a lot about what conditions were like inside [Exide]."
---
While OSHA's national directive remains largely intact today, President Donald Trump has made good on his promise to scale back all government regulations; OSHA's current leadership has chipped away at the get-tough approach of the lead directive, changing its language to make some elements of the rules optional rather than mandatory.
Coordination with State Public Health Departments
Battery recycling is considered one of the most potentially hazardous industries for workers. Consequently, plants are almost always required to test workers' blood for lead at least a couple of times per year. Most states' departments of health — including California's — are legally required to maintain those blood-lead results in what are called "blood-lead registries."
A key component of the 2001 National Emphasis Program on lead is coordination with the custodians of blood-lead registries, the states' individual public health departments. Scott Allen, a spokesperson for federal OSHA's regional office in Illinois, underscored the importance of communication with state health departments. "Related to blood-lead levels, these medical referrals often come from health departments, medical providers or hospitals," Allen stated in an email.
Workers Became Lead-Poisoned at Exide in a Matter of Months
Our investigation found that in California, communication about workers with high levels of lead in their blood was nearly nonexistent between Cal/OSHA and CDPH, the two agencies responsible for keeping workers safe from lead hazards.  Between 1994 and 2014, CDPH tracked over 2,300 cases of workers with blood-lead levels at or above 25 micrograms per deciliter at Exide's Vernon plant; yet CDPH referred the Vernon plant for an inspection to Cal/OSHA just once, in 1996.
Along the way, there were health experts who saw warning signs.
Infographic:  Kelly Bergkamp
The Oakland-based Center for Environmental Health (CEH), which was concerned about airborne lead spreading from smokestacks at the Vernon plant to surrounding L.A. neighborhoods like Boyle Heights, filed a 2008 lawsuit to force the state to warn residents about lead that was known to be escaping the plant. "We also wanted to know what was going on inside the plant," Caroline Cox, a CEH staff scientist, told Capital & Main. To figure that out, the nonprofit asked CDPH in 2009 for a year's worth of blood-lead tests of Exide's Vernon employees.
CDPH provided Cox with this data for more than 152 workers. Most employees had several tests per year.  "What I was most struck by were results from workers who clearly were brand-new employees," Cox said. "These people started out like an average person — whose blood-lead level is around two micrograms per deciliter. After a few months on the job, [I saw that] in some cases these readings shot up to alarming levels. Essentially, people were getting lead-poisoned in just a few months on the job. That tells you a lot about what conditions were like inside, and you just worried that the workers perhaps had no idea what they were getting into."
An Obscure Department Failed To Sound the Alarm
The Occupational Lead Poisoning Prevention Program (OLPPP) is a department within CDPH that tracks blood-lead levels and offers advice and expertise to companies to reduce lead-based health risks.
---
"You have an organization receiving data about spikes in blood-lead levels. That should spur some sort of action. If that didn't happen, why?"
---
Our investigation found that between 1994 and 1996, OLPPP managers were very concerned about the Vernon plant's lead problem. For example, in 1995, OLPPP determined that, at what was then called GNB Technologies, "compliance plan and medical surveillance plan are seriously deficient; written respiratory protection program is confusing and inconsistent; GNB has no protocol for systematically reviewing BLL [blood-lead levels]." In 1996, OLPPP referred the case to Cal/OSHA for inspection.
That 1996 referral inspection appears to be the last time the two agencies teamed up to limit worker exposure to lead at the Vernon site. CDPH remained aware of lead-exposed workers, yet appears not to have communicated concern or crucial data with the one agency that could levy fines or shut down the plant if it were deemed to be too hazardous.
Mariano Kramer, a former Cal/OSHA district manager who was in charge of the 1996 inspection, said he was troubled to learn that CDPH did not continue to refer information about lead-poisoned workers to Cal/OSHA. "What concerns me is that you have an organization [CDPH] receiving data about spikes in blood-lead levels. That should spur some sort of action or reporting. If that didn't happen, I'm wondering, Why? What's the point of medical surveillance if you don't use it?"
CDPH declined repeated requests for interviews and declined to answer specific questions by email for this story.
After being provided with documents obtained by Capital & Main and the University of Southern California's Center for Health Journalism program, Assemblyman Ash Kalra (D-San Jose) wants to change the system that California has been operating under, to make it correspond to the federal lead directive. Last month, based on our research, Kalra introduced Assembly Bill 2963, which would require the "State Department of Public Health to report to the Division of Occupational Safety and Health any instance where a worker's blood-lead level is at or above a certain amount."
---
---
Copyright Capital & Main