Flint's Water Disaster: A Lead-Pipe Cinch
Early 20th century Flint postcard
For southwest Flint resident Qiana Dawson, it started when she was combing her 2-year-old daughter Rylan's hair. Dawson was gently spraying water on the child's head to ease the task, when Rylan started crying, as if she were in pain. She took her to a dermatologist.
And that was when her family discovered the problem with Flint's water. "I don't think you anticipate things like this," Dawson said nearly two years later. "You take water for granted." Even in hardscrabble Flint, drifting in and out of receivership since the last century, with a population that's shrunk nearly 21 percent in 15 years and has one of the nation's top crime rates — clean, healthy tap water seemed like a citizen's basic right. Now Flint's water is only safe for washing floors and flushing toilets. Dawson and her family of four have had to use bottled water for everything else—brushing teeth, cooking, washing vegetables, even bathing. "It costs about $7 just to bathe a child with bottled water," she told Capital & Main. 
She still pays over $120 month for her useless public water. Dawson and others interviewed for this article said that some Flint parents have been told that if their water is turned off, their children may be put into foster care.
It started as a tale of two bankrupt cities, one large and one small. Detroit sits near a Great Lake, with an abundant supply of fresh drinking water. Little Flint is 65 miles inland. The little city bought water from the big city, while the big city kept raising prices to fund its own collapsing services.
So the Flint City Council voted in 2013 to share a new pipeline to Lake Huron. But this would take at least two years. Meanwhile, Flint's emergency manager, Darnell Earley, who was appointed by Governor Rick Snyder to run the city, decided to tap the Flint River to save all Flint's water costs. (Earley has claimed the decision wasn't his. Howard Croft, a former top Flint official, says the real decision was Snyder's.) The governor's managers had previously fired police and cut city wages relentlessly, but for this decision the blowback turned global. In a December act of political contrition, the beleaguered governor, after denying the Flint problem for 18 months, confessed to an error, promised to fix things and released pertinent emails. He formed an investigative panel which his enemies instantly distrusted. But certainly there was plenty of blame to go around.
Starting with Flint. Within days after its river entered the system in early 2014, it seemed as if no one in the Flint Department of Public Works had ever heard of water treatment. First there came high-level E. coli bacteria. The city responded by urging consumers to boil water while the city over-chlorinated it, creating dangerous chemical compounds. Consumers complained their water now smelled like garbage.
Meanwhile, another peril crept in. The Flint River was no longer the toxic waterway it was when it drained Flint's vanished General Motors plants. But it still was tainted by the salt applied to roads every Michigan winter. Fiercely corrosive to metals like iron and chrome found in water mains and pipes, it caused water to "look more like coffee, or tea," according to Dawson, which she and her neighbors brought in jugs to council meetings. They were all told that the water was safe and not to worry. Far more worrisome was the invisible lead dissolved in the same water.
"Some of the pipe was over 100 years old," said Siddhartha "Sid" Roy, one of the team of over 20 experts from Virginia Polytechnic who came to Flint to investigate. About half the homes had lead piping connecting the water mains, which had their own lead residues. A simple, common corrosion cure is adding phosphate chemicals. Asked by the Environmental Protection Agency, a Flint official reportedly said Flint did have a phosphate treatment program. Both the New York Times and Los Angeles Times have reported Flint had no such program, while other reports suggested the treatment was omitted to save $60 a month.
"I struggle to understand how this happened," says Roy. According to Virginia Tech's sampling of over 270 homes, the omission caused average lead levels in Flint's faucet water of 11 parts per billion—double the recommended maximum. One sample tested at 13,000 ppb—more than double the federal "toxic waste" level. It is assumed that most of the city's 8,556 children 5 years old or under were exposed to this tainted water. No one knows how many might suffer from their exposure. There is also an assumption that less affluent families' older homes are more likely to be affected. Lead poisoning can be irreversible.
Father Dan Scheid, of St. Paul's Episcopal Church in downtown Flint, said:
"It falls on the poor." Flint has 40 percent unemployment and is 60 percent black. Scheid added: "There is a lot of finger pointing…I think it can do good if it casts light on those who are liable."
Already, EPA regional administrator (and Obama appointee) Susan Hedman, who allegedly sat on an EPA warning about lead in Flint's water for five months, has resigned on a week's notice. Heads have rolled in Michigan's bureaucracy—particularly in the state Environmental Quality Agency, which had staunchly denied any dangers, while reportedly installing filters on its own office water coolers. "People were complaining about the water quality from the first day," said Scheid. "It took 18 months for official acknowledgement and reaction. Would it have taken nearly that long in a wealthy community?''
"Then the GM engine plant staff complained that the river water was corroding freshly made components. GM started getting its water [elsewhere],'' Scheid noted. Officialdom ignored the possibility that water bad enough to corrode steel castings might also harm people. "I want the Flint community to know how very sorry I am that this has happened,'' Snyder said, announcing the resignation of his EQA head. But many feel Snyder himself stands atop the pyramid of blame.
Early this year the American Civil Liberties Union, which has been a major partner in the Flint water supply investigation, announced the Justice Department was "working closely with the Environmental Protection Agency on the investigation into the contamination of the city of Flint's water supply." The ACLU has since announced its own legal action. Meanwhile,  State Attorney General Bill Schuette said the state may refuse to defend Michigan Environmental Quality employees from a pending Flint class action suit.
Melissa Mays, a Flint water activist with a group called Water We're Fighting For, wants justice. But she also wonders where the money will come from, not just to upgrade the water infrastructure (the estimates range from $60 million to over $1 billion), but to treat and care for those who may have suffered possibly irreversible harm from lead exposure. "We need to do blood tests on all of Flint's children," she said, and secure needful funding of treatments like chelation. Good diet is important too, she added, because fresh produce, especially greens, helps reduce lead's effects. She noted that Flint is a food desert for fresh, healthy produce. There are very few full-service grocery store for over 99,000 Flintians.
Flint remains in the nation's eye. Coca-Cola and PepsiCo, along with Freemasons and a local Militia (sans guns) are delivering water to those in need (a case weighs nearly 26 pounds—quite a tote if you have to take a bus). Water or funding for water is also being donated by churches as far away as Memphis, Tennessee and Inglewood, California. Hundreds of union plumbers in Michigan have come to install faucet filters and (where necessary) new faucets for free. Working people everywhere relate to Flint's plight, because we all now really live in a culture prone to demolishing the basic benefits of society for the short-term gain of a few.
Just ask anyone waiting in line for bottled water in Flint.
---
Marc Haefele is a commentator on KPCC's
Off Ramp
program and has written for the
 New York Times 
and
 Los Angeles Times.
Former EPA Official Finds Hope in the Middle of the Climate Crisis
"Those of us who've been working on environmental justice and climate justice," says Mustafa Ali, "understand we're talking about housing, transportation, the environment, public health and jobs."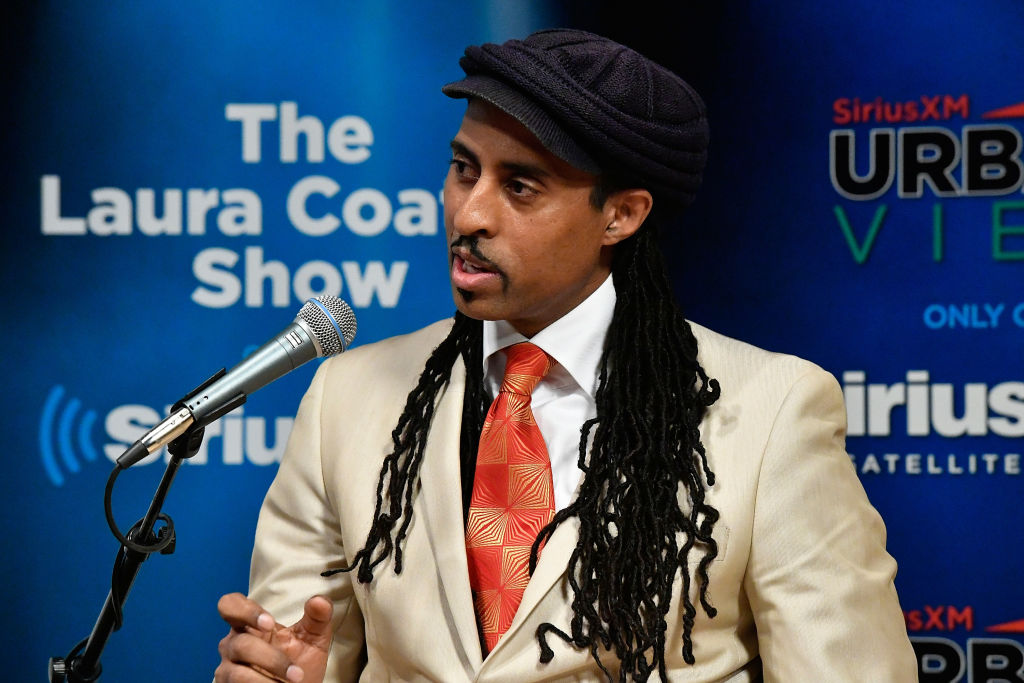 ---
"Because the current administration is so anti-science, so anti-environment, so anti-climate, people who weren't paying attention before are paying attention now."
---
Until he resigned last year, Mustafa Santiago Ali served as the Senior Advisor for Environmental Justice and Community Revitalization at the U.S. Environmental Protection Agency, where he'd worked since 1992. Under the direction of the agency's first administrator of the Office of Environmental Equity, Dr. Clarice Gaylord, Ali helped begin the EPA's effort to recognize and address the disproportionate impacts of pollution on communities situated closest to industrial polluters, communities where people — often people of color — live in poverty. He worked with the Clinton administration on Executive Order 12898, which established a federal program to address environmental justice in communities of color and low-income communities, and in 2007, he went to Capitol Hill to work as a Brookings Institution Congressional Fellow with Rep. John Conyers. He returned to the agency the next year, and stayed until the Trump administration proposed cutting nearly $2 billion from the EPA's already meager $8.2 billion budget, and a leaked memo revealed plans to eliminate the Office of Environmental Justice that Ali had helped found. (Congress ultimately rejected the cuts in the current federal budget, passed in March of 2018).
Ali is now the Senior Vice President of Climate, Environmental Justice & Community Revitalization for the Washington, DC-based Hip Hop Caucus, a national nonprofit that joins the hip hop community to the civic process of politics, social change and the environment. At the recent Climate Reality Conference in Los Angeles, he spoke on a panel of environmental justice advocates, which included Catherine Flowers and mark! Lopez of East Yard Communities for Environmental Justice. Ali had audience members join hands and reaffirm their collective power to effect social and political transformation. I spoke with him afterwards in the over-air-conditioned lobby of the Los Angeles Convention Center.
---
Capital & Main: You spent 24 years at EPA, beginning when George H.W. Bush was still in office, and stayed through the second Bush administration, too. How did you weather other more conservative administrations?
Mustafa Santiago Ali: When I started, at the end of [then-EPA Administrator] William Reilly's administration in 1992, we were really blessed that there was a lot of energy around environmental equity, which became environmental justice. A number of the leaders had gotten together in 1991, through the first National People of Color [Environmental Leadership] Summit in Washington, DC, and put together a set of recommendations before they began to engage with the federal government. One of those recommendations was the creation of an Office of Environmental Equity/Environmental Justice. Those recommendations drove a lot of work that happened in both Republican and Democratic administrations in the early days.
We began to move forward on the creation of the environmental justice small-grants program during the first Bush administration. In the transition to the Clinton administration, we were able to move things forward because an executive order came that I was blessed to be able to work on. Out of that executive order came the interagency working group, which means there are now 17 federal agencies – back then it was 11 — and a couple of White House offices that have distinct responsibility for environmental justice.
There had been successes under all of those administrations. There were challenges in that certain administrations were more tied into business and industry. But all of them made progress before this administration we're in now.
So even Bush II. They had an office to doctor studies done by scientists within Fish and Wildlife, for instance. But you're saying there was still progress on environmental justice then?
There was. It was incremental, and I don't want to oversell it. But without a doubt, it existed. No one ever talked about eliminating the Office of Environmental Justice under Bush.
How hard was it for you to leave?
I had to struggle with it. I prayed, I talked to my parents, I talked to my mentors. There were a couple of times I was going to jump out right at the beginning [of the Trump administration]. Maya Angelou has that great quote about how when someone tells you who they are, believe them. But there's always that thing, you know, maybe they'll have a road to Damascus moment. Maybe there'll be this transition. But it wasn't going to happen. That was being overly hopeful.
I knew the policies they were moving forward on literally could kill people. I knew that, because even when things are moving in a somewhat positive direction, people are still very vulnerable. And I knew that these folks, they just didn't care about all of these leaders, these grassroots leaders and others, who sacrificed everything to try and strengthen environmental laws, to try to get real enforcement actually happening. They've put into their own reports that they know their policies are going to kill people – especially people of color.
Enforcement of environmental crimes is almost non-existent.
I knew that was coming. They were very clear about what they wanted to do around air pollution issues. And since I led the inter-agency working group, I knew that the cumulative effect is that more people were going to get sick and more people were going to die.
You've addressed in your career an overlooked part of environmental justice: the impact of natural and man-made disasters on disadvantaged communities. We saw it in Katrina, in Harvey, and we saw it in Irma and Maria. There are vulnerable people who suffer a disproportionate share of the impacts of these events.
The reason for that — we saw it in Hurricane Maria, all the lives that were lost — is if you don't have a specific focus and understanding of the additional impacts that happen in vulnerable communities, you can't protect folks and help them recover. Flint, the BP oil spill, the hurricanes — we can go down the line in terms of disasters. It doesn't matter if you're talking about low-income white communities, communities of color or indigenous communities. You've got to be thinking, What are the additional things we need to do to help those people?
The Trump administration has been trying to weaken many regulations for chemical facilities and hazardous waste facilities that were written to protect the public. That will also affect vulnerable communities when disasters happen.
They're actually extracting wealth from these communities. Lots of times people think, Oh, these communities in Appalachia. These communities in the Rust Belt. What wealth is there? But when [industries] continue to put these [dangerous facilities] in these communities, housing values plummet, while everyone else's are going up. So you're taking wealth from these communities.
In the same way, when people say climate change isn't real, that means [those communities] can't invest in renewables. That means that communities in the Rust Belt that really need new jobs never get a chance at them. So once again you are taking wealth away from these communities.
How do you get those people to care — the people in the Rust Belt, for instance, who may not understand how they're being harmed by these policies? You tweeted a story about people in Kansas whose water had been contaminated for seven years, and the state health department knew about it but didn't bother to tell them.
That was intentional. It was intentional because sometimes we've set up these barriers in our country around environmental justice. That's a shame. It's about those black people, brown people, maybe indigenous people, and white brothers and sisters [who] sometimes don't think they're going to be impacted also. When we don't help everybody understand that these impacts affect everybody, then we allow people to put these boxes around it and say, "Well, I care, but that's something that's happening to these other folks."
Even in some of the disadvantaged communities of color, it can be hard to get people to care. People are busy feeding their kids. I heard Van Jones make the point years ago at the Bioneers Conference that you can't knock on doors in marginalized communities and scream about how the polar bears are dying. How do you reach out to those people who are already stressed just getting through a day in their lives? How do you talk to them about pollution, let alone climate?
I like to anchor my message in what's going on in people's lives. Normally I would talk about how 27 million people in our country have asthma. Seven million kids. Most folks of color in the urban setting can relate to asthma. They have kids or grandchildren or nieces or nephews [with] asthma. Then we have a conversation about, Okay, where's that coming from? How is this situation being exacerbated? It's because of pollution that's coming out of these plants and pollution coming from the backs of cars. Then I link them into, "Well, did you know that there's currently policy being made that's going to let more pollution come out, so there's going to be more health impacts?"
Those of us who've been working on environmental justice and climate justice for a while understand we're talking about housing, transportation, the environment, public health and jobs. So I talk to people also about their vote, not only in the environmental context, but in the context of the violence that continues to happen in some communities. And how your vote makes the decision about who's the police chief, who's the district attorney. I bring all that together. Then people are like, "Yeah, I got power. And my power's tied up in my vote. And the vote will determine the resources coming into my community, and who's leading that process."
In California the climate fight on the environmental justice front lines and the legislative space are often at odds. It's frustrating, because as mark! Lopez of East Yard Communities for Environmental Justice said on your panel, the frontline communities in the environmental justice fight are where our climate problems begin.
I've noticed that [about California]. Legislators can't do something because of how it will affect business or industry, [but] people in the environmental justice space are saying, "We're the ones who are going to be affected by pollution first. We're the ones who have to deal with this first." [The answer lies in] creating authentic collaborative partnerships.
If we're in a relationship, it means you care about me, and I care about you. In a good marriage, a healthy friendship, many times you care more about the other person than you do about yourself. We've got to get to that. That will get to a greater understanding of how to create a policy that's truly protective of everyone.
You mentioned that 200,000 people die every year prematurely because of air pollution. Can you imagine if 200,000 people were dying of bird flu?
It would be a public health emergency.
But we don't move like we would move if it were a public health emergency. How do you convince people who are making the laws that it is?
We've got two different dynamics going on. One, we really need to accelerate the creation of renewable energy jobs, to create a just transition for the workers in those industries, and to get new people into that space.
Two, we've got to get the money out of politics. We know that's an even harder fight than getting renewable energy jobs in place. There's an addiction to that money. I was at Netroots Nation and many of the political leaders who came to that signed the no fossil-fuel money pledge. If you don't have any accountability to the fossil-fuel world and that money that exists there, then you're less likely to make decisions based on a monetary thing, and you're more likely to be basing your decisions on public health.
You say you're a realist, but also an optimist. What is your cause for optimism right now?
This is an interesting time. I think that our country had to go through this. If we're going to have real talk, we have to acknowledge that there's been no administration that's lived up to what they should be doing on these issues. But now because the current administration is so anti-science, so anti-environment, so anti-climate, people who weren't paying attention before are paying attention now. Foundations are saying we've got to shift our portfolios to better support this work. We have a common destiny that's tied to this.
Even scientists. I have a science background and it hasn't always been the case that scientists [were involved in public policy]. There've always been good scientists, but it's not like the larger scientific organizations were saying we need to do more. Now that is happening. For all the craziness the current administration tries to do and does, [it has] also been a catalyst for people saying we've got to start honoring each other. We've got to start working together. That's what keeps me going — I see these new relationships forming.
---
Copyright Capital & Main