Flint's Water Disaster: A Lead-Pipe Cinch
Early 20th century Flint postcard
For southwest Flint resident Qiana Dawson, it started when she was combing her 2-year-old daughter Rylan's hair. Dawson was gently spraying water on the child's head to ease the task, when Rylan started crying, as if she were in pain. She took her to a dermatologist.
And that was when her family discovered the problem with Flint's water. "I don't think you anticipate things like this," Dawson said nearly two years later. "You take water for granted." Even in hardscrabble Flint, drifting in and out of receivership since the last century, with a population that's shrunk nearly 21 percent in 15 years and has one of the nation's top crime rates — clean, healthy tap water seemed like a citizen's basic right. Now Flint's water is only safe for washing floors and flushing toilets. Dawson and her family of four have had to use bottled water for everything else—brushing teeth, cooking, washing vegetables, even bathing. "It costs about $7 just to bathe a child with bottled water," she told Capital & Main. 
She still pays over $120 month for her useless public water. Dawson and others interviewed for this article said that some Flint parents have been told that if their water is turned off, their children may be put into foster care.
It started as a tale of two bankrupt cities, one large and one small. Detroit sits near a Great Lake, with an abundant supply of fresh drinking water. Little Flint is 65 miles inland. The little city bought water from the big city, while the big city kept raising prices to fund its own collapsing services.
So the Flint City Council voted in 2013 to share a new pipeline to Lake Huron. But this would take at least two years. Meanwhile, Flint's emergency manager, Darnell Earley, who was appointed by Governor Rick Snyder to run the city, decided to tap the Flint River to save all Flint's water costs. (Earley has claimed the decision wasn't his. Howard Croft, a former top Flint official, says the real decision was Snyder's.) The governor's managers had previously fired police and cut city wages relentlessly, but for this decision the blowback turned global. In a December act of political contrition, the beleaguered governor, after denying the Flint problem for 18 months, confessed to an error, promised to fix things and released pertinent emails. He formed an investigative panel which his enemies instantly distrusted. But certainly there was plenty of blame to go around.
Starting with Flint. Within days after its river entered the system in early 2014, it seemed as if no one in the Flint Department of Public Works had ever heard of water treatment. First there came high-level E. coli bacteria. The city responded by urging consumers to boil water while the city over-chlorinated it, creating dangerous chemical compounds. Consumers complained their water now smelled like garbage.
Meanwhile, another peril crept in. The Flint River was no longer the toxic waterway it was when it drained Flint's vanished General Motors plants. But it still was tainted by the salt applied to roads every Michigan winter. Fiercely corrosive to metals like iron and chrome found in water mains and pipes, it caused water to "look more like coffee, or tea," according to Dawson, which she and her neighbors brought in jugs to council meetings. They were all told that the water was safe and not to worry. Far more worrisome was the invisible lead dissolved in the same water.
"Some of the pipe was over 100 years old," said Siddhartha "Sid" Roy, one of the team of over 20 experts from Virginia Polytechnic who came to Flint to investigate. About half the homes had lead piping connecting the water mains, which had their own lead residues. A simple, common corrosion cure is adding phosphate chemicals. Asked by the Environmental Protection Agency, a Flint official reportedly said Flint did have a phosphate treatment program. Both the New York Times and Los Angeles Times have reported Flint had no such program, while other reports suggested the treatment was omitted to save $60 a month.
"I struggle to understand how this happened," says Roy. According to Virginia Tech's sampling of over 270 homes, the omission caused average lead levels in Flint's faucet water of 11 parts per billion—double the recommended maximum. One sample tested at 13,000 ppb—more than double the federal "toxic waste" level. It is assumed that most of the city's 8,556 children 5 years old or under were exposed to this tainted water. No one knows how many might suffer from their exposure. There is also an assumption that less affluent families' older homes are more likely to be affected. Lead poisoning can be irreversible.
Father Dan Scheid, of St. Paul's Episcopal Church in downtown Flint, said:
"It falls on the poor." Flint has 40 percent unemployment and is 60 percent black. Scheid added: "There is a lot of finger pointing…I think it can do good if it casts light on those who are liable."
Already, EPA regional administrator (and Obama appointee) Susan Hedman, who allegedly sat on an EPA warning about lead in Flint's water for five months, has resigned on a week's notice. Heads have rolled in Michigan's bureaucracy—particularly in the state Environmental Quality Agency, which had staunchly denied any dangers, while reportedly installing filters on its own office water coolers. "People were complaining about the water quality from the first day," said Scheid. "It took 18 months for official acknowledgement and reaction. Would it have taken nearly that long in a wealthy community?''
"Then the GM engine plant staff complained that the river water was corroding freshly made components. GM started getting its water [elsewhere],'' Scheid noted. Officialdom ignored the possibility that water bad enough to corrode steel castings might also harm people. "I want the Flint community to know how very sorry I am that this has happened,'' Snyder said, announcing the resignation of his EQA head. But many feel Snyder himself stands atop the pyramid of blame.
Early this year the American Civil Liberties Union, which has been a major partner in the Flint water supply investigation, announced the Justice Department was "working closely with the Environmental Protection Agency on the investigation into the contamination of the city of Flint's water supply." The ACLU has since announced its own legal action. Meanwhile,  State Attorney General Bill Schuette said the state may refuse to defend Michigan Environmental Quality employees from a pending Flint class action suit.
Melissa Mays, a Flint water activist with a group called Water We're Fighting For, wants justice. But she also wonders where the money will come from, not just to upgrade the water infrastructure (the estimates range from $60 million to over $1 billion), but to treat and care for those who may have suffered possibly irreversible harm from lead exposure. "We need to do blood tests on all of Flint's children," she said, and secure needful funding of treatments like chelation. Good diet is important too, she added, because fresh produce, especially greens, helps reduce lead's effects. She noted that Flint is a food desert for fresh, healthy produce. There are very few full-service grocery store for over 99,000 Flintians.
Flint remains in the nation's eye. Coca-Cola and PepsiCo, along with Freemasons and a local Militia (sans guns) are delivering water to those in need (a case weighs nearly 26 pounds—quite a tote if you have to take a bus). Water or funding for water is also being donated by churches as far away as Memphis, Tennessee and Inglewood, California. Hundreds of union plumbers in Michigan have come to install faucet filters and (where necessary) new faucets for free. Working people everywhere relate to Flint's plight, because we all now really live in a culture prone to demolishing the basic benefits of society for the short-term gain of a few.
Just ask anyone waiting in line for bottled water in Flint.
---
Marc Haefele is a commentator on KPCC's
Off Ramp
program and has written for the
 New York Times 
and
 Los Angeles Times.

Diablo in the Details: Who Will Shoulder the Costs of a Nuclear Power Plant Shutdown?
Built atop an earthquake fault on an idyllic California sea cliff, the Diablo Canyon nuclear plant has hardly gone a day in its history without stirring controversy.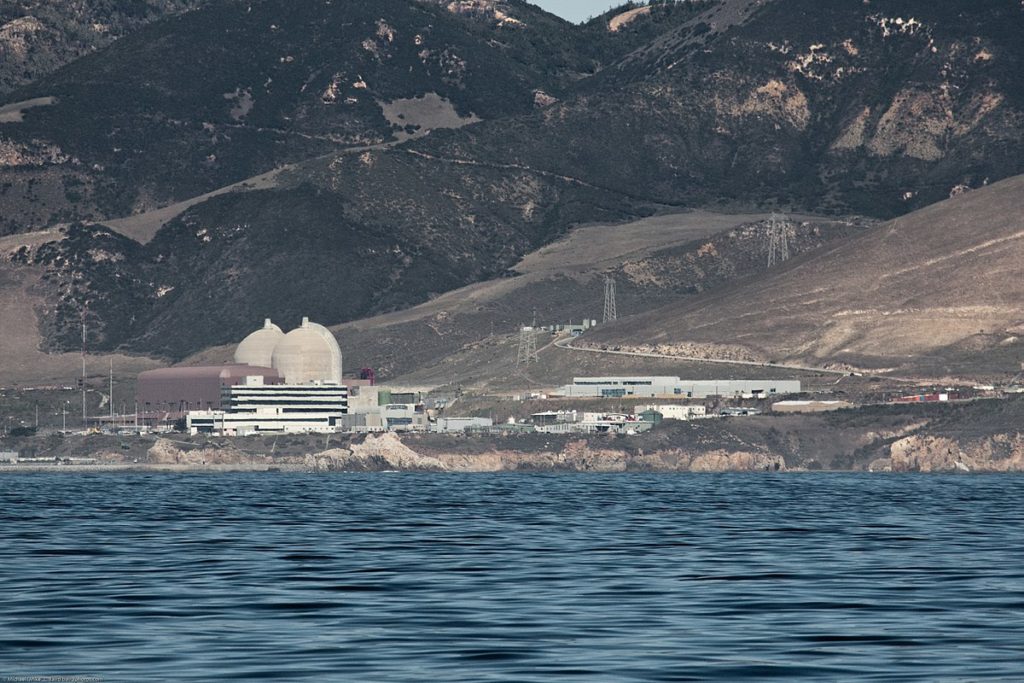 The agreement was lauded as historic. Environmental groups, labor and the state's largest electrical utility had come together in the summer of 2016 and crafted a joint proposal to shutter California's last nuclear power plant. For the enviros, who had opposed the plant since the San Francisco-based utility Pacific Gas & Electric first proposed it more than a half century ago, there would be the promise of clean energy to replace the plant's annual 18,000 gigawatt-hours of electricity, supplying three million homes — 20 percent of PG&E's service area — with energy free of greenhouse gases. For labor, represented by the International Brotherhood of Electrical Workers Local 1245, there would be ample funds to retain skilled workers, and retrain the ones losing their jobs.
There was even $85 million in "community impact mitigation" funds for the local community to offset lost property taxes and other costs to the local economy.
With this agreement the utility would finally secure the California Public Utilities Commission's approval to unplug and dismantle Diablo Canyon's two units when their federal licenses expire in 2024 and 2025.
The approval to unplug, at least, was granted. An administrative law judge with the utilities commission responded to the joint proposal with a proposed decision, authorizing the utility to take the Diablo Canyon facility off the grid six years from now. But the revised proposal denied PG&E the $1.76 billion it had requested for the suite of benefits in the joint proposal. Instead, it authorized the utility to recover from its customers exactly $241.2 million for costs associated with the plant's retirement. It shifted the responsibility for community impacts to the legislature, and punted the issue of replacement power to the utility. And it cut what was a proposed $363.4 million to retain and retrain workers by more than a third.
On January 11, the commissioners adopted a final decision that made only modest changes to the proposed decision as written by the administrative law judge.
Peter Miller, western energy project director with the Natural Resources Defense Council, says his organization was disappointed with the cuts. "We'd struck a great deal with the labor union on Diablo Canyon," he says. Retiring a nuclear plant is, in terms of economic consequences, the same as powering down a coal plant. Avila Beach, where the plant sits, is a company town, organized around a "big, old power plant that doesn't fit the modern grid," Miller says. "Instead of just turning the key and abandoning the plant, the town and the workers, we wanted to find a more collaborative way to retire the plant and jumpstart the replacement process."
The joint proposal had also been crafted to avoid what happened at the San Onofre plant in 2013, when cracks in a new steam generator's tubing caused the plant to shut down suddenly and permanently. All but 400 of the plant's 2,200 or so workers lost their jobs, and Southern California Edison, the plant's major owner, replaced much of the nuclear plant's emissions-free generation with polluting natural gas.
On March 16, State Sen. Bill Monning (D-Carmel) and Assemblymember Jordan Cunningham (R-San Luis Obispo) announced SB 1090, a bill that would require the commission to restore certain elements of the joint proposal, including the full funding for workers. The law also stipulates that clean energy must replace what the nuclear plant produced. Monning's bill will also allow PG&E to bill customers for the proposal's original $85 million to soften the blow to the community when the plant shuts down.
"San Luis Obispo County agreed to house the Diablo Canyon Nuclear Power Plant, which provides power to more than three million people and benefits Californians despite the negative repercussions," Monning said in a statement. "The County and its residents deserve to be compensated for the impacts they will incur when the plant shuts down."
But do they? Matthew Freedman, a staff attorney with The Utility Reform Network (TURN), warns that it's not PG&E shareholders paying the costs of the plant's retirement. The utility will recover the costs in customers' bills. He worries that what he calls Monning's "end run" around the utilities commission's decision could set an expensive precedent for any community with a power plant nearing the end of its natural life.
"We're sensitive to the fact that communities have been reliant on Diablo Canyon for employment and revenue," he says. But there was never any expectation that the plant was going to operate beyond the end of its current license. The costs of an aging nuclear plant, combined with competition from natural gas, rooftop solar and rapid gains in energy efficiency, mean that the electricity once touted as "too cheap to meter" will soon be too costly to produce. "That's been known for decades," Freedman says.
If SB 1090 passes, "it will embolden every community where a power plant is closing to have their representative run a bill in the legislature to get a chunk of money on everyone else's dime," Freedman says. He notes that the Orange County communities around San Onofre didn't get a payout when that plant shutdown. "Perhaps," Freedman says, "this will give them ideas."
Built near an earthquake fault on an idyllic California sea cliff, the Diablo Canyon nuclear plant has hardly gone a day in its history without stirring controversy. Pacific Gas & Electric announced plans to build it in 1963, but more than 20 years passed before it went into service, thanks in part to organized opposition to the plant during a time when people in the U.S. had ecology on the brain. Mothers for Peace, founded in 1969 to protest U.S. involvement in the Vietnam War, shifted its energies in 1973 full time to stopping the construction of Diablo Canyon; a group called the Abalone Alliance formed in 1977 specifically to oppose the plant. Their members pored over legal and technical documents, dragged PG&E through lawsuits, and when that didn't work, chained themselves to fences to stop machinery. Jackson Browne was arrested for his part in the protests in 1981; Jerry Brown, California's governor then as now, vowed to do everything in his power to shut the project down.
Plant opponents were not without cause. In 1971, oil company surveyors had discovered an offshore fault sufficiently long to produce a 7.5 magnitude earthquake less than three-and-a-half miles from the site of the two reactors under construction. As Diablo Canyon had only been designed to withstand a magnitude 6.75 quake, PG&E was forced to redesign the plant to a higher seismic standard. As late as 1981, under pressure from activists, the Nuclear Regulatory Commission was suspending PG&E's license to test and operate the plant until it could pass several seismic tests. The delays were expensive. When Diablo Canyon's first reactor finally went online in 1985, PG&E customers were on the hook for $5.8 billion in construction costs, roughly $5.2 billion more than the original 1968 estimate.
Pacific Gas & Electric has been recovering those costs, along with any other capital expenditures, via its customers' bills since the start of the plant's life. Matthew Freedman doesn't think the utility should be able to tack more on at the end. "PG&E loves to provide money collected from ratepayers and act like they're engaging in a charitable endeavor like a good corporate citizen," he says. "But there's nothing in [Monning and Cunningham's bill] that assigns any responsibility to the utility."
With or without support for workers and local residents, however, no new fuel rods will be loaded into Diablo Canyon's reactors after 2025. The steam generators will power down, and electricity production will cease. The plant will stand for a time, as San Onofre does, a relic of a bygone era, as workers begin the multi-billion-dollar process of relocating spent fuel from pools to heavy steel casks, decontaminating the plant's radioactive innards and removing its crapped-out equipment. And for the first time since 1957, when the ill-fated Santa Susana Sodium Reactor began operations near Moorpark, California will be free of nuclear power plants.
---
Copyright Capital & Main