Flint's Water Disaster: A Lead-Pipe Cinch
Early 20th century Flint postcard
For southwest Flint resident Qiana Dawson, it started when she was combing her 2-year-old daughter Rylan's hair. Dawson was gently spraying water on the child's head to ease the task, when Rylan started crying, as if she were in pain. She took her to a dermatologist.
And that was when her family discovered the problem with Flint's water. "I don't think you anticipate things like this," Dawson said nearly two years later. "You take water for granted." Even in hardscrabble Flint, drifting in and out of receivership since the last century, with a population that's shrunk nearly 21 percent in 15 years and has one of the nation's top crime rates — clean, healthy tap water seemed like a citizen's basic right. Now Flint's water is only safe for washing floors and flushing toilets. Dawson and her family of four have had to use bottled water for everything else—brushing teeth, cooking, washing vegetables, even bathing. "It costs about $7 just to bathe a child with bottled water," she told Capital & Main. 
She still pays over $120 month for her useless public water. Dawson and others interviewed for this article said that some Flint parents have been told that if their water is turned off, their children may be put into foster care.
It started as a tale of two bankrupt cities, one large and one small. Detroit sits near a Great Lake, with an abundant supply of fresh drinking water. Little Flint is 65 miles inland. The little city bought water from the big city, while the big city kept raising prices to fund its own collapsing services.
So the Flint City Council voted in 2013 to share a new pipeline to Lake Huron. But this would take at least two years. Meanwhile, Flint's emergency manager, Darnell Earley, who was appointed by Governor Rick Snyder to run the city, decided to tap the Flint River to save all Flint's water costs. (Earley has claimed the decision wasn't his. Howard Croft, a former top Flint official, says the real decision was Snyder's.) The governor's managers had previously fired police and cut city wages relentlessly, but for this decision the blowback turned global. In a December act of political contrition, the beleaguered governor, after denying the Flint problem for 18 months, confessed to an error, promised to fix things and released pertinent emails. He formed an investigative panel which his enemies instantly distrusted. But certainly there was plenty of blame to go around.
Starting with Flint. Within days after its river entered the system in early 2014, it seemed as if no one in the Flint Department of Public Works had ever heard of water treatment. First there came high-level E. coli bacteria. The city responded by urging consumers to boil water while the city over-chlorinated it, creating dangerous chemical compounds. Consumers complained their water now smelled like garbage.
Meanwhile, another peril crept in. The Flint River was no longer the toxic waterway it was when it drained Flint's vanished General Motors plants. But it still was tainted by the salt applied to roads every Michigan winter. Fiercely corrosive to metals like iron and chrome found in water mains and pipes, it caused water to "look more like coffee, or tea," according to Dawson, which she and her neighbors brought in jugs to council meetings. They were all told that the water was safe and not to worry. Far more worrisome was the invisible lead dissolved in the same water.
"Some of the pipe was over 100 years old," said Siddhartha "Sid" Roy, one of the team of over 20 experts from Virginia Polytechnic who came to Flint to investigate. About half the homes had lead piping connecting the water mains, which had their own lead residues. A simple, common corrosion cure is adding phosphate chemicals. Asked by the Environmental Protection Agency, a Flint official reportedly said Flint did have a phosphate treatment program. Both the New York Times and Los Angeles Times have reported Flint had no such program, while other reports suggested the treatment was omitted to save $60 a month.
"I struggle to understand how this happened," says Roy. According to Virginia Tech's sampling of over 270 homes, the omission caused average lead levels in Flint's faucet water of 11 parts per billion—double the recommended maximum. One sample tested at 13,000 ppb—more than double the federal "toxic waste" level. It is assumed that most of the city's 8,556 children 5 years old or under were exposed to this tainted water. No one knows how many might suffer from their exposure. There is also an assumption that less affluent families' older homes are more likely to be affected. Lead poisoning can be irreversible.
Father Dan Scheid, of St. Paul's Episcopal Church in downtown Flint, said:
"It falls on the poor." Flint has 40 percent unemployment and is 60 percent black. Scheid added: "There is a lot of finger pointing…I think it can do good if it casts light on those who are liable."
Already, EPA regional administrator (and Obama appointee) Susan Hedman, who allegedly sat on an EPA warning about lead in Flint's water for five months, has resigned on a week's notice. Heads have rolled in Michigan's bureaucracy—particularly in the state Environmental Quality Agency, which had staunchly denied any dangers, while reportedly installing filters on its own office water coolers. "People were complaining about the water quality from the first day," said Scheid. "It took 18 months for official acknowledgement and reaction. Would it have taken nearly that long in a wealthy community?''
"Then the GM engine plant staff complained that the river water was corroding freshly made components. GM started getting its water [elsewhere],'' Scheid noted. Officialdom ignored the possibility that water bad enough to corrode steel castings might also harm people. "I want the Flint community to know how very sorry I am that this has happened,'' Snyder said, announcing the resignation of his EQA head. But many feel Snyder himself stands atop the pyramid of blame.
Early this year the American Civil Liberties Union, which has been a major partner in the Flint water supply investigation, announced the Justice Department was "working closely with the Environmental Protection Agency on the investigation into the contamination of the city of Flint's water supply." The ACLU has since announced its own legal action. Meanwhile,  State Attorney General Bill Schuette said the state may refuse to defend Michigan Environmental Quality employees from a pending Flint class action suit.
Melissa Mays, a Flint water activist with a group called Water We're Fighting For, wants justice. But she also wonders where the money will come from, not just to upgrade the water infrastructure (the estimates range from $60 million to over $1 billion), but to treat and care for those who may have suffered possibly irreversible harm from lead exposure. "We need to do blood tests on all of Flint's children," she said, and secure needful funding of treatments like chelation. Good diet is important too, she added, because fresh produce, especially greens, helps reduce lead's effects. She noted that Flint is a food desert for fresh, healthy produce. There are very few full-service grocery store for over 99,000 Flintians.
Flint remains in the nation's eye. Coca-Cola and PepsiCo, along with Freemasons and a local Militia (sans guns) are delivering water to those in need (a case weighs nearly 26 pounds—quite a tote if you have to take a bus). Water or funding for water is also being donated by churches as far away as Memphis, Tennessee and Inglewood, California. Hundreds of union plumbers in Michigan have come to install faucet filters and (where necessary) new faucets for free. Working people everywhere relate to Flint's plight, because we all now really live in a culture prone to demolishing the basic benefits of society for the short-term gain of a few.
Just ask anyone waiting in line for bottled water in Flint.
---
Marc Haefele is a commentator on KPCC's
Off Ramp
program and has written for the
 New York Times 
and
 Los Angeles Times.

Lead Poisoning Widespread Among California Workers
The problem in California doesn't appear to lie with finding out about lead-poisoned workers, but with what happens — or doesn't happen — when some state officials get that information.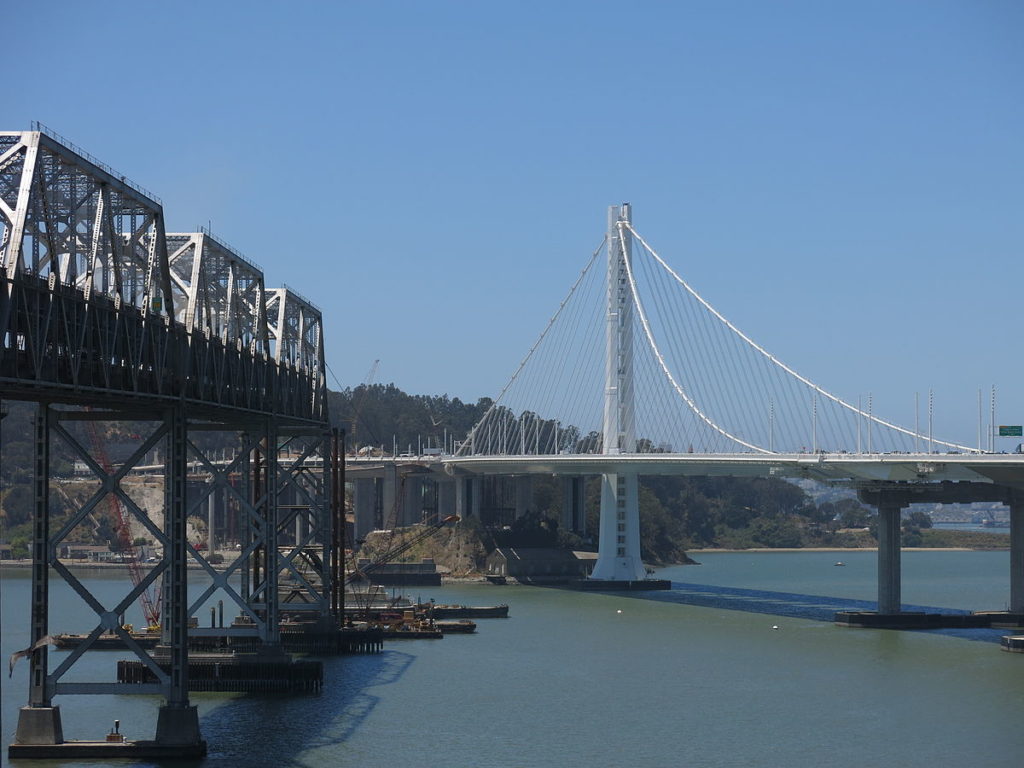 ---
Despite their company's safety promises, 12 employees working on the demolition of part of the Bay Bridge were lead-poisoned between 2013 and 2016.
---
Last March, Capital & Main launched an investigative series, "Battery Blood," which revealed that hundreds of workers at the former Exide battery recycling plant in Vernon, California, had for decades been exposed to lead poisoning. Even worse, the state's public health department knew about it but failed to act. Now, utilizing data obtained from the California Department of Public Health (CDPH), our joint investigation with the University of Southern California's Center for Health Journalism has found at least 80 companies — including one that recently dismantled parts of the iconic  San Francisco–Oakland Bay Bridge — continue to have  workers in California who are lead-poisoned at levels high enough to cause birth defects, tremors and a variety of brain disorders.
Once again we found that CDPH routinely failed to refer even the most egregious employers to state enforcement officers who can levy fines and require mandatory changes.
Some of the most extensive problems were found at other car battery recycling plants in working-class areas of Los Angeles. At one plant, Trojan Battery Recycling Company had 174 employees with elevated levels of lead in their blood between 2015 and 2016.
---
A state safety agency accepted the dismantling company's explanation that one bridge worker was lead-poisoned because he chewed tobacco.
---
"It's beyond upsetting," Bell city councilman Nestor Valencia said. He lives in one of the roughly 10,000 residential properties contaminated at levels above what is safe for kids by lead emissions from the Exide plant. "You know we need these jobs, but not at the expense of worker health or keeping kids who live nearby safe. This is what state government is supposed to be for, and they are failing us." Valencia said he was shocked to learn that other nearby plants continue to have lead-poisoned workers.
The Bay Area also has serious ongoing problems. There were lead-poisoning victims among those working on the demolition of the eastern span of the San Francisco–Oakland Bay Bridge. Despite promises to keep workers safe from lead, California Engineering Contractors, which received a $200 million dollar state contract to dismantle the earthquake-damaged span, had 12 cases of lead-poisoned employees between 2013 and 2016.
And at Target Masters West, an indoor gun range in the city of Milpitas, there have been more than 25 lead-poisoning cases in the last decade amongst workers who clean and manage the range. Seven cases were reported during 2015 and 2016, the most recent years for which data is available.
---
The California Department of Public Health has shown a stunning level of reluctance to turn lead-poisoning cases over to Cal/OSHA for enforcement.
---
Target Master West owner Bill Heskett bristled at the suggestion his workers had been poisoned, asserting that a spate of recent findings by public health experts that lead at lower levels is harmful to human health "isn't based in real science and has been set by a bunch of clerks with no accountability." Heskett said that the recent spikes in lead levels at his range were attributable to an employee "who wasn't following protocols." The employee was terminated, Heskett said.
In response to the Exide revelations in our March investigation, a bill was introduced in the California legislature by Assemblymember Ash Kalra (D-San Jose). Assembly Bill 2963 would require mandatory inspections at any workplace where a worker's blood lead level is at or above 25 micrograms per deciliter. Even at levels as low as 10 micrograms per deciliter, according to the U.S. Centers for Disease Controls (CDC), people with prolonged exposure to the neurotoxin are at higher risk for high blood pressure, heart disease, kidney disease and reduced fertility.
While the legislation has faced stiff opposition from industry groups and only passed out of the Assembly by a single vote, it has stronger support in the Senate and appears likely to make it to Governor Jerry Brown's desk.
Among AB 2963's supporters is Senator Bob Wieckowski (D-Fremont), who expressed dismay that problems at the Milpitas gun range (which is in his district), the Bay Bridge project and elsewhere have been allowed to linger. "If you had a family member or a friend exposed to high blood lead levels, you would want to see immediate action taken to reduce that exposure," Wieckowski said. "The health and safety of all workers should be the top priority."
Two Agencies Working in Silos
The problem in California doesn't appear to lie with finding out about lead-poisoned workers, but with what happens when some state officials get that information.
At battery plants, gun ranges and other workplaces where exposure to lead is common, the state of California requires companies to test their workers for elevated levels of lead. The custodian of that testing information is a division of CDPH called the Occupational Lead Poisoning Prevention Program (OLPPP). The division is funded through a small fee on employers in industries that work with lead. In theory, OLPPP provides education to companies and at the agency's discretion can refer serious cases to the California Division of Occupational Safety and Health, better known as Cal/OSHA. The enforcement agency can then determine the cause of problems and issue fines when unsafe practices are found.
---
"They've lost sight of the fundamental mission, to make sure that at the end of the day workers come home to their families safe and sound."
---
Our year-long investigation found a stunning level of reluctance on the part of CDPH to turn lead-poisoning cases over to Cal/OSHA for enforcement. Of the eight companies with some of the most persistent problems with lead exposure in California between 2013 and 2016, Cal/OSHA confirmed that it received no referrals from OLPPP for any of them during the last 10 years, and conducted no lead-related inspections at any of the companies. Many of the workplaces have had lead-poisoned workers for decades.
CDPH has declined repeated interview requests and did not respond in time for publication to written questions about its management of lead poisoning cases.
Through the state Public Records Act, Capital & Main obtained communications between OLPPP and California Engineering Contractors (CEC), one of the companies awarded a contract by California's Department of Transportation to dismantle the Bay Bridge.
In October 2013, OLPPP informed the company that workers on the project would be exposed to lead coating as the steel bridge was dismantled. "Our role is to assist employers in identifying and correcting work practices that can result in employees being over exposed to lead," the OLPPP wrote in a letter.
Within a year, workers on the project showed signs of elevated blood lead levels. The company asserted in an August, 2014 email to OLPPP that it could bring the situation under control. "We are confident we can get even the highest exposed workers under 10 µg/dl (BLL) with aggressive oversight and support," wrote CEC safety director Robert Ikenberry.
Despite assurances, the problem of lead-poisoned employees grew worse. By 2015 one worker's blood lead levels had exceeded 40 micrograms per deciliter, a level deemed "very high" by the CDC.  Michael McKinney, a safety manager for CEC had an explanation, which he provided in an email to OLPPP.  "The employee admitted to us that he was chewing tobacco during work. We feel that this practice is what caused the high lead level," McKinney wrote.  OLPPP appeared to accept that explanation, and never referred the Bay Bridge project for Cal/OSHA inspection, even when elevated blood levels amongst workers jumped 25 percent the following year.
Mariano Kramer, a former district manager for Cal/OSHA, said that simply accepting emailed assurances from a company with lead-poisoned workers is not acceptable. "There are a myriad of issues which can cause elevated blood lead levels. A trained inspector knows how to identify them."
In 27 states, workplace occupational lead safety standards are administered by the Occupational Safety and Health Administration (OSHA), a federal agency. In those states, any blood lead level above 25 micrograms triggers an automatic OSHA inspection, through which fines for unsafe conditions can be levied and changes can be mandated. A similar standard would go into effect in California if AB 2963 becomes law.
Kramer said he supports the proposed legislation because it would empower his former agency to more aggressively target workplaces that lead-poison workers.
"But," he added, "there are cultural issues within both agencies that no law will fix. They've lost sight of the fundamental mission, to make sure that at the end of the day workers come home to their families safe and sound."
This article was produced as a project for the 2017 California Data Fellowship, a program of the USC Annenberg Center for Health Journalism.
---
Copyright Capital & Main