Five Union-Made Holiday Desserts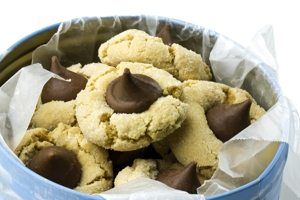 (This post first appeared on Union Plus.)
No holiday tradition competes with the family meal. Between desserts decorated full of cheer and marvelous meats that melt in your mouth, 'tis the season for a full stomach. Luckily for union members, members of the United Food and Commercial Workers (UFCW), the Bakery, Confectionery, Tobacco Workers and Grain Millers (BCTGM) and the United Farm Workers (UFW) have an amazing variety of ingredients such as Hershey's chocolate and Montpelier Almonds to create the most delicious and view-licious recipes. Here are five fun holiday dessert recipes to help you be union, buy union and bake union.
Rolo Pretzel Delights (Thank the UFCW members for Rolo)
Ingredients: Small pretzels, ROLO Chewy Caramels in Milk Chocolate, Pecan halves
Directions:
Heat oven to 350°F. Line cookie sheet with parchment paper or foil.
Place one pretzel for each pretzel treat desired on prepared sheet. Top each pretzel with one unwrapped Rolo Chewy Caramel in Milk Chocolate.
Bake 3 to 5 minutes or until caramel piece begins to soften, but not melt. Remove from oven; top with either pecan half or additional pretzel. Cool completely.
Kisses Candy Cane Blossoms Recipe (Thank the BCTGM members for Hershey Kisses)
Ingredients: 48 Hershey's Kisses Brand Candy Cane Mint Candies, 1/2 cup (1 stick) butter or margarine, softened, 1 cup granulated sugar, 1 egg, 1-1/2 teaspoons vanilla extract, 2 cups all-purpose flour, ¼ teaspoon baking soda, 1/4 teaspoon salt, 2 tablespoons milk, Red or green sugar crystals, granulated sugar or powdered sugar
Directions:
Heat oven to 350°F. Remove wrappers from candies.
Beat butter, granulated sugar, egg and vanilla in large bowl until well blended. Stir together flour, baking soda and salt; add alternately with milk to butter mixture, beating until well blended.
Shape dough into 1-inch balls. Roll in red sugar, granulated sugar, powdered sugar or a combination of any of the sugars. Place on ungreased cookie sheet.
Bake 8 to 10 minutes or until edges are lightly browned and cookie is set. Remove from oven; cool 2 to 3 minutes. Press a candy piece into center of each cookie. Remove from cookie sheet to wire rack. Cool completely. About 4 dozen cookies.
Orange Creamsicle Pound Cake (Thank the BCTGM members at Sara Lee)
Ingredients: 1 package Sara Lee® Frozen Pound Cake, 4 ounce cream cheese softened, 2 tablespoons butter softened, 2 cups powdered sugar, 1 tablespoon orange juice, 1/2 cup sugar (plus extra for garnish), 1/2 cup water, 1 orange, 1 teaspoon orange extract, 1/4 cup shredded coconut (optional)
Directions:
In bowl of electric mixer using paddle attachment, mix cream cheese, butter, confectioner's sugar, orange extract, orange juice and zest of half of an orange until smooth.
Meanwhile, create glaze by bringing sugar and water to a boil in saucepan over medium-high heat.
Peel half of an orange with a vegetable peeler being careful to avoid the white part of the orange.
Add orange peels and reduce to simmer for 8-10 minutes.
Remove peels from glaze, roll in sugar and let dry for 10–15 minutes.
Drizzle remaining orange glaze over top of pound cake.
Spread orange cream on top and sides of cake. Add coconut flakes if desired.
Garnish top of cake with slices of remaining orange, a sprinkle of orange zest and a few candied orange peels.
Cocoa Roast Almonds (Use Montpelier Almonds to support UFW members)
Ingredients: 2 cups raw almonds, 1 egg white, 1/4 cup water, 1 t vanilla extract, 1/2 cup cocoa powder, 1/2 cup powdered sugar
Directions:
Preheat your oven to 350ºF.
In a medium bowl, whisk together the egg white, vanilla extract and water.
In a zip-top bag, add the powdered sugar and cocoa powder. Seal the bag and shake it around to get everything incorporated.
Add 1 cup of almonds to the egg whites and use a slotted spoon or fork (or nature's fork–your hands) to coat all the almonds. Then using your "fork" put all the almonds in the cocoa/sugar zip-top bag. Seal it well and shake it around to coat all the almonds.
Place the almonds on a baking sheet. Repeat the egg white and cocoa steps above with the other cup of almonds. Don't worry if you get the cocoa powder on the baking sheet—it won't do any harm.
Bake for about 20 minutes.
If you'd like them a bit sweeter, you can add the cooled, roasted almonds to a zip-top bag along with a few tablespoons of powdered sugar and toss them around.
Keep the almonds stored in a zip-top bag.
Chocolate Éclair Squares (Thank BCTGM members at Nabisco for Nilla Wafers)
Ingredients: 2 cups milk (cold), 6-4/5 ounces vanilla flavor instant pudding, 8 ounces whipped topping (tub cool whip whipped topping thawed), 64 Nilla wafers, 2 squares semi-sweet chocolate (baker)
Directions:
Beat milk and pudding mixes with whisk 2 min. Stir in whipped topping.
Arrange 16 wafers on bottom of 8-inch square dish; cover with 1/3 of pudding mixture. Repeat layers twice. Top with remaining wafers. Refrigerate 4 hours.
Microwave chocolate in microwaveable bowl on HIGH 1 min. or until melted when stirred. Drizzle over dessert.