Five Union-Made Holiday Desserts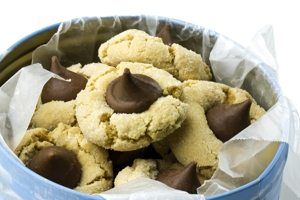 (This post first appeared on Union Plus.)
No holiday tradition competes with the family meal. Between desserts decorated full of cheer and marvelous meats that melt in your mouth, 'tis the season for a full stomach. Luckily for union members, members of the United Food and Commercial Workers (UFCW), the Bakery, Confectionery, Tobacco Workers and Grain Millers (BCTGM) and the United Farm Workers (UFW) have an amazing variety of ingredients such as Hershey's chocolate and Montpelier Almonds to create the most delicious and view-licious recipes. Here are five fun holiday dessert recipes to help you be union, buy union and bake union.
Rolo Pretzel Delights (Thank the UFCW members for Rolo)
Ingredients: Small pretzels, ROLO Chewy Caramels in Milk Chocolate, Pecan halves
Directions:
Heat oven to 350°F. Line cookie sheet with parchment paper or foil.
Place one pretzel for each pretzel treat desired on prepared sheet. Top each pretzel with one unwrapped Rolo Chewy Caramel in Milk Chocolate.
Bake 3 to 5 minutes or until caramel piece begins to soften, but not melt. Remove from oven; top with either pecan half or additional pretzel. Cool completely.
Kisses Candy Cane Blossoms Recipe (Thank the BCTGM members for Hershey Kisses)
Ingredients: 48 Hershey's Kisses Brand Candy Cane Mint Candies, 1/2 cup (1 stick) butter or margarine, softened, 1 cup granulated sugar, 1 egg, 1-1/2 teaspoons vanilla extract, 2 cups all-purpose flour, ¼ teaspoon baking soda, 1/4 teaspoon salt, 2 tablespoons milk, Red or green sugar crystals, granulated sugar or powdered sugar
Directions:
Heat oven to 350°F. Remove wrappers from candies.
Beat butter, granulated sugar, egg and vanilla in large bowl until well blended. Stir together flour, baking soda and salt; add alternately with milk to butter mixture, beating until well blended.
Shape dough into 1-inch balls. Roll in red sugar, granulated sugar, powdered sugar or a combination of any of the sugars. Place on ungreased cookie sheet.
Bake 8 to 10 minutes or until edges are lightly browned and cookie is set. Remove from oven; cool 2 to 3 minutes. Press a candy piece into center of each cookie. Remove from cookie sheet to wire rack. Cool completely. About 4 dozen cookies.
Orange Creamsicle Pound Cake (Thank the BCTGM members at Sara Lee)
Ingredients: 1 package Sara Lee® Frozen Pound Cake, 4 ounce cream cheese softened, 2 tablespoons butter softened, 2 cups powdered sugar, 1 tablespoon orange juice, 1/2 cup sugar (plus extra for garnish), 1/2 cup water, 1 orange, 1 teaspoon orange extract, 1/4 cup shredded coconut (optional)
Directions:
In bowl of electric mixer using paddle attachment, mix cream cheese, butter, confectioner's sugar, orange extract, orange juice and zest of half of an orange until smooth.
Meanwhile, create glaze by bringing sugar and water to a boil in saucepan over medium-high heat.
Peel half of an orange with a vegetable peeler being careful to avoid the white part of the orange.
Add orange peels and reduce to simmer for 8-10 minutes.
Remove peels from glaze, roll in sugar and let dry for 10–15 minutes.
Drizzle remaining orange glaze over top of pound cake.
Spread orange cream on top and sides of cake. Add coconut flakes if desired.
Garnish top of cake with slices of remaining orange, a sprinkle of orange zest and a few candied orange peels.
Cocoa Roast Almonds (Use Montpelier Almonds to support UFW members)
Ingredients: 2 cups raw almonds, 1 egg white, 1/4 cup water, 1 t vanilla extract, 1/2 cup cocoa powder, 1/2 cup powdered sugar
Directions:
Preheat your oven to 350ºF.
In a medium bowl, whisk together the egg white, vanilla extract and water.
In a zip-top bag, add the powdered sugar and cocoa powder. Seal the bag and shake it around to get everything incorporated.
Add 1 cup of almonds to the egg whites and use a slotted spoon or fork (or nature's fork–your hands) to coat all the almonds. Then using your "fork" put all the almonds in the cocoa/sugar zip-top bag. Seal it well and shake it around to coat all the almonds.
Place the almonds on a baking sheet. Repeat the egg white and cocoa steps above with the other cup of almonds. Don't worry if you get the cocoa powder on the baking sheet—it won't do any harm.
Bake for about 20 minutes.
If you'd like them a bit sweeter, you can add the cooled, roasted almonds to a zip-top bag along with a few tablespoons of powdered sugar and toss them around.
Keep the almonds stored in a zip-top bag.
Chocolate Éclair Squares (Thank BCTGM members at Nabisco for Nilla Wafers)
Ingredients: 2 cups milk (cold), 6-4/5 ounces vanilla flavor instant pudding, 8 ounces whipped topping (tub cool whip whipped topping thawed), 64 Nilla wafers, 2 squares semi-sweet chocolate (baker)
Directions:
Beat milk and pudding mixes with whisk 2 min. Stir in whipped topping.
Arrange 16 wafers on bottom of 8-inch square dish; cover with 1/3 of pudding mixture. Repeat layers twice. Top with remaining wafers. Refrigerate 4 hours.
Microwave chocolate in microwaveable bowl on HIGH 1 min. or until melted when stirred. Drizzle over dessert.

'Skeleton Crew' Is a Play With a Moral Spine
Set in a Detroit automobile outfitting plant, Dominique Morisseau's drama grabs you from the start with its focus on blue-collar men and women, and their struggle for dignity and self-respect.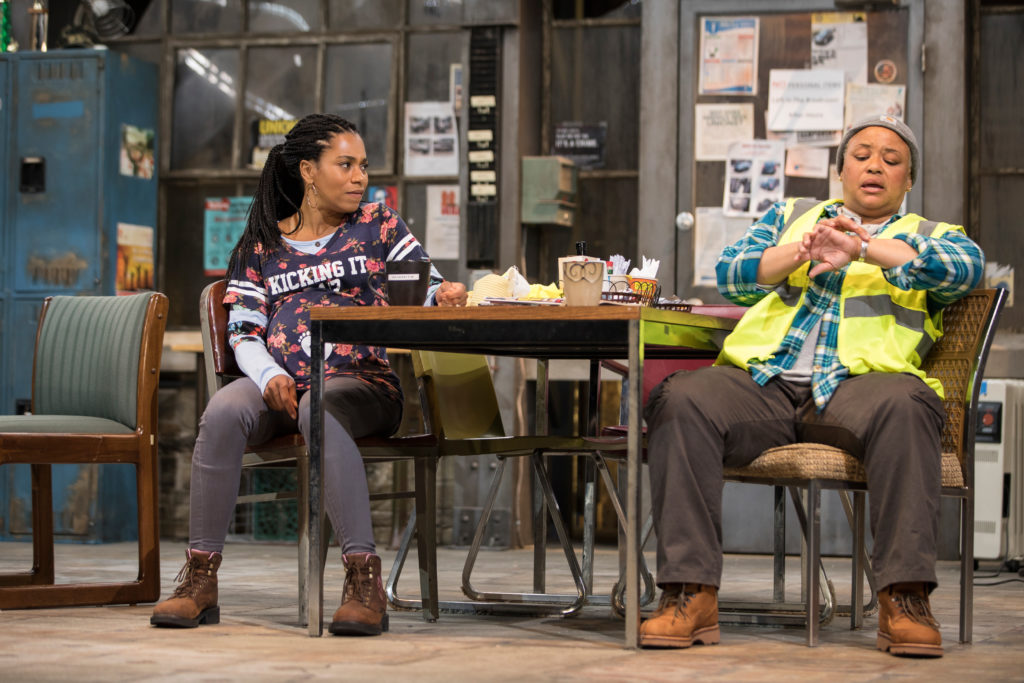 Working-class men and women of color are rarely front and center in today's media and, likewise, are presented all too occasionally on the American stage. So it's buoying to see that trend bucked in playwright Dominique Morisseau's percipient and well-crafted drama, Skeleton Crew. The play is the final installment in her Detroit  Project Trilogy; the first, Paradise Blue, is set in the 1940s amidst displacement caused by urban renewal and gentrification, while the second, Detroit '67, transpires on the eve of the 1967 Detroit riots sparked by a police action.
Directed by Patricia McGregor at Los Angeles' Geffen Playhouse, Skeleton Crew is a play with a moral spine. It takes place in 2008, when the shrinking U.S. auto industry is being further downsized. Morisseau's engaging quartet of characters — Faye (Caroline Stefanie Clay), Dez (Armari Cheatom), Shanita (Kelly McCreary) and Reggie (DB Woodside) – are employed at an automobile outfitting plant. Faye, Dez and Shanita are workers on the line while Reggie (who has a wife and kids, and has pulled himself together after a troubled youth) is their supervisor.
The first three customarily mingle in their break room (designer Rachel Myers' impressively cluttered, dingy and detailed set), trading the sort of familiar barbs and genuine concern for each other common among longtime co-workers. They also face off on philosophy: Upper-middle-aged Faye and the younger, pregnant Shanita take pride in their labor, while Dez, though a good worker, is a malcontent scornful of management and firm in the belief that everyone needs to watch out for himself. He's a thorn in Reggie's side, for while Reggie wants to be supportive of his workers, he must act at the behest of higher management. For his part, Dez resents Reggie's authority, and a palpable unease exists between them.
Besides this male matchup, we're made privy to Dez's attraction to Shanita, who mostly turns away his advances, but every now and then displays a hint of interest. Most poignant is Reggie's regard and affection for the lesbian Faye, which has roots in his boyhood when she loved, and lived, with his now-deceased mom.
These people's various predicaments intensify when rumors spread of the plant's shutdown — a disaster for all, but a particular calamity for the already near-broke Faye who, one year short of retirement, would lose her pension. The crisis forces each of these people to make a choice.
A sound piece of social realism, Skeleton Crew grabs you from the start in its focus on blue-collar men and women, and their struggle against odds for dignity and self-respect. Morisseau not only furnishes these characters a platform for their travails, she endows them with strong values, big hearts and the opportunity to choose between right and wrong.
Unfortunately, the performance I attended did not soar. Many exchanges lacked a fresh edge. The actors certainly had their characters down, but too often they appeared to be coasting on technique. (This seemed particularly true of Clay, who performed the role to great accolades in Washington, DC in 2017, also under McGregor's direction). Additionally, some of the stage movement was not entirely fluid; in confrontations, actors sometimes would just stand and face each other in an artificial way. And Cheatom's interpretation of Dez struck me as a bit overly churlish and depressive: I needed more glimpses of the intelligence and edge that would secretly attract the strong, self-directed Shanita.
The most compelling moments belong to Woodside, well-cast as a man trying his best in difficult circumstances to do the right thing.
---
Gil Cates Theater at the Geffen Playhouse, 10886 Le Conte Ave., Westwood Village; Tues.-Fri., 8 p.m.; Sat., 3 & 8 p.m. Sun., 2 & 7 p.m.; through July 8. (310) 208-5454 or www.geffenplayhouse.org