Fire and ICE: Hiding in Plain Sight
Co-published by The American Prospect

Juana was on a train headed to work when she saw a Facebook post about ICE's presence at Union Station – a stop she wasn't headed toward but which, nevertheless, is on the same line she was riding. She avoided public transportation entirely for the next five days.
Co-published by The American Prospect
It's Monday afternoon in Bellflower, a small suburb in southeastern Los Angeles County, California. Juana, 34, and a neighbor from her apartment complex are watching their sons. (All names in this story have been changed to protect undocumented people's identities.) It's one of Juana's two days off per week from the luxury hotel she works at in Beverly Hills as a housekeeper. The two boys, both 3 years old, are playing on the couch in the small living room that doubles as a dining area, with a kitchen tucked into a corner. Aside from helping watch over the children, Juana's neighbor holds a gaze through an opening in the front window curtain, and eventually spots someone outside. "That's the man with the gas company," she tells Juana in Spanish. "It's fine if you want to open the door when he knocks."
Both women are originally from El Salvador. They help one another with ordinary neighborly tasks like saving a washer in the building's laundry room for a load of clothes. As women from Central America who are terrified of Donald Trump, they watch one another's backs the way immigrants and refugees would under a new administration that partly came into power on the promise of mass deportations. These days, the women say, every knock on the door, every step outside, and every ride on public transit merits scrutiny.
I spent the better part of a week with Juana – morning, noon and night – to try to make sense of her life under Trump, watching her calculate and recalculate even the smallest decisions in her life.
The man at her door, it turns out, works with an energy-savings assistance project and he's here to let Juana know she's eligible for a free, brand-new refrigerator. He just needs to confirm she qualifies for the program, which rewards low-income residents with energy-efficient appliances. He enters the tiny one-bedroom apartment to inspect the existing refrigerator, as Juana explains there are three others living here: her husband Roberto, her 9-year-old daughter Bella and her son Bobby. The man jots down some notes and leaves.
Juana's friend – who currently has an open asylum claim after fleeing El Salvador with her then-toddler son two years ago – is part of an informal support network that helps keep Juana safe as an undocumented immigrant in Los Angeles, the place she's called home since shortly after arriving here in 2006. Conversations between the women persistently return to the issue of immigration; Juana's husband, Roberto, is undocumented, while her children are both United States-born citizens.
Later, she tells me that had her friend not been there to inform her that the man wasn't an agent with Immigration and Customs Enforcement, or ICE, she wouldn't have opened the door. Instead, she would have hidden inside all day and into the night.
ICE employs what it calls a sensitive location policy, which dictates that agents should take considerable measures to avoid enforcement actions at hospitals, schools and churches. Yet since Trump assumed office, ICE has detained a woman at a hospital, a father a few blocks from his daughters' schools and a group of men leaving a church shelter where they were keeping warm.
"Did you hear about the young woman who entered on a visa from Argentina and talked to the press?" Juana asks me one evening. She's referring to Daniela Vargas, who was detained by ICE moments after speaking at a news conference. Juana knows the story of every high-profile detention and deportation since Trump took office. Although ICE's policy discourages agents from targeting people at the site of a public demonstration like the one Vargas addressed, that didn't stop her from being detained. "It's a risk for us to talk to reporters," Juana reminds me.
A few weeks ago, Juana was on her way to work on a Metro train when she saw a friend's Facebook post about ICE's presence at Union Station – a stop she wasn't headed toward but which, nevertheless, is on the same line she was riding. When her shift ended, she asked her friend at work for a ride back home, rather than risk the train. She avoided public transportation entirely for the next five days.
In addition to verifiable news about ICE's enforcement, and warranted warnings from her network of supportive friends, false rumors have also taken root in Juana's life and have caused her to drastically alter her decision-making. She'd long planned to send her daughter, Bella, to visit El Salvador for the first time, either during winter or spring break, but heard that immigration agents – with vicious dogs – were swarming LAX. Although there's no evidence of this, the rumor alone is enough for Juana to completely avoid an airport she's visited in the past. Juana's fear means Bella can't visit her parent's homeland – at least until Trump leaves office.
Juana does have rights as an undocumented immigrant, but she's not sure what those rights are. The labor union she belongs to holds know-your-rights workshops, but she's terrified that if she attends, her co-workers will figure out her status. Only one friend at work knows Juana is undocumented; she fears if more find out, it could all be downhill from there.
Aside from the psychological toll the constant vigilance since Trump's election has taken on her, Juana is also risking her physical health. While she has employer-based health insurance through Kaiser, she canceled an annual physical because the fake document (which contained her real name and birthday) she was previously using to identify herself, has expired. "There are a lot of racist people," she tells me. "What if one of them starts questioning me about my documentation?" Although she's been struggling with digestive issues and poor circulation, she's willing to forgo a doctor's visit because of her uncertainty.
I explain how she can use another form of identification to go to Kaiser, like a passport. Sometime later, she shows me her Salvadoran passport and wonders why her initial panic stopped her from thinking about using it as a different form of ID. What Juana knows about this administration hurts her – but what she doesn't know about her rights under Trump harms her, too.
Juana came to the United States in 2006, when she was 23. El Salvador's civil war had ended in 1992, but the vast rift between the haves and have-nots that largely fueled the war lives on – and it continues to inform the country's violence.
Juana had done especially well in mathematics in school but her family couldn't afford to send her to college to prepare for her dream of becoming an accountant. Instead, she worked factory jobs after graduating high school. She came to the U.S. at a time when there were no real options for her to escape poverty at home. In the decade she's been gone, El Salvador has exploded with a kind of violence that scares her far more than the threats from Trump's administration.
"The first tragedy we lived through was in 2011, when my mom's older brother couldn't pay the rent," she says. The rent she's referring to isn't a payment made to a landlord, however, but payments extorted by local gangs. Her uncle was killed. Then, in 2012, a second uncle was killed because he, too, couldn't pay the rent. That left one uncle behind, who came to the U.S. that year and was granted asylum here. In 2013, her aunt came to the U.S. and was also granted asylum along with her two children. That year, however, Juana's father was shot in the legs but can apparently still walk. "I can't really tell you how well my dad is doing," shrugs Juana. "I haven't seen him since before he was shot."
In 2015, her brother-in-law, an undercover cop who had helped put away several gang members, was killed after his boss set him up for a pay-off. His wife, Juana's sister, became a target after it was rumored that she was a police informant. Her sister went into hiding along with her 11-year-old daughter before fleeing north. They were apprehended just over this side of the U.S. border but were soon released pending an asylum hearing.
But there's no such process that Juana thinks is currently available to her – she can be an undocumented immigrant, but not an asylee. This, despite the fact her family has consistently been hunted down in El Salvador, a place she's seen grow increasingly violent from a distance. "I can't imagine myself back there," she says.
Juana wakes up at 5 a.m. on her workdays, Wednesday through Sunday. Roberto does custom construction work six days a week and has Sundays off – which means the two rarely get to spend a day together. Roberto drives and has a license under California's undocumented driver program. The license, which is part of a database, is marked to distinguish his undocumented status, but Roberto says it's better to be licensed and insured than to fly under the radar. Juana never got a license and the car she was using for short errands started acting up recently; instead of getting it fixed, she's opted to stop driving. It's too risky now, anyway.
It's still dark out and Roberto yawns while he puts his boots on. "There's no rest here," he tells me, adding that it's all work and bills in the United States. He works 48 hours a week earning $12 an hour as an independent contractor. The pay could be worse but it's challenging every April when the couple forks over their share of taxes to the government.
By 5:35 a.m., Roberto is warming up the car. Bella is walking with her backpack on as Juana carries a sleeping little Bobby in a blanket. They all get into the car and drive a few minutes over to the friend who will watch the children; she'll walk Bella to school and back, and watch Bobby all day. By 6:10 a.m., Roberto drops Juana off at a rail stop.
Juana works the 8 a.m. shift cleaning rooms. She likes the union job and its perks – but as with any job, it comes with its challenges. People who can drop a thousand dollars a night on a hotel stay tend to be demanding. Some can say inappropriate things. There was a fistfight between two guests at the hotel several months ago and the police were called. She didn't think much of it then, but is terrified of being near police since Trump got elected.
After an eight-hour shift, Juana walks back to the bus to begin her commute home, along with her friend from work – the one who knows she's undocumented. This afternoon we're all walking down a posh but ill-designed residential Beverly Hills street that's become a throughway for heavy traffic, when the driver of a new sports car almost runs us over. Juana and her friend keep walking as if nothing happened. She tells me later that some Beverly Hills residents assume that because of our skin color, we're all housekeepers and are therefore not worthy of common courtesy. Confronting the driver could result in further scrutiny from law enforcement – so rather than say anything to him, the women ignored the incident.
On the last train back home, I spot a sheriff's deputy quickly board the car in the front of us. As soon as I let her know, Juana calmly puts her phone away and tries to distinguish the deputy through the shadows caused by the sun beginning to set on Los Angeles. For the next three stops, Juana trains her eyes on him without flinching. If I didn't know what she was doing, I'd guess she was zoning out. She's not.
When we detrain, Juana asks me to look back and confirm the deputy's not following us. He's not, I assure her. She explains she was extremely alarmed because he was alone when he should have been with a partner, since that's how they always patrol railcars. Even for people terrified of law enforcement, one deputy shouldn't garner more trepidation than two deputies, but in Juana's case, it makes sense. There was something out of the ordinary and it required closer examination – this time, her complete attention to make sure the deputy wasn't an ICE agent.
Immigration enforcement is a system – abstract and difficult to put your finger on. Sure, Juana fears the system, but that fear has also caused her to fear individuals, too: the obliging appliance man, the imaginary Kaiser receptionist, the obnoxious sports car driver – they all present a potential danger to an undocumented woman surviving the Trump era.
Conditions Worsen for ICE Detainees Following Hunger Strike
Conditions at Adelanto Detention Center, a privately operated prison currently used to detain undocumented immigrants, are said to be grim. Nine detainees, all of whom came to the U.S. seeking asylum, were so fed up that they staged a hunger strike. Guards responded with violence and pepper spray.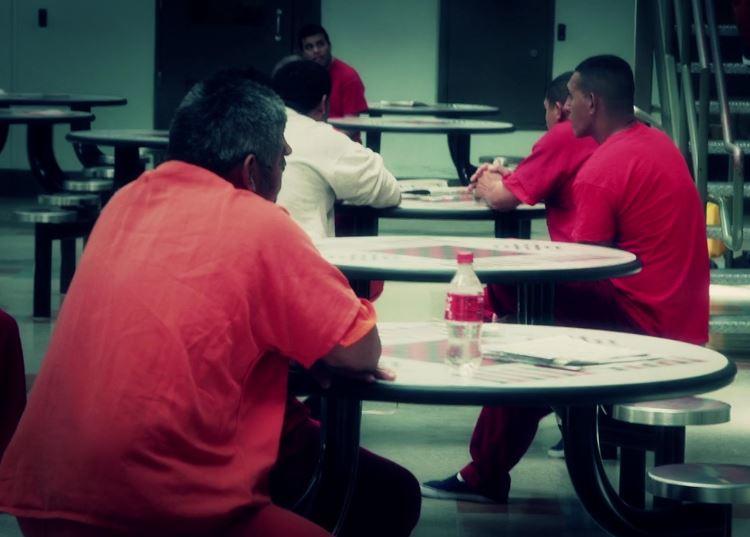 Adelanto, Calif. – Nine Central American immigrants sat at a table in their dormitory at the troubled Adelanto Detention Center and asked an officer to deliver a list of their demands to higher-ups. The officer at the for-profit facility in the high desert, north of San Bernardino, refused and ordered them to return to their bunks for an inmate count. Instead, the men linked arms and refused to budge.
"We wanted to be heard," said Josue Lemus Campos, 24, from El Salvador. He said he and his fellow protesters had been quiet and peaceful during their June protest. But when the men refused to move, the officer immediately called for reinforcements who rushed in armed with pepper spray. They began shouting orders in English, a language the men don't fully understand. Minutes later, the guards doused the nine with pepper spray, aiming at their faces.
"We were crying and the guards were laughing," said Omar Rivera Martinez, 37, also from El Salvador. "I felt like I was going to die. We were suffocating. They pulled us out, beating us, scratching us, throwing us against the wall." His nose was broken, he said, and a tooth and gold dental crowns were knocked out. "They threw me against the wall four times," he said. "The most terrible part was they put us in the shower." He said he was the only one of the nine who refused to bathe in the scalding hot water, which intensified the pain of the pepper spray. The other detainees "were jumping and shouting," he said. "They were afraid."
Rivera Martinez said he visited the detention center's clinic where a doctor refused to treat him. Lemus Campos said he saw a practitioner for a shoulder injury he said guards inflicted during the incident. Several weeks ago, he was told he needed X-rays, but as of mid-July, he hadn't had them yet.
Lemus Campos said the men now face retaliation and fear for their safety inside the facility operated for Immigration and Customs Enforcement by the Geo Group, one of the two largest for-profit prison companies in the United States. Eight of the nine immigrants who launched the protest remain in custody. One has been deported.
All are asylum seekers who had hoped to fight their cases on the outside. But they say their bonds, between $15,000 and $35,000, are too high for people with no money and few connections in the United States. The steep cost of bail led the list of issues the men had hoped to raise with ICE officials, along with political asylum, better food, and clean water.
Following the pepper spraying incident, the men were placed in two-person disciplinary segregation cells for 10 days. Hussain Turk, an attorney who visited Rivera Martinez and Lemus Campos a week after the incident, described what he saw in a sworn declaration.
He said he saw at least 30 scratches on Rivera Martinez, who was brought to the meeting in handcuffs. "His nose is visibly fractured and off-set to the left side of his face by several millimeters," Turk wrote in his statement. "He appeared frightened and in pain." Turk said when he asked an officer why his client was handcuffed, the guard made "an exaggerated air-quote gesture" and said. "For inciting a group protest." Turk wrote that he "perceived his tone and gesture to imply a skepticism regarding the underlying violation for which Rivera Martinez was being disciplined." Turk was also concerned that he wasn't permitted a private visit with Lemus Campos. The two men spoke by phone and were separated by a glass pane with a guard present on Lemus Campos' side.
GEO Group spokesman Pablo Paez declined to comment on the detainees' allegations, and in an email referred questions on the incident to ICE.
ICE spokeswoman Virginia Kice acknowledged that Rivera Martinez lost his dental crown in the incident, but wrote in an email that the nine men involved were examined by medical personnel and none were injured. "The claim a detainee suffered a fractured nose is simply untrue," she wrote. A required review of the use of force was conducted, she wrote, and "it was determined that proper policies and procedures were followed."
Still, Rivera Martinez insisted that he and his fellow detainees were mistreated during their protest and in its aftermath. He said guards have hurled profanity at him, and he and Lemus Campos say phone calls to their attorney are blocked, an action the men's attorney maintains is illegal. On July 19, Rivera Martinez reported the blocked calls to the ICE officer who escorted him to an interview with Capital & Main inside the facility.
Lemus Campos and Rivera Martinez say they need to confer with their lawyer about their pending asylum cases. Rivera Martinez said he fears for his safety inside the facility, and he and Lemus Campos have expressed fear of returning to their country.
Rivera Martinez, who worked paving roads in San Salvador, said he saw MS-13 gang members murder his brother and sister-in-law. Last fall, he and his wife were kidnapped and held for about 29 days before their captors released them, he said. His daughter had been raped by gang members, became pregnant and had a child by her attackers, he said. Lemus-Campos declined to have his interview videotaped because he fears for himself and family members who remain in El Salvador, a country he fled to avoid pressure to join criminal gangs.
"I don't want any of that," he said. "I don't want to get involved in bad things. I came here to find peace."
Lemus Campos said he made a nearly month-long trek from his country through Guatemala and Mexico before arriving in Tijuana in mid-May. He said he and Rivera Martinez joined a large caravan of migrants in Tapachula, Mexico – on the border with Guatemala –for safety on the journey.
The two men are among the fortunate detainees who are represented by counsel. Many asylum seekers, including some of the former Adelanto hunger strikers, are not. Several immigrant rights groups have championed their cause. However, calls to investigate the protest and the alleged retaliation, including detainees' inability to communicate with their lawyers, have largely fallen on deaf ears.
Attorney Nicole Ramos, who represents Rivera Martinez and Lemus Campos, complained in July to the Department of Homeland Security's Office of Civil Rights and Civil Liberties protesting that her clients' telephone access to her had been blocked. She wrote that GEO officials didn't respond to her calls, but she noted that TelMate, the company that provides pay phone service to Adelanto, confirmed that the detention facility blocked the calls. She argued that the detention center's actions violate a court order that specifically requires the Department of Homeland Security to protect the rights of Salvadorans, like her clients, who are eligible to apply for asylum, including their right to adequate telephone access.
She wrote that she was concerned that the calls were blocked "after counsel filed a civil rights complaint against ICE and the facility" in connection with the guards' attack on Rivera Martinez and Lemus in June.
ACLU of Southern California attorney Michael Kaufman wrote to the director of ICE's Los Angeles office citing case law and the agency's own detention standards to argue that GEO guards used excessive force in violation of ICE's policy and the constitutional rights of the detainees. Kaufman also wrote that the guards have engaged in a pattern of retaliation against the detainees, including blocking phone calls to their attorney, for exercising their First Amendment right to peacefully protest. He called for an end to the "ongoing retaliation" and for the staff to be disciplined for assaulting the detainees and continuing to retaliate against them. He also asked for a meeting with GEO, ICE, the detainees and their lawyers to discuss the mistreatment and the grievances that led to the hunger strike.
ICE has not answered his letter, Kaufman said.
"It's troubling now that ICE doesn't want to respond to serious allegations," Kaufman said. "We just hope the agency would take these concerns more seriously and be more transparent about what they're doing to address them."
Kice didn't directly address allegations that detainee calls to their attorneys were blocked, but said detainees have 24-hour access to call anyone they choose, including attorneys and reporters.
Immigrant rights advocates say working on behalf of detainees has always been tough, but it may be even harder under the Trump administration. Alejandra Gonza of the University of Washington law school has been helping detainee advocates take their cases to international bodies like the United Nations and the Inter-American Commission for Human Rights when they've received little response from ICE and other U.S. authorities. The international groups have no enforcement power, but they do bring public attention to alleged abuses, Gonza said.
In California, the state government may soon be the best hope for both challenging detention conditions and making them more transparent. The legislature is considering Senate Bill 29, which would give the attorney general and local district attorneys the right to enforce ICE detention standards. Additionally, in June the governor signed Assembly Bill 103, a budget bill that requires the attorney general to review ICE detention conditions and report to the governor and legislature. AB 103 places a moratorium on expanding immigration detention facilities and prohibits California counties and cities like Adelanto from entering into new detention contracts with ICE. SB 29 would prohibit cities from renewing or entering contracts with for-profit detention centers.
Inside Adelanto, Rivera Martinez vowed to continue pushing for an investigation into GEO Group's officers' use of force against him and other detainees, noting that the facility's cameras likely caught all of it on tape.
"We're not lying," he said. "We're not exaggerating. We want the video."