Fire and ICE: Detention Deaths in the High Desert
Co-published by Fast Company

Immigration detainee Norma Gutierrez says she wasn't hospitalized after suffering a seizure at the Adelanto Detention Facility. Instead, she was taken in handcuffs to a cold room with a bed, a toilet and two blankets. Gutierrez says she remained alone there for four days.
Co-published by Fast Company
Late last March, Osmar Gonzalez Gadba, a 32-year old Nicaraguan immigrant, was found hanging by a bedsheet at the Immigration and Customs Enforcement's Adelanto Detention Facility. About two weeks later, ICE reported that a second detainee, Sergio Alonso Lopez, 55, of Mexico, had died in a nearby hospital of internal bleeding – the fifth detainee death since Adelanto opened in August 2011, and the sixth fatality to occur in ICE custody so far this year. The California facility is run by the country's number two for-profit prison company, the Florida-based Geo Group.
Now, a 41-year old woman detained at Adelanto tells Capital & Main that she has lost full use of her right arm and leg after suffering stroke-like symptoms, and alleges that her treatment has been poor.
The Geo Group's stock has soared on news that the Trump administration plans to greatly expand the ICE detention system, as has that of Core Civic (formerly known as Corrections Corporation of America), the U.S.'s largest for-profit prison company. Human rights groups, however, are concerned about the already poor quality of health care for detainees across the country and worry that expansion will make it worse. After the 2015 death of 44-year-old Raul Ernesto Morales of colon cancer, the Adelanto facility was pressured to improve care. But the company that Geo hired to do so has a poor record in jails, prisons and detention facilities across the U.S. What is more, a report scheduled for release in early May by Human Rights Watch and Community Initiatives for Visiting Immigrants in Confinement (CIVIC) will show that in ICE detention, health-care services nationwide are still substandard, and perhaps dangerous.
Last year Human Rights Watch examined 18 in-custody deaths in facilities across the country that occurred between 2012 and 2015, and concluded that substandard care likely contributed to the death of Morales and six others.
Morales, who was from El Salvador, had been in ICE custody for four years at the time of his death, three of them at an Orange County jail, with his last year at Adelanto. An ICE detainee death review showed he had complained of gastrointestinal symptoms for two years before his cancer was diagnosed. ICE investigators noted that three days before Morales' death, guards shackled and transported him to a hospital emergency room in a passenger car instead of an ambulance, after an outside doctor who'd been treating him said he was "bleeding out." The investigators called the move "highly risky."
Investigators also noted that half the nursing staff at Adelanto was inexperienced and untrained in conducting clinical assessments of patients. Off-site medical appointments were at times canceled or delayed because lab understaffing meant test results were sometimes unavailable when expected.
ICE investigators didn't determine that poor care contributed to Morales's death. Last year, however, a review of the ICE investigation by Human Rights Watch concluded that it probably did.
"Had Mr. Morales' gastrointestinal symptoms been evaluated much sooner as was clinically indicated, it is possible that the malignancy from which Mr. Morales died might have been caught at a time when it was still treatable," the report noted, quoting a medical consultant who analyzed the records.
Human Rights Watch researcher Clara Long said her group's new report will show that health care in immigration detention has not improved. The study reviews medical records of detainees who died, as well as those who have survived but who said they had received poor care.
A corridor in the Adelanto Detention Facility.
Long added that Trump administration plans to build more detention facilities will mean "more deaths due to subpar care and more serious medical issues undetected and untreated."
In late April, ICE Los Angeles field director David Marin led reporters on a tour of the Adelanto lockup. It sprawls across 108,000 square feet of high desert 40 miles north of San Bernardino. It is the state's largest Immigration and Customs Enforcement detention center, with some 1,700 people from 70 countries living behind its bars. It's run under a contract arrangement with the city of Adelanto.
Inside the walls, Marin showed off medical-examination and X-ray suites, a psychiatric observation area, and a dental suite. Carlos Deveza, health services administrator for Correct Care Solutions, the Tennessee-based for-profit that provides health care at Adelanto, said the facility is fully staffed with a physician and mental health personnel. Marin told Capital & Main that CCS came on board in 2016 when ICE made it clear to Geo that its health-care services must improve in the aftermath of Morales' death. But ICE declined to provide the agency's most recent Adelanto oversight reports that would show whether its own inspectors have found that health care, especially in the areas it criticized, had gotten better.
The company is among the largest for-profit providers of prison medical and mental health care in the country, with 11,000 employees in prisons, jails, ICE detention centers and community corrections facilities in 38 states. Like other for-profit prison health-care providers, it faces a deluge of lawsuits alleging wrongful deaths and denial of care. Currently more than 260 such claims are pending against CCS alone in more than 30 states.
For example, attorneys for the family of 38-year-old Jennifer Lobato alleged in a 2015 complaint that she died a preventable death of dehydration and electrolyte imbalance as she withdrew from methadone in a Colorado jail cell, and received no medical attention from CCS staff. In California, Armando Vargas, a jail inmate with a long history of mental illness and suicide attempts, hanged himself in the Mariposa County Jail, allegedly after being denied his medication while in CCS care at the jail. His attorneys further allege that no one attempted to administer CPR when they found him hanging in his cell last August. And, last year, the Nation magazine reported that the parents of Nestor Garay sued CCS and the government for wrongful death after their son suffered a stroke in a Texas prison and later died. They alleged their son was forced to wait five hours before being transported to the hospital after his stroke.
In Adelanto, detainee Norma Gutierrez shuffles slightly, dragging her right leg as she enters a tiny interview room on the women's side of the massive facility. The right side of her mouth droops and her right arm seems weak and trembles.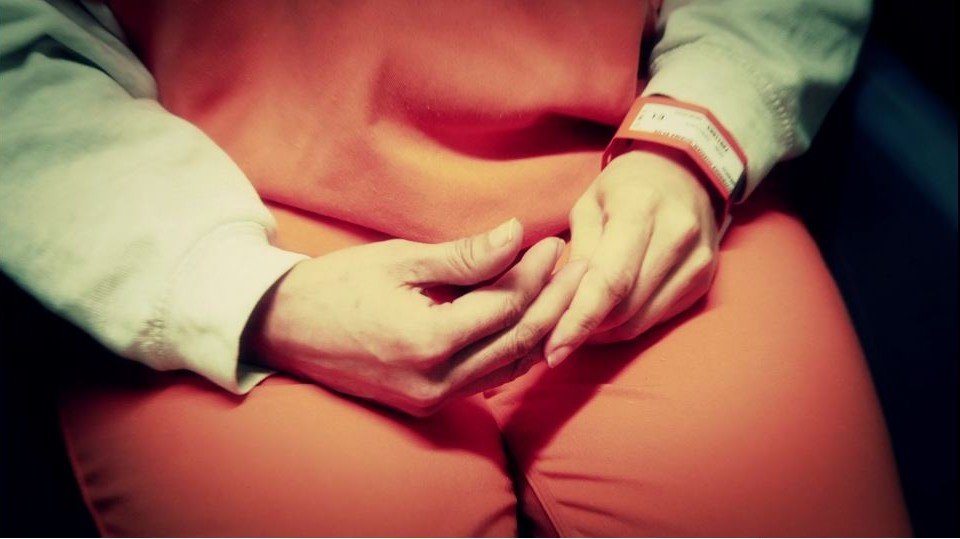 Norma Gutierrez claims her roommates reported that nurses called her seizure a "freak show."
"I look in the mirror and I'm not the same," she says tearfully.
She recalls the time she awakened on the floor of her dorm, after collapsing into the arms of her dorm-mates last January. She couldn't move her mouth or her eyes, and she felt stunned and disoriented.
She was taken to a San Bernardino hospital where, she said, she had blood tests, an MRI and X-rays, but claimed hospital nurses refused to answer any questions about her condition, simply telling her she was fine. The next night, she said suffered another collapse. Gutierrez claims her roommates reported that nurses called her episode a "freak show," while a guard with the rank of lieutenant also reportedly made inappropriate comments about Gutierrez.
This time, she says, she wasn't hospitalized. Instead, she was taken in handcuffs to a cold room with a bed, a toilet and two blankets. Gutierrez says she remained alone there for four days. The only medical attention she received was from a nurse who took her pulse and brought her previously prescribed medication for depression and anxiety. Later, a psychologist told her that her attack had been psychosomatic. She was returned to the dorm where she suffered a third episode. This time, she says, she didn't bother to report her symptoms.
One detainee defended the care CCS has provided recently. He told Capital & Main that in the past there were long delays before detainees could get appointments with nurses and doctors. It's better now, he said.
But Gutierrez says she's no longer requesting care at Adelanto — she'll wait to see a doctor on the outside.
Geo Group vice-president Pablo Paez declined to comment on the issues Gutierrez raised and responded to questions by Capital & Main with a statement expressing confidence in the care CCS offers:
"GEO provides high quality, around the clock medical care at Adelanto in partnership with its healthcare subcontractor Correct Care Solutions. Medical care at Adelanto and all other GEO ICE facilities is provided pursuant to mandated, performance based national detention standards set by U.S. Immigration and Customs Enforcement and also adheres to guidelines and standards set by leading third-party accreditation entities including the American Correctional Association and the National Commission on Correctional Health Care."
Likewise, CCS spokesman Jim Cheney declined to answer questions, both about Gonzalez's case and the company's policies and practices, and instead provided a statement identical to Geo's.
David Marin, the ICE field director, said he and his colleagues are proud of the facility and the care it offers. In an email, ICE spokeswoman Virginia Kice said that her agency will review the Adelanto deaths, and cited the thousands of medical, mental health and dental visits conducted at the facility, and the fact that ICE covers the cost of treatment in the community when it's necessary and approved.
Denver-based civil rights attorney Dan Weiss, however, said CCS makes it a practice to deny care, understaff its facilities and assign medical staff to duties beyond the scope of their professional licenses.
"Among civil rights lawyers, everybody knows what they do — they kill people for a living," Weiss said, pointing to cases like that of Jennifer Lobato. "But outside that narrow slice of America, people don't know. People assume they're providing a valuable service. People don't realize how dangerous it is to go to jail and get sick."
Health care at Adelanto and other ICE facilities, however, may draw greater scrutiny in coming months as the state legislature considers a bill by State Senator Ricardo Lara (D-Bell Gardens).
Lara's Senate Bill 29, which passed the senate judiciary committee in late March, would require detention centers to meet the latest ICE standards for medical care and other conditions of confinement, and give detainees the right to sue in state court. The bill would also prohibit California cities like Adelanto from acting as intermediaries between ICE and for-profit prison providers.
"Immigrants bear the brunt of a business where profit often trumps care," Lara said as he urged judiciary committee members to move SB 29 to the appropriations committee, where it currently awaits a hearing.
Human Rights Watch's Clara Long said Lara's bill could help ensure that detainees in California get humane treatment. "It might prompt ICE to change their ways," she said.
In Washington, DC, Mexican Embassy spokesman Ricardo Alday said his government also plans to investigate Sergio Lopez's death. While problems in ICE detention have existed for years, he said, now any abuses might be a result of the "perception that anything goes because of the current [political] climate."
Conditions Worsen for ICE Detainees Following Hunger Strike
Conditions at Adelanto Detention Center, a privately operated prison currently used to detain undocumented immigrants, are said to be grim. Nine detainees, all of whom came to the U.S. seeking asylum, were so fed up that they staged a hunger strike. Guards responded with violence and pepper spray.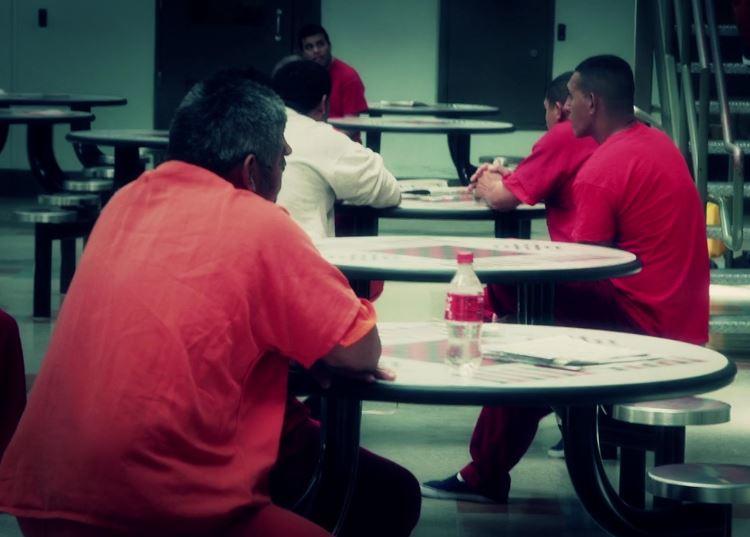 Adelanto, Calif. – Nine Central American immigrants sat at a table in their dormitory at the troubled Adelanto Detention Center and asked an officer to deliver a list of their demands to higher-ups. The officer at the for-profit facility in the high desert, north of San Bernardino, refused and ordered them to return to their bunks for an inmate count. Instead, the men linked arms and refused to budge.
"We wanted to be heard," said Josue Lemus Campos, 24, from El Salvador. He said he and his fellow protesters had been quiet and peaceful during their June protest. But when the men refused to move, the officer immediately called for reinforcements who rushed in armed with pepper spray. They began shouting orders in English, a language the men don't fully understand. Minutes later, the guards doused the nine with pepper spray, aiming at their faces.
"We were crying and the guards were laughing," said Omar Rivera Martinez, 37, also from El Salvador. "I felt like I was going to die. We were suffocating. They pulled us out, beating us, scratching us, throwing us against the wall." His nose was broken, he said, and a tooth and gold dental crowns were knocked out. "They threw me against the wall four times," he said. "The most terrible part was they put us in the shower." He said he was the only one of the nine who refused to bathe in the scalding hot water, which intensified the pain of the pepper spray. The other detainees "were jumping and shouting," he said. "They were afraid."
Rivera Martinez said he visited the detention center's clinic where a doctor refused to treat him. Lemus Campos said he saw a practitioner for a shoulder injury he said guards inflicted during the incident. Several weeks ago, he was told he needed X-rays, but as of mid-July, he hadn't had them yet.
Lemus Campos said the men now face retaliation and fear for their safety inside the facility operated for Immigration and Customs Enforcement by the Geo Group, one of the two largest for-profit prison companies in the United States. Eight of the nine immigrants who launched the protest remain in custody. One has been deported.
All are asylum seekers who had hoped to fight their cases on the outside. But they say their bonds, between $15,000 and $35,000, are too high for people with no money and few connections in the United States. The steep cost of bail led the list of issues the men had hoped to raise with ICE officials, along with political asylum, better food, and clean water.
Following the pepper spraying incident, the men were placed in two-person disciplinary segregation cells for 10 days. Hussain Turk, an attorney who visited Rivera Martinez and Lemus Campos a week after the incident, described what he saw in a sworn declaration.
He said he saw at least 30 scratches on Rivera Martinez, who was brought to the meeting in handcuffs. "His nose is visibly fractured and off-set to the left side of his face by several millimeters," Turk wrote in his statement. "He appeared frightened and in pain." Turk said when he asked an officer why his client was handcuffed, the guard made "an exaggerated air-quote gesture" and said. "For inciting a group protest." Turk wrote that he "perceived his tone and gesture to imply a skepticism regarding the underlying violation for which Rivera Martinez was being disciplined." Turk was also concerned that he wasn't permitted a private visit with Lemus Campos. The two men spoke by phone and were separated by a glass pane with a guard present on Lemus Campos' side.
GEO Group spokesman Pablo Paez declined to comment on the detainees' allegations, and in an email referred questions on the incident to ICE.
ICE spokeswoman Virginia Kice acknowledged that Rivera Martinez lost his dental crown in the incident, but wrote in an email that the nine men involved were examined by medical personnel and none were injured. "The claim a detainee suffered a fractured nose is simply untrue," she wrote. A required review of the use of force was conducted, she wrote, and "it was determined that proper policies and procedures were followed."
Still, Rivera Martinez insisted that he and his fellow detainees were mistreated during their protest and in its aftermath. He said guards have hurled profanity at him, and he and Lemus Campos say phone calls to their attorney are blocked, an action the men's attorney maintains is illegal. On July 19, Rivera Martinez reported the blocked calls to the ICE officer who escorted him to an interview with Capital & Main inside the facility.
Lemus Campos and Rivera Martinez say they need to confer with their lawyer about their pending asylum cases. Rivera Martinez said he fears for his safety inside the facility, and he and Lemus Campos have expressed fear of returning to their country.
Rivera Martinez, who worked paving roads in San Salvador, said he saw MS-13 gang members murder his brother and sister-in-law. Last fall, he and his wife were kidnapped and held for about 29 days before their captors released them, he said. His daughter had been raped by gang members, became pregnant and had a child by her attackers, he said. Lemus-Campos declined to have his interview videotaped because he fears for himself and family members who remain in El Salvador, a country he fled to avoid pressure to join criminal gangs.
"I don't want any of that," he said. "I don't want to get involved in bad things. I came here to find peace."
Lemus Campos said he made a nearly month-long trek from his country through Guatemala and Mexico before arriving in Tijuana in mid-May. He said he and Rivera Martinez joined a large caravan of migrants in Tapachula, Mexico – on the border with Guatemala –for safety on the journey.
The two men are among the fortunate detainees who are represented by counsel. Many asylum seekers, including some of the former Adelanto hunger strikers, are not. Several immigrant rights groups have championed their cause. However, calls to investigate the protest and the alleged retaliation, including detainees' inability to communicate with their lawyers, have largely fallen on deaf ears.
Attorney Nicole Ramos, who represents Rivera Martinez and Lemus Campos, complained in July to the Department of Homeland Security's Office of Civil Rights and Civil Liberties protesting that her clients' telephone access to her had been blocked. She wrote that GEO officials didn't respond to her calls, but she noted that TelMate, the company that provides pay phone service to Adelanto, confirmed that the detention facility blocked the calls. She argued that the detention center's actions violate a court order that specifically requires the Department of Homeland Security to protect the rights of Salvadorans, like her clients, who are eligible to apply for asylum, including their right to adequate telephone access.
She wrote that she was concerned that the calls were blocked "after counsel filed a civil rights complaint against ICE and the facility" in connection with the guards' attack on Rivera Martinez and Lemus in June.
ACLU of Southern California attorney Michael Kaufman wrote to the director of ICE's Los Angeles office citing case law and the agency's own detention standards to argue that GEO guards used excessive force in violation of ICE's policy and the constitutional rights of the detainees. Kaufman also wrote that the guards have engaged in a pattern of retaliation against the detainees, including blocking phone calls to their attorney, for exercising their First Amendment right to peacefully protest. He called for an end to the "ongoing retaliation" and for the staff to be disciplined for assaulting the detainees and continuing to retaliate against them. He also asked for a meeting with GEO, ICE, the detainees and their lawyers to discuss the mistreatment and the grievances that led to the hunger strike.
ICE has not answered his letter, Kaufman said.
"It's troubling now that ICE doesn't want to respond to serious allegations," Kaufman said. "We just hope the agency would take these concerns more seriously and be more transparent about what they're doing to address them."
Kice didn't directly address allegations that detainee calls to their attorneys were blocked, but said detainees have 24-hour access to call anyone they choose, including attorneys and reporters.
Immigrant rights advocates say working on behalf of detainees has always been tough, but it may be even harder under the Trump administration. Alejandra Gonza of the University of Washington law school has been helping detainee advocates take their cases to international bodies like the United Nations and the Inter-American Commission for Human Rights when they've received little response from ICE and other U.S. authorities. The international groups have no enforcement power, but they do bring public attention to alleged abuses, Gonza said.
In California, the state government may soon be the best hope for both challenging detention conditions and making them more transparent. The legislature is considering Senate Bill 29, which would give the attorney general and local district attorneys the right to enforce ICE detention standards. Additionally, in June the governor signed Assembly Bill 103, a budget bill that requires the attorney general to review ICE detention conditions and report to the governor and legislature. AB 103 places a moratorium on expanding immigration detention facilities and prohibits California counties and cities like Adelanto from entering into new detention contracts with ICE. SB 29 would prohibit cities from renewing or entering contracts with for-profit detention centers.
Inside Adelanto, Rivera Martinez vowed to continue pushing for an investigation into GEO Group's officers' use of force against him and other detainees, noting that the facility's cameras likely caught all of it on tape.
"We're not lying," he said. "We're not exaggerating. We want the video."