Fire and ICE: Blurring the Border Between Immigration and Crime
Co-published by Newsweek
Some California cities are rethinking their law-enforcement relationships with ICE, but others are likely to continue their joint operations with the agency because of the additional personnel, intelligence-gathering capacity and cash that it brings to crime fighting.
Co-published by Newsweek

California's local sanctuary policies vary from city to city, but most seek to prevent undocumented immigrants from being arrested and deported, as well as to ensure that these immigrants feel safe reporting crimes, acting as witnesses and testifying in court. To do that, most policies attempt to create a firewall between local law enforcement agencies and immigration authorities by barring police officers from asking about immigration status or enforcing federal immigration law.
Just under the public radar, however, police in many sanctuary cities work closely with U.S. Immigration and Customs Enforcement (ICE) on operations targeting drugs, gangs and human trafficking. Many law enforcement agencies argue the federal-local collaborations are essential.
But at times the lines between criminal investigations and immigration enforcement have blurred during these joint operations, spreading panic in immigrant communities and outrage among city officials.
For example, earlier this year ICE agents helped local police in Santa Cruz arrest 10 alleged members of the transnational MS-13 gang. ICE spokesman James Schwab was unapologetic when the raid also netted about 10 more undocumented local residents who weren't targets of the criminal investigation.
"It's ICE's authority," Schwab told Capital & Main. "If we're going to do a targeted operation, we're going to be checking the other people in the targeted location."
Schwab contended that Santa Cruz officials knew all along that immigration arrests would be part of the operation. But in an interview, Deputy Police Chief Dan Flippo vehemently disagreed. He said he had ICE agents' agreement that immigration enforcement wouldn't be a part of the operation.
"Where I've felt disgust is [that] I've never had another law enforcement agency look me in the eye and tell me something was not happening when it was. That's very disconcerting," Flippo said.
ICE's investigative branch, Homeland Security Investigations, is the second-largest investigative organization in the federal government. ICE became part of the Department of Homeland Security two years after 9/11, and brought immigration and customs enforcement together. This has created a law enforcement agency that includes both deportation officers who arrest undocumented immigrants, and HSI, which in addition to targeting gangs and drugs, also focuses on money laundering, Internet crime, human rights violations and international art and antiquities theft.
On the agency's website, ICE touts its so-called dual criminal and administrative immigration enforcement authority as a crime-fighting asset. It can simply take an individual off the streets if he's undocumented without proving a criminal case against him. The agency says that its anti-gang unit has arrested some 32,000 gang members and associates since 2005, more than a third of whom were detained on immigration violations.
ICE's investigative reach is so long and broad that it is virtually impossible to find a big law enforcement task force with which it's not involved.
But, Flippo said, the city of Santa Cruz will no longer join ICE in large-scale operations, because it can't trust the agency.
After the immigration arrests, Flippo claimed, ICE refused to disclose who was detained in Santa Cruz and who authorized the agents to go outside the scope of the operation. The city has asked local Congressman Jimmy Panetta and U.S. Senator Kamala Harris to investigate. (Panetta is scheduled to meet with ICE's acting director next month on the issue.)
Some California cities are also rethinking their relationships with ICE. Pasadena, citing its sanctuary status, opted out of an agreement whereby ICE paid overtime costs for local officers while they worked on joint operations. San Francisco recently ended its participation in the FBI-led Joint Terrorism Task Force, which also includes ICE. In Oakland, also a sanctuary jurisdiction, the police department works on joint task forces with ICE, and has signed agreements to allow some of its officers to train as Homeland Security Customs Agents and carry out some of their duties. It also entered into another pact similar to Pasadena's for overtime reimbursement by ICE. Now the city is reconsidering its participation with ICE, as well as its membership in the Joint Terrorism Task Force.
Many cities, however, are likely to continue their joint operations with ICE because of the additional personnel, intelligence-gathering capacity and cash that the agency brings to crime fighting. Grants are available to police agencies that work on some task forces, and overtime reimbursement for local officers is commonplace.
State Senate President Pro-Tem Kevin de León may have headed off some law enforcement opposition to his sanctuary state bill, Senate Bill 54, which recently passed the senate on a strict party line vote, when he amended it to specifically permit joint law enforcement task forces, despite a general prohibition against sharing information and resources with immigration authorities.
Los Angeles Police Department Director of Constitutional Policing and Policy Arif Alikhan cited ICE's wide-ranging investigative responsibilities as a valuable tool for his department.
"It's important that we leverage those resources to help protect the community," Alikhan told Capital & Main. "There certainly is a challenge in that."
In March, the department reported to the Los Angeles City Council that its joint operations with the agency include:
•The Border Security Task Force.
•The Financial Investigative Seizure Team that combats money laundering.
•A group that investigates Internet crimes against children.
•The Los Angeles and Long Beach Maritime Anti-Smuggling team.
•A team that protects intellectual property.
The LAPD website shows the department also takes part in a group of anti-drug task forces, known as the High Intensity Drug Trafficking Areas task forces, alongside ICE and other federal and local agencies.
The LAPD declined to provide Capital & Main with a full list of the task forces on which it works with immigration authorities, but the agency is deeply embedded in policing across the state. In February, public radio station KPCC reported that in some 50 cities in Los Angeles County, ICE has agreements similar to the one Pasadena ended for overtime reimbursement to local law enforcement agencies for officers while they work on joint operations.
ICE also works with the Sacramento County Sheriff's Department and dozens of local law enforcement departments on a task force that addresses white collar and organized crime, identity theft and computer crime. The sheriff's office received a $2 million federal grant for its participation. The Contra County Sheriff's Department signed a deal with ICE to train deputies for customs-enforcement work so that the department could share asset forfeiture proceeds with the feds, said Assistant Sheriff Elise Warren. Although the agreement remains in effect, Warren said ICE trained only one deputy, and that was before the contract was signed. ICE has also conducted drug operations with the California Highway Patrol and partnered with the San Francisco Police Department on human trafficking issues.
In Los Angeles, a coalition of attorneys and immigrant rights activists are urging the LAPD to opt out of participation in joint task forces altogether, and update the city's policy on immigration enforcement, known as Special Order 40, which was created in 1979. The policy bars local police from inquiring about immigration status or enforcing immigration law, but activists argue that it's antiquated and refers to teletype machines, "aliens" and requires officers to note the arrests of undocumented immigrants and forward the information to immigration authorities, a practice that no longer exists. Mayor Eric Garcetti's Executive Directive 20 extends Special Order 40 to the fire department, and the port and airport police, but doesn't alter the original order's substance.
Immigration activist Victor Narro. (Photo: Joanne Kim)
"Special Order 40 needs to conform to present-day reality with how LAPD works with federal agencies," said Victor Narro, the project director of the University of California, Los Angeles' Labor Center, and a longtime immigration rights activist.
In L.A., that collaboration has proved disastrous for some longtime residents, argued attorney Emi McLean, a member of the Los Angeles immigration coalition who works with the National Day Laborers Organizing Network. Last summer, MacLean said, single mother and grandmother Xochitl Hernandez was erroneously labeled a gang member and arrested while LAPD and ICE officers served a search warrant at a home she was visiting in East Hollywood. Another single mother of four, Isabel Mejia, was also picked up by ICE as agents joined the LAPD to raid what they thought was a human trafficking operation in South Los Angeles in late 2015. Actually, the officers broke up a house party and MacLean claimed Mejia was among eight people arrested for immigration violations.
"People were ripped away from their families, ripped away from their communities because of police action in partnership with ICE," MacLean said.
"It's really hard to regulate what happens in the street," noted Victor Narro. "The best possible scenario is not to have cooperation."
MacLean argued that the LAPD has sufficient resources to fight crime without ICE, but she contended if the department thinks joint task forces are essential, it is powerful enough to exact a pledge from the agency to refrain from immigration arrests while working with L.A. police officers.
She and others have asked the LAPD for a full accounting of its cooperation with ICE, along with a list of those who have been arrested for immigration violations during the LAPD's joint operations with ICE.
The Los Angeles activists claim police brass are currently not inclined to alter Special Order 40, and that they plan to press their case with the L.A. Police Commission.
"It's a way of holding our leaders accountable,"  Narro said. "The more we know about what's happening and what's not happening as far as collaboration and enforcement, the more we're able to bring together LAPD and city officials to have a dialog about about protecting the rights of immigrants and immigrant families."
Conditions Worsen for ICE Detainees Following Hunger Strike
Conditions at Adelanto Detention Center, a privately operated prison currently used to detain undocumented immigrants, are said to be grim. Nine detainees, all of whom came to the U.S. seeking asylum, were so fed up that they staged a hunger strike. Guards responded with violence and pepper spray.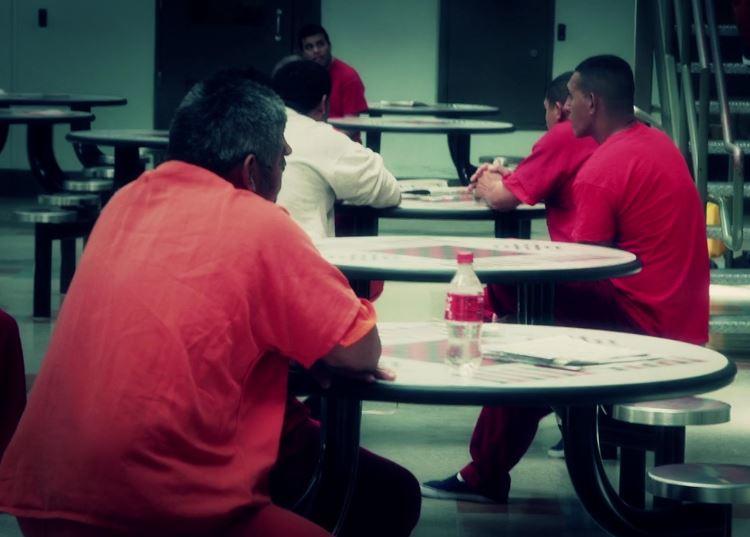 Adelanto, Calif. – Nine Central American immigrants sat at a table in their dormitory at the troubled Adelanto Detention Center and asked an officer to deliver a list of their demands to higher-ups. The officer at the for-profit facility in the high desert, north of San Bernardino, refused and ordered them to return to their bunks for an inmate count. Instead, the men linked arms and refused to budge.
"We wanted to be heard," said Josue Lemus Campos, 24, from El Salvador. He said he and his fellow protesters had been quiet and peaceful during their June protest. But when the men refused to move, the officer immediately called for reinforcements who rushed in armed with pepper spray. They began shouting orders in English, a language the men don't fully understand. Minutes later, the guards doused the nine with pepper spray, aiming at their faces.
"We were crying and the guards were laughing," said Omar Rivera Martinez, 37, also from El Salvador. "I felt like I was going to die. We were suffocating. They pulled us out, beating us, scratching us, throwing us against the wall." His nose was broken, he said, and a tooth and gold dental crowns were knocked out. "They threw me against the wall four times," he said. "The most terrible part was they put us in the shower." He said he was the only one of the nine who refused to bathe in the scalding hot water, which intensified the pain of the pepper spray. The other detainees "were jumping and shouting," he said. "They were afraid."
Rivera Martinez said he visited the detention center's clinic where a doctor refused to treat him. Lemus Campos said he saw a practitioner for a shoulder injury he said guards inflicted during the incident. Several weeks ago, he was told he needed X-rays, but as of mid-July, he hadn't had them yet.
Lemus Campos said the men now face retaliation and fear for their safety inside the facility operated for Immigration and Customs Enforcement by the Geo Group, one of the two largest for-profit prison companies in the United States. Eight of the nine immigrants who launched the protest remain in custody. One has been deported.
All are asylum seekers who had hoped to fight their cases on the outside. But they say their bonds, between $15,000 and $35,000, are too high for people with no money and few connections in the United States. The steep cost of bail led the list of issues the men had hoped to raise with ICE officials, along with political asylum, better food, and clean water.
Following the pepper spraying incident, the men were placed in two-person disciplinary segregation cells for 10 days. Hussain Turk, an attorney who visited Rivera Martinez and Lemus Campos a week after the incident, described what he saw in a sworn declaration.
He said he saw at least 30 scratches on Rivera Martinez, who was brought to the meeting in handcuffs. "His nose is visibly fractured and off-set to the left side of his face by several millimeters," Turk wrote in his statement. "He appeared frightened and in pain." Turk said when he asked an officer why his client was handcuffed, the guard made "an exaggerated air-quote gesture" and said. "For inciting a group protest." Turk wrote that he "perceived his tone and gesture to imply a skepticism regarding the underlying violation for which Rivera Martinez was being disciplined." Turk was also concerned that he wasn't permitted a private visit with Lemus Campos. The two men spoke by phone and were separated by a glass pane with a guard present on Lemus Campos' side.
GEO Group spokesman Pablo Paez declined to comment on the detainees' allegations, and in an email referred questions on the incident to ICE.
ICE spokeswoman Virginia Kice acknowledged that Rivera Martinez lost his dental crown in the incident, but wrote in an email that the nine men involved were examined by medical personnel and none were injured. "The claim a detainee suffered a fractured nose is simply untrue," she wrote. A required review of the use of force was conducted, she wrote, and "it was determined that proper policies and procedures were followed."
Still, Rivera Martinez insisted that he and his fellow detainees were mistreated during their protest and in its aftermath. He said guards have hurled profanity at him, and he and Lemus Campos say phone calls to their attorney are blocked, an action the men's attorney maintains is illegal. On July 19, Rivera Martinez reported the blocked calls to the ICE officer who escorted him to an interview with Capital & Main inside the facility.
Lemus Campos and Rivera Martinez say they need to confer with their lawyer about their pending asylum cases. Rivera Martinez said he fears for his safety inside the facility, and he and Lemus Campos have expressed fear of returning to their country.
Rivera Martinez, who worked paving roads in San Salvador, said he saw MS-13 gang members murder his brother and sister-in-law. Last fall, he and his wife were kidnapped and held for about 29 days before their captors released them, he said. His daughter had been raped by gang members, became pregnant and had a child by her attackers, he said. Lemus-Campos declined to have his interview videotaped because he fears for himself and family members who remain in El Salvador, a country he fled to avoid pressure to join criminal gangs.
"I don't want any of that," he said. "I don't want to get involved in bad things. I came here to find peace."
Lemus Campos said he made a nearly month-long trek from his country through Guatemala and Mexico before arriving in Tijuana in mid-May. He said he and Rivera Martinez joined a large caravan of migrants in Tapachula, Mexico – on the border with Guatemala –for safety on the journey.
The two men are among the fortunate detainees who are represented by counsel. Many asylum seekers, including some of the former Adelanto hunger strikers, are not. Several immigrant rights groups have championed their cause. However, calls to investigate the protest and the alleged retaliation, including detainees' inability to communicate with their lawyers, have largely fallen on deaf ears.
Attorney Nicole Ramos, who represents Rivera Martinez and Lemus Campos, complained in July to the Department of Homeland Security's Office of Civil Rights and Civil Liberties protesting that her clients' telephone access to her had been blocked. She wrote that GEO officials didn't respond to her calls, but she noted that TelMate, the company that provides pay phone service to Adelanto, confirmed that the detention facility blocked the calls. She argued that the detention center's actions violate a court order that specifically requires the Department of Homeland Security to protect the rights of Salvadorans, like her clients, who are eligible to apply for asylum, including their right to adequate telephone access.
She wrote that she was concerned that the calls were blocked "after counsel filed a civil rights complaint against ICE and the facility" in connection with the guards' attack on Rivera Martinez and Lemus in June.
ACLU of Southern California attorney Michael Kaufman wrote to the director of ICE's Los Angeles office citing case law and the agency's own detention standards to argue that GEO guards used excessive force in violation of ICE's policy and the constitutional rights of the detainees. Kaufman also wrote that the guards have engaged in a pattern of retaliation against the detainees, including blocking phone calls to their attorney, for exercising their First Amendment right to peacefully protest. He called for an end to the "ongoing retaliation" and for the staff to be disciplined for assaulting the detainees and continuing to retaliate against them. He also asked for a meeting with GEO, ICE, the detainees and their lawyers to discuss the mistreatment and the grievances that led to the hunger strike.
ICE has not answered his letter, Kaufman said.
"It's troubling now that ICE doesn't want to respond to serious allegations," Kaufman said. "We just hope the agency would take these concerns more seriously and be more transparent about what they're doing to address them."
Kice didn't directly address allegations that detainee calls to their attorneys were blocked, but said detainees have 24-hour access to call anyone they choose, including attorneys and reporters.
Immigrant rights advocates say working on behalf of detainees has always been tough, but it may be even harder under the Trump administration. Alejandra Gonza of the University of Washington law school has been helping detainee advocates take their cases to international bodies like the United Nations and the Inter-American Commission for Human Rights when they've received little response from ICE and other U.S. authorities. The international groups have no enforcement power, but they do bring public attention to alleged abuses, Gonza said.
In California, the state government may soon be the best hope for both challenging detention conditions and making them more transparent. The legislature is considering Senate Bill 29, which would give the attorney general and local district attorneys the right to enforce ICE detention standards. Additionally, in June the governor signed Assembly Bill 103, a budget bill that requires the attorney general to review ICE detention conditions and report to the governor and legislature. AB 103 places a moratorium on expanding immigration detention facilities and prohibits California counties and cities like Adelanto from entering into new detention contracts with ICE. SB 29 would prohibit cities from renewing or entering contracts with for-profit detention centers.
Inside Adelanto, Rivera Martinez vowed to continue pushing for an investigation into GEO Group's officers' use of force against him and other detainees, noting that the facility's cameras likely caught all of it on tape.
"We're not lying," he said. "We're not exaggerating. We want the video."