Finding Scandal in Print's Back Pages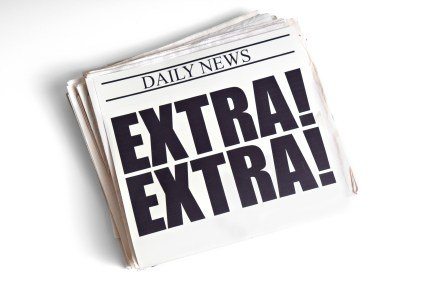 People who hate government get a lot of aid and comfort from America's news media, which tend to give big business a party pass when it comes to incompetence and corruption. While any government agency – from Congress to your local school board – is fair game for attacks, business institutions usually come under an investigative spotlight only if the news story has already generated a lot of public heat.
For example, when the government released its report on Shell's behavior in the Arctic, newspapers put it among the top news stories. Similarly, when the City of Los Angeles brought suits against a couple of the nation's biggest banks for systematic lending abuses, this made the front section, although not the front page. Likewise, when an oil company paid $5.15 billion to clean up environmental contamination, it was big news.
For the not-so-big stories about corporate screw-ups, you must read the business pages. I read them because we – as workers and as consumers — live in a country and an era driven by an economy of inequality and dominated by huge financial institutions. People must know what's going on, who's benefiting from it and how those arrangements get entrenched. When a light is thrown into the murky shadows of corporate practices, communities and advocates and individuals can demand accountability. To make change, we need to know.
Here are a few examples corporate bad behavior you may have missed unless you read the "B" section:
A million workers earning the federal minimum wage make what just 165,200 Wall Street folks got in bonuses in 2013 – $26.7 billion
To settle claims that it fraudulently sold faulty mortgages to other lenders, Bank of America agreed to pay $9.3 billion
Caught doing the same, JPMorgan Chase paid $13 billion, plus an additional $4.5 billion to the unnamed firms that bought the bonds
Corporations have taken control of Big Science, including major research laboratories at state universities supported by taxpayers
Corporations have narrowed the ratio between investment and shareholder returns by a factor of 15 since the 1970s
Caterpillar – which busted its union – has hidden billions in profits offshore
Health insurers are presenting consumer information to prospective clients that is so complex it confuses buyers
All of these stories together don't add up to the miles of copy written about the most recent discoveries of inefficiency at the VA. In fact, they represent only the few pieces that caught my eye and that I've clipped in the past few months. They ought to be common knowledge, but instead the media show us only the tip of the iceberg. The bulk below the surface goes unreported, and the stories that are presented usually provide no context. For example, from the Caterpillar story you would never know that a while back the company spent most of a decade breaking its union. The piece gives the impression that the company's hiding of billions offshore was a one-off aberration, when in reality the company has been increasing its profits by one nefarious tactic after another for a long time.
If these stories were drummed into our heads day in and day out, as, say, Fox News has pounded its viewers with the supposed failings of Obamacare, people would demand new laws to protect consumers and workers — as well as investors. They would demand transparency, mandate it and make it work. Instead, the media barely cover a few stories and we remain uninformed and left wondering why our big economic institutions keep biting us from behind.

'Skeleton Crew' Is a Play With a Moral Spine
Set in a Detroit automobile outfitting plant, Dominique Morisseau's drama grabs you from the start with its focus on blue-collar men and women, and their struggle for dignity and self-respect.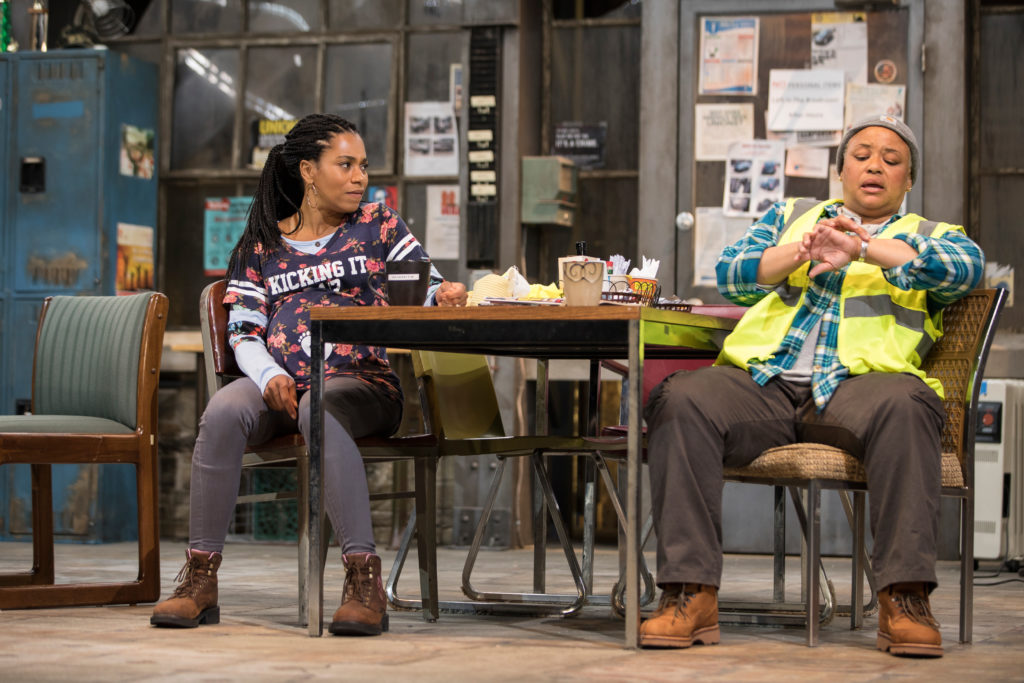 Working-class men and women of color are rarely front and center in today's media and, likewise, are presented all too occasionally on the American stage. So it's buoying to see that trend bucked in playwright Dominique Morisseau's percipient and well-crafted drama, Skeleton Crew. The play is the final installment in her Detroit  Project Trilogy; the first, Paradise Blue, is set in the 1940s amidst displacement caused by urban renewal and gentrification, while the second, Detroit '67, transpires on the eve of the 1967 Detroit riots sparked by a police action.
Directed by Patricia McGregor at Los Angeles' Geffen Playhouse, Skeleton Crew is a play with a moral spine. It takes place in 2008, when the shrinking U.S. auto industry is being further downsized. Morisseau's engaging quartet of characters — Faye (Caroline Stefanie Clay), Dez (Armari Cheatom), Shanita (Kelly McCreary) and Reggie (DB Woodside) – are employed at an automobile outfitting plant. Faye, Dez and Shanita are workers on the line while Reggie (who has a wife and kids, and has pulled himself together after a troubled youth) is their supervisor.
The first three customarily mingle in their break room (designer Rachel Myers' impressively cluttered, dingy and detailed set), trading the sort of familiar barbs and genuine concern for each other common among longtime co-workers. They also face off on philosophy: Upper-middle-aged Faye and the younger, pregnant Shanita take pride in their labor, while Dez, though a good worker, is a malcontent scornful of management and firm in the belief that everyone needs to watch out for himself. He's a thorn in Reggie's side, for while Reggie wants to be supportive of his workers, he must act at the behest of higher management. For his part, Dez resents Reggie's authority, and a palpable unease exists between them.
Besides this male matchup, we're made privy to Dez's attraction to Shanita, who mostly turns away his advances, but every now and then displays a hint of interest. Most poignant is Reggie's regard and affection for the lesbian Faye, which has roots in his boyhood when she loved, and lived, with his now-deceased mom.
These people's various predicaments intensify when rumors spread of the plant's shutdown — a disaster for all, but a particular calamity for the already near-broke Faye who, one year short of retirement, would lose her pension. The crisis forces each of these people to make a choice.
A sound piece of social realism, Skeleton Crew grabs you from the start in its focus on blue-collar men and women, and their struggle against odds for dignity and self-respect. Morisseau not only furnishes these characters a platform for their travails, she endows them with strong values, big hearts and the opportunity to choose between right and wrong.
Unfortunately, the performance I attended did not soar. Many exchanges lacked a fresh edge. The actors certainly had their characters down, but too often they appeared to be coasting on technique. (This seemed particularly true of Clay, who performed the role to great accolades in Washington, DC in 2017, also under McGregor's direction). Additionally, some of the stage movement was not entirely fluid; in confrontations, actors sometimes would just stand and face each other in an artificial way. And Cheatom's interpretation of Dez struck me as a bit overly churlish and depressive: I needed more glimpses of the intelligence and edge that would secretly attract the strong, self-directed Shanita.
The most compelling moments belong to Woodside, well-cast as a man trying his best in difficult circumstances to do the right thing.
---
Gil Cates Theater at the Geffen Playhouse, 10886 Le Conte Ave., Westwood Village; Tues.-Fri., 8 p.m.; Sat., 3 & 8 p.m. Sun., 2 & 7 p.m.; through July 8. (310) 208-5454 or www.geffenplayhouse.org