Film Review: "The Queen of Versailles"
There's a scene in Lauren Greenfield's likable documentary, The Queen of Versailles, in which the titular monarch, the wife of time-share mogul David Siegel, announces she is shoveling $2,000 worth of caviar into her mouth. "Somebody's gonna get fired," grumbles her husband, a former billionaire who is now desperately pinching pennies as his creditors tighten a noose around his troubled empire.
The film is full of such jarring moments, making it partly an American economic fable, partly a reality TV show. Like many such train wrecks, the story takes place in Florida and, like many a tale of real estate rise-and-ruin, it begins on the eve of the recent recession. That's when Greenfield set out to capture the Siegels' construction of the largest house in America – a 90,000-square-foot monstrosity inspired by both Louis XIV's court at Versailles and the Paris Las Vegas hotel and casino. Among other things, its floor plans called for 23 bathrooms, a 20-car garage, a bowling alley, an ice rink and three pools.
Then, as the bubble bursts, we find ourselves ringside at the implosion of Siegel's business, Westgate Resorts.
What prevents Greenfield's film from becoming a smug chronicle of financial hubris is Jackie Siegel, a one-time beauty queen who married David, a man 31 years her senior, when they were both on the marital rebound. She is a blond, adorably vapid Amazon who struts around their current, "too-small" mansion in blue-jean cutoffs and peek-a-boo tops that continually reveal the silicone valley between her surgically enhanced breasts. Jackie is also a shopaholic and serial mom with eight children. Early on, she sighs that she can't possibly run her household without a large staff, but soon after the economy heads south, the Siegels dismiss 19 of their employees and leave the running of their home to four hopelessly overworked Filipino women.
The Siegels are not simply clueless vulgarians sleepwalking through a palace crammed with French rococo furniture, stuffed dead pets and laughably heroic paintings of themselves. Both David and Jackie came from modest backgrounds and, in many ways, they can't escape their roots – the junk food they eat, the gold-lamé tackiness of everything they consider classy.
"People who don't want to be rich," David declares, "are dead." Comments like this will anger many viewers (he also boasts of winning the White House for George W. Bush in 2000), but the Siegels are not the kind of One Percenters who have to worry about a guillotine being brought out any time soon. Instead, they remain a couple adrift in an America whose horizons for opportunity have suddenly narrowed. The difference between them and most of their countrymen is that they get to wait out hard times in a mansion.

A Woman's Art Is Never Done: The Feminae Exhibition
A striking juxtaposition between the past and present courses throughout the small gallery. Celia Blomberg's "International Women's Day March 8" can't help but make one think of 2017's Women's March, which occurred 37 years after the print's first appearance.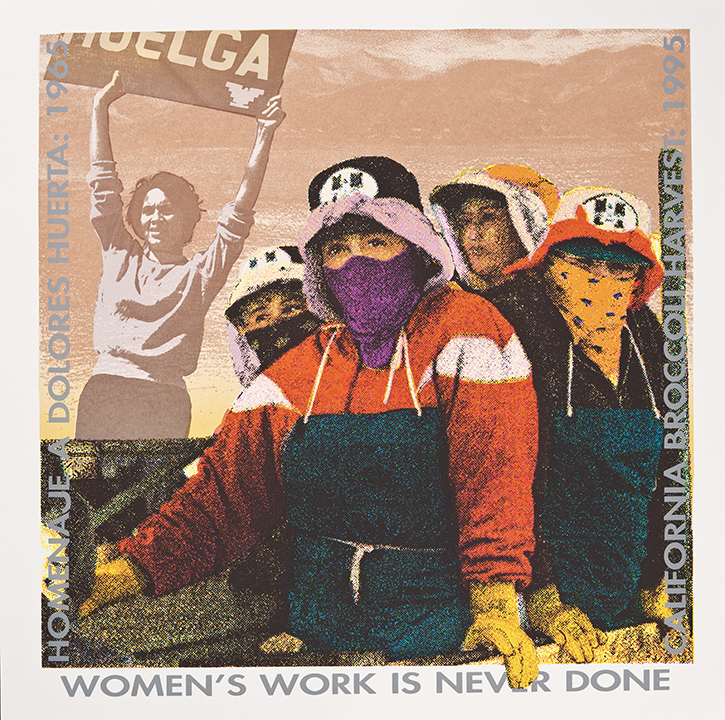 Among the 50-plus works in the Feminae: Typographic Voices of Women By Women exhibit is Yolanda Lopez's "Women's Work is Never Done." Lopez's title is particularly ironic, given the exhibit's gender-based subject matter. The show spans work from the past 50 years, making it easy to understand how much society is still grappling with its themes of gender inequality. Culled from the archives of the Center for the Study of Political Graphics, the graphic images of protest, persuasion and empowerment are truly works of art in their own right.
However, political posters aren't made to merely spruce up walls, but to help figuratively bring barriers down as well.
Two silkscreens from the 1970s, Liliana Porter and John Schneider's "This Woman is Vietnamese" and See Red Woman's Workshop's "So Long As Women Are Not Free People Are Not Free," are particularly powerful, underscoring, as they do, the fact that the subjugation and persecution of women crosses borders and cultures as an unfortunate shared global experience. These two pieces' stark simplicity exemplifies most of the work in the exhibit. In the former, a New York Times photo of a distraught Vietnamese woman with a gun held to her head is centered above these basic words typed out in a typewriter font: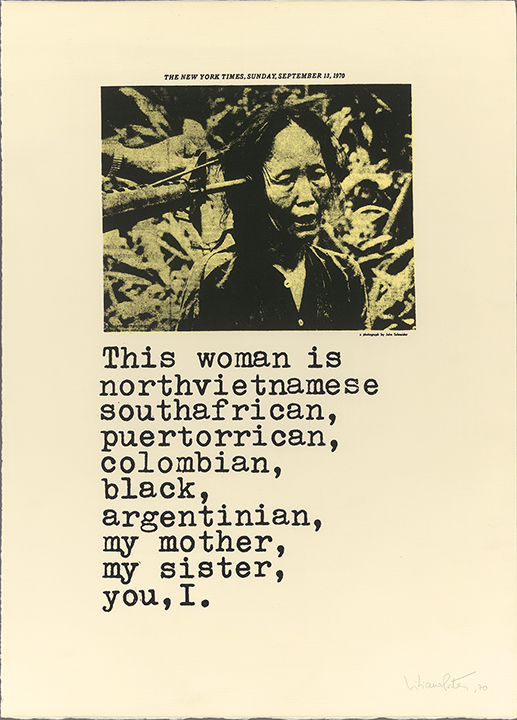 This woman is
northvietnamese
southafrican
puertorrican,
colombian,
black,
argentinian,
my mother,
my sister,
you, I.
By juxtaposing the photo with these words, the creators take the plight of this woman and immediately globalize her pain. In the latter, three female demonstrators are silkscreened in red onto a yellow background. They are marginalized by being stuck in the lower left third of the poster, but two of them are raising their fists skyward and their mouths are open, screaming in defiance. Its non-serif, eponymous type reads: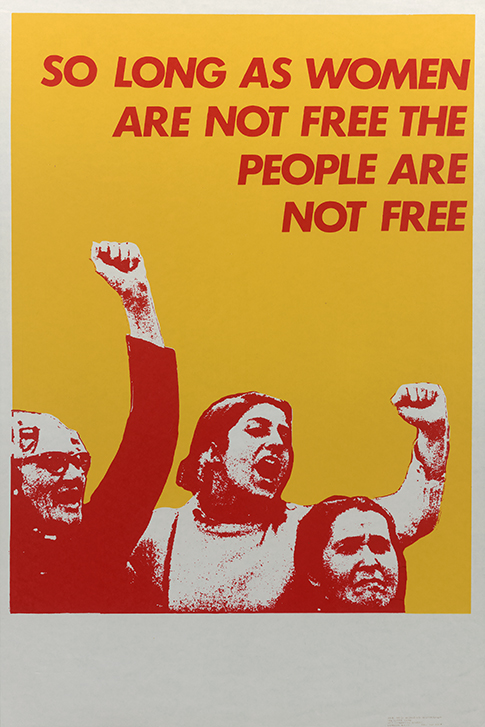 SO LONG AS WOMEN
ARE NOT FREE THE
PEOPLE ARE
NOT FREE
This piece's message takes the global message even farther, making the plight of women a human one — a common theme in the exhibition.
There is also a striking juxtaposition between the past and present that seethes throughout the small gallery. Celia Blomberg's "International Women's Day March 8" can't help but make one think of 2017's Women's March that would take place 37 years later. See Red Woman's Workshop's 1977 "Black Women Will Not Be Intimidated" could easily be repurposed to address the recent spate of blue-on-black brutality. Notable works by Barbara Kruger, Sister Corita Kent and the Guerilla Girls are also included.
Ironically , while it can be surmised that most of these works were made as populist posters to be distributed at the time as banners of protest, their beautiful simplicity and nostalgic elegance probably have resulted in the originals (mostly now found in art museums) sporting hefty vintage-resale prices.
But it is not just the art that has stood the test of time. The fact that the issues addressed in the show — feminism, choice, gender equality, war, immigration, police brutality or violence against women — are all issues at the forefront of debate in 2018 ultimately engenders conflicting feelings.
On one the hand, it is inspiring to see a vibrant exhibit that showcases such diversity in artistic styles, no doubt spawned by the diversity of the artists' own backgrounds. On the other hand, there is a realization that while there has been some progress over the past half century, there is so much work to be done.
Art Center's Hoffmitz Milken Center for Typography, 950 South Raymond Ave., Pasadena; through May 15.
---
Copyright Capital & Main