Film Review: "The Queen of Versailles"
There's a scene in Lauren Greenfield's likable documentary, The Queen of Versailles, in which the titular monarch, the wife of time-share mogul David Siegel, announces she is shoveling $2,000 worth of caviar into her mouth. "Somebody's gonna get fired," grumbles her husband, a former billionaire who is now desperately pinching pennies as his creditors tighten a noose around his troubled empire.
The film is full of such jarring moments, making it partly an American economic fable, partly a reality TV show. Like many such train wrecks, the story takes place in Florida and, like many a tale of real estate rise-and-ruin, it begins on the eve of the recent recession. That's when Greenfield set out to capture the Siegels' construction of the largest house in America – a 90,000-square-foot monstrosity inspired by both Louis XIV's court at Versailles and the Paris Las Vegas hotel and casino. Among other things, its floor plans called for 23 bathrooms, a 20-car garage, a bowling alley, an ice rink and three pools.
Then, as the bubble bursts, we find ourselves ringside at the implosion of Siegel's business, Westgate Resorts.
What prevents Greenfield's film from becoming a smug chronicle of financial hubris is Jackie Siegel, a one-time beauty queen who married David, a man 31 years her senior, when they were both on the marital rebound. She is a blond, adorably vapid Amazon who struts around their current, "too-small" mansion in blue-jean cutoffs and peek-a-boo tops that continually reveal the silicone valley between her surgically enhanced breasts. Jackie is also a shopaholic and serial mom with eight children. Early on, she sighs that she can't possibly run her household without a large staff, but soon after the economy heads south, the Siegels dismiss 19 of their employees and leave the running of their home to four hopelessly overworked Filipino women.
The Siegels are not simply clueless vulgarians sleepwalking through a palace crammed with French rococo furniture, stuffed dead pets and laughably heroic paintings of themselves. Both David and Jackie came from modest backgrounds and, in many ways, they can't escape their roots – the junk food they eat, the gold-lamé tackiness of everything they consider classy.
"People who don't want to be rich," David declares, "are dead." Comments like this will anger many viewers (he also boasts of winning the White House for George W. Bush in 2000), but the Siegels are not the kind of One Percenters who have to worry about a guillotine being brought out any time soon. Instead, they remain a couple adrift in an America whose horizons for opportunity have suddenly narrowed. The difference between them and most of their countrymen is that they get to wait out hard times in a mansion.

'Skeleton Crew' Is a Play With a Moral Spine
Set in a Detroit automobile outfitting plant, Dominique Morisseau's drama grabs you from the start with its focus on blue-collar men and women, and their struggle for dignity and self-respect.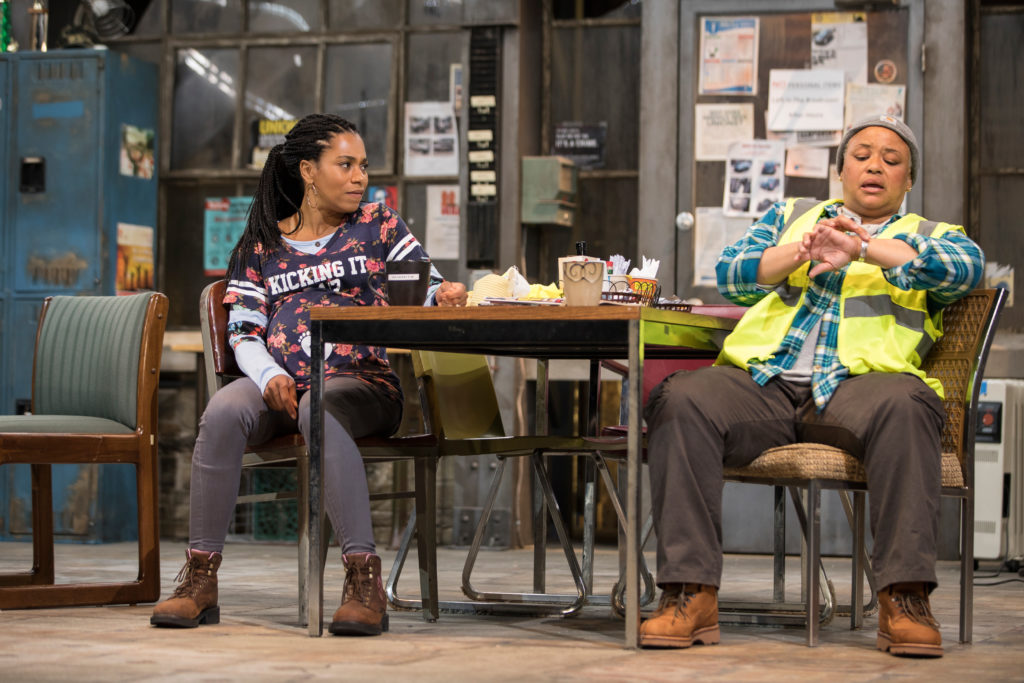 Working-class men and women of color are rarely front and center in today's media and, likewise, are presented all too occasionally on the American stage. So it's buoying to see that trend bucked in playwright Dominique Morisseau's percipient and well-crafted drama, Skeleton Crew. The play is the final installment in her Detroit  Project Trilogy; the first, Paradise Blue, is set in the 1940s amidst displacement caused by urban renewal and gentrification, while the second, Detroit '67, transpires on the eve of the 1967 Detroit riots sparked by a police action.
Directed by Patricia McGregor at Los Angeles' Geffen Playhouse, Skeleton Crew is a play with a moral spine. It takes place in 2008, when the shrinking U.S. auto industry is being further downsized. Morisseau's engaging quartet of characters — Faye (Caroline Stefanie Clay), Dez (Armari Cheatom), Shanita (Kelly McCreary) and Reggie (DB Woodside) – are employed at an automobile outfitting plant. Faye, Dez and Shanita are workers on the line while Reggie (who has a wife and kids, and has pulled himself together after a troubled youth) is their supervisor.
The first three customarily mingle in their break room (designer Rachel Myers' impressively cluttered, dingy and detailed set), trading the sort of familiar barbs and genuine concern for each other common among longtime co-workers. They also face off on philosophy: Upper-middle-aged Faye and the younger, pregnant Shanita take pride in their labor, while Dez, though a good worker, is a malcontent scornful of management and firm in the belief that everyone needs to watch out for himself. He's a thorn in Reggie's side, for while Reggie wants to be supportive of his workers, he must act at the behest of higher management. For his part, Dez resents Reggie's authority, and a palpable unease exists between them.
Besides this male matchup, we're made privy to Dez's attraction to Shanita, who mostly turns away his advances, but every now and then displays a hint of interest. Most poignant is Reggie's regard and affection for the lesbian Faye, which has roots in his boyhood when she loved, and lived, with his now-deceased mom.
These people's various predicaments intensify when rumors spread of the plant's shutdown — a disaster for all, but a particular calamity for the already near-broke Faye who, one year short of retirement, would lose her pension. The crisis forces each of these people to make a choice.
A sound piece of social realism, Skeleton Crew grabs you from the start in its focus on blue-collar men and women, and their struggle against odds for dignity and self-respect. Morisseau not only furnishes these characters a platform for their travails, she endows them with strong values, big hearts and the opportunity to choose between right and wrong.
Unfortunately, the performance I attended did not soar. Many exchanges lacked a fresh edge. The actors certainly had their characters down, but too often they appeared to be coasting on technique. (This seemed particularly true of Clay, who performed the role to great accolades in Washington, DC in 2017, also under McGregor's direction). Additionally, some of the stage movement was not entirely fluid; in confrontations, actors sometimes would just stand and face each other in an artificial way. And Cheatom's interpretation of Dez struck me as a bit overly churlish and depressive: I needed more glimpses of the intelligence and edge that would secretly attract the strong, self-directed Shanita.
The most compelling moments belong to Woodside, well-cast as a man trying his best in difficult circumstances to do the right thing.
---
Gil Cates Theater at the Geffen Playhouse, 10886 Le Conte Ave., Westwood Village; Tues.-Fri., 8 p.m.; Sat., 3 & 8 p.m. Sun., 2 & 7 p.m.; through July 8. (310) 208-5454 or www.geffenplayhouse.org