Film Review: "The Internet's Own Boy"
Aaron Swartz (Photo: Fred Benenson)
The Internet's Own Boy —the title says it all. Writer-director Brian Knappenberger's weak and propagandistic hagiography is as infantilizing to its audience as it is to its subject, and adds no luster to the memory of pioneering programmer and information activist Aaron Swartz, who was 26 when he took his own life in January 2013.
At the time of his suicide, the federal government was prosecuting Swartz on computer crime charges in connection with downloading (but never distributing) nearly five million academic journal articles from the online repository JSTOR, which he had accessed via a computer in a supply closet at MIT. The indictment was patently ludicrous; JSTOR itself had declined to press charges against Swartz. But the Justice Department was determined to make an example of him anyway, as it has repeatedly done with other hackers whom it has harassed and even jailed. That Swartz was gravely wronged by prosecutors Carmen Ortiz and Stephen Heymann is as plain as day. But the suggestion that the government literally drove him to suicide, strongly promulgated in this film, is, at the very least, open to question.
Swartz had a history of depression, which he wrote about in harrowing detail on his personal blog. That history was reported in the New York Review of Books, New York magazine, and many other outlets after his death. In the film, though, Swartz's family and his girlfriend, Taren Stinebrickner-Kauffman, maintain that while he was under considerable strain owing to the stress of the coming trial, he was not depressed. Yet Stinebrickner-Kauffman told Wesley Yang of New York that "the first time she ever worried about his depression was on the morning of January 11—the day she would discover him hanging from his belt in the apartment they shared."
Knappenberger's  evident desire to withhold even a syllable contradictory to their case serves neither his subject nor his audience.
Entirely missing are voices like that of Danah Boyd, the social media researcher and scholar who posted a blog entry on the day after Swartz's death. "There's no doubt in my mind that depression was a factor," she wrote; she'd been friends with Swartz for nine years. "I adored Aaron because he was an emotional whirlwind – a cranky bastard and a manic savant […] His stubbornness made him breakable."
Swartz's work comes in for the same simplistic treatment. Reddit co-founders Steve Huffman and Alexis Ohanian, with whom Swartz merged his Infogami project in 2006, and with whom he is known to have broken, do not appear. Nobody knows what Swartz intended to do with his JSTOR downloads and the film's conjectures on that score are far more primitive than those appearing elsewhere. (My own guess is that he meant to "liberate" only those materials already in the public domain by stripping out 1.7 million copyright-protected documents from the 4.8 million he took down, which would have monumentally decreased his chances of getting in hot water with the feds.)
Swartz's brothers, Noah and Ben, provide a loving portrait of their older brother, and it is a particular pleasure to watch them all as toddlers goofing off in home video footage, with the wildly precocious Aaron in a Teenage Mutant Ninja Turtles T-shirt, gleefully yelling, "Story reading time!" His parents appear, too, lending a welcome human depth to a portrait that would have otherwise amounted to little more than a two-dimensional cutout of a "genius" and "martyr."
Recent revelations that the CIA spied on the Senate Intelligence Committee underscore the need to revisit federal legislation (much of it enacted in the mid-1980s) pertaining to computer crimes. Such laws have failed utterly to address the new dangers inherent in our brave new world. The Internet's Own Boy provides a very stark illustration of what a mess we've landed ourselves in and is worth seeing, perhaps, on that score. When the CIA is let off the hook for spying on its own congressional overseers, while people like Aaron Swartz are furiously pursued for "checking too many books out of the library"—as Demand Progress executive director David Segal styled Swartz's mass JSTOR download—it's clear that the public really does need to demand progress.

'Skeleton Crew' Is a Play With a Moral Spine
Set in a Detroit automobile outfitting plant, Dominique Morisseau's drama grabs you from the start with its focus on blue-collar men and women, and their struggle for dignity and self-respect.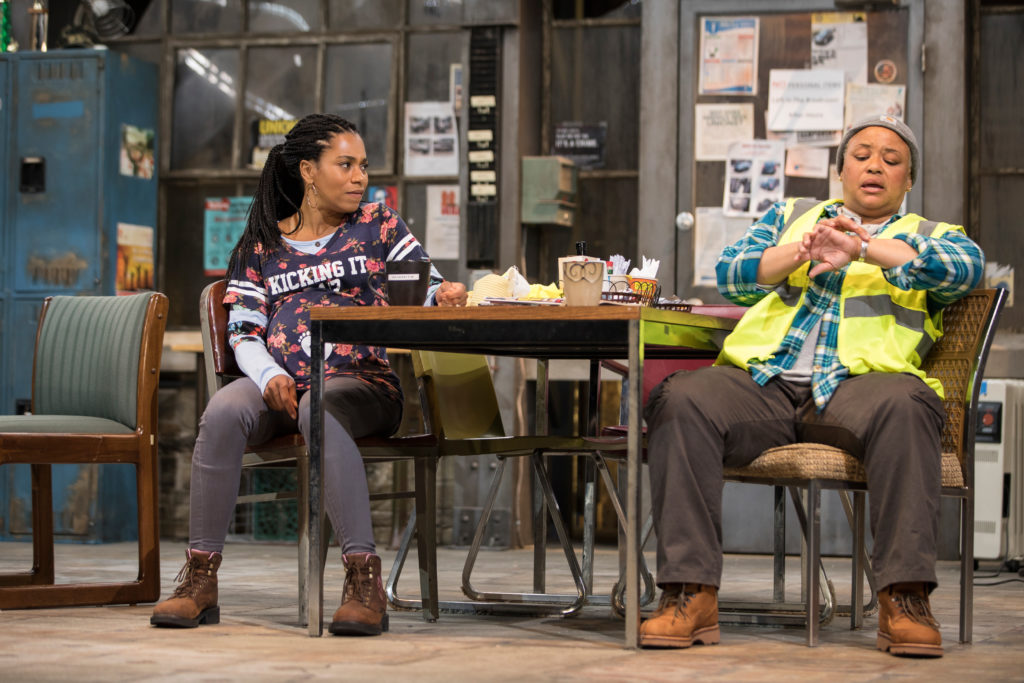 Working-class men and women of color are rarely front and center in today's media and, likewise, are presented all too occasionally on the American stage. So it's buoying to see that trend bucked in playwright Dominique Morisseau's percipient and well-crafted drama, Skeleton Crew. The play is the final installment in her Detroit  Project Trilogy; the first, Paradise Blue, is set in the 1940s amidst displacement caused by urban renewal and gentrification, while the second, Detroit '67, transpires on the eve of the 1967 Detroit riots sparked by a police action.
Directed by Patricia McGregor at Los Angeles' Geffen Playhouse, Skeleton Crew is a play with a moral spine. It takes place in 2008, when the shrinking U.S. auto industry is being further downsized. Morisseau's engaging quartet of characters — Faye (Caroline Stefanie Clay), Dez (Armari Cheatom), Shanita (Kelly McCreary) and Reggie (DB Woodside) – are employed at an automobile outfitting plant. Faye, Dez and Shanita are workers on the line while Reggie (who has a wife and kids, and has pulled himself together after a troubled youth) is their supervisor.
The first three customarily mingle in their break room (designer Rachel Myers' impressively cluttered, dingy and detailed set), trading the sort of familiar barbs and genuine concern for each other common among longtime co-workers. They also face off on philosophy: Upper-middle-aged Faye and the younger, pregnant Shanita take pride in their labor, while Dez, though a good worker, is a malcontent scornful of management and firm in the belief that everyone needs to watch out for himself. He's a thorn in Reggie's side, for while Reggie wants to be supportive of his workers, he must act at the behest of higher management. For his part, Dez resents Reggie's authority, and a palpable unease exists between them.
Besides this male matchup, we're made privy to Dez's attraction to Shanita, who mostly turns away his advances, but every now and then displays a hint of interest. Most poignant is Reggie's regard and affection for the lesbian Faye, which has roots in his boyhood when she loved, and lived, with his now-deceased mom.
These people's various predicaments intensify when rumors spread of the plant's shutdown — a disaster for all, but a particular calamity for the already near-broke Faye who, one year short of retirement, would lose her pension. The crisis forces each of these people to make a choice.
A sound piece of social realism, Skeleton Crew grabs you from the start in its focus on blue-collar men and women, and their struggle against odds for dignity and self-respect. Morisseau not only furnishes these characters a platform for their travails, she endows them with strong values, big hearts and the opportunity to choose between right and wrong.
Unfortunately, the performance I attended did not soar. Many exchanges lacked a fresh edge. The actors certainly had their characters down, but too often they appeared to be coasting on technique. (This seemed particularly true of Clay, who performed the role to great accolades in Washington, DC in 2017, also under McGregor's direction). Additionally, some of the stage movement was not entirely fluid; in confrontations, actors sometimes would just stand and face each other in an artificial way. And Cheatom's interpretation of Dez struck me as a bit overly churlish and depressive: I needed more glimpses of the intelligence and edge that would secretly attract the strong, self-directed Shanita.
The most compelling moments belong to Woodside, well-cast as a man trying his best in difficult circumstances to do the right thing.
---
Gil Cates Theater at the Geffen Playhouse, 10886 Le Conte Ave., Westwood Village; Tues.-Fri., 8 p.m.; Sat., 3 & 8 p.m. Sun., 2 & 7 p.m.; through July 8. (310) 208-5454 or www.geffenplayhouse.org