Since the invention of the movie camera in the late 19th century, filmmaking has seen only a smattering of seminal technical developments. Only the advent of sound and color spawned sea changes in the medium. But in this century, the digital revolution has made it exponentially easier for filmmakers to tell stories. It was only a matter of time, then, before people started filming features using arguably the most ubiquitous technological device of our time.
It would be easy to prematurely dismiss Tangerine as a gimmick. After all, with all the tools of the trade available to film a movie, picking a 4.87-by-2.3-inch iPhone 5s seems not only ambitious but possibly a filmmaker's folly. Luckily, for writer-director Sean Baker, the phone is a smart choice indeed.
It is the afternoon of Christmas Eve. Two transgender hustlers are in a diner. Sin-Dee (Kitana Kiki Rodriguez) has just been released from jail. Best friend Alexandra (Mya Taylor) tries to provide support for her frenetic pal, who has heard rumors that her pimp/boyfriend (James Ransone) has been stepping out on Sin-Dee while she's been paying her dues. Alexandra herself is trying to promote her singing gig at a local joint later that night. The scene ends with Sin-Dee bolting down the street, her brain a desperate jumble of anxiety and yearning, a woman on a mission to find her philandering mate.
Driving in and out of this girlfriend duo's life is an Armenian taxi driver (played bravely by Karren Karagulian) who is on his own journey of discovery. He is a recurring john, secretly driving in the other lane, unbeknownst to his wife, child and bitchy mother-in-law, who all await his arrival for Christmas dinner. It's After Hours in heels, made on a dime.
Especially for mainstream audiences, the film's first 10 minutes  will be a thematic and technological assault on the senses, making it easy to worry whether the venture is sustainable for 88 minutes. As Sin-Dee and Alexandra walk and talk the streets of West Hollywood, the results are mixed. The sunlight on shoulders and street signs are blown out and the focus at times is fuzzy. But when shooting action, the iPhone adds to the urgency, its jerky lens and inconsistent focus only adding to the urgency and grittiness. (Baker and crew actually used three iPhones to make the movie.) As night falls,  any problems dissipate. Baker could not have found a better topic to match his tool.
The acting is uniformly excellent, even more impressive when one remembers that Rodriguez and Taylor were plucked from the denizens of the area around the intersection of Santa Monica Boulevard and Highland Avenue, which serves as the film's setting. Baker used their real lives to help write the film (with co-writer Chris Bergoch), which culminates in a beautifully choreographed scene inside the junction's Donut Time. (Adding to  his work's digital cred, he also cast other actors off Instagram and found music for the film on Vine.) There is not a hint of the cast's inexperience, as the leads bring surprising nuance to roles that could have easily been clichés. Particularly moving is a scene where Sin-Dee gazes adoringly at Alexandra as her friend feebly attempts to fill a largely empty bar with her unremarkable voice.
By the story's end, after we have embraced Baker's characters, who are full of powerful poignancy and acerbic humor, we've forgotten that the film was shot entirely on a device that fits in a clutch.
Luckily for Baker, Caitlyn Jenner's emergence from her tabloid cocoon has made transgenderism a trending topic. But it's one thing to have mass audiences applaud a beloved Olympic hero-cum-reality star. It's another to watch two brassy streetwalkers struggle and strut through a squalid snapshot of broken dreams and blowjobs. But for approximately $100,000, three iPhones, great skill and a whole lot of heart, Baker is able to deliver a compelling, amusing and ultimately moving tale of lives in La-La Land. Often called the Big Orange, Los Angeles, in the hands of Baker, is a smaller, sweeter and stronger Tangerine.
---
Alex Demyanenko has produced numerous television series and specials. Among his credits is the HBO documentary
Bastards of the Party
.
'Skeleton Crew' Is a Play With a Moral Spine
Set in a Detroit automobile outfitting plant, Dominique Morisseau's drama grabs you from the start with its focus on blue-collar men and women, and their struggle for dignity and self-respect.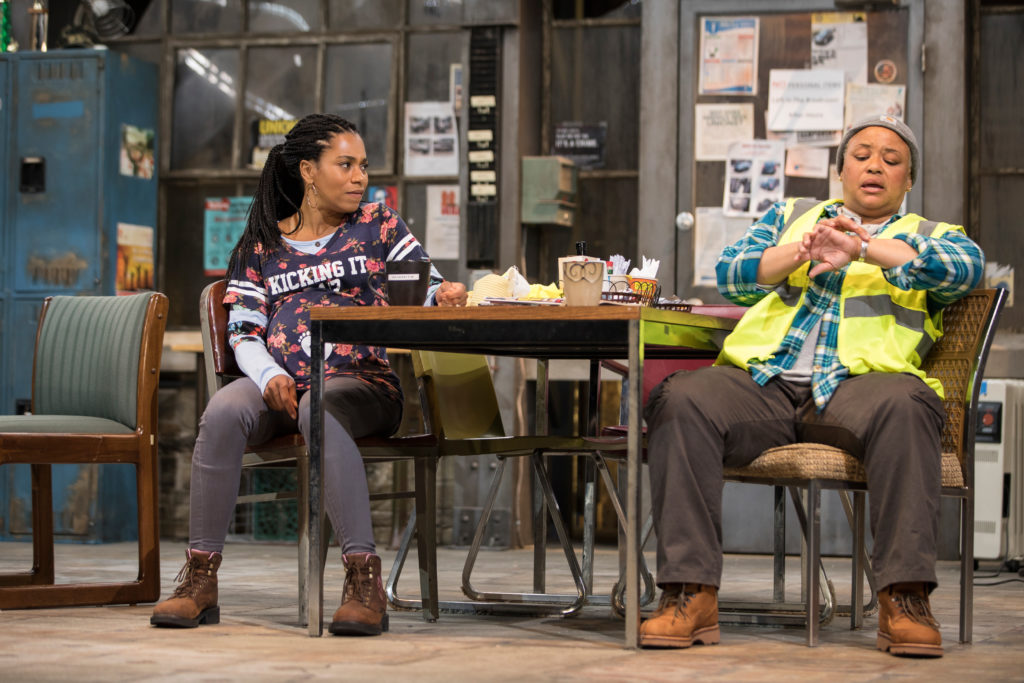 Working-class men and women of color are rarely front and center in today's media and, likewise, are presented all too occasionally on the American stage. So it's buoying to see that trend bucked in playwright Dominique Morisseau's percipient and well-crafted drama, Skeleton Crew. The play is the final installment in her Detroit  Project Trilogy; the first, Paradise Blue, is set in the 1940s amidst displacement caused by urban renewal and gentrification, while the second, Detroit '67, transpires on the eve of the 1967 Detroit riots sparked by a police action.
Directed by Patricia McGregor at Los Angeles' Geffen Playhouse, Skeleton Crew is a play with a moral spine. It takes place in 2008, when the shrinking U.S. auto industry is being further downsized. Morisseau's engaging quartet of characters — Faye (Caroline Stefanie Clay), Dez (Armari Cheatom), Shanita (Kelly McCreary) and Reggie (DB Woodside) – are employed at an automobile outfitting plant. Faye, Dez and Shanita are workers on the line while Reggie (who has a wife and kids, and has pulled himself together after a troubled youth) is their supervisor.
The first three customarily mingle in their break room (designer Rachel Myers' impressively cluttered, dingy and detailed set), trading the sort of familiar barbs and genuine concern for each other common among longtime co-workers. They also face off on philosophy: Upper-middle-aged Faye and the younger, pregnant Shanita take pride in their labor, while Dez, though a good worker, is a malcontent scornful of management and firm in the belief that everyone needs to watch out for himself. He's a thorn in Reggie's side, for while Reggie wants to be supportive of his workers, he must act at the behest of higher management. For his part, Dez resents Reggie's authority, and a palpable unease exists between them.
Besides this male matchup, we're made privy to Dez's attraction to Shanita, who mostly turns away his advances, but every now and then displays a hint of interest. Most poignant is Reggie's regard and affection for the lesbian Faye, which has roots in his boyhood when she loved, and lived, with his now-deceased mom.
These people's various predicaments intensify when rumors spread of the plant's shutdown — a disaster for all, but a particular calamity for the already near-broke Faye who, one year short of retirement, would lose her pension. The crisis forces each of these people to make a choice.
A sound piece of social realism, Skeleton Crew grabs you from the start in its focus on blue-collar men and women, and their struggle against odds for dignity and self-respect. Morisseau not only furnishes these characters a platform for their travails, she endows them with strong values, big hearts and the opportunity to choose between right and wrong.
Unfortunately, the performance I attended did not soar. Many exchanges lacked a fresh edge. The actors certainly had their characters down, but too often they appeared to be coasting on technique. (This seemed particularly true of Clay, who performed the role to great accolades in Washington, DC in 2017, also under McGregor's direction). Additionally, some of the stage movement was not entirely fluid; in confrontations, actors sometimes would just stand and face each other in an artificial way. And Cheatom's interpretation of Dez struck me as a bit overly churlish and depressive: I needed more glimpses of the intelligence and edge that would secretly attract the strong, self-directed Shanita.
The most compelling moments belong to Woodside, well-cast as a man trying his best in difficult circumstances to do the right thing.
---
Gil Cates Theater at the Geffen Playhouse, 10886 Le Conte Ave., Westwood Village; Tues.-Fri., 8 p.m.; Sat., 3 & 8 p.m. Sun., 2 & 7 p.m.; through July 8. (310) 208-5454 or www.geffenplayhouse.org