Since the invention of the movie camera in the late 19th century, filmmaking has seen only a smattering of seminal technical developments. Only the advent of sound and color spawned sea changes in the medium. But in this century, the digital revolution has made it exponentially easier for filmmakers to tell stories. It was only a matter of time, then, before people started filming features using arguably the most ubiquitous technological device of our time.
It would be easy to prematurely dismiss Tangerine as a gimmick. After all, with all the tools of the trade available to film a movie, picking a 4.87-by-2.3-inch iPhone 5s seems not only ambitious but possibly a filmmaker's folly. Luckily, for writer-director Sean Baker, the phone is a smart choice indeed.
It is the afternoon of Christmas Eve. Two transgender hustlers are in a diner. Sin-Dee (Kitana Kiki Rodriguez) has just been released from jail. Best friend Alexandra (Mya Taylor) tries to provide support for her frenetic pal, who has heard rumors that her pimp/boyfriend (James Ransone) has been stepping out on Sin-Dee while she's been paying her dues. Alexandra herself is trying to promote her singing gig at a local joint later that night. The scene ends with Sin-Dee bolting down the street, her brain a desperate jumble of anxiety and yearning, a woman on a mission to find her philandering mate.
Driving in and out of this girlfriend duo's life is an Armenian taxi driver (played bravely by Karren Karagulian) who is on his own journey of discovery. He is a recurring john, secretly driving in the other lane, unbeknownst to his wife, child and bitchy mother-in-law, who all await his arrival for Christmas dinner. It's After Hours in heels, made on a dime.
Especially for mainstream audiences, the film's first 10 minutes  will be a thematic and technological assault on the senses, making it easy to worry whether the venture is sustainable for 88 minutes. As Sin-Dee and Alexandra walk and talk the streets of West Hollywood, the results are mixed. The sunlight on shoulders and street signs are blown out and the focus at times is fuzzy. But when shooting action, the iPhone adds to the urgency, its jerky lens and inconsistent focus only adding to the urgency and grittiness. (Baker and crew actually used three iPhones to make the movie.) As night falls,  any problems dissipate. Baker could not have found a better topic to match his tool.
The acting is uniformly excellent, even more impressive when one remembers that Rodriguez and Taylor were plucked from the denizens of the area around the intersection of Santa Monica Boulevard and Highland Avenue, which serves as the film's setting. Baker used their real lives to help write the film (with co-writer Chris Bergoch), which culminates in a beautifully choreographed scene inside the junction's Donut Time. (Adding to  his work's digital cred, he also cast other actors off Instagram and found music for the film on Vine.) There is not a hint of the cast's inexperience, as the leads bring surprising nuance to roles that could have easily been clichés. Particularly moving is a scene where Sin-Dee gazes adoringly at Alexandra as her friend feebly attempts to fill a largely empty bar with her unremarkable voice.
By the story's end, after we have embraced Baker's characters, who are full of powerful poignancy and acerbic humor, we've forgotten that the film was shot entirely on a device that fits in a clutch.
Luckily for Baker, Caitlyn Jenner's emergence from her tabloid cocoon has made transgenderism a trending topic. But it's one thing to have mass audiences applaud a beloved Olympic hero-cum-reality star. It's another to watch two brassy streetwalkers struggle and strut through a squalid snapshot of broken dreams and blowjobs. But for approximately $100,000, three iPhones, great skill and a whole lot of heart, Baker is able to deliver a compelling, amusing and ultimately moving tale of lives in La-La Land. Often called the Big Orange, Los Angeles, in the hands of Baker, is a smaller, sweeter and stronger Tangerine.
---
Alex Demyanenko has produced numerous television series and specials. Among his credits is the HBO documentary
Bastards of the Party
.
A Woman's Art Is Never Done: The Feminae Exhibition
A striking juxtaposition between the past and present courses throughout the small gallery. Celia Blomberg's "International Women's Day March 8" can't help but make one think of 2017's Women's March, which occurred 37 years after the print's first appearance.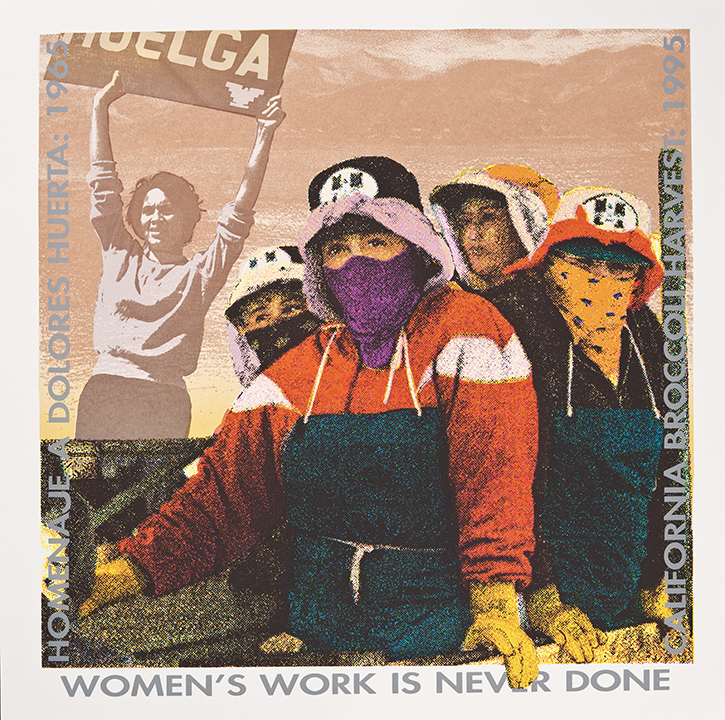 Among the 50-plus works in the Feminae: Typographic Voices of Women By Women exhibit is Yolanda Lopez's "Women's Work is Never Done." Lopez's title is particularly ironic, given the exhibit's gender-based subject matter. The show spans work from the past 50 years, making it easy to understand how much society is still grappling with its themes of gender inequality. Culled from the archives of the Center for the Study of Political Graphics, the graphic images of protest, persuasion and empowerment are truly works of art in their own right.
However, political posters aren't made to merely spruce up walls, but to help figuratively bring barriers down as well.
Two silkscreens from the 1970s, Liliana Porter and John Schneider's "This Woman is Vietnamese" and See Red Woman's Workshop's "So Long As Women Are Not Free People Are Not Free," are particularly powerful, underscoring, as they do, the fact that the subjugation and persecution of women crosses borders and cultures as an unfortunate shared global experience. These two pieces' stark simplicity exemplifies most of the work in the exhibit. In the former, a New York Times photo of a distraught Vietnamese woman with a gun held to her head is centered above these basic words typed out in a typewriter font: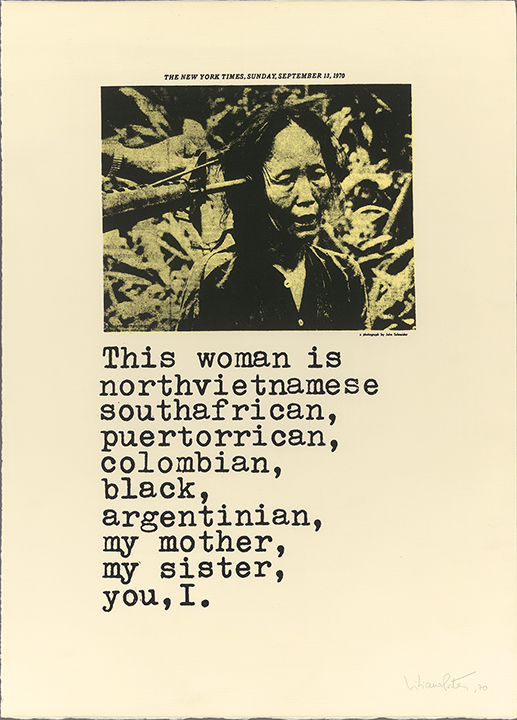 This woman is
northvietnamese
southafrican
puertorrican,
colombian,
black,
argentinian,
my mother,
my sister,
you, I.
By juxtaposing the photo with these words, the creators take the plight of this woman and immediately globalize her pain. In the latter, three female demonstrators are silkscreened in red onto a yellow background. They are marginalized by being stuck in the lower left third of the poster, but two of them are raising their fists skyward and their mouths are open, screaming in defiance. Its non-serif, eponymous type reads: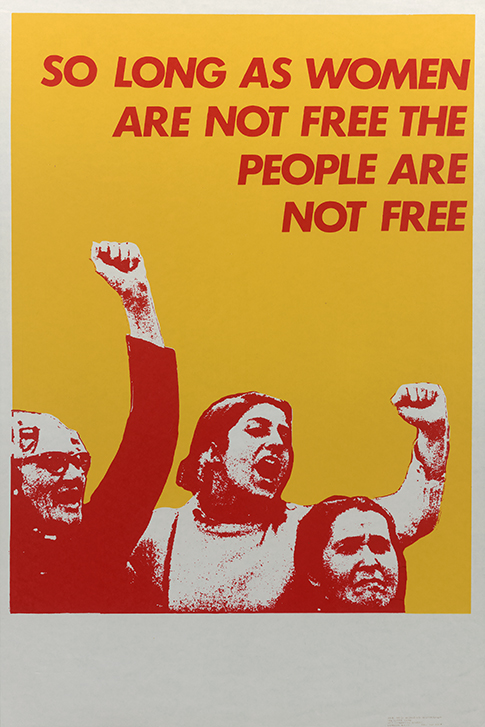 SO LONG AS WOMEN
ARE NOT FREE THE
PEOPLE ARE
NOT FREE
This piece's message takes the global message even farther, making the plight of women a human one — a common theme in the exhibition.
There is also a striking juxtaposition between the past and present that seethes throughout the small gallery. Celia Blomberg's "International Women's Day March 8" can't help but make one think of 2017's Women's March that would take place 37 years later. See Red Woman's Workshop's 1977 "Black Women Will Not Be Intimidated" could easily be repurposed to address the recent spate of blue-on-black brutality. Notable works by Barbara Kruger, Sister Corita Kent and the Guerilla Girls are also included.
Ironically , while it can be surmised that most of these works were made as populist posters to be distributed at the time as banners of protest, their beautiful simplicity and nostalgic elegance probably have resulted in the originals (mostly now found in art museums) sporting hefty vintage-resale prices.
But it is not just the art that has stood the test of time. The fact that the issues addressed in the show — feminism, choice, gender equality, war, immigration, police brutality or violence against women — are all issues at the forefront of debate in 2018 ultimately engenders conflicting feelings.
On one the hand, it is inspiring to see a vibrant exhibit that showcases such diversity in artistic styles, no doubt spawned by the diversity of the artists' own backgrounds. On the other hand, there is a realization that while there has been some progress over the past half century, there is so much work to be done.
Art Center's Hoffmitz Milken Center for Typography, 950 South Raymond Ave., Pasadena; through May 15.
---
Copyright Capital & Main