By now British films that combine gritty economic issues with musical set pieces have become their own genre. These movies, often based on historical fact, typically involve the seemingly crazy schemes of a plucky band of commoners to save a dying industry or rescue a besieged group of workers. Pride is the most recent descendent of Brassed Off, The Full Monty, Kinky Boots and Made in Dagenham. It's the story of the fateful 1984-85 coal miners' strike, during which Prime Minister Margaret Thatcher managed to cripple the National Union of Mineworkers.
Stephen Beresford's screenplay follows the efforts of Mark Ashton (Ben Schnetzer), a young gay militant, to rally his LGBT comrades to collect funds for the increasingly harried miners. He finds only a few adherents, but this energized band, which includes a closeted young student named Joe (George MacKay), a sarcastic lesbian, Steph (Faye Marsay) and a flamboyant actor played by Dominic West, eventually raise more money for the strikers than any other private group in Britain. Getting the macho miners to accept the contributions, however, is another challenge. The group sets off in a minibus for a mining village in South Wales and the reception they get in the local union hall is about as icy as the one the American travelers received in the rural pub in An American Werewolf in London.
Moment by grudging moment, however, the homophobic miners – egged on by their far more tolerant women folk – come to accept the gay Londoners and return their selfless generosity in a remarkable act of solidarity. Although it runs a little too long, there's much to admire in this film, directed by Matthew Warchus. After all, Warchus is able to keep us on the edge of our seats even though we know the outcome of the strike and are quite familiar with the feel-good tropes of Pride's genre. Warchus doesn't shy away from documenting the revolution-within-the-revolution issues of sexism inside both the labor and gay liberation movements, as well as the indifference of many gays to the strikers.
The acting is superb and Pride benefits from two epically low-key performances — Paddy Considine as the Welsh miner who acts as "the gays"'s liaison to the strikers, and Bill Nighy as a phlegmatic retired collier. Schnetzer's achingly committed Mark and MacKay's vulnerable Joe add electricity on the other end of the emotional spectrum. Like other films about miners, such as Salt of the Earth and Harlan County, USA, Pride explores the difficulty of human solidarity and shows how it is all the more remarkable for its occasional triumphs. In the Los Angeles area, Pride is running at Laemmle's Playhouse 7 in Pasadena through October 16th.
'Skeleton Crew' Is a Play With a Moral Spine
Set in a Detroit automobile outfitting plant, Dominique Morisseau's drama grabs you from the start with its focus on blue-collar men and women, and their struggle for dignity and self-respect.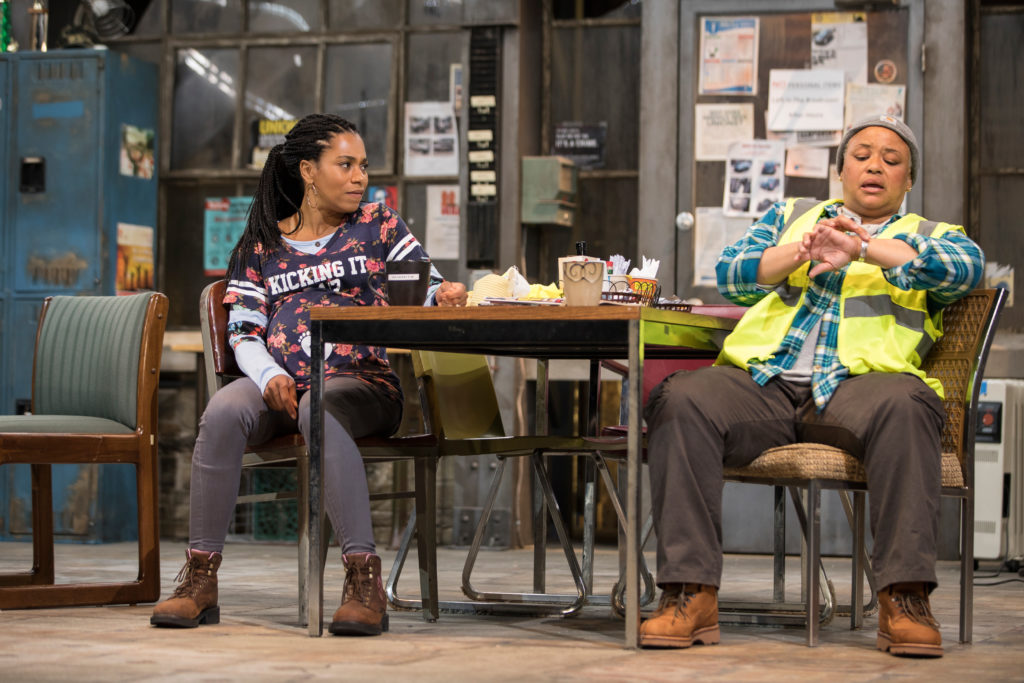 Working-class men and women of color are rarely front and center in today's media and, likewise, are presented all too occasionally on the American stage. So it's buoying to see that trend bucked in playwright Dominique Morisseau's percipient and well-crafted drama, Skeleton Crew. The play is the final installment in her Detroit  Project Trilogy; the first, Paradise Blue, is set in the 1940s amidst displacement caused by urban renewal and gentrification, while the second, Detroit '67, transpires on the eve of the 1967 Detroit riots sparked by a police action.
Directed by Patricia McGregor at Los Angeles' Geffen Playhouse, Skeleton Crew is a play with a moral spine. It takes place in 2008, when the shrinking U.S. auto industry is being further downsized. Morisseau's engaging quartet of characters — Faye (Caroline Stefanie Clay), Dez (Armari Cheatom), Shanita (Kelly McCreary) and Reggie (DB Woodside) – are employed at an automobile outfitting plant. Faye, Dez and Shanita are workers on the line while Reggie (who has a wife and kids, and has pulled himself together after a troubled youth) is their supervisor.
The first three customarily mingle in their break room (designer Rachel Myers' impressively cluttered, dingy and detailed set), trading the sort of familiar barbs and genuine concern for each other common among longtime co-workers. They also face off on philosophy: Upper-middle-aged Faye and the younger, pregnant Shanita take pride in their labor, while Dez, though a good worker, is a malcontent scornful of management and firm in the belief that everyone needs to watch out for himself. He's a thorn in Reggie's side, for while Reggie wants to be supportive of his workers, he must act at the behest of higher management. For his part, Dez resents Reggie's authority, and a palpable unease exists between them.
Besides this male matchup, we're made privy to Dez's attraction to Shanita, who mostly turns away his advances, but every now and then displays a hint of interest. Most poignant is Reggie's regard and affection for the lesbian Faye, which has roots in his boyhood when she loved, and lived, with his now-deceased mom.
These people's various predicaments intensify when rumors spread of the plant's shutdown — a disaster for all, but a particular calamity for the already near-broke Faye who, one year short of retirement, would lose her pension. The crisis forces each of these people to make a choice.
A sound piece of social realism, Skeleton Crew grabs you from the start in its focus on blue-collar men and women, and their struggle against odds for dignity and self-respect. Morisseau not only furnishes these characters a platform for their travails, she endows them with strong values, big hearts and the opportunity to choose between right and wrong.
Unfortunately, the performance I attended did not soar. Many exchanges lacked a fresh edge. The actors certainly had their characters down, but too often they appeared to be coasting on technique. (This seemed particularly true of Clay, who performed the role to great accolades in Washington, DC in 2017, also under McGregor's direction). Additionally, some of the stage movement was not entirely fluid; in confrontations, actors sometimes would just stand and face each other in an artificial way. And Cheatom's interpretation of Dez struck me as a bit overly churlish and depressive: I needed more glimpses of the intelligence and edge that would secretly attract the strong, self-directed Shanita.
The most compelling moments belong to Woodside, well-cast as a man trying his best in difficult circumstances to do the right thing.
---
Gil Cates Theater at the Geffen Playhouse, 10886 Le Conte Ave., Westwood Village; Tues.-Fri., 8 p.m.; Sat., 3 & 8 p.m. Sun., 2 & 7 p.m.; through July 8. (310) 208-5454 or www.geffenplayhouse.org