Film Review: 'Inequality for All'
With the release of the documentary Inequality for All, the core progressive story about what is wrong with the economy is now on the silver screen. For those of us who have been working to articulate what we call a progressive economic narrative, it is a major milestone.
The right spent decades projecting their view that prosperity is created through limited government and free markets, concepts that still dominate most Americans' thinking, even as the American dream is becoming a nightmare for more and more families. The new movie provides a powerful way to popularize a very different story.
Inequality for All is based around a big lecture course that Robert Reich gives at the University of California Berkeley. Reich and the film's director, Jacob Kornbluth, mix facts, infographics, documentary footage and profiles of families whose lives have been scarred by the new economy with the personal story of Reich's lifelong work to push for a just economy, including his frustrations serving as Labor Secretary during President Clinton's first term. Reich's personality, his humor, feistiness and passion drive the film.
The progressive economic narrative can be encapsulated in four sentences:
Working families and the middle class are getting crushed while the super-rich game the system.
Working families and the middle class are the engines of the economy.
We build a strong middle class through decisions we make together.
It's up to us to build an America that works for all of us.
Inequality for All tells the same story. In the movie, Reich ties the vast increase in income inequality to the loss of unionization, the diversion of economic growth from wages to CEO compensation and profits, the financialization of the economy, cutting taxes for the wealthy, and the failure of government to keep investing in education and infrastructure.
Reich shows how a virtuous cycle of higher wages and productivity, which put more money in consumers' pockets, thus driving the economy forward and raising revenues for government investment, was replaced by a vicious cycle in which stagnant wages undercut consumer purchasing, leading to lower demand and more layoffs along with declining tax revenues and government spending.
While most Americans know that the rich are getting richer while everyone else is being squeezed, the crucial contribution the movie makes is explaining the two key economic concepts needed to discredit the conservative economic story.
The most powerful messenger for the first concept is not Reich, but Nick Hanauer, a Seattle billionaire, who made his fortune in both the old and new economy. Hanauer's family business is one of the world's largest pillow manufacturers, but his latest fortune is as an early Amazon investor. Hanauer tours his pillow-making factory, pointing out that "a person like me who earns 1,000 times as much as the typical American doesn't buy 1,000 pillows a year. Even the richest person only sleeps on one or two pillows. The pillow business is quite tough, as it is for many, many industries, because fewer and fewer people can afford to buy the products we make."
When consumers are able to afford a new item, many now go to places like Amazon, which Hanauer points out employs 60,000 employees to achieve the same volume of sales that mom and pop businesses would hire 600,000 for.
The second key concept, hammered home over and over again by Reich is, "We make the rules of the economy and we have the power to change those rules." He says his first studies of economics, as a Rhodes Scholar, taught him that there was "no such thing as a perfectly free market anywhere. Government sets the rules by which the market functions… The real question is who do these rules benefit and who they hurt."
The driving narrative behind Inequality for All, and the most important point for people to learn, is that the crushing of the middle class did not happen by accident; it happened because of decisions that were made by business and government. Reich's message is that we can make different decisions to create an economy of shared prosperity.
The last third of the movie emphasizes that the biggest obstacle to change is the capturing of our democracy by big money. Reich, who is the chair of Common Cause, warns that because of the "threat to democracy" from the rising concentration of wealth, "we are seeing an entire society that is starting to pull apart."
Reich concludes with a call for building a movement, telling a personal story of why he became an activist. Reich, who is less than five feet tall, was saved from bullying by an older schoolmate, Mickey Schwerner, who was murdered along with two other young civil rights volunteers in Philadelphia, Mississippi in 1964. That event, Reich says, changed his life.
His final charge to his students is a call to action: "You've got to mobilize, you've got to organize, you've got to energize other people. Politics is not out there. It starts here…. History is on the side of positive social change… You can be a leader."
The biggest weakness of the film, which undercuts his hopeful conclusion, is that Reich does not propose any specific solutions. He says that "policy ideas are plentiful" but doesn't provide them. As a result, the call for action may ring hollow. Action toward what? I know that one group of Millennials who saw a preview came away feeling both educated and discouraged. The movie would have benefited mightily from connecting to movements for change.
Reich and Inequality for All's distributors are trying to make up for that through their website, which moviegoers will see as the film ends. The website links to actions people can take and organizations people can work with on six broad issues: raising the minimum wage; strengthening workers' voices; investing in education; reforming Wall Street; fixing the tax system, and getting big money out of politics. Progressive groups are sponsoring showings of the film and the website invites people to arrange for a showing at a theater in their communities. I hope many local progressive organizations will sponsor showings and engage the audience in a discussion afterward on how they can take action.
Still, Inequality for All is a powerful narrative vehicle for the progressive story about why income inequality is not just unfair, but the driving force behind the fading [of the] American dream and the fraying of our democracy. In his passionate final charge to his class, Reich offers one version of the core progressive idea, "We all do better when we all do better." Hearing that message on the big screen, released by a Hollywood powerhouse like the Weinstein Group, is an affirmation that our history may indeed be moving toward positive social change.
(Richard Kirsch is a Senior Fellow at the Roosevelt Institute. This post first appeared on the institute's Next New Dealblog and is republished with permission.)

A Woman's Art Is Never Done: The Feminae Exhibition
A striking juxtaposition between the past and present courses throughout the small gallery. Celia Blomberg's "International Women's Day March 8" can't help but make one think of 2017's Women's March, which occurred 37 years after the print's first appearance.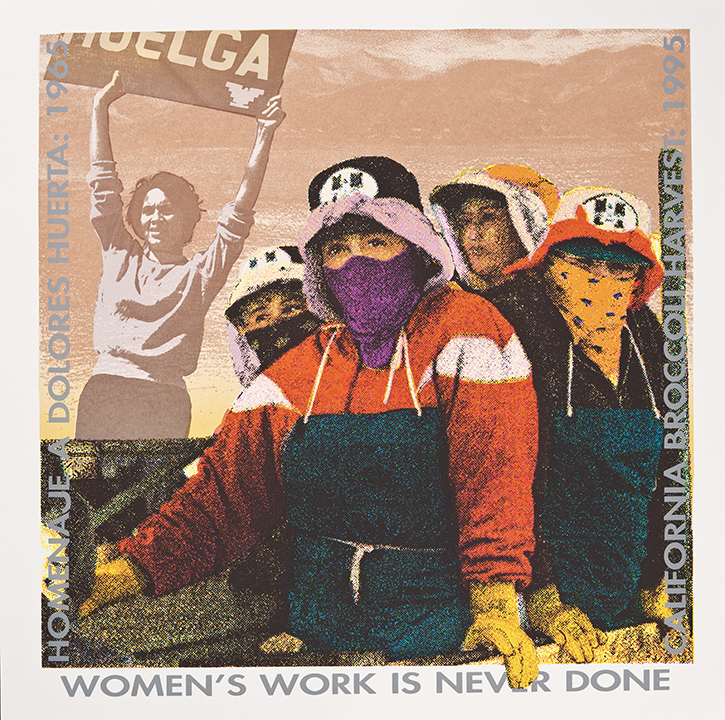 Among the 50-plus works in the Feminae: Typographic Voices of Women By Women exhibit is Yolanda Lopez's "Women's Work is Never Done." Lopez's title is particularly ironic, given the exhibit's gender-based subject matter. The show spans work from the past 50 years, making it easy to understand how much society is still grappling with its themes of gender inequality. Culled from the archives of the Center for the Study of Political Graphics, the graphic images of protest, persuasion and empowerment are truly works of art in their own right.
However, political posters aren't made to merely spruce up walls, but to help figuratively bring barriers down as well.
Two silkscreens from the 1970s, Liliana Porter and John Schneider's "This Woman is Vietnamese" and See Red Woman's Workshop's "So Long As Women Are Not Free People Are Not Free," are particularly powerful, underscoring, as they do, the fact that the subjugation and persecution of women crosses borders and cultures as an unfortunate shared global experience. These two pieces' stark simplicity exemplifies most of the work in the exhibit. In the former, a New York Times photo of a distraught Vietnamese woman with a gun held to her head is centered above these basic words typed out in a typewriter font: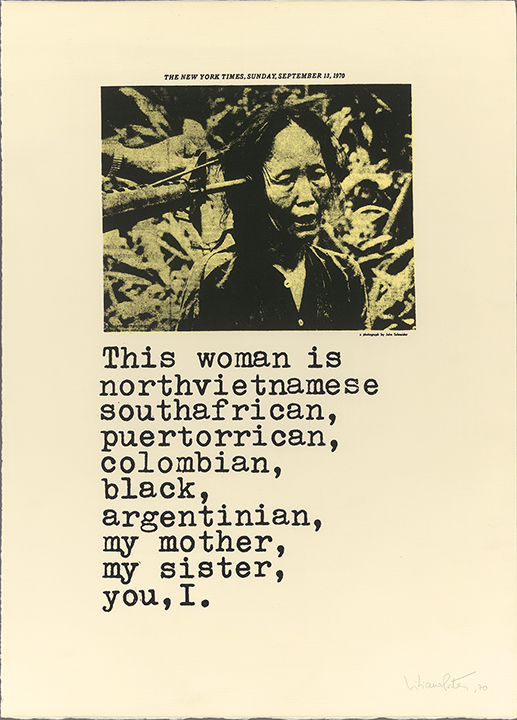 This woman is
northvietnamese
southafrican
puertorrican,
colombian,
black,
argentinian,
my mother,
my sister,
you, I.
By juxtaposing the photo with these words, the creators take the plight of this woman and immediately globalize her pain. In the latter, three female demonstrators are silkscreened in red onto a yellow background. They are marginalized by being stuck in the lower left third of the poster, but two of them are raising their fists skyward and their mouths are open, screaming in defiance. Its non-serif, eponymous type reads: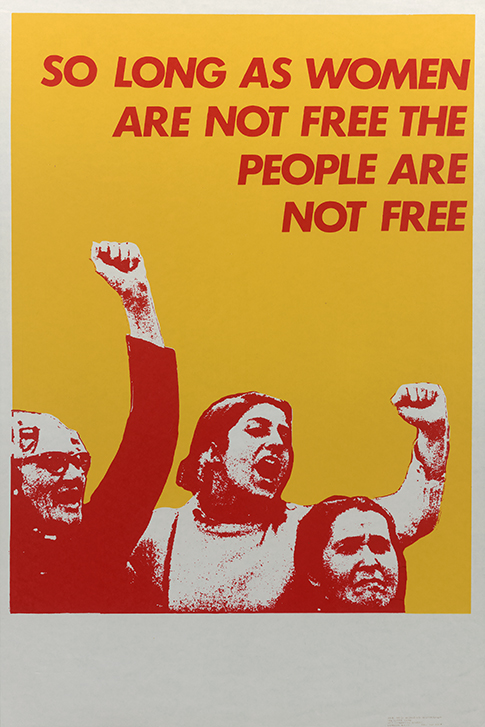 SO LONG AS WOMEN
ARE NOT FREE THE
PEOPLE ARE
NOT FREE
This piece's message takes the global message even farther, making the plight of women a human one — a common theme in the exhibition.
There is also a striking juxtaposition between the past and present that seethes throughout the small gallery. Celia Blomberg's "International Women's Day March 8" can't help but make one think of 2017's Women's March that would take place 37 years later. See Red Woman's Workshop's 1977 "Black Women Will Not Be Intimidated" could easily be repurposed to address the recent spate of blue-on-black brutality. Notable works by Barbara Kruger, Sister Corita Kent and the Guerilla Girls are also included.
Ironically , while it can be surmised that most of these works were made as populist posters to be distributed at the time as banners of protest, their beautiful simplicity and nostalgic elegance probably have resulted in the originals (mostly now found in art museums) sporting hefty vintage-resale prices.
But it is not just the art that has stood the test of time. The fact that the issues addressed in the show — feminism, choice, gender equality, war, immigration, police brutality or violence against women — are all issues at the forefront of debate in 2018 ultimately engenders conflicting feelings.
On one the hand, it is inspiring to see a vibrant exhibit that showcases such diversity in artistic styles, no doubt spawned by the diversity of the artists' own backgrounds. On the other hand, there is a realization that while there has been some progress over the past half century, there is so much work to be done.
Art Center's Hoffmitz Milken Center for Typography, 950 South Raymond Ave., Pasadena; through May 15.
---
Copyright Capital & Main