Film Review: 'Inequality for All'
With the release of the documentary Inequality for All, the core progressive story about what is wrong with the economy is now on the silver screen. For those of us who have been working to articulate what we call a progressive economic narrative, it is a major milestone.
The right spent decades projecting their view that prosperity is created through limited government and free markets, concepts that still dominate most Americans' thinking, even as the American dream is becoming a nightmare for more and more families. The new movie provides a powerful way to popularize a very different story.
Inequality for All is based around a big lecture course that Robert Reich gives at the University of California Berkeley. Reich and the film's director, Jacob Kornbluth, mix facts, infographics, documentary footage and profiles of families whose lives have been scarred by the new economy with the personal story of Reich's lifelong work to push for a just economy, including his frustrations serving as Labor Secretary during President Clinton's first term. Reich's personality, his humor, feistiness and passion drive the film.
The progressive economic narrative can be encapsulated in four sentences:
Working families and the middle class are getting crushed while the super-rich game the system.
Working families and the middle class are the engines of the economy.
We build a strong middle class through decisions we make together.
It's up to us to build an America that works for all of us.
Inequality for All tells the same story. In the movie, Reich ties the vast increase in income inequality to the loss of unionization, the diversion of economic growth from wages to CEO compensation and profits, the financialization of the economy, cutting taxes for the wealthy, and the failure of government to keep investing in education and infrastructure.
Reich shows how a virtuous cycle of higher wages and productivity, which put more money in consumers' pockets, thus driving the economy forward and raising revenues for government investment, was replaced by a vicious cycle in which stagnant wages undercut consumer purchasing, leading to lower demand and more layoffs along with declining tax revenues and government spending.
While most Americans know that the rich are getting richer while everyone else is being squeezed, the crucial contribution the movie makes is explaining the two key economic concepts needed to discredit the conservative economic story.
The most powerful messenger for the first concept is not Reich, but Nick Hanauer, a Seattle billionaire, who made his fortune in both the old and new economy. Hanauer's family business is one of the world's largest pillow manufacturers, but his latest fortune is as an early Amazon investor. Hanauer tours his pillow-making factory, pointing out that "a person like me who earns 1,000 times as much as the typical American doesn't buy 1,000 pillows a year. Even the richest person only sleeps on one or two pillows. The pillow business is quite tough, as it is for many, many industries, because fewer and fewer people can afford to buy the products we make."
When consumers are able to afford a new item, many now go to places like Amazon, which Hanauer points out employs 60,000 employees to achieve the same volume of sales that mom and pop businesses would hire 600,000 for.
The second key concept, hammered home over and over again by Reich is, "We make the rules of the economy and we have the power to change those rules." He says his first studies of economics, as a Rhodes Scholar, taught him that there was "no such thing as a perfectly free market anywhere. Government sets the rules by which the market functions… The real question is who do these rules benefit and who they hurt."
The driving narrative behind Inequality for All, and the most important point for people to learn, is that the crushing of the middle class did not happen by accident; it happened because of decisions that were made by business and government. Reich's message is that we can make different decisions to create an economy of shared prosperity.
The last third of the movie emphasizes that the biggest obstacle to change is the capturing of our democracy by big money. Reich, who is the chair of Common Cause, warns that because of the "threat to democracy" from the rising concentration of wealth, "we are seeing an entire society that is starting to pull apart."
Reich concludes with a call for building a movement, telling a personal story of why he became an activist. Reich, who is less than five feet tall, was saved from bullying by an older schoolmate, Mickey Schwerner, who was murdered along with two other young civil rights volunteers in Philadelphia, Mississippi in 1964. That event, Reich says, changed his life.
His final charge to his students is a call to action: "You've got to mobilize, you've got to organize, you've got to energize other people. Politics is not out there. It starts here…. History is on the side of positive social change… You can be a leader."
The biggest weakness of the film, which undercuts his hopeful conclusion, is that Reich does not propose any specific solutions. He says that "policy ideas are plentiful" but doesn't provide them. As a result, the call for action may ring hollow. Action toward what? I know that one group of Millennials who saw a preview came away feeling both educated and discouraged. The movie would have benefited mightily from connecting to movements for change.
Reich and Inequality for All's distributors are trying to make up for that through their website, which moviegoers will see as the film ends. The website links to actions people can take and organizations people can work with on six broad issues: raising the minimum wage; strengthening workers' voices; investing in education; reforming Wall Street; fixing the tax system, and getting big money out of politics. Progressive groups are sponsoring showings of the film and the website invites people to arrange for a showing at a theater in their communities. I hope many local progressive organizations will sponsor showings and engage the audience in a discussion afterward on how they can take action.
Still, Inequality for All is a powerful narrative vehicle for the progressive story about why income inequality is not just unfair, but the driving force behind the fading [of the] American dream and the fraying of our democracy. In his passionate final charge to his class, Reich offers one version of the core progressive idea, "We all do better when we all do better." Hearing that message on the big screen, released by a Hollywood powerhouse like the Weinstein Group, is an affirmation that our history may indeed be moving toward positive social change.
(Richard Kirsch is a Senior Fellow at the Roosevelt Institute. This post first appeared on the institute's Next New Dealblog and is republished with permission.)

'Skeleton Crew' Is a Play With a Moral Spine
Set in a Detroit automobile outfitting plant, Dominique Morisseau's drama grabs you from the start with its focus on blue-collar men and women, and their struggle for dignity and self-respect.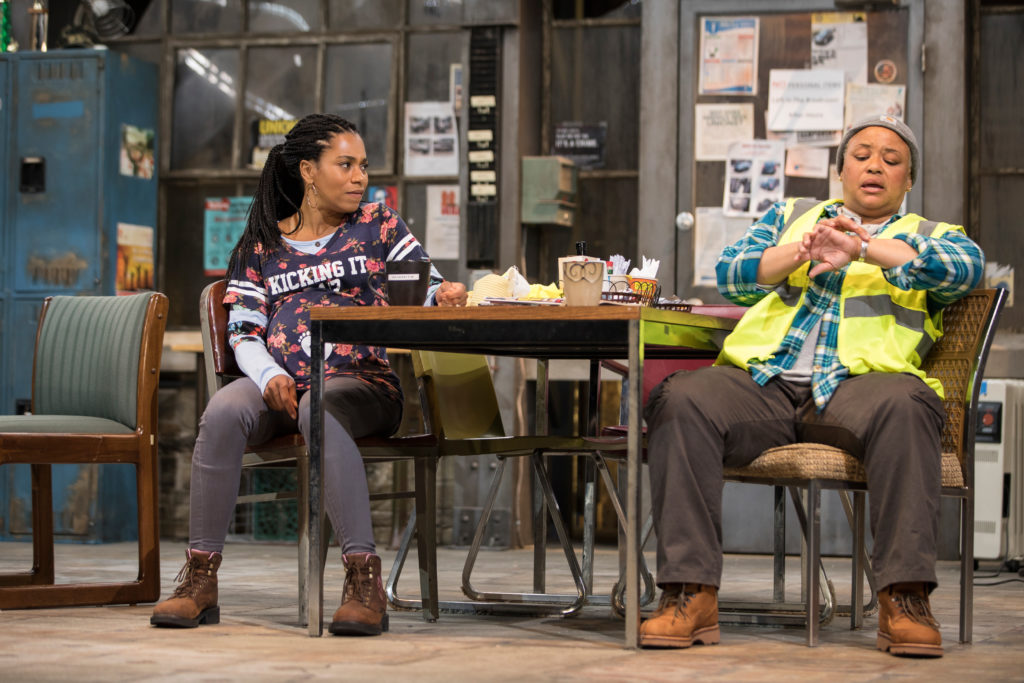 Working-class men and women of color are rarely front and center in today's media and, likewise, are presented all too occasionally on the American stage. So it's buoying to see that trend bucked in playwright Dominique Morisseau's percipient and well-crafted drama, Skeleton Crew. The play is the final installment in her Detroit  Project Trilogy; the first, Paradise Blue, is set in the 1940s amidst displacement caused by urban renewal and gentrification, while the second, Detroit '67, transpires on the eve of the 1967 Detroit riots sparked by a police action.
Directed by Patricia McGregor at Los Angeles' Geffen Playhouse, Skeleton Crew is a play with a moral spine. It takes place in 2008, when the shrinking U.S. auto industry is being further downsized. Morisseau's engaging quartet of characters — Faye (Caroline Stefanie Clay), Dez (Armari Cheatom), Shanita (Kelly McCreary) and Reggie (DB Woodside) – are employed at an automobile outfitting plant. Faye, Dez and Shanita are workers on the line while Reggie (who has a wife and kids, and has pulled himself together after a troubled youth) is their supervisor.
The first three customarily mingle in their break room (designer Rachel Myers' impressively cluttered, dingy and detailed set), trading the sort of familiar barbs and genuine concern for each other common among longtime co-workers. They also face off on philosophy: Upper-middle-aged Faye and the younger, pregnant Shanita take pride in their labor, while Dez, though a good worker, is a malcontent scornful of management and firm in the belief that everyone needs to watch out for himself. He's a thorn in Reggie's side, for while Reggie wants to be supportive of his workers, he must act at the behest of higher management. For his part, Dez resents Reggie's authority, and a palpable unease exists between them.
Besides this male matchup, we're made privy to Dez's attraction to Shanita, who mostly turns away his advances, but every now and then displays a hint of interest. Most poignant is Reggie's regard and affection for the lesbian Faye, which has roots in his boyhood when she loved, and lived, with his now-deceased mom.
These people's various predicaments intensify when rumors spread of the plant's shutdown — a disaster for all, but a particular calamity for the already near-broke Faye who, one year short of retirement, would lose her pension. The crisis forces each of these people to make a choice.
A sound piece of social realism, Skeleton Crew grabs you from the start in its focus on blue-collar men and women, and their struggle against odds for dignity and self-respect. Morisseau not only furnishes these characters a platform for their travails, she endows them with strong values, big hearts and the opportunity to choose between right and wrong.
Unfortunately, the performance I attended did not soar. Many exchanges lacked a fresh edge. The actors certainly had their characters down, but too often they appeared to be coasting on technique. (This seemed particularly true of Clay, who performed the role to great accolades in Washington, DC in 2017, also under McGregor's direction). Additionally, some of the stage movement was not entirely fluid; in confrontations, actors sometimes would just stand and face each other in an artificial way. And Cheatom's interpretation of Dez struck me as a bit overly churlish and depressive: I needed more glimpses of the intelligence and edge that would secretly attract the strong, self-directed Shanita.
The most compelling moments belong to Woodside, well-cast as a man trying his best in difficult circumstances to do the right thing.
---
Gil Cates Theater at the Geffen Playhouse, 10886 Le Conte Ave., Westwood Village; Tues.-Fri., 8 p.m.; Sat., 3 & 8 p.m. Sun., 2 & 7 p.m.; through July 8. (310) 208-5454 or www.geffenplayhouse.org