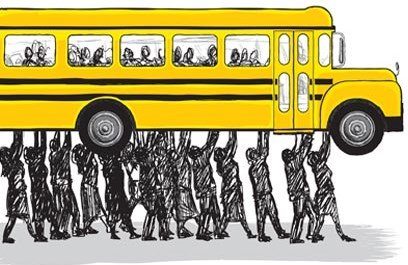 I wanted to cry after watching Go Public: A Day in the Life of an American School District. After the hour-plus video collage of complex and inspiring day-to-day interactions that make up our nation's public schools, the film culminates in pleas from teachers, parents and maintenance staff to the Pasadena Board of Education to forestall millions of dollars in new budget cuts to the district's schools.
I've been there myself, 25 years ago when my kids were in grammar school, pleading with Santa Monica School Board members to save school librarians and nurses, most of whose positions were eventually eliminated.
It's so hard to understand how a city like Pasadena, where median home prices are in the $600,000 range, has had to face $6.5 million in education cuts in the past few years. These cuts have resulted in school counselors having to handle 480 students apiece, have forced all middle school libraries to close and left 18 elementary school libraries with only two library coordinators between them, according to the film. Go Public, created in Pasadena by Jim and Dawn O'Keeffe, involved 50 film makers following 50 subjects in 28 schools for one day. Students, teachers, administrators, custodians, librarians and volunteers all awaken in the morning in a range of sleeping spaces, eat different kinds of breakfasts, zip up backpacks and make their way to one of 28 campuses for their day together.
The film aims to address the "fact, fear and perception" that seem to be bending the public's sympathies against public education. Go Public takes us everywhere from special education to high school chemistry, from kindergarten story-telling to Chinese classes. It's inspiring to see the diversity of humanity that makes up our American educational system and the affection and connection that exist in the public schools. But this, the longest segment of the film, doesn't connect us enough with any individual student or adult to really understand what this all means to them individually and why we should care about public education's future. (Despite the fact that 50 mini-films about each of the many subjects of the film are available on the Go Public website.)
It's only towards the film's end, when we see teachers standing up to fight program cuts, that we sense the threat the entire system is under. We learn during the closing credits that one of the most talented teachers has received a layoff notice every one of the past three years yet currently is holding on to a job. But for how long?
"When you see what's really going on at the schools it will impress and excite you, and make you want to be part of it," suggests one of the women in the film. That is its true genius – to get many Americans, who have already decided that schools are a failure, into the public school classrooms to see the magic that can occur. As an antidote to the doom and gloom pronouncements of Waiting for Superman and other recent corporate-sponsored films, Go Public suggests that, with adequate funding, even school districts like Pasadena, where two-thirds of its 18,000 students come from poor families, can function just fine, thank you.
Filmmakers Dawn and Jim O'Keeffe told me their movie virtually made itself. While mourning the loss of a Pasadena parcel tax proposal that would have brought needed funds to the local schools, someone suggested they make a film taking people inside classrooms to see the great things happening in the 28 local public schools.
There are 50 private schools within a 10-mile range of Pasadena and 30-40 percent of the local kids go to one of them. The common perception is that the public schools are failing and beyond hope. The O'Keeffes wanted to give voice to those within the schools who say "it's working for us."
The Pasadena Unified School District cooperated with the filming of Go Public while having no editorial control over its content. In fact, district school superintendent Jon Gundry didn't see the film until it was finished and shown publicly. Dawn says that shows the trust he has in the quality of his local schools.
"Give me an hour of someone's time and I'll make them a believer [in the public schools] for life," declares Dawn. "All they have to do is drop in on classes and meet the kids." She and Jim hope the film encourages people to visit their own public schools and draw their own conclusions.
Going Public: One Day in the Life of an American School District will be screened at the Burbank and Catalina film festivals in September.

A Woman's Art Is Never Done: The Feminae Exhibition
A striking juxtaposition between the past and present courses throughout the small gallery. Celia Blomberg's "International Women's Day March 8" can't help but make one think of 2017's Women's March, which occurred 37 years after the print's first appearance.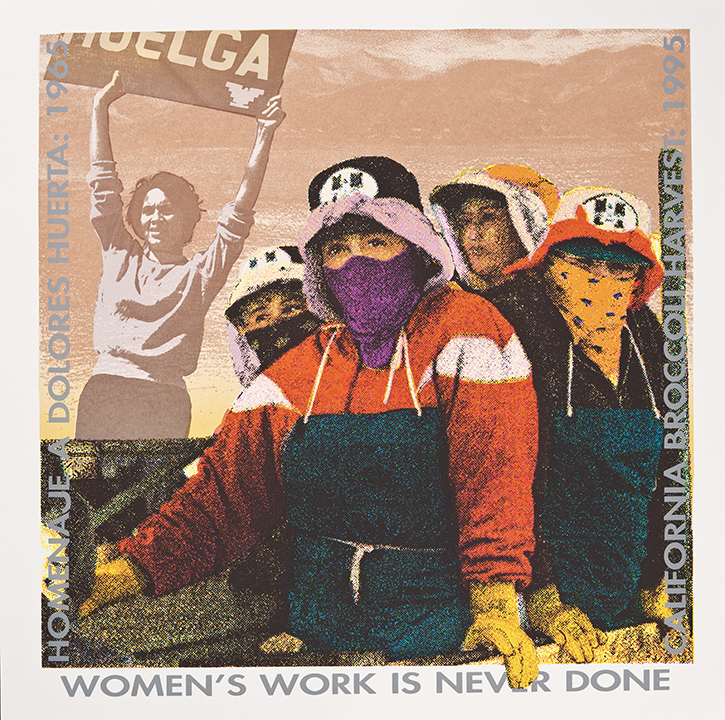 Among the 50-plus works in the Feminae: Typographic Voices of Women By Women exhibit is Yolanda Lopez's "Women's Work is Never Done." Lopez's title is particularly ironic, given the exhibit's gender-based subject matter. The show spans work from the past 50 years, making it easy to understand how much society is still grappling with its themes of gender inequality. Culled from the archives of the Center for the Study of Political Graphics, the graphic images of protest, persuasion and empowerment are truly works of art in their own right.
However, political posters aren't made to merely spruce up walls, but to help figuratively bring barriers down as well.
Two silkscreens from the 1970s, Liliana Porter and John Schneider's "This Woman is Vietnamese" and See Red Woman's Workshop's "So Long As Women Are Not Free People Are Not Free," are particularly powerful, underscoring, as they do, the fact that the subjugation and persecution of women crosses borders and cultures as an unfortunate shared global experience. These two pieces' stark simplicity exemplifies most of the work in the exhibit. In the former, a New York Times photo of a distraught Vietnamese woman with a gun held to her head is centered above these basic words typed out in a typewriter font: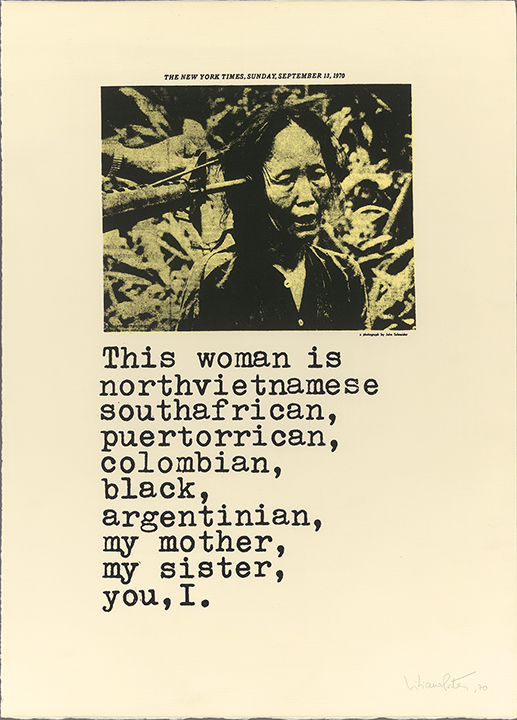 This woman is
northvietnamese
southafrican
puertorrican,
colombian,
black,
argentinian,
my mother,
my sister,
you, I.
By juxtaposing the photo with these words, the creators take the plight of this woman and immediately globalize her pain. In the latter, three female demonstrators are silkscreened in red onto a yellow background. They are marginalized by being stuck in the lower left third of the poster, but two of them are raising their fists skyward and their mouths are open, screaming in defiance. Its non-serif, eponymous type reads: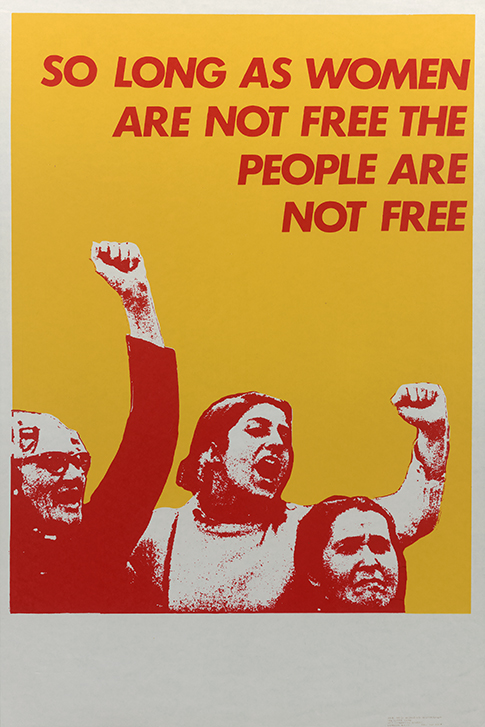 SO LONG AS WOMEN
ARE NOT FREE THE
PEOPLE ARE
NOT FREE
This piece's message takes the global message even farther, making the plight of women a human one — a common theme in the exhibition.
There is also a striking juxtaposition between the past and present that seethes throughout the small gallery. Celia Blomberg's "International Women's Day March 8" can't help but make one think of 2017's Women's March that would take place 37 years later. See Red Woman's Workshop's 1977 "Black Women Will Not Be Intimidated" could easily be repurposed to address the recent spate of blue-on-black brutality. Notable works by Barbara Kruger, Sister Corita Kent and the Guerilla Girls are also included.
Ironically , while it can be surmised that most of these works were made as populist posters to be distributed at the time as banners of protest, their beautiful simplicity and nostalgic elegance probably have resulted in the originals (mostly now found in art museums) sporting hefty vintage-resale prices.
But it is not just the art that has stood the test of time. The fact that the issues addressed in the show — feminism, choice, gender equality, war, immigration, police brutality or violence against women — are all issues at the forefront of debate in 2018 ultimately engenders conflicting feelings.
On one the hand, it is inspiring to see a vibrant exhibit that showcases such diversity in artistic styles, no doubt spawned by the diversity of the artists' own backgrounds. On the other hand, there is a realization that while there has been some progress over the past half century, there is so much work to be done.
Art Center's Hoffmitz Milken Center for Typography, 950 South Raymond Ave., Pasadena; through May 15.
---
Copyright Capital & Main