Film Looks at the Border Economy Built Around Immigration
Devin Browne's short-subject film Hotel Arizona debuted in Los Angeles October 13 at the Highland Theater in Highland Park. The 22-minute story is about a young woman who, with her mother, runs a hotel where migrants stay, and who devises a way to "Yelp" the smugglers who bring people across the border and rip them off—or worse.

The short-subject film Hotel Arizona debuted in Los Angeles October 13 at the Highland Theater in Highland Park. Filmmaker Devin Browne is a Southern California native who moved to Arizona in 2010 and began covering immigration issues at a public radio station in Phoenix. Right around this time last year she launched the Kickstarter campaign that produced the $21,000 it took to create the 22-minute story about a young woman, Flor (Marcela H. Macias), who with her mother runs a hotel where migrants stay, and who devises a way to "Yelp" the smugglers who bring people across the border and rip them off—or worse. The smugglers are called "polleros" and the smuggled, "pollitos"—little chickens.
Capital & Main: What is Hotel Arizona's background?
Devin Browne: I've been going to the Mexican town of Altar since 2011—along with Nogales and various shelters and places in Tucson and Phoenix. Migrants [told me] what their experiences were like with their guides in the desert —they were robbed, they were extorted, they were raped—someone died along the way and a relative was still charged all the money.
In most other informal economies there's some system of accountability. If I thought I was buying drugs on the corner and it turned out to be baby powder, I would never buy from that guy again and I would tell all my friends –don't go to him—he's not really selling cocaine.
The migration economy is unique in that way—it does not have that self-correcting loop of accountability and, because it doesn't, there are some really big consequences — some horrific things happen in the desert.
Filmmaker Devin Browne
You talk about an invisible informal economy—what is the place of the hotel boarding house in your film?
Altar is not a border town, but is 40 miles south of the border—it's the primary [migrant] staging town in Sonora. So if you are going to walk into the United States through the desert you are probably going to come through Altar first.
The whole economy is based on migration. The women and men who sell carpet-soled slippers [that don't leave tracks in the desert], salespeople with mini-deodorants, caffeine pills; the pharmacist who is well-stocked with birth control because she knows it's almost entirely likely that a woman walking into the desert will be raped.
So Flor kind of Yelps the polleros by writing "reviews," on the bottom of a bunk, of the coyotes who traffic in humans?
Yelp is very unpopular in Sonora—I don't know any of my friends that use it in Hermosillo or Coborca or any of the towns I've lived in. Most migrants have smart phones but probably don't have access to an app like Yelp, even if it was popular.
But when I was staying in a guest house I was in one of these beds and I saw someone had written Pollito Bonito (pretty little chicken) and I remember looking at it and thinking that this girl has sense of humor – she's making a little rhyme for herself—and she's telling the world she exists, that she was here.
Which is a really powerful thing to do when you're making a journey where every step of the journey is to pretend you don't exist — to pretend you're not here, pretend you don't leave footprints, pretend we can't see you. You wear camouflage and don't talk to anyone. That's where the whole idea came from.
One of the actors, Fausto Olmos Renteria, told the Tucson Weekly, "We thought the border story was overplayed already—but this is different." What makes it different?
It's an immigration story in which the main characters are not immigrants. The main characters are the people that work in the immigration economy. I've never seen a movie or a television show about all the people who financially depend on illegal immigration exactly as it is right now—the women, mostly the women — that run the hotels and the guest houses. And the men and women that sell all of the items and gear — the black water bottles and the big backpacks that the migrants have to buy. And the coyotes —it's big money. It's over $3,000 just to cross from Sonora into Arizona.
The movie asks the question, What would it be like if this largely invisible phenomenon, this mass migration in the desert, was a little more visible?
The film debuts tonight – what's the next step?
My biggest hope is that it catalyzes a conversation about how the migration world is bigger. What happens a lot of times in immigration stories I see—in news and in fiction, is that somebody is coming to a place. But how do we get along, what do we have in common, what do we not have in common?
What I hope happens is a deepened sense of what kinds of migration stories we can be telling and to understand the whole—the economics of it, the finances of it, what it looks like when someone tries to disrupt that status quo, what kinds of powerful forces are invested in keeping things exactly the way they are right now.

'Skeleton Crew' Is a Play With a Moral Spine
Set in a Detroit automobile outfitting plant, Dominique Morisseau's drama grabs you from the start with its focus on blue-collar men and women, and their struggle for dignity and self-respect.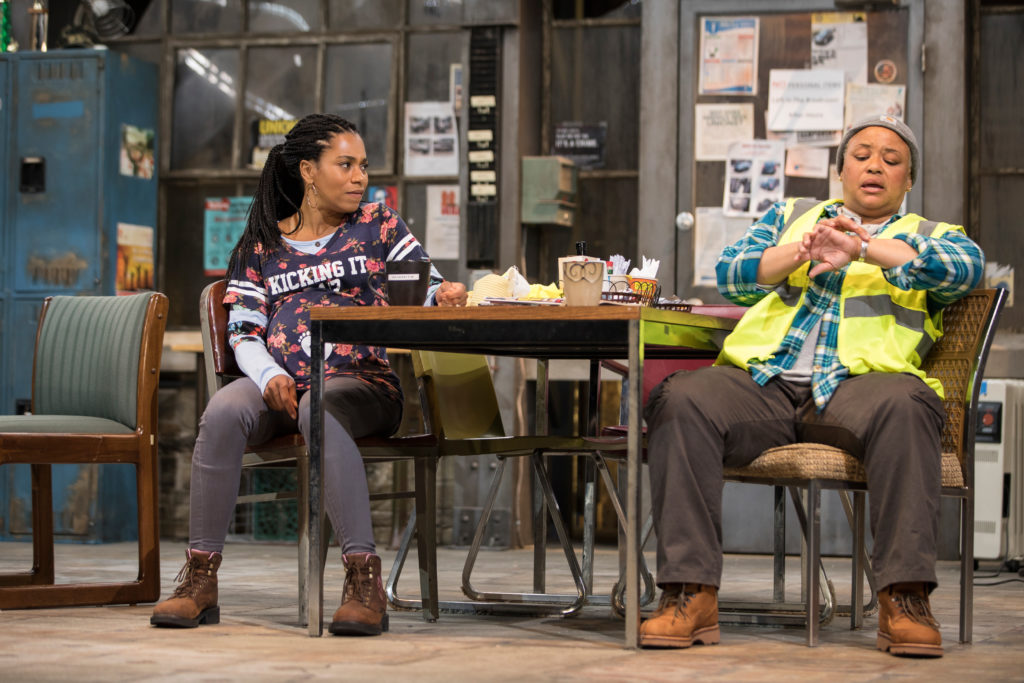 Working-class men and women of color are rarely front and center in today's media and, likewise, are presented all too occasionally on the American stage. So it's buoying to see that trend bucked in playwright Dominique Morisseau's percipient and well-crafted drama, Skeleton Crew. The play is the final installment in her Detroit  Project Trilogy; the first, Paradise Blue, is set in the 1940s amidst displacement caused by urban renewal and gentrification, while the second, Detroit '67, transpires on the eve of the 1967 Detroit riots sparked by a police action.
Directed by Patricia McGregor at Los Angeles' Geffen Playhouse, Skeleton Crew is a play with a moral spine. It takes place in 2008, when the shrinking U.S. auto industry is being further downsized. Morisseau's engaging quartet of characters — Faye (Caroline Stefanie Clay), Dez (Armari Cheatom), Shanita (Kelly McCreary) and Reggie (DB Woodside) – are employed at an automobile outfitting plant. Faye, Dez and Shanita are workers on the line while Reggie (who has a wife and kids, and has pulled himself together after a troubled youth) is their supervisor.
The first three customarily mingle in their break room (designer Rachel Myers' impressively cluttered, dingy and detailed set), trading the sort of familiar barbs and genuine concern for each other common among longtime co-workers. They also face off on philosophy: Upper-middle-aged Faye and the younger, pregnant Shanita take pride in their labor, while Dez, though a good worker, is a malcontent scornful of management and firm in the belief that everyone needs to watch out for himself. He's a thorn in Reggie's side, for while Reggie wants to be supportive of his workers, he must act at the behest of higher management. For his part, Dez resents Reggie's authority, and a palpable unease exists between them.
Besides this male matchup, we're made privy to Dez's attraction to Shanita, who mostly turns away his advances, but every now and then displays a hint of interest. Most poignant is Reggie's regard and affection for the lesbian Faye, which has roots in his boyhood when she loved, and lived, with his now-deceased mom.
These people's various predicaments intensify when rumors spread of the plant's shutdown — a disaster for all, but a particular calamity for the already near-broke Faye who, one year short of retirement, would lose her pension. The crisis forces each of these people to make a choice.
A sound piece of social realism, Skeleton Crew grabs you from the start in its focus on blue-collar men and women, and their struggle against odds for dignity and self-respect. Morisseau not only furnishes these characters a platform for their travails, she endows them with strong values, big hearts and the opportunity to choose between right and wrong.
Unfortunately, the performance I attended did not soar. Many exchanges lacked a fresh edge. The actors certainly had their characters down, but too often they appeared to be coasting on technique. (This seemed particularly true of Clay, who performed the role to great accolades in Washington, DC in 2017, also under McGregor's direction). Additionally, some of the stage movement was not entirely fluid; in confrontations, actors sometimes would just stand and face each other in an artificial way. And Cheatom's interpretation of Dez struck me as a bit overly churlish and depressive: I needed more glimpses of the intelligence and edge that would secretly attract the strong, self-directed Shanita.
The most compelling moments belong to Woodside, well-cast as a man trying his best in difficult circumstances to do the right thing.
---
Gil Cates Theater at the Geffen Playhouse, 10886 Le Conte Ave., Westwood Village; Tues.-Fri., 8 p.m.; Sat., 3 & 8 p.m. Sun., 2 & 7 p.m.; through July 8. (310) 208-5454 or www.geffenplayhouse.org