Film Looks at the Border Economy Built Around Immigration
Devin Browne's short-subject film Hotel Arizona debuted in Los Angeles October 13 at the Highland Theater in Highland Park. The 22-minute story is about a young woman who, with her mother, runs a hotel where migrants stay, and who devises a way to "Yelp" the smugglers who bring people across the border and rip them off—or worse.

The short-subject film Hotel Arizona debuted in Los Angeles October 13 at the Highland Theater in Highland Park. Filmmaker Devin Browne is a Southern California native who moved to Arizona in 2010 and began covering immigration issues at a public radio station in Phoenix. Right around this time last year she launched the Kickstarter campaign that produced the $21,000 it took to create the 22-minute story about a young woman, Flor (Marcela H. Macias), who with her mother runs a hotel where migrants stay, and who devises a way to "Yelp" the smugglers who bring people across the border and rip them off—or worse. The smugglers are called "polleros" and the smuggled, "pollitos"—little chickens.
Capital & Main: What is Hotel Arizona's background?
Devin Browne: I've been going to the Mexican town of Altar since 2011—along with Nogales and various shelters and places in Tucson and Phoenix. Migrants [told me] what their experiences were like with their guides in the desert —they were robbed, they were extorted, they were raped—someone died along the way and a relative was still charged all the money.
In most other informal economies there's some system of accountability. If I thought I was buying drugs on the corner and it turned out to be baby powder, I would never buy from that guy again and I would tell all my friends –don't go to him—he's not really selling cocaine.
The migration economy is unique in that way—it does not have that self-correcting loop of accountability and, because it doesn't, there are some really big consequences — some horrific things happen in the desert.
Filmmaker Devin Browne
You talk about an invisible informal economy—what is the place of the hotel boarding house in your film?
Altar is not a border town, but is 40 miles south of the border—it's the primary [migrant] staging town in Sonora. So if you are going to walk into the United States through the desert you are probably going to come through Altar first.
The whole economy is based on migration. The women and men who sell carpet-soled slippers [that don't leave tracks in the desert], salespeople with mini-deodorants, caffeine pills; the pharmacist who is well-stocked with birth control because she knows it's almost entirely likely that a woman walking into the desert will be raped.
So Flor kind of Yelps the polleros by writing "reviews," on the bottom of a bunk, of the coyotes who traffic in humans?
Yelp is very unpopular in Sonora—I don't know any of my friends that use it in Hermosillo or Coborca or any of the towns I've lived in. Most migrants have smart phones but probably don't have access to an app like Yelp, even if it was popular.
But when I was staying in a guest house I was in one of these beds and I saw someone had written Pollito Bonito (pretty little chicken) and I remember looking at it and thinking that this girl has sense of humor – she's making a little rhyme for herself—and she's telling the world she exists, that she was here.
Which is a really powerful thing to do when you're making a journey where every step of the journey is to pretend you don't exist — to pretend you're not here, pretend you don't leave footprints, pretend we can't see you. You wear camouflage and don't talk to anyone. That's where the whole idea came from.
One of the actors, Fausto Olmos Renteria, told the Tucson Weekly, "We thought the border story was overplayed already—but this is different." What makes it different?
It's an immigration story in which the main characters are not immigrants. The main characters are the people that work in the immigration economy. I've never seen a movie or a television show about all the people who financially depend on illegal immigration exactly as it is right now—the women, mostly the women — that run the hotels and the guest houses. And the men and women that sell all of the items and gear — the black water bottles and the big backpacks that the migrants have to buy. And the coyotes —it's big money. It's over $3,000 just to cross from Sonora into Arizona.
The movie asks the question, What would it be like if this largely invisible phenomenon, this mass migration in the desert, was a little more visible?
The film debuts tonight – what's the next step?
My biggest hope is that it catalyzes a conversation about how the migration world is bigger. What happens a lot of times in immigration stories I see—in news and in fiction, is that somebody is coming to a place. But how do we get along, what do we have in common, what do we not have in common?
What I hope happens is a deepened sense of what kinds of migration stories we can be telling and to understand the whole—the economics of it, the finances of it, what it looks like when someone tries to disrupt that status quo, what kinds of powerful forces are invested in keeping things exactly the way they are right now.

A Spiritual Mystery Play Fails to Enlighten
Yusuf Toropov's drama, set in a contaminated, cancer-ridden community, involves a publisher and his brother — a priest struggling against the local archdiocese.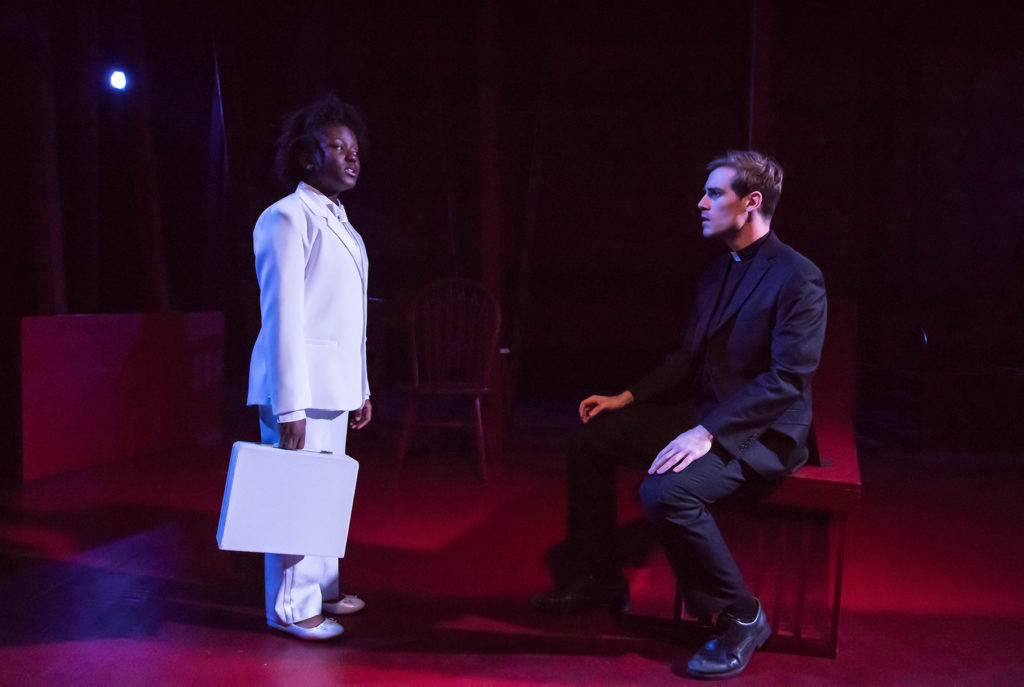 Directed by Chris Fields, Yusuf Toropov's An Undivided Heart, co-produced by the Echo Theater Company and the Circle X Theatre Co., is an aspiring work that aims to be deep but doesn't get there.
The play, running at the Atwater Village Theatre, unfolds on several levels. First, it tells the story of a young Catholic priest who must decide whether or not to publicly expose the pedophiles among his fellow clerics. Second, the work deals with our human struggle to understand why bad things happen with seeming random cruelty (a conundrum whose answers are regularly dispensed by spiritual leaders of all faiths, not very satisfactorily). On yet a third level, the play seeks to express the paradoxical wonder and mystery of life, with an assist from the supernatural.
That's a lot to cover in a little over two hours and, while the production is handsomely staged, its ambitious narrative is diminished by dangling threads, one major improbable setup near the end and too many bits of opaque dialogue.
Tim Wright, Alison Martin and Alana Dietze.
The setting is Holbrook, Massachusetts — a community whose residents have been exposed to contaminants, so cancer is rampant — in the summer of 1992. The story revolves around two brothers, both good guys: Mike (Matthew Gallenstein), a local priest who's written a revelatory book that his superiors want him not to publish, and Max (Tim Wright), an editor, who'd like to help his brother proceed.
When Max arrives at some sort of civic facility (the background particulars of this scene are unclear), he promptly tangles with an angry pregnant clerk named Lynne (Alana Dietz). A few minutes into their altercation, she goes into premature labor, and he rushes her to the hospital — the beginning of a nurturing romance.
Mike, meanwhile, is having strange dreams involving a burning typewriter and a cryptic little girl (Ann'Jewel Lee) who appears to him brandishing a dead cat. The same young person manifests in the dreams of Janice (Tracey A. Leigh, alternating with Jennifer A. Skinner), Max's Buddhism teacher, who is fond of posing riddles. Her favorite: If I am preparing to slice a cat in two, how would you prevent me from doing it?
The narrative shifts between Mike's struggle with his archdiocese, personified by its Cardinal (John Getz, alternating with William Salyers) and Lynne's problems with her dying mom Ruth (Alison Martin, alternating with Sigute Miller), a devout Catholic still in denial over her son's abuse by a priest when he was a youth.
These two storylines are interposed with the baffling dream sequences and Max's (and later Mike's) sessions with the inscrutably smiling Janice and her eschatological brain teasers. One crucial scene that leads to the dramatic climax has Mike looking to entrap an abusive priest (Jeff Alan-Lee, alternating with Jesse Bush) by attending confession with him and pretending to be a pedophile himself. The interchange, in which the priest probes for salacious details, is awkwardly plotted and escalates into over-the-top melodrama.
Cricket Myers' superlative sound design hints at the depth and scope that the playwright himself perhaps had in mind but was unable to attain. Amanda Knehans' set is an effective arrangement of wooden beams, tables and chairs that lighting designer Rose Malone smartly shades with a reddish-orange chroma, like the hues of hell. Elsewhere, she spotlights the players well.
Wright's warm and empathetic Max is highly likable, and he keeps you interested in the scenes he's involved with. Getz is appropriately unctuous as the Cardinal, and Martin draws a richly textured portrait of a not terribly educated housewife, who, buffeted by adversity, still clings to her faith. Michael Sturgis steals the limelight as a singing, simpering cleric. A couple of the other lead performances need refining.
Atwater Village Theatre, 3269 Casitas Ave., Los Angeles; Mon., 8 p.m.; Fri.- Sat., 8 p.m.; Sun., 4 p.m.; through April 22. www.EchoTheaterCompany.com
---
Copyright Capital & Main