Filipinotown Is Burning: A "House" Is Not a Home in Ball-Culture-Themed Play
Ball culture, the subject of the 1991 documentary Paris Is Burning, is the backdrop for Filipino-American playwright Boni B. Alvarez's new play, Fixed

Chris Aguila, Allen Lucky Weaver and Boni B. Alvarez. (Photos by Darrett Sanders)
Ball culture — the subject of the 1991 documentary Paris Is Burning and the backdrop for Filipino-American playwright Boni B. Alvarez's new play, Fixed — developed out of Harlem in the 1960s. It's an LGBT subculture built around a network of "houses" whose members, mostly young blacks and Latinos, compete with each other for trophies or prizes in dance, dress or appearance. Each house takes the name of its founder, who often functions as a surrogate parent for the gay and transsexual youth who live with them and find shelter, identity and an avenue for self-expression in the system.
Set in Los Angeles' Filipinotown, Fixed revolves around the ill-starred romance between a passionate ladyboy working as a masseuse in a "house," and the black sheep brother of a local politician. Directed by Rodney To, it's an over-the-top melodrama stocked with colorful characters, and with sufficient humor and humanity to have potential appeal. But while several supporting actors display depth and/or comic timing, too many of the performances, including a couple of pivotal ones, fall short of standard.
Miracles (Chris Aguila), highly regarded by her peers for her beauty and style, is madly in love with Mariano (Wade Allain-Marcus), a sometime lover whose older brother, Hudson (Joseph Valdez), is running for county sheriff. Mariano hasn't been to visit Miracles in six months, honoring the request of Hudson and Hudson's tough campaign manager/wife Dana (Rene-Marie Brewster) to refrain from trysts with Miracles until the election is over. Meanwhile, Miracles' pining grows more acute after her application for sex-change surgery — which she thinks will make her more acceptable as a spouse for Mariano — is denied by a concerned doctor.
Besides the objections of Mariano's family (and the man's own reluctance to commit to a relationship), the pair face daunting resistance from Miracles' boss, Gigi (playwright Alvarez), the head of the house and a large imposing ladyboy who insists that her word — and will — remain law. When Gigi catches Mariano on the premises, she tasers him — and Miracles too, after Miracles moves to protect her man, who tellingly crouches behind her before making a quick dash for the exit.
Meanwhile, back at campaign headquarters, Hudson, Dana and another campaign operative, A.J. (Adrian Gonzalez) are coping with the histrionics of another of Mariano's conquests, Lizette (Anna Lamadrid). Fiery and obsessed, Lizette is a live wire and a genuine pain, but she has the advantage, in the eyes of the strategizing Dana, of being a biological woman.
All this hyper-drama is digestible to a point (let's leave aside a faux tragic ending, embarrassing to watch). For instance, Allain-Marcus is persuasive as the ambivalent lover, erotically attached to Miracles but far from ready for the home-with-a-picket-fence future that she envisions. Lamadrid — an actress who specializes in excitable characters with feverish tongues — delivers the standout performance as a madwoman scorned. And Tonatiuh Elizarrarez is very good as Carmie, a young ladyboy supposedly outshone by the more dazzling Miracles. Carmie mostly observes events, but the actor commits to his role with skill and focus.
As with so many productions, however, the quality of the lead performance is key, and Aguila is not convincing — as either the luminary that Miracles, in her world, is supposed to be, or as an inamorata willing to make a supreme and shocking sacrifice for love. Alvarez likewise eschews any nuance as Gigi, but instead storms about with threatening bluster, even when she's giving Miracles sage advice. One strains to believe that Brewster and Valdez are an ambitious political couple (Valdez is better when he interacts with Allain-Marcus as his brother), and the production's spare set (Amanda Knehans) provides them with little atmospheric backup.
Part of the problem is the direction; To has an extensive resume as an actor, but Fixed is his first shot at directing a fully staged play. Going forward, the production would improve were he to rein in the bathos and stridency in some performances, and encourage shadings in others.
---
Echo Theater Company at Atwater Village Theatre, 3269 Casitas Ave., Atwater Village; Fri.-Sat., 8:30 p.m.; Sun., 4 p.m.; Mon., 8:30 p.m.; through October 22. (310) 307-3753 or wwwEchoTheaterCompany.com.

Two Cousins and a Magical Ice Cream Truck Figure in Leon Martell's New Play
Although not all of ICE's comedy clicks, Martell's story has both weight and charm. The production's overriding plus is its successful rendering, fashioned with humor and craft, of the difficulties immigrants face.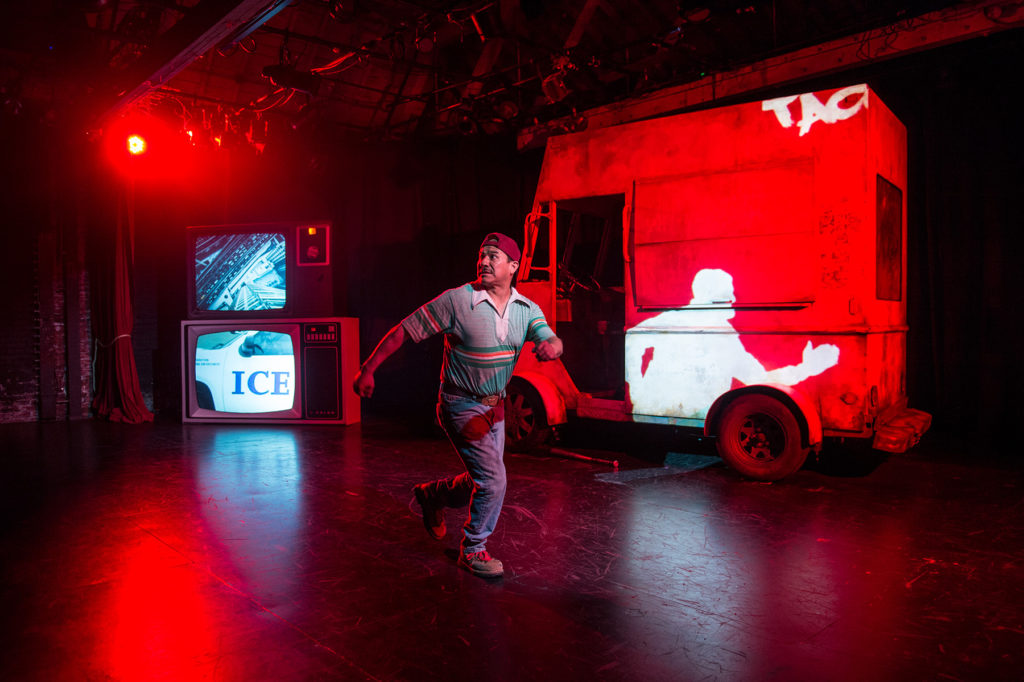 ICE, Leon Martell's family friendly play, takes place in 1988 and follows the misadventures of two undocumented immigrants: Chepe (Jesús Castaños-Chima), an avid baseball fan who dreams of making a fortune selling gourmet tacos; and his cousin Nacho (Tony Dúran), whom the beleaguered Chepe summons from Mexico to assist him in setting up his business. Directed by Debbie Devine at 24th Street Theatre, the show displays plenty of heart, not all of it realized in this premiere production. Despite this, there's enough political relevancy, moral truth and human comedy packed into the show's 65-minute time frame to overlook its shortcomings.
The core of the humor is the difference in personality between the two cousins. The ambitious Chepe is bitter and frustrated about his experience in America, where he's been cheated and lied to by bosses who exploit his labor and pay him next to nothing. Yet he's bought into the American Dream of money and fame, and to achieve that he's purchased a dilapidated old ice cream van to convert into a taco truck. It doesn't run, though, and the secret family salsa recipe is with his kin in Mexico. So, he phones home and implores his mechanic cousin to head north, bringing the salsa recipe as well as his skills.
Cousin Nacho, by contrast, is a sweet old-fashioned guy. He wants success too, but making money isn't the only thing he thinks about. He juggles tomatoes to make kids laugh and indignantly admonishes Chepe for his desperate inclination to do what it takes (steal tomatoes, for example) to score success.
Into the mix Martell tosses a blind, disgruntled priest (Davitt Felder), who plays guitar and wants to launch English classes for children in his parish (the archdiocese turns him down). Then there's Chepe's truck, which has opinions of its own. It breaks out in jingles at random intervals; later, it communicates with Nacho via blinking red letters that eerily appear on the side of the vehicle, furnishing the two men with simple directives and essential advice. When ICE (Immigration and Customs Enforcement) shows up, it alerts them to run.
Although not all of the comedy clicks, Martell's story has both weight and charm. The production's overriding plus is its successful rendering, fashioned with humor and craft, of the difficulties immigrants face. Its main weakness is Castaños-Chima's technically skilled but somewhat chilly depiction of his character, which leaves us wishing for more warmth and complexity. Felder appears awkward in his role of the blind priest, but proves versatile on video as Chepe's various nemeses. Dúran's naïve Nacho is a lovable presence from first to last.
Displayed on a monitor, Matthew G. Hill's video slides add historical and social perspective, and his backwall projections, in tandem with Dan Weingarten's lighting and Chris Moscatiello's sound, help conjure a magical aura to this parabolic piece.
24th Street Theatre, 1117 West 24th St., Los Angeles; Sat., 3 & 7:30 p.m.; Sun., 3 p.m.; through June 10, (213) 745-6516 or 24thstreet.org.
---
Copyright Capital & Main