Filipinotown Is Burning: A "House" Is Not a Home in Ball-Culture-Themed Play
Ball culture, the subject of the 1991 documentary Paris Is Burning, is the backdrop for Filipino-American playwright Boni B. Alvarez's new play, Fixed

Chris Aguila, Allen Lucky Weaver and Boni B. Alvarez. (Photos by Darrett Sanders)
Ball culture — the subject of the 1991 documentary Paris Is Burning and the backdrop for Filipino-American playwright Boni B. Alvarez's new play, Fixed — developed out of Harlem in the 1960s. It's an LGBT subculture built around a network of "houses" whose members, mostly young blacks and Latinos, compete with each other for trophies or prizes in dance, dress or appearance. Each house takes the name of its founder, who often functions as a surrogate parent for the gay and transsexual youth who live with them and find shelter, identity and an avenue for self-expression in the system.
Set in Los Angeles' Filipinotown, Fixed revolves around the ill-starred romance between a passionate ladyboy working as a masseuse in a "house," and the black sheep brother of a local politician. Directed by Rodney To, it's an over-the-top melodrama stocked with colorful characters, and with sufficient humor and humanity to have potential appeal. But while several supporting actors display depth and/or comic timing, too many of the performances, including a couple of pivotal ones, fall short of standard.
Miracles (Chris Aguila), highly regarded by her peers for her beauty and style, is madly in love with Mariano (Wade Allain-Marcus), a sometime lover whose older brother, Hudson (Joseph Valdez), is running for county sheriff. Mariano hasn't been to visit Miracles in six months, honoring the request of Hudson and Hudson's tough campaign manager/wife Dana (Rene-Marie Brewster) to refrain from trysts with Miracles until the election is over. Meanwhile, Miracles' pining grows more acute after her application for sex-change surgery — which she thinks will make her more acceptable as a spouse for Mariano — is denied by a concerned doctor.
Besides the objections of Mariano's family (and the man's own reluctance to commit to a relationship), the pair face daunting resistance from Miracles' boss, Gigi (playwright Alvarez), the head of the house and a large imposing ladyboy who insists that her word — and will — remain law. When Gigi catches Mariano on the premises, she tasers him — and Miracles too, after Miracles moves to protect her man, who tellingly crouches behind her before making a quick dash for the exit.
Meanwhile, back at campaign headquarters, Hudson, Dana and another campaign operative, A.J. (Adrian Gonzalez) are coping with the histrionics of another of Mariano's conquests, Lizette (Anna Lamadrid). Fiery and obsessed, Lizette is a live wire and a genuine pain, but she has the advantage, in the eyes of the strategizing Dana, of being a biological woman.
All this hyper-drama is digestible to a point (let's leave aside a faux tragic ending, embarrassing to watch). For instance, Allain-Marcus is persuasive as the ambivalent lover, erotically attached to Miracles but far from ready for the home-with-a-picket-fence future that she envisions. Lamadrid — an actress who specializes in excitable characters with feverish tongues — delivers the standout performance as a madwoman scorned. And Tonatiuh Elizarrarez is very good as Carmie, a young ladyboy supposedly outshone by the more dazzling Miracles. Carmie mostly observes events, but the actor commits to his role with skill and focus.
As with so many productions, however, the quality of the lead performance is key, and Aguila is not convincing — as either the luminary that Miracles, in her world, is supposed to be, or as an inamorata willing to make a supreme and shocking sacrifice for love. Alvarez likewise eschews any nuance as Gigi, but instead storms about with threatening bluster, even when she's giving Miracles sage advice. One strains to believe that Brewster and Valdez are an ambitious political couple (Valdez is better when he interacts with Allain-Marcus as his brother), and the production's spare set (Amanda Knehans) provides them with little atmospheric backup.
Part of the problem is the direction; To has an extensive resume as an actor, but Fixed is his first shot at directing a fully staged play. Going forward, the production would improve were he to rein in the bathos and stridency in some performances, and encourage shadings in others.
---
Echo Theater Company at Atwater Village Theatre, 3269 Casitas Ave., Atwater Village; Fri.-Sat., 8:30 p.m.; Sun., 4 p.m.; Mon., 8:30 p.m.; through October 22. (310) 307-3753 or wwwEchoTheaterCompany.com.

'Skeleton Crew' Is a Play With a Moral Spine
Set in a Detroit automobile outfitting plant, Dominique Morisseau's drama grabs you from the start with its focus on blue-collar men and women, and their struggle for dignity and self-respect.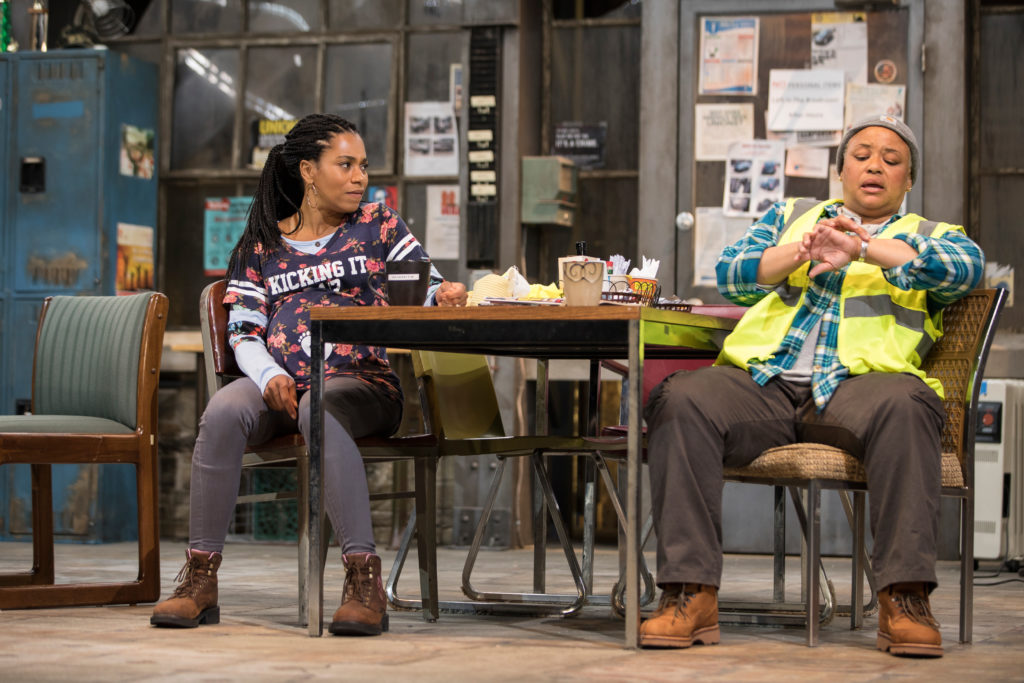 Working-class men and women of color are rarely front and center in today's media and, likewise, are presented all too occasionally on the American stage. So it's buoying to see that trend bucked in playwright Dominique Morisseau's percipient and well-crafted drama, Skeleton Crew. The play is the final installment in her Detroit  Project Trilogy; the first, Paradise Blue, is set in the 1940s amidst displacement caused by urban renewal and gentrification, while the second, Detroit '67, transpires on the eve of the 1967 Detroit riots sparked by a police action.
Directed by Patricia McGregor at Los Angeles' Geffen Playhouse, Skeleton Crew is a play with a moral spine. It takes place in 2008, when the shrinking U.S. auto industry is being further downsized. Morisseau's engaging quartet of characters — Faye (Caroline Stefanie Clay), Dez (Armari Cheatom), Shanita (Kelly McCreary) and Reggie (DB Woodside) – are employed at an automobile outfitting plant. Faye, Dez and Shanita are workers on the line while Reggie (who has a wife and kids, and has pulled himself together after a troubled youth) is their supervisor.
The first three customarily mingle in their break room (designer Rachel Myers' impressively cluttered, dingy and detailed set), trading the sort of familiar barbs and genuine concern for each other common among longtime co-workers. They also face off on philosophy: Upper-middle-aged Faye and the younger, pregnant Shanita take pride in their labor, while Dez, though a good worker, is a malcontent scornful of management and firm in the belief that everyone needs to watch out for himself. He's a thorn in Reggie's side, for while Reggie wants to be supportive of his workers, he must act at the behest of higher management. For his part, Dez resents Reggie's authority, and a palpable unease exists between them.
Besides this male matchup, we're made privy to Dez's attraction to Shanita, who mostly turns away his advances, but every now and then displays a hint of interest. Most poignant is Reggie's regard and affection for the lesbian Faye, which has roots in his boyhood when she loved, and lived, with his now-deceased mom.
These people's various predicaments intensify when rumors spread of the plant's shutdown — a disaster for all, but a particular calamity for the already near-broke Faye who, one year short of retirement, would lose her pension. The crisis forces each of these people to make a choice.
A sound piece of social realism, Skeleton Crew grabs you from the start in its focus on blue-collar men and women, and their struggle against odds for dignity and self-respect. Morisseau not only furnishes these characters a platform for their travails, she endows them with strong values, big hearts and the opportunity to choose between right and wrong.
Unfortunately, the performance I attended did not soar. Many exchanges lacked a fresh edge. The actors certainly had their characters down, but too often they appeared to be coasting on technique. (This seemed particularly true of Clay, who performed the role to great accolades in Washington, DC in 2017, also under McGregor's direction). Additionally, some of the stage movement was not entirely fluid; in confrontations, actors sometimes would just stand and face each other in an artificial way. And Cheatom's interpretation of Dez struck me as a bit overly churlish and depressive: I needed more glimpses of the intelligence and edge that would secretly attract the strong, self-directed Shanita.
The most compelling moments belong to Woodside, well-cast as a man trying his best in difficult circumstances to do the right thing.
---
Gil Cates Theater at the Geffen Playhouse, 10886 Le Conte Ave., Westwood Village; Tues.-Fri., 8 p.m.; Sat., 3 & 8 p.m. Sun., 2 & 7 p.m.; through July 8. (310) 208-5454 or www.geffenplayhouse.org