Fighting to Protect Others, and Myself
Vivian Rothstein was one of four recipients of a "Giant of Justice" award from Clergy and Laity United for Economic Justice Los Angeles (CLUE-LA) last week. She's a longtime friend and mentor of mine, and was introduced at the breakfast by a longtime friend and mentor of hers, Rev. Jim Lawson. In his intro, Lawson invoked the concept of the "beloved community," a well-worn phrase whose meaning is often either trivialized or simply lost. So much a part of the civil rights movement from which Vivian's activism sprung, the idea of a beloved community is what Vivian has imparted to so many of us – that organizing must be rooted in a basic decency and love, and in being so rooted, is transformative well beyond whatever immediate victories, however substantial, may be achieved. We've reprinted her speech because it is a such a remarkably well-told story. Not captured here is how it ended, as Vivian, somewhat embarrassed by all the attention and unsure how to respond, stepped back slightly and said, rather sweetly, "It's been a great life. I highly recommend it."
– James Elmendorf, LAANE deputy director
Like many other immigrants to the United States, my parents came here to save their lives. My father was a window dresser and my mother was a seamstress. They had grown up in a middle-class Jewish neighborhood in Berlin. As the Nazis came to power, the country started to turn against them, passing laws that restricted Jews from having home gardens, swimming in public pools, having pets, seeing non-Jewish patients if they were physicians, playing to non-Jewish audiences if they were musicians. An opportunity arose to open a business in Amsterdam and my parents took it, leaving many relatives behind. Those who could leave landed in the few places that would have them – Shanghai, Israel, England. One grandmother died in a concentration camp with her sister, the other in hiding with a Dutch family.
After the Dutch Nazi party opened an office next to their store, my parents left for the U.S., sponsored by a relative already here. In those days the only way to get to the U.S. was if someone agreed to support you financially in case you couldn't find a job. I grew up surrounded by other German Jewish refugees who similarly had lost their families, their homeland and their livelihoods. The world seemed a very dangerous and scary place to me – where inexplicably your country could turn against you, not for anything you ever did, but because of who you are.
Americans didn't seem to have much understanding of what happened to people in Europe during the war. Even American Jews were pretty ignorant and, amongst some Jews, there was hostility towards German Jews for not "fighting back" – as if fighting against the power of a fascist state was something ordinary people knew how to do. So I didn't talk about my family's experience, keeping my feelings to myself.
As a freshman at UC Berkeley, I gravitated towards the civil rights group on campus. These were people who knew the world was hostile and denied them basic rights. Yet they had figured out a way to fight back. I was trained in nonviolent civil disobedience and participated in campaigns for equal hiring opportunities for African Americans at Lucky Food Stores, Sambo's restaurant chain and the Sheraton Plaza Hotel in San Francisco. Finally I turned 18 and was eligible to join a mass civil disobedience myself, the ultimate show of commitment to fighting the status quo.
The target was the auto dealerships on Van Ness Blvd. in San Francisco, which hired no African Americans in their lucrative sales positions. My group was assigned to the Chrysler dealership. We entered the showroom, I slid under a luxury Chrysler Imperial and went limp. About 400 people in all were arrested along the boulevard, taking the San Francisco police all night to arrest and book us for trespassing, disturbing the peace and failure to disperse.
We were tried in groups of 10, effectively tying up the San Francisco municipal courts for most of the summer. My group was represented by an African American pro bono attorney who presented the history of civil disobedience in the development of American democracy as our defense. During the lunch breaks I was amazed to learn that he was present at the liberation of a German concentration camp while serving in a segregated American army unit. Unexpectedly I'd found someone who deeply understood the experience my family had faced and who was dedicated to fighting similarly racist structures in the U.S. He and I spoke our broken German together and ate liverwurst and pumpernickel for lunch, bringing my worlds together for the first time. I felt acknowledged, safe and courageous all at the same time. And I found my emotional and political home.
For all of us in this room, this movement for economic and social justice speaks to us in a profoundly personal way. Not only does it provide an opportunity to work for the good of people whose lives are filled with hardship, it also provides us with a safe haven and a way to fight for our own safety in a society in which we may feel at risk ourselves. It could be for our religious, racial, ethnic, physical or any other difference that makes us feel separate and apart from the powerful in society. This movement helps us be courageous, to take risks for the common good and to form bonds of trust with people who we feel would fight for us if we need protection. We have the opportunity to be the best people we can be, and also to be surrounded by individuals with compassion and concern.

'Skeleton Crew' Is a Play With a Moral Spine
Set in a Detroit automobile outfitting plant, Dominique Morisseau's drama grabs you from the start with its focus on blue-collar men and women, and their struggle for dignity and self-respect.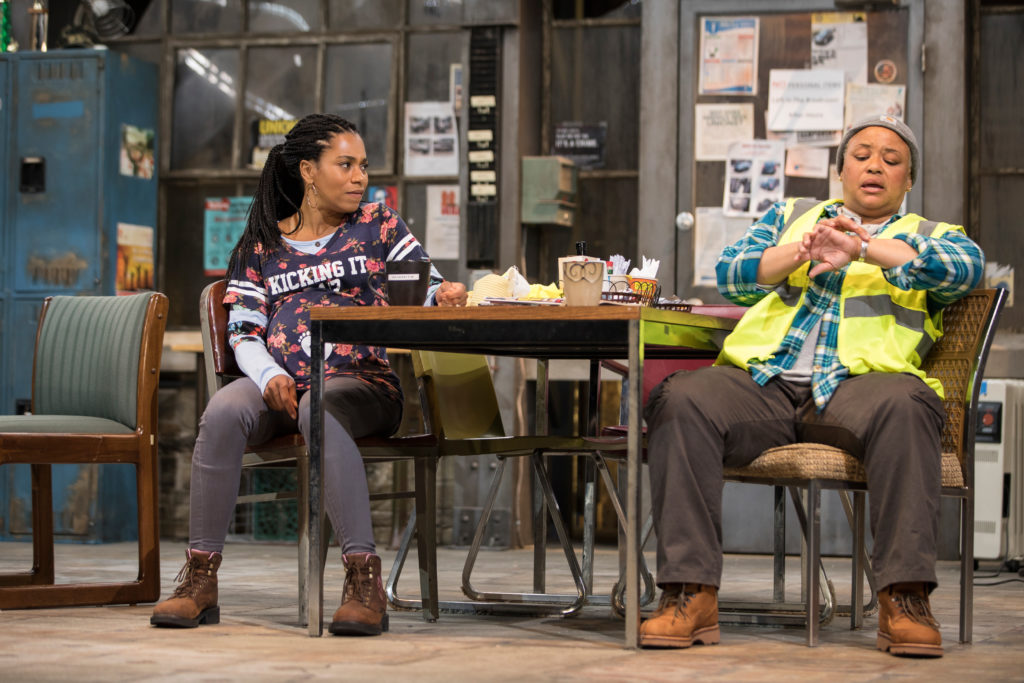 Working-class men and women of color are rarely front and center in today's media and, likewise, are presented all too occasionally on the American stage. So it's buoying to see that trend bucked in playwright Dominique Morisseau's percipient and well-crafted drama, Skeleton Crew. The play is the final installment in her Detroit  Project Trilogy; the first, Paradise Blue, is set in the 1940s amidst displacement caused by urban renewal and gentrification, while the second, Detroit '67, transpires on the eve of the 1967 Detroit riots sparked by a police action.
Directed by Patricia McGregor at Los Angeles' Geffen Playhouse, Skeleton Crew is a play with a moral spine. It takes place in 2008, when the shrinking U.S. auto industry is being further downsized. Morisseau's engaging quartet of characters — Faye (Caroline Stefanie Clay), Dez (Armari Cheatom), Shanita (Kelly McCreary) and Reggie (DB Woodside) – are employed at an automobile outfitting plant. Faye, Dez and Shanita are workers on the line while Reggie (who has a wife and kids, and has pulled himself together after a troubled youth) is their supervisor.
The first three customarily mingle in their break room (designer Rachel Myers' impressively cluttered, dingy and detailed set), trading the sort of familiar barbs and genuine concern for each other common among longtime co-workers. They also face off on philosophy: Upper-middle-aged Faye and the younger, pregnant Shanita take pride in their labor, while Dez, though a good worker, is a malcontent scornful of management and firm in the belief that everyone needs to watch out for himself. He's a thorn in Reggie's side, for while Reggie wants to be supportive of his workers, he must act at the behest of higher management. For his part, Dez resents Reggie's authority, and a palpable unease exists between them.
Besides this male matchup, we're made privy to Dez's attraction to Shanita, who mostly turns away his advances, but every now and then displays a hint of interest. Most poignant is Reggie's regard and affection for the lesbian Faye, which has roots in his boyhood when she loved, and lived, with his now-deceased mom.
These people's various predicaments intensify when rumors spread of the plant's shutdown — a disaster for all, but a particular calamity for the already near-broke Faye who, one year short of retirement, would lose her pension. The crisis forces each of these people to make a choice.
A sound piece of social realism, Skeleton Crew grabs you from the start in its focus on blue-collar men and women, and their struggle against odds for dignity and self-respect. Morisseau not only furnishes these characters a platform for their travails, she endows them with strong values, big hearts and the opportunity to choose between right and wrong.
Unfortunately, the performance I attended did not soar. Many exchanges lacked a fresh edge. The actors certainly had their characters down, but too often they appeared to be coasting on technique. (This seemed particularly true of Clay, who performed the role to great accolades in Washington, DC in 2017, also under McGregor's direction). Additionally, some of the stage movement was not entirely fluid; in confrontations, actors sometimes would just stand and face each other in an artificial way. And Cheatom's interpretation of Dez struck me as a bit overly churlish and depressive: I needed more glimpses of the intelligence and edge that would secretly attract the strong, self-directed Shanita.
The most compelling moments belong to Woodside, well-cast as a man trying his best in difficult circumstances to do the right thing.
---
Gil Cates Theater at the Geffen Playhouse, 10886 Le Conte Ave., Westwood Village; Tues.-Fri., 8 p.m.; Sat., 3 & 8 p.m. Sun., 2 & 7 p.m.; through July 8. (310) 208-5454 or www.geffenplayhouse.org