Feds Charge Violent Neo-Nazis — But Orange County D.A. Only Charges One of Their Victims
Orange County District Attorney Tony Rackauckas is prosecuting an antifa protester—for slapping a neo-Nazi after he called her a "bitch."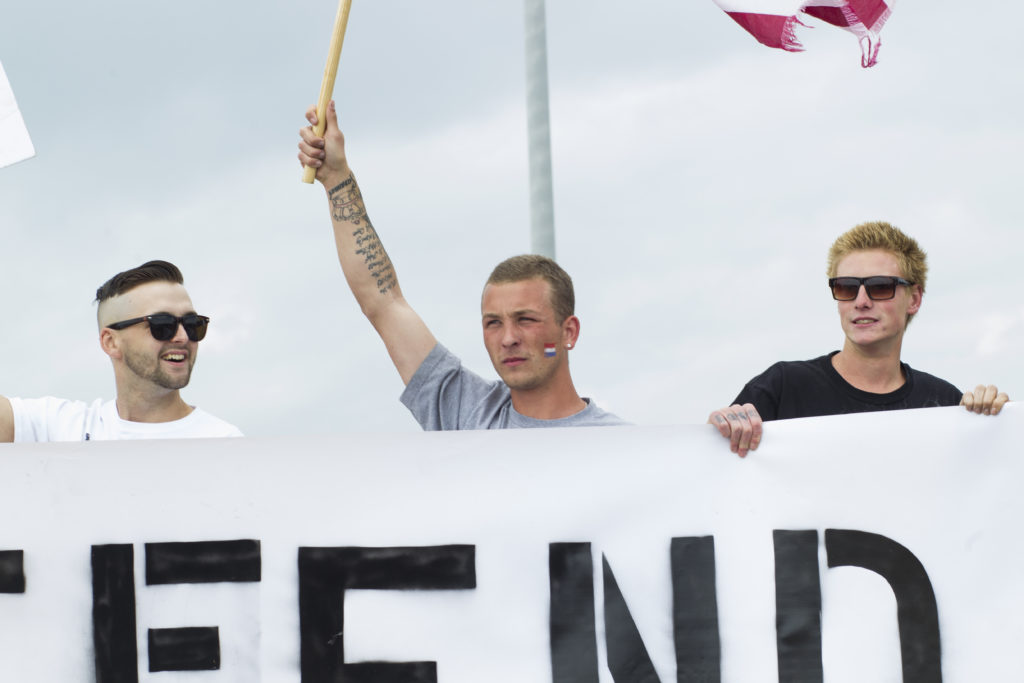 In March 2017, a pro-Trump rally at Bolsa Chica State Beach in Huntington Beach, California turned violent when neo-Nazis began to assault reporters and counter-protesters. Rather than round up the attackers, California State Parks rangers (the presiding law enforcement agency that day) instead arrested four counter-protesters—three males on felony charges of using pepper spray, and 20-year-old Jessica Aguilar of Sacramento on felony use of pepper spray, plus two misdemeanors for inciting a riot and battery.
The State Parks force's work was deemed so shoddy, however, that the Orange County District Attorney's office declined to go after the three men when it emerged they used pepper spray in self-defense. Prosecutors also ignored the riot and pepper spray charges against Aguilar. The rangers were further embarrassed last week when the Los Angeles branch of the U.S. Attorney's Office filed felony charges against four Southern California white supremacists—Robert Rundo, Robert Boman, Tyler Laube and Aaron Eason—for conspiracy to incite a riot at the Huntington Beach melee; all four were arrested.
A criminal complaint detailed how the four—all members of the Rise Above Movement (RAM), a violent neo-Nazi gang that PBS's Frontline program exposed earlier this summer—planned and executed rampages in Huntington Beach and at other pro-Trump rallies in San Bernardino, Berkeley and Charlottesville last year. (Four other RAM members faced similar charges in a Virginia courtroom earlier this month for the latter event.)
An accompanying FBI agent report detailed how Rundo, Boman and Laube specifically "pursued" Aguilar and her group of counter-protesters. They kicked one of Aguilar's friends in the back, threw another to the ground to pummel him while "RAM members looked on, cheered, and prevented others from intervening," and shoved Aguilar; eventually, per the report, someone "punched [her] in the face, knocking [her] to the ground."
Yet in Orange County, District Attorney Tony Rackauckas continues his prosecution of Aguilar on the single battery count—for slapping Laube twice after he called her a "bitch."
Although a June 2017 OCDA press release identifies Aguilar's alleged victim only as "John Doe #2," her attorney, Jaime Segall-Gutierrez, says Orange County prosecutors have admitted the Doe is Laube, who was on formal and summary probation for four separate convictions (robbery, resisting arrest, carrying a switchblade and driving under the influence) during the Huntington Beach riot.
Segall-Gutierrez says he is furious that Rackauckas is siding with a white supremacist whose group is accused of some of the very crimes that the OCDA once accused Aguilar and her group of committing.
"The county is attempting to save face, because [rangers] only arrested antifa victims of the Nazis," says the Whittier-based lawyer, using the name given anti-fascist protesters. "They did not arrest Nazis who were overtly breaking the law."
OCDA spokesperson Michelle Van Der Linden doesn't see it that way.
"We wouldn't be moving forward [against Aguilar] if we didn't have the evidence," she says. "We rely on police reports from the original investigation. Once we get the report, we review those reports and determine if a crime has been reported, and file accordingly."
However, the California State Parks rangers' reports about the Huntington Beach rally proved to be mostly useless. Not only did the OCDA decline to prosecute Aguilar's friends, despite the rangers' requests, but Rackauckas later dropped an additional battery charge against Aguilar because rangers misidentified her as the perpetrator in another alleged assault.
Aguilar declined comment for this story, citing her ongoing case. But footage obtained by Capital & Main clearly depicts the sequence for which she faces the single battery count.
In a livestream shot by the alt-right media collective The Red Elephants that was uploaded to social media last year, but later deleted, cameraman Vincent James focuses on Aguilar and her group. RAM members, hiding behind a banner and carrying anti-Semitic signs, can be heard off-screen yelling at them, "Do it! Come bash us!" while James screams at counter-protesters, "C'mon you fucking pussies!" and later, "There's no cops! Step up!"
He captures Aguilar waving a red and black flag and flipping off RAM. She stays away from them until someone yells, "Fuck you!"
It's Laube.
Aguilar approaches Laube, who then yells "Fuck you, bitch!" twice. She says something unintelligible before slapping him, and walks away. RAM members start to kick sand at Aguilar, at which point James tells them, "Stop! Careful guys, stop, there's cameras here."
Minutes later, RAM exacted their revenge on Aguilar and her group.
Segall-Gutierrez said that when he met with prosecutors to discuss Aguilar's case, they showed him the Red Elephants video as "evidence of her culpability."
Only problem: It didn't have any audio.
But even after the attorney played the full clip, complete with audio and Laube's "bitch" remark to Aguilar, the D.A. said "it was not a justification" for her to slap Laube, according to Segall-Gutierrez.
Aguilar's trial is scheduled for December 13. Segall-Gutierrez still hopes that the D.A. will drop his charges in the wake of Laube's arrest.
He's "a dangerous menace to society," Segall-Gutierrez said. "He was there to fight. This shows Laube's tendency to be violent and hateful towards anyone different than him."
This is not the first time Rackauckas' office has sat mum in an Orange County case where the feds found felonies. In 2009, a federal grand jury convicted former Orange County Sheriff Mike Carona for witness tampering after a years-long investigation revealed he sold badges to top donors. Despite overwhelming evidence, the D.A.'s office always maintained it never found enough to pursue anything against Carona.
"We don't have access to [the FBI's] investigations," said Van Der Linden, when asked why they haven't pursued charges against Laube and his crew. "It's difficult to say what we would do with the information that they have, because we don't have it."
But the FBI complaint freely discloses where it got much of its evidence against RAM: "videos and photographs posted online"
---
Copyright Capital & Main