Fast-Food Workers Demand a Living Wage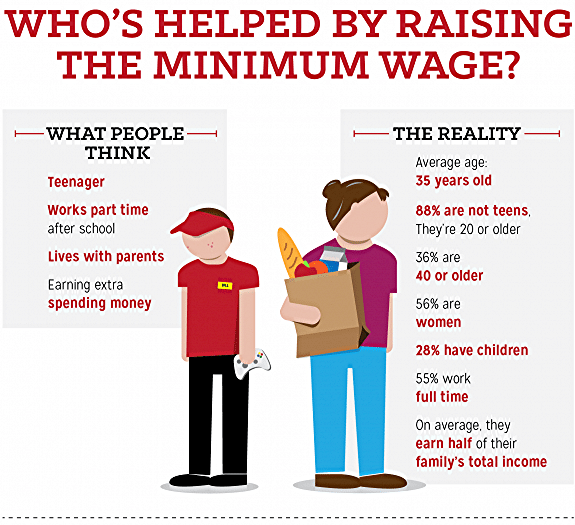 Infographic Source: Economic Policy Institute
(Today's Los Angeles Times reported that strike actions against local fast-food outlets, launched by workers demanding a living wage, began early this morning. The following story from Equal Voice News sets the background for this day of national action.)
Fast food workers – who say their hourly wages are not enough to keep up with the cost of living – are planning a nationwide strike Thursday in about 35 cities. The industry employs about four million people.
Their message to restaurant chain owners and the public: Because of the pay, they often have to pit buying food against paying for their housing – and that, they say, seems strikingly odd in the United States.
In fact, some say they need food stamps to survive despite being employed.
Restaurant associations and representatives from fast food outlets point to the jobs as cooks and cashiers as opportunities to move up the career ladder – especially to become a manager and earn more money.
Equal Voice News spoke with an employee of KFC about her experience and supporting her family of three children while earning $8 per hour in the San Francisco Bay Area. Some "living wage calculators" show that the "poverty wage" for this part of the country is $7 per hour.
Name: Shonda Roberts
Age: 38
Hometown: Oakland, California
Q: How long have you been working at KFC?
I've been working there for six months. I've been in the fast food or hospitality industry for 15 years. I've worked at Taco Bell. That was my first job at age 19. I've worked at Quiznos. I did food prep. I've worked at other restaurants.
Q: What do you at KFC?
I'm a cashier. My duties are stocking, cleaning up the lobby, making sure the restrooms are clean. I work the drive through and work with customers. I work in the mornings and midday. It's pretty much staggered. I work about 16 hours per week.
Q: May I ask how much you earn per hour?
I earn $8 per hour at KFC. At Quiznos, I made $8 per hour.
Q: Could you talk about your family?
I'm a mom of three kids. My two oldest rely on me but they are college students. I do have a 15-year-old who depends on me. With my two oldest, I try and help them as much as I can. They're trying to do the best they can. At home, it's just me and my 15-year-old.
Q: What do you like about your job?
I like my co-workers. I like that we're team players.
Q: What do you think about wages in the fast food industry?
I feel that it should be a fair playing field. Being part of the working class, I feel that we should be able to provide for families.
We shouldn't have to make these drastic decisions on what's more important, as: 'Oh, I can't put food on my table' and 'I can't pay my rent.'
It shouldn't be this way.
I have a weekly gross pay of $128. I'm asking you: 'Would you be able to provide for a family, even just one person, on $128 per week?'
Let's add in taxes. My net pay each week is about $100. I can't pay rent on top of putting food on the table, buying school supplies and buying clothing.
It's a hard decision to make.
Q: Especially since you're a parent and you want the best for your kids.
Sometimes, I have to make a decision of me eating or my child eating. And I always want to make sure that my child eats first.
Let's not forget that a lot of our working class have to rely on public assistance to make up the difference, like food stamps and health coverage.
Q: Do you receive food stamps?
I do depend on food stamps to help feed my kids and myself. I feel like I shouldn't have to depend on food stamps to provide for my children. I should be able to provide for my children just by having a job.
Q: What do you want KFC to know?
That we're demanding $15 per hour and a union. We're worth that. And no retaliation.
Q: How will this help?
Everything is going up. But our pay is not going up. I just went grocery shopping the other day. I spent $50 and I really didn't get anything.
Being a parent, I shouldn't have to sacrifice just to meet the bare necessities of life.
Being part of the working class, I feel that we're contributing to the community, just as everyone else is. I feel that my work ethic is up to par.
This is my career. I provide excellent customer service.
What a lot of corporations strive on is excellent customer service. The first person you see when you walk into a fast food restaurant, you'll see a person like myself.
Q: Some people believe it's fine to pay fast food workers these current wages. Your response?
There are a lot of people in the nation who are my age and with families. They rely on jobs to take care of themselves.
Q: You seem pretty brave. Are you afraid of taking action?
I'm not afraid at all. This is my right. I'm going to do what I need to do to put this in the forefront. I believe in my heart that we'll get what we're actually fighting for.
Q: It's the 50th anniversary of the March on Washington. What is your Dream?
My Dream is to be able to provide for my family without having to worry. I shouldn't have to get gray hairs and worry about every given day: 'If we get put out today, where will we go?'
I shouldn't have to worry about being homeless. This is the richest country in the world. We're living in poverty. I want there to be a middle ground.
I shouldn't have to see starving children or a mother out here who is struggling, working two or three jobs, who still can't provide for her children. It doesn't make sense.
I was born and raised in the United States. Something needs to give. Politicians, the community, everybody needs to see what is going on.
Fast Food Strike Cities
Aug. 29: Atlanta, Austin, Boston, Charlotte, Chicago, Columbia, Mo., Dallas, Denver, Detroit, Dover, Del., Flint, Hartford, Houston, Indianapolis, Jefferson City, Mo., Kansas City, Mo., Lansing, Los Angeles, Madison, Wis., Manchester, Conn., Milwaukee, New York City, Oakland, Calif., Peoria, Ill., Phoenix, Racine, Raleigh, San Diego, Seattle, Spokane, Springfield, Ill., Wausau and West Haven, Conn.
Source: East Bay Alliance for a Sustainable Economy
Learn More About Wages
What's a "good wage" in your city? Check this "living wage" calculator from MIT. In Seattle, there's an effort to raise the hourly wage to $15. McDonald's has issued a budget planner for its employees. The sample budget suggests in English and Spanish that a person have a second job. And minimum wages aren't just for the working class.
(Interview conducted by Brad Wong, assistant news editor for Equal Voice News, where this feature first appeared. Republished with permission.)